Healthyish Weekend Guide to Denver
7
Published Oct 22, 2018, Updated Mar 21, 2023
Last weekend, Isaac had a work trip to Denver. I usually don't go with him on his trips because he's busy with all things beer, but I've been wanting to go back to Denver so I decided to tag along! As I like to do on all my trips, I kept things pretty healthy with a few indulgences . . . a "healthy-ish" weekend if you will. If you're traveling to Denver soon or just Denver-curious, get excited because in this post I'm going to share all my restaurant recommendations and a few spots where you can get in a good workout.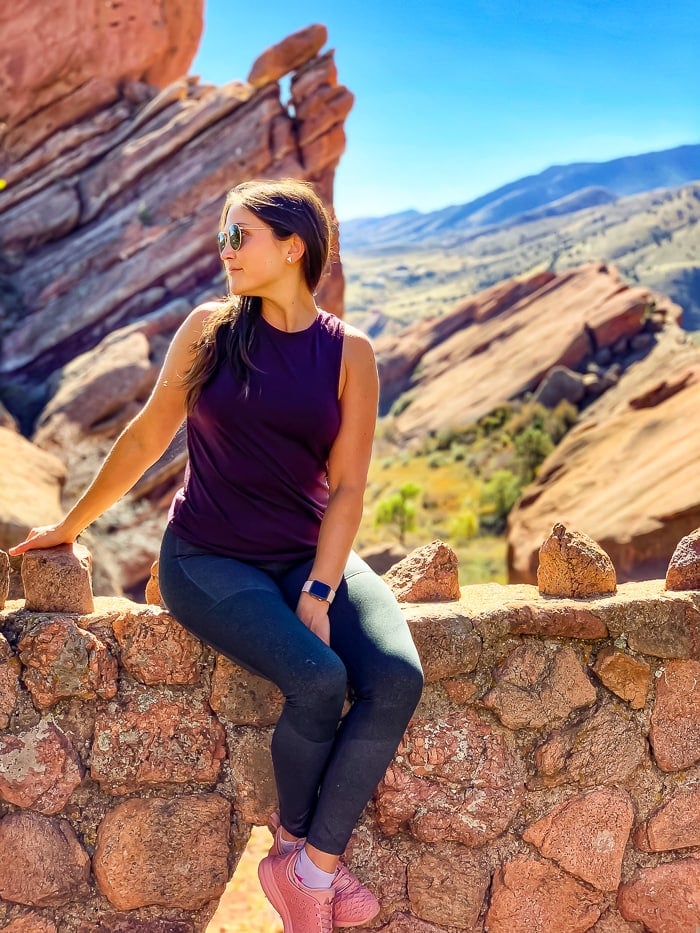 This trip was extra fun because I was able to meet the Eating Bird Food (EBF) operations manager, Tanya. Tanya lives in Denver and works remotely for EBF behind the scenes. She has been part of the EBF team for almost a year and we talk every week, but hadn't had a chance to meet in person until this trip. Technology is crazy and amazing and I'm so grateful for it, but there's nothing like being able to connect with someone in person. Lucky for me (and you), Tanya has a little insider info on Denver since she lives there, so many of these suggestions came directly from her. Yay!
Healthy Spots for Breakfast & Coffee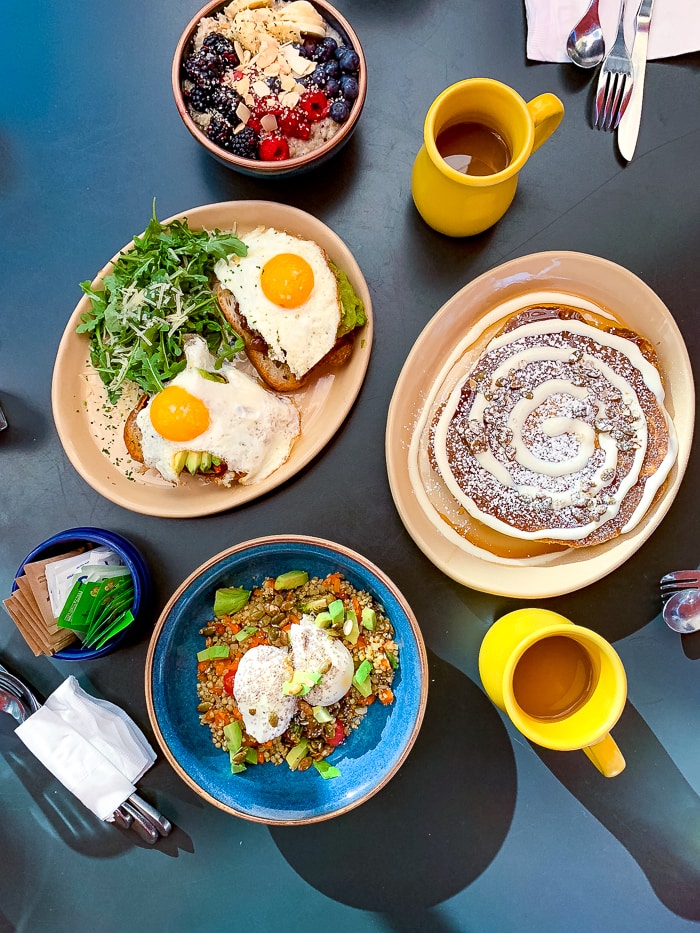 Snooze – My sister and brother-in-law recently visited Denver and came home raving about this place. It's a Denver staple and the longer wait reflects that, but trust me it's worth it! We went to the Union Station location and grabbed a delicious almond milk latte at Mercantile while we waited for our table. I highly recommend leaving time in your schedule for this brunch! We tried a bunch of different items from their "light as a feather" menu and also splurged on the Smashin' Pumpkin Pancake. My favorites: the pumpkin pancake (that bourbon-infused maple syrup is so good), the Protein Punch Bowl with cauli rice and the Goldilock's Porridge with ancient grains.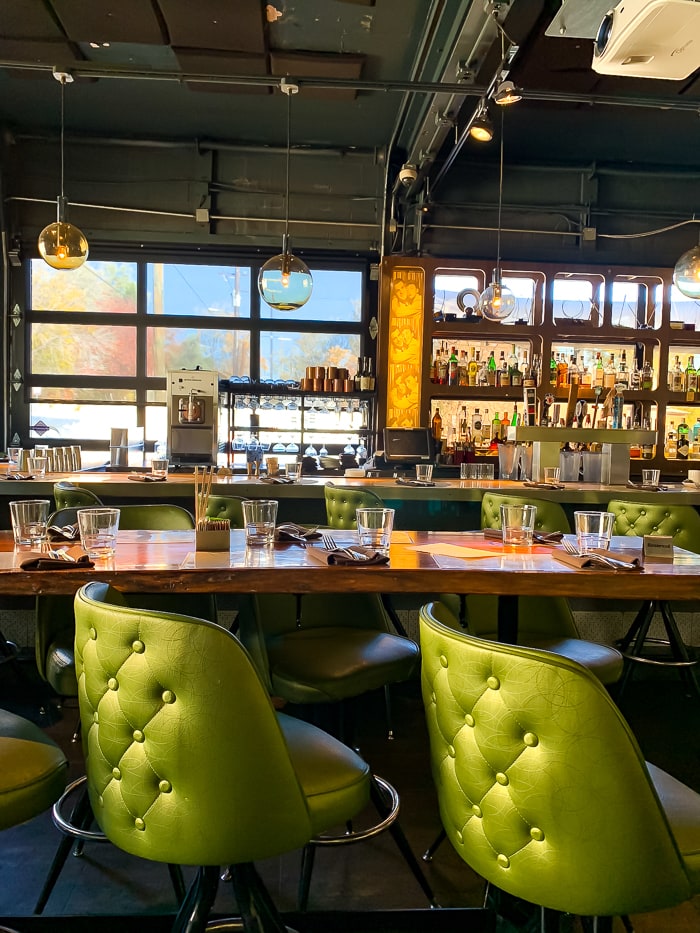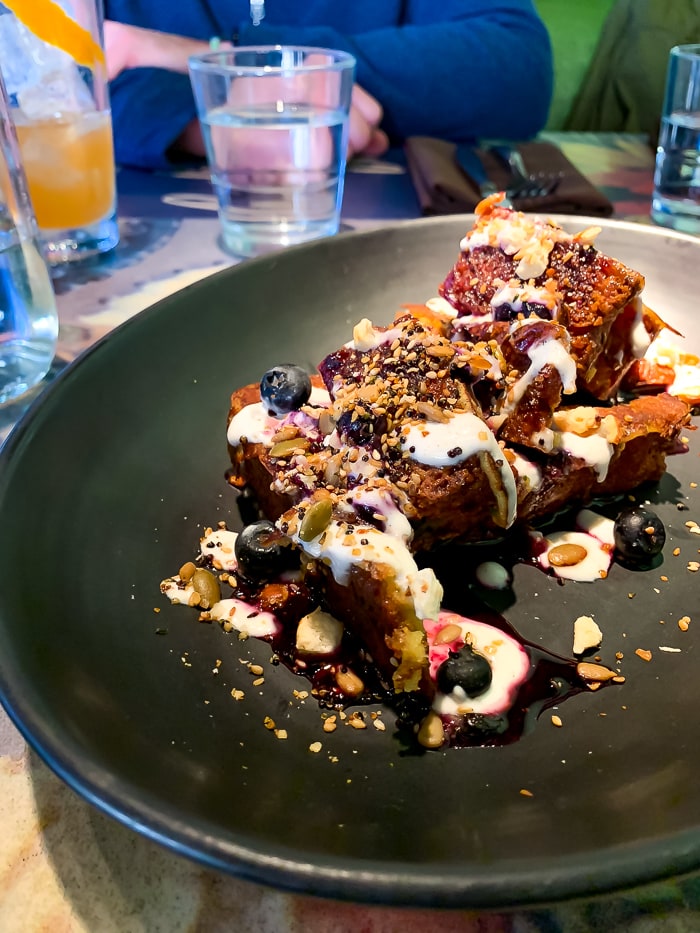 Root Down – This trendy restaurant is another must visit in Denver. We went for brunch but their entire menu looks delicious! The restaurant is in an old auto body shop and the decor is so unique! The crowd favorite at our table was the zucchini bread french toast. I loved the sweet and soft bread paired with the crunchy pumpkin seeds. Bonus: if you don't get a chance to check out Root Down while visiting Denver, there is also a Root Down location at the Denver International Airport (Concourse C).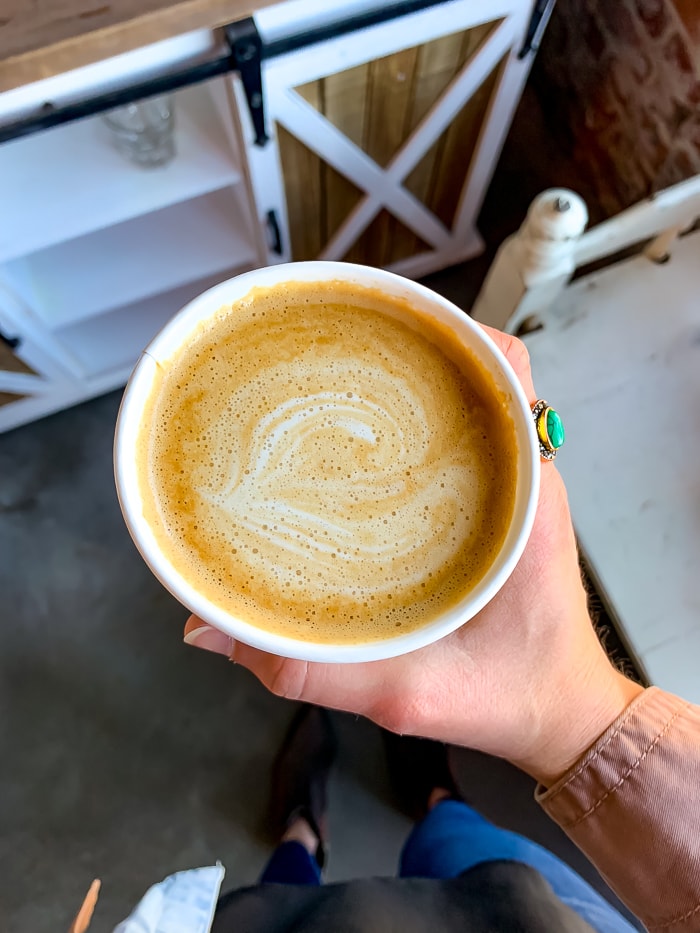 Black Eye Coffee – We made our way to this coffee shop as we were on the hunt for the best coffee in Denver – and it did not disappoint! Tucked in a neighborhood near downtown Denver, the ambiance and drinks were both fab! I got a latte made with Oatly (oat milk) – my new fav milk alternative for coffee!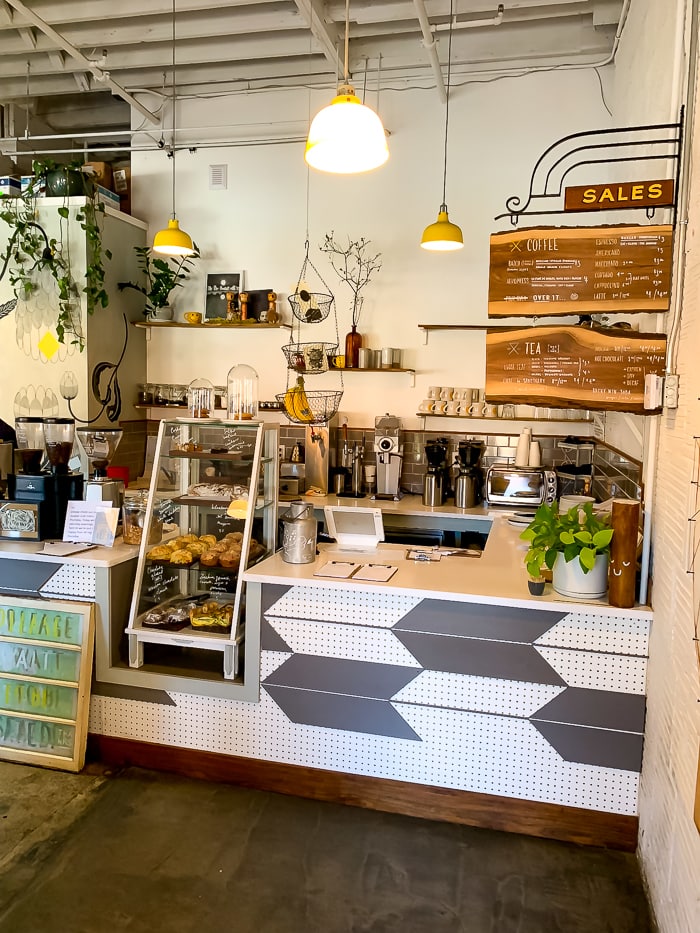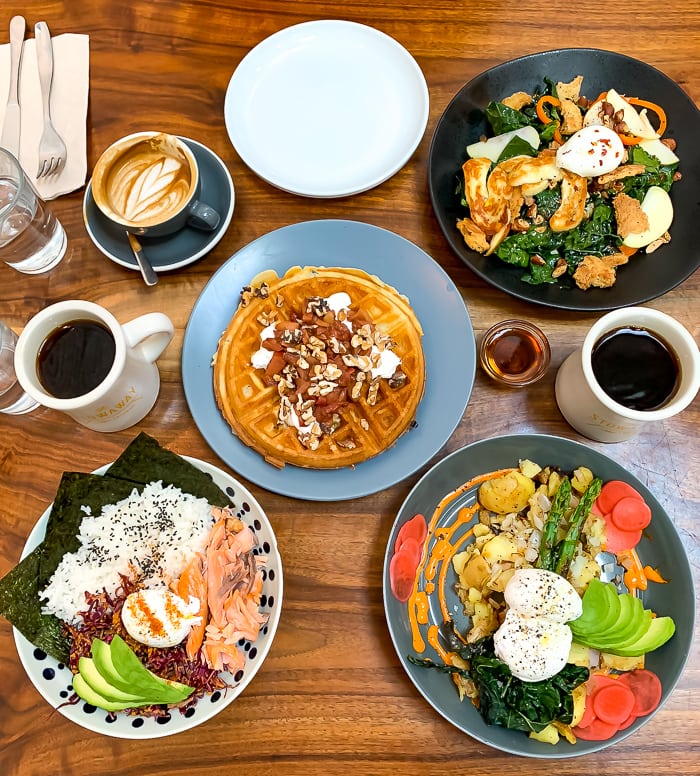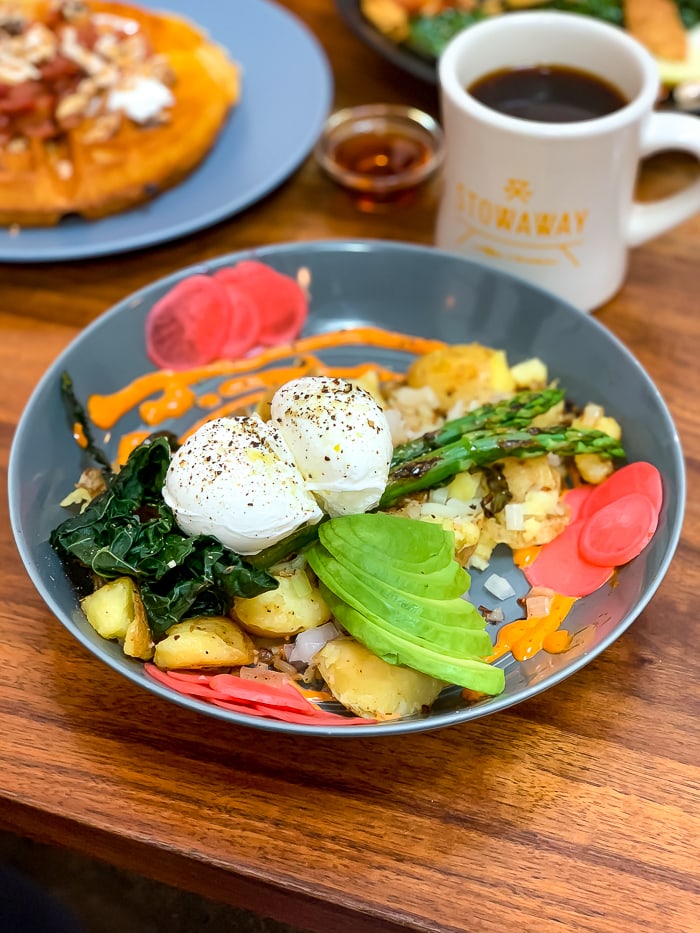 Stowaway Kitchen – This coffee shop/breakfast spot was totally my scene. There isn't WiFi so don't plan on working here, but it's an amazing place to connect with people! We went for coffee and breakfast. We ordered a weekend waffle for the table, Heather got kale + grilled halloumi salad, Isaac got the japanese asa-gohan and I got the colorful Colorado bowl with avocado. This meal definitely made my top 3 list . . . everything was amazing and we loved the vibe.
Healthy Spots for Lunch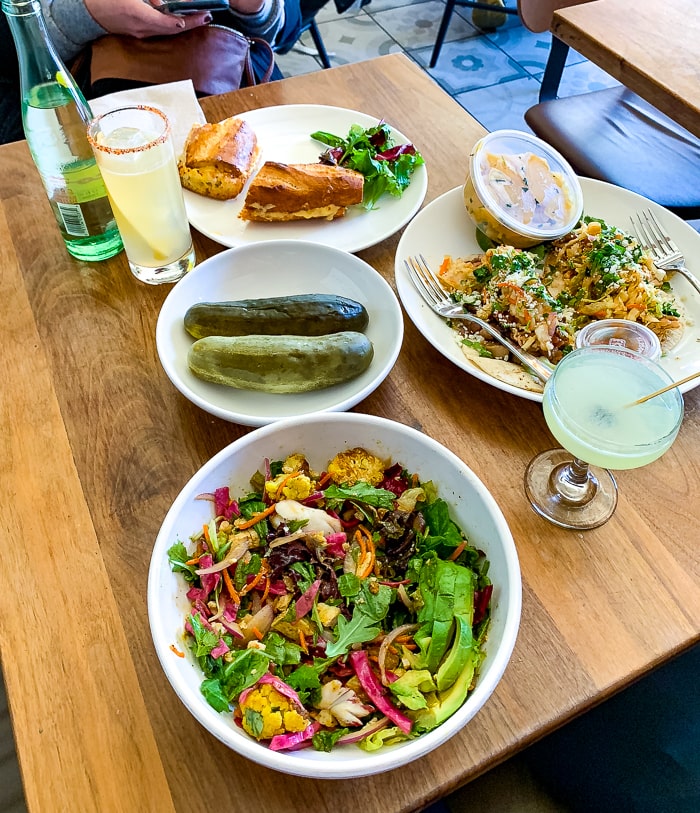 Right when we got to town, we went to the Denver Central Market per Tanya's recommendation. It's kind of like a fancy food court that has a variety of restaurants, a coffee shop, ice cream (!!!), a bar and free WiFi so we could get some work done! I got a salad from Green Seed Market and Isaac + Heather got a smorgasbord of different foods (do you see those HUGE pickles) and fancy cocktails. The perfect start to our weekend!
Union Station Whole Foods – I know, I know. I'm the girl that goes to Whole Foods on vacation. In my defense, this one was brand new and worth exploring. I treated myself to the salad/hot bar and some kombucha. I found the new Tone It Up rosé Health-Ade and a local bucha that I loved called rowdy mermaid. The ginger was delicious and I love that it has adaptogenic herbs. After visiting the rowdy mermaid website, I learned that they have a taproom as well. Gotta go there next time I'm in Denver.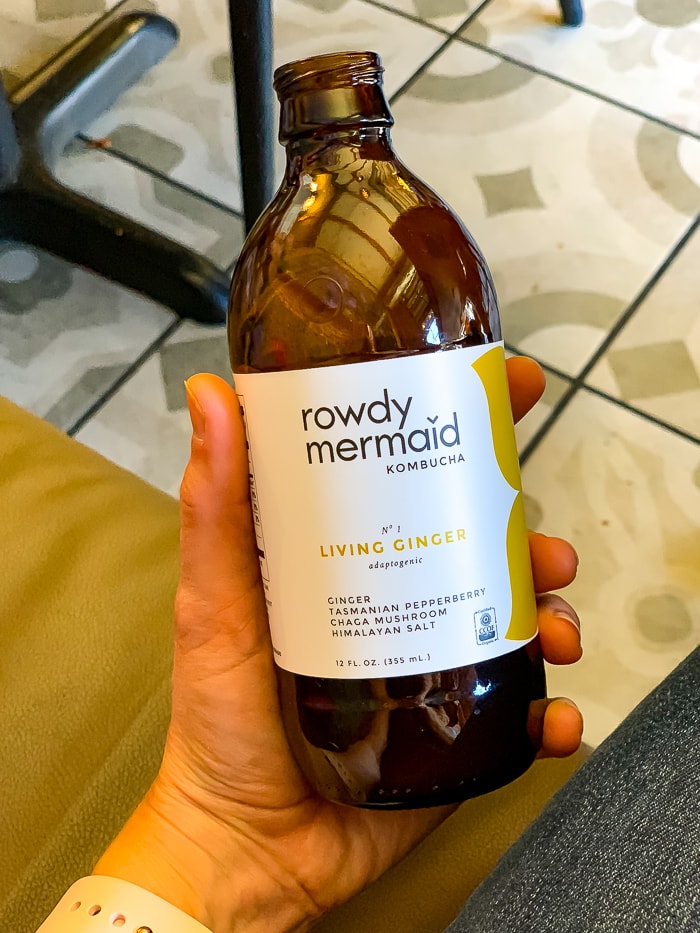 Movement & Workouts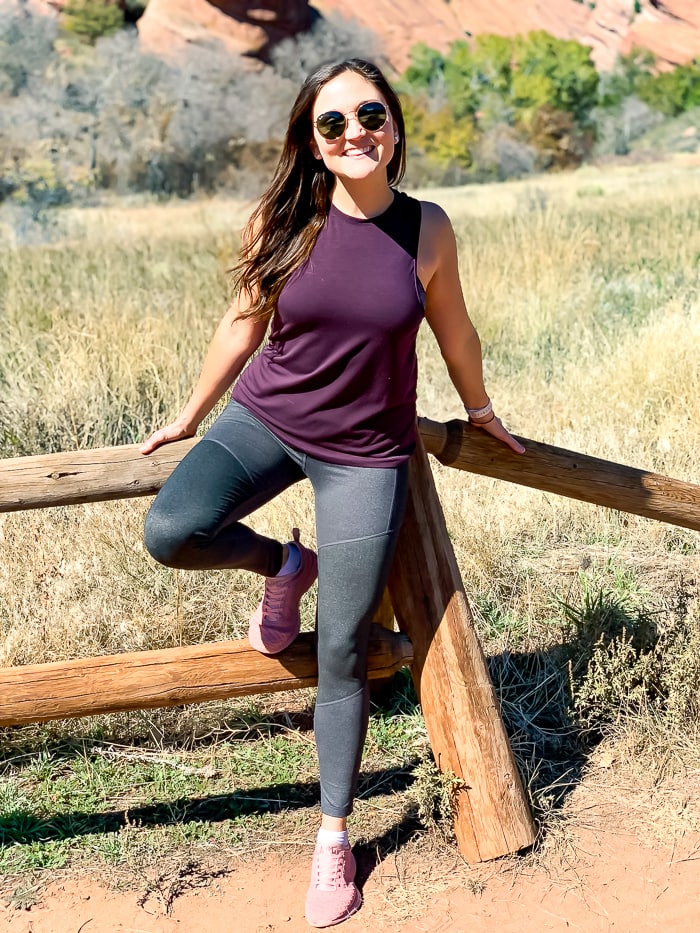 Red Rocks – We wanted to get a hike in and the Red Rocks was conveniently only about 20 minutes outside of the city! The amphitheater is open until a certain time each day for you to explore, so be sure to go in the morning if you want to take it all in or climb the stairs for a tough workout (we were there a little later in the afternoon so we weren't allowed to enter the amphitheater – sad face!). There are also a few trails around the amphitheater with gorgeous red rocks and rolling hills. We hiked the short 1.4 mile Trading Post Trail, but the Red Rocks trail offers a 6 mile loop and spans between two parks.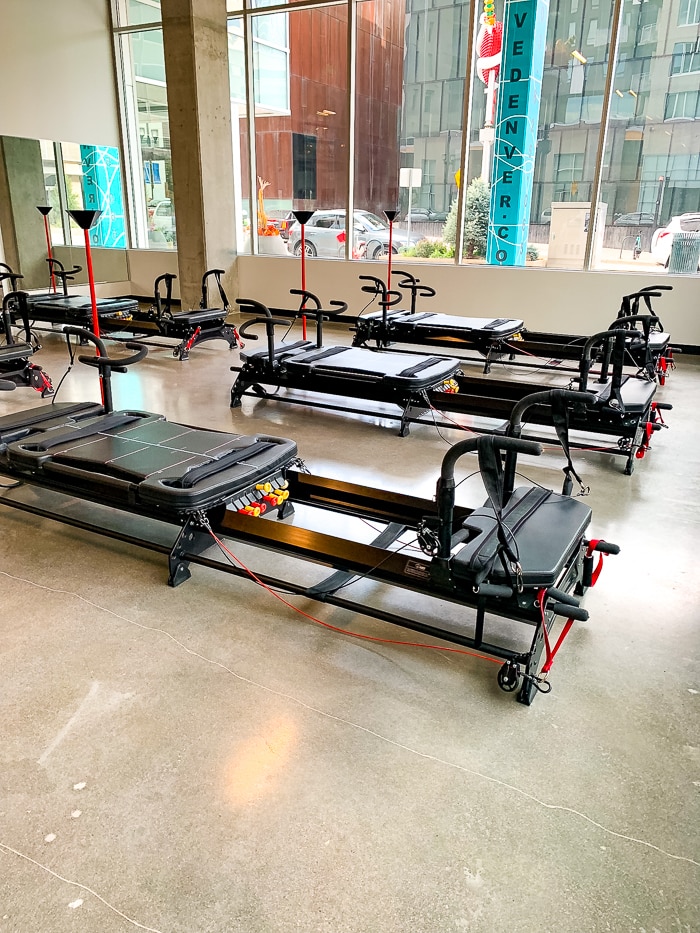 Transform Colorado – Tanya recommended we take a fitness class on Thursday afternoon and I was 100% sold. I love trying out new studios/classes so we signed up for a Lagree class. I quickly realized it's super similar to a class I'd taken before at PlankRVA here in Richmond. Turns out the owners of PLANK are Lagree Fitness certified too. The class was challenging, but low impact and holy cow my butt was so sore for two days after. I workout consistently 3-4 times a week doing strength training so I'm always shocked when different types of workouts totally kick my butt. It reminds me that I need to switch things up more often!
Dinner Spots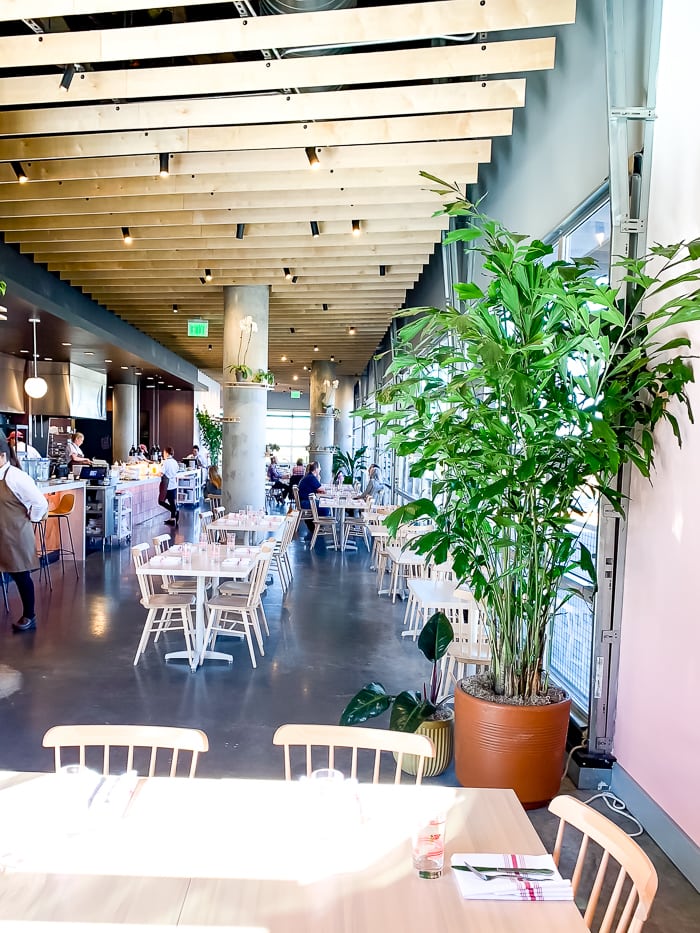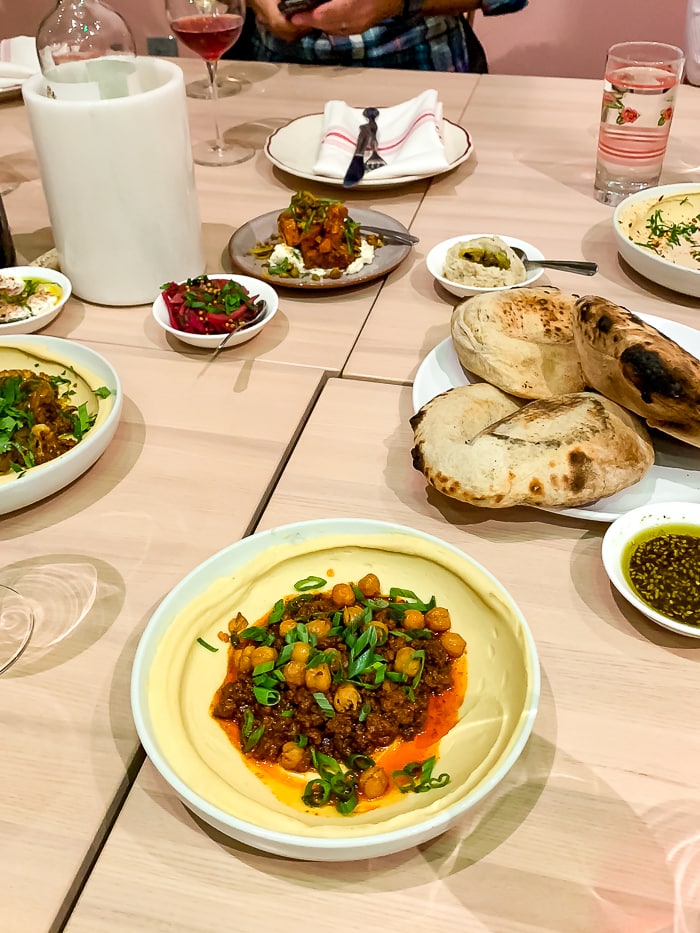 Safta – Safta is an Israeli restaurant located in The Source. It's new to town, but came highly recommended from Tanya and it was AMAZING. We ordered a bunch of plates to share and they were all incredible. My top two must-orders are the curried cauliflower hummus and the harissa roasted chicken. We almost went back for dinner the next night – it was that good. Still dreaming of this meal!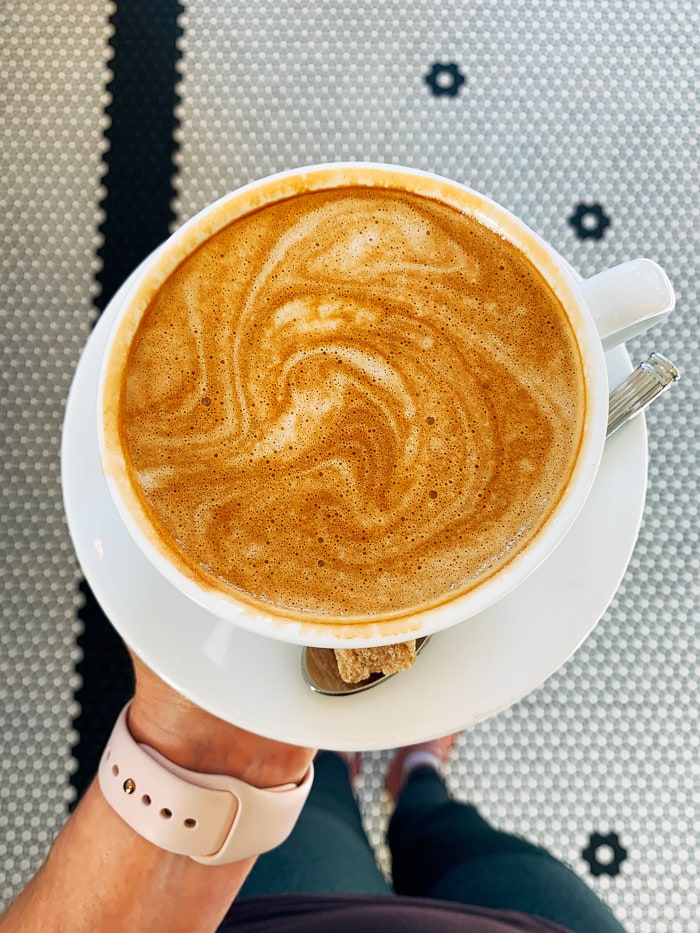 Mercantile – This spot came highly recommended and it's in Union Station, right next to Snooze so we grabbed a drink here while waiting for our table. They have house-made almond milk so I ordered an almond milk latte and it was amazing. Later in the weekend, we ended up here late-night with a group from the beer festival. Despite having dinner before we were still a little hungry so we ordered some food to split. Everything was so good . . . I was kicking myself that we didn't get to enjoy a full dinner here. Highly recommend any of the house-made pastas. I can't find it on the online menu but we also had a pumpkin dessert that was out of this world. If you see it on the menu, get it!
Other Cool Stuff to Check out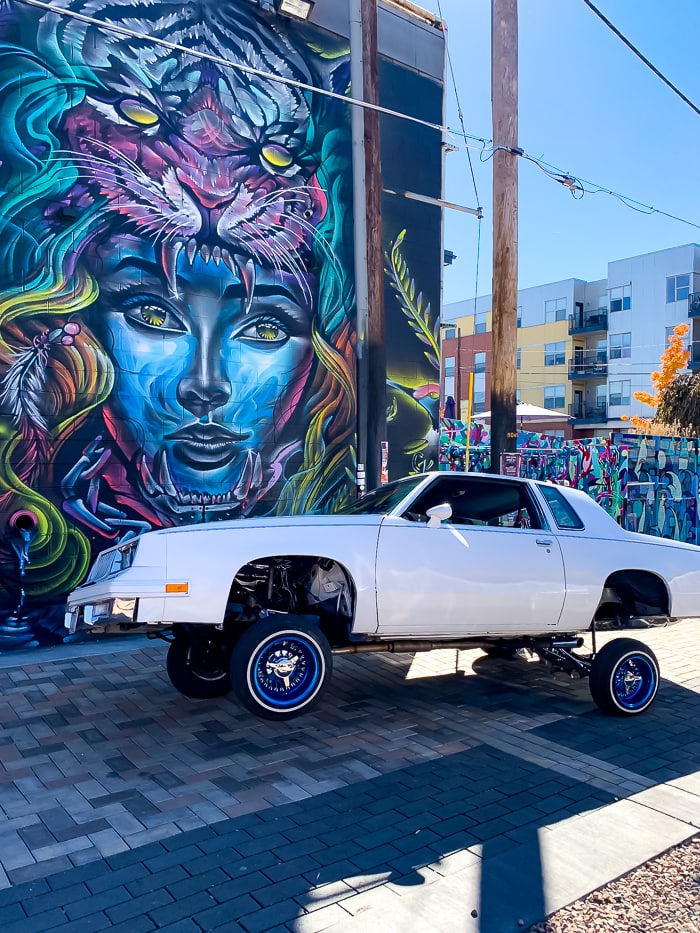 Street Art – The River North neighborhood (RiNo as the locals say) is known for it's street art. Take time to walk around the streets and in the alleys to see the incredible street art! Apparently, there's a festival one weekend a year where you can watch artists create their masterpieces. Crazy what they're able to do with spray paint!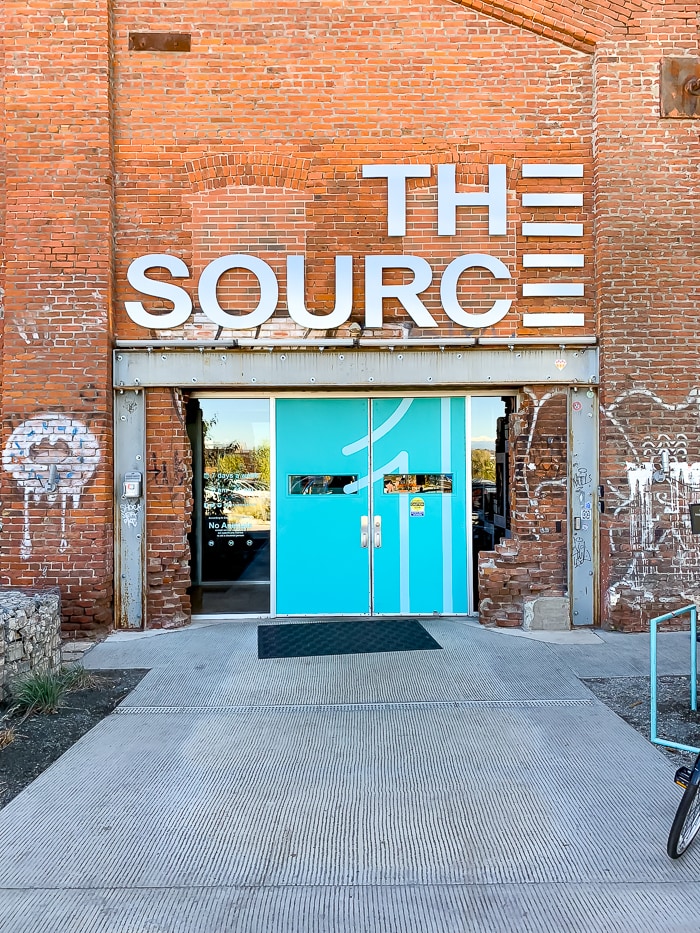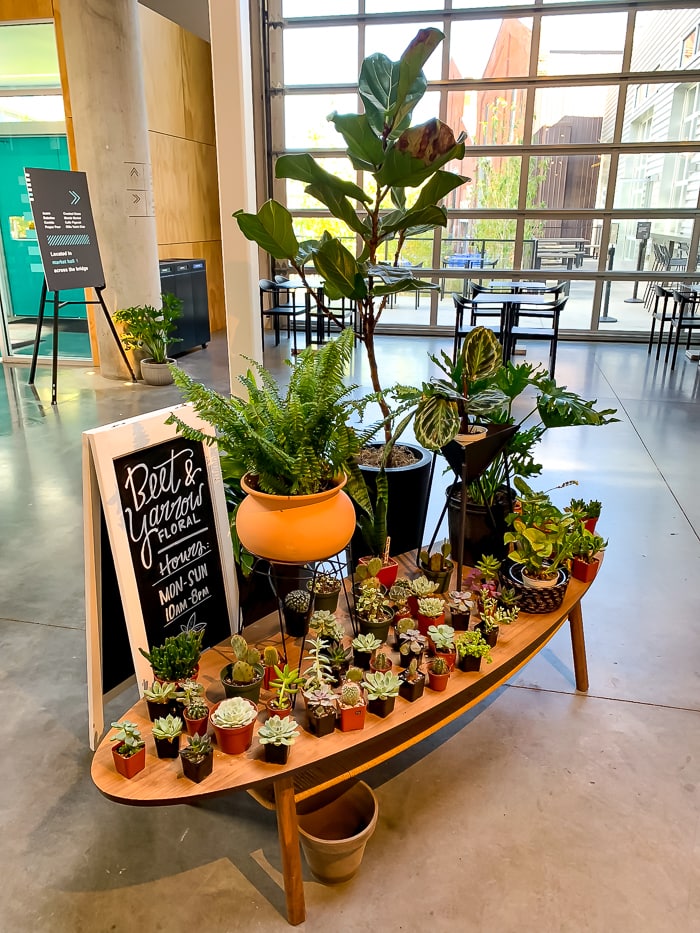 The Source Hotel + Market Hall – Kind of similar to Denver Central Market, The Source is a fun spot to check out a variety of local shops, restaurants (like Safta), a brewery, bar and coffee shop! We stopped by Beet & Yarrow Floral and I wanted to take one of everything home.
Denver Milk Market – Another new hot spot in Denver with a variety of restaurants and shops to check out. I wish I snapped a picture of the transformed alley – picture outdoor string lights, corn hole and dreamy downtown vibes. If I lived in Denver or was in town longer, I definitely would have spent more time here!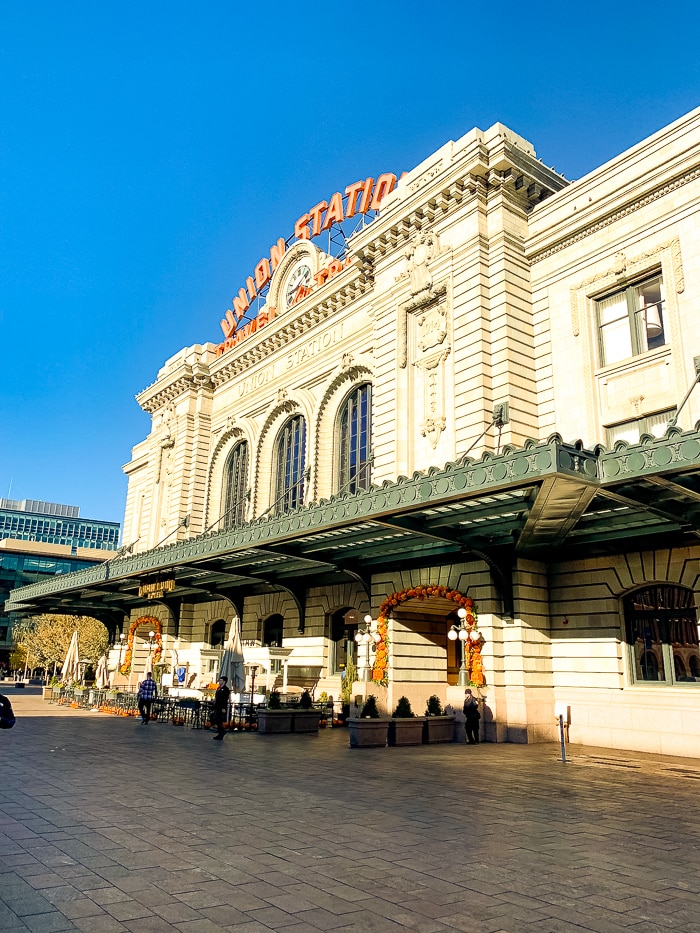 Union Station – Union Station is pretty iconic in Denver. Apparently, it used to be a rundown train station that they were going to just tear down. A woman had a vision for the space so she rallied a bunch of people with funds and transformed the station into what it is today! The architecture is incredible and it's such a fun spot to hang out! There are multiple restaurants, coffee shops, bars, a hotel and local shops throughout the space. It also is a train station so if you're going to the airport, you can catch the train here!
Other Recommended Spots I Didn't Make It To This Time:
City, O' City – If you're on the hunt for delicious vegetarian cuisine, I've heard City, O' City is the place to go. From their website, it looks like they are very allergy friendly and have delicious items for breakfast all the way to late night. Need to check this place out next time I'm in Denver!
Watercourse – Their website says "vegan comfort food" aka my kind of vegan spot. 😉 Their entire menu looks delicious . . . I need to stop looking at the menu! #drooling
Fruition – This farm-to-table restaurant is in the same restaurant group as Mercantile (the restaurant I raved about multiple times in this post!) so I'm bummed we didn't get a chance to go. The head chef, Alex Seidel, opened Fruition and then bought a 10-acre farm which fuels "his desire to learn more about food, how it is produced, and from where it is sourced." So awesome!
Mad Greens – There are three Mad Greens locations around Denver and I wish I had the time to try these delicious looking salads! They also have grain bowls, wraps and soups if you're looking for something other than a salad. Next time, Denver!
Want even more healthy options in Denver? Check out this list.