Healthyish Getaway: Grand Rapids, MI
6
Published Sep 26, 2018, Updated Jun 18, 2023
Sharing a healthyish getaway travel guide to Grand Rapids, Michigan! Here you'll find where to stay, eat, drink and explore, along with how to stay active while enjoying the city. This trip was hosted by Experience Grand Rapids. 
A few weeks ago I highlighted my healthyish trip to Charleston, SC and now I'm back with another post as part of the Healthyish Travel Guide Series. This time I'll be sharing all about Grand Rapids, Michigan!
If you're like me before I went, you might be unfamiliar with the city, so here's a little background: Grand Rapids is the second-largest city in Michigan and it's located on the Grand River about 30 miles east of Lake Michigan. Grand Rapids has a growing culinary scene and the title of Beer City with around 80 craft breweries! And a little extra trivia knowledge: Grand Rapids also has the title of Furniture City, which dates back to the 1800's when the wood furniture business was booming – and the city remains today's center for high-end office furniture in the United States.
Experience Grand Rapids hosted a small group of bloggers for the weekend and we all had the pleasure of experiencing the city. The theme of the trip was Dine and Discover so we spent our time eating, drinking and getting active… basically all my favorite things to do when I'm checking out a new city. Overall, Grand Rapids was such a blast and has me wanting to plan a trip back so Isaac can check out the city as well. I know the brewery scene would be right up his alley. For this post, I'm going to share some of the highlights from my trip, including where I stayed, the restaurants we ate at and all of our fun activities!
Where to Stay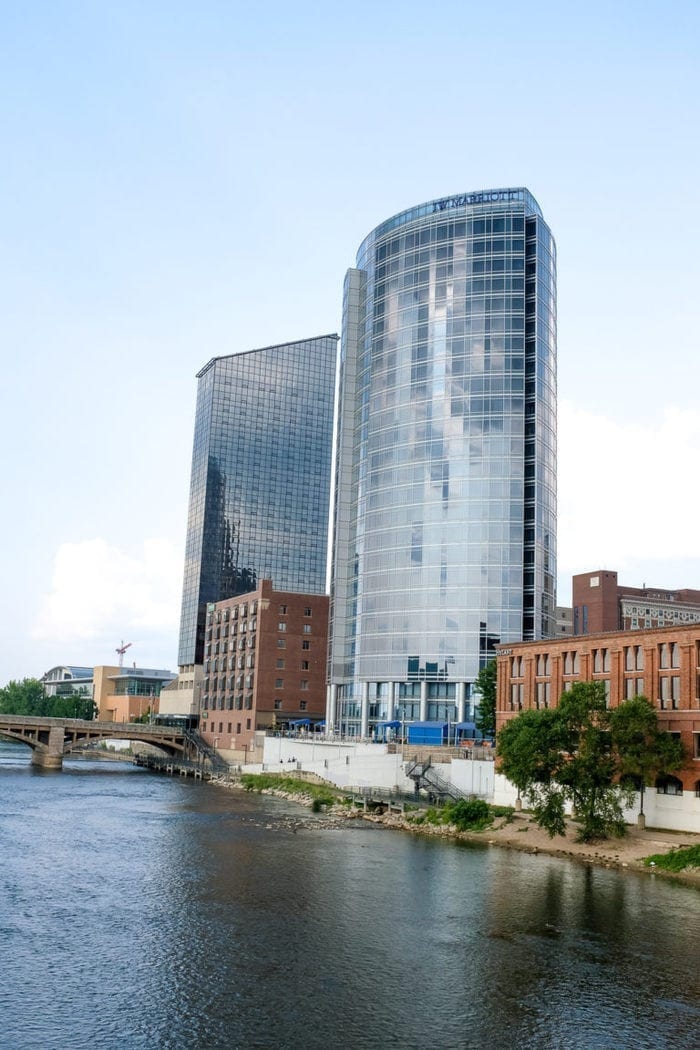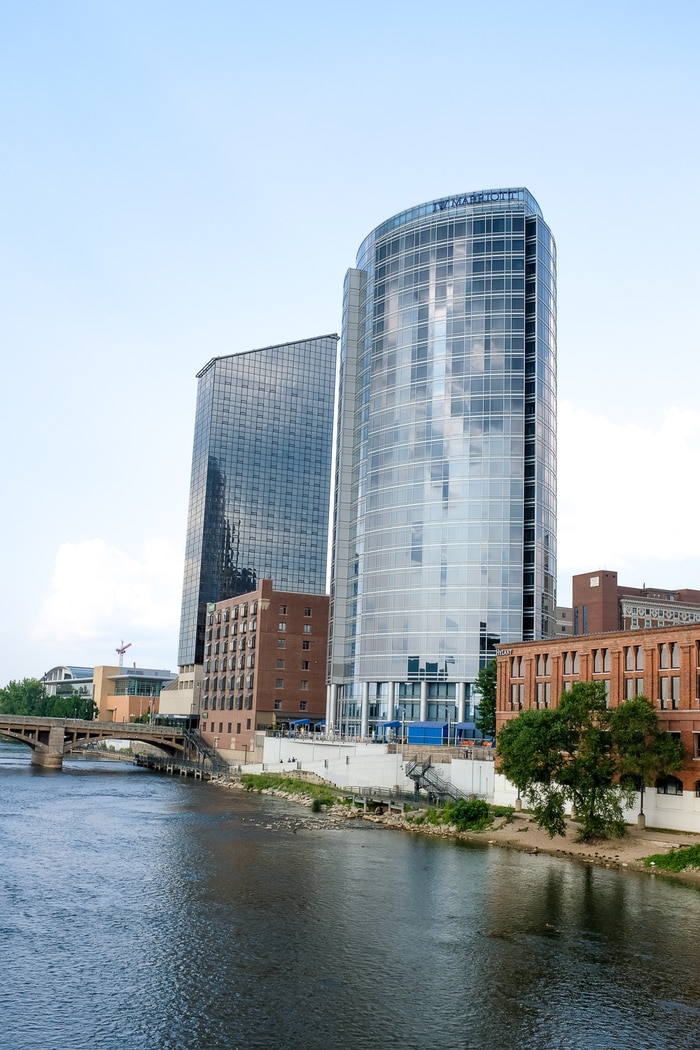 We stayed at the JW Marriott, a world-class hotel in the heart of downtown Grand Rapids. The rooms are very nice and mine even had a view of the river! The hotel has a full restaurant and bar, an indoor heated pool, fitness center, spa and eucalyptus steam room. I loved the location because it's right on the Grand River and in a super walkable area. Each morning I was able to get in a quick morning walk along the river and there were so many great restaurants, museums, coffee shops, and boutiques all within walking distance.
Healthy Spots for Breakfast & Lunch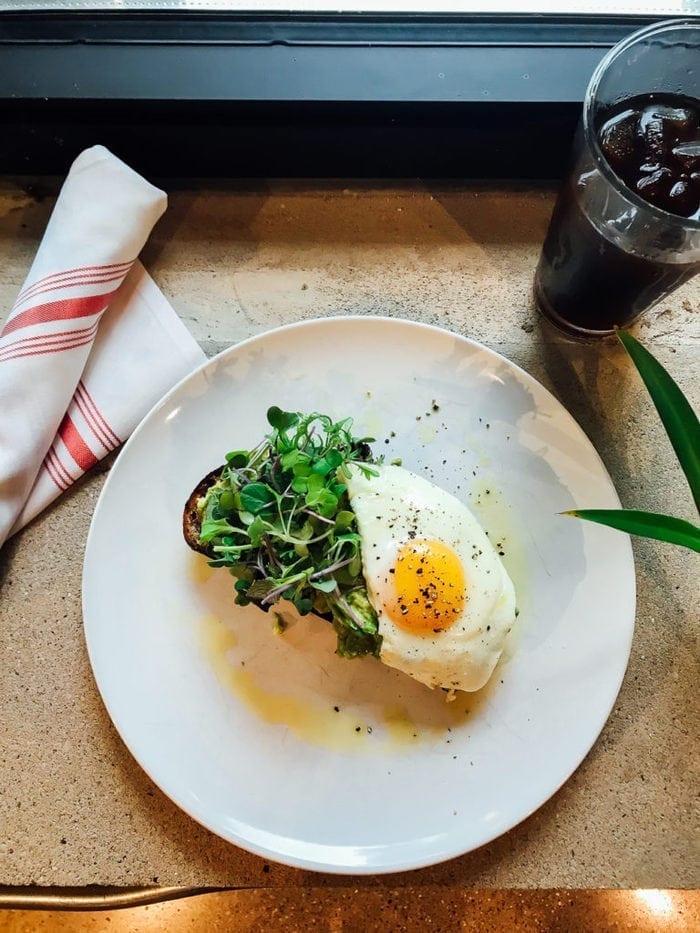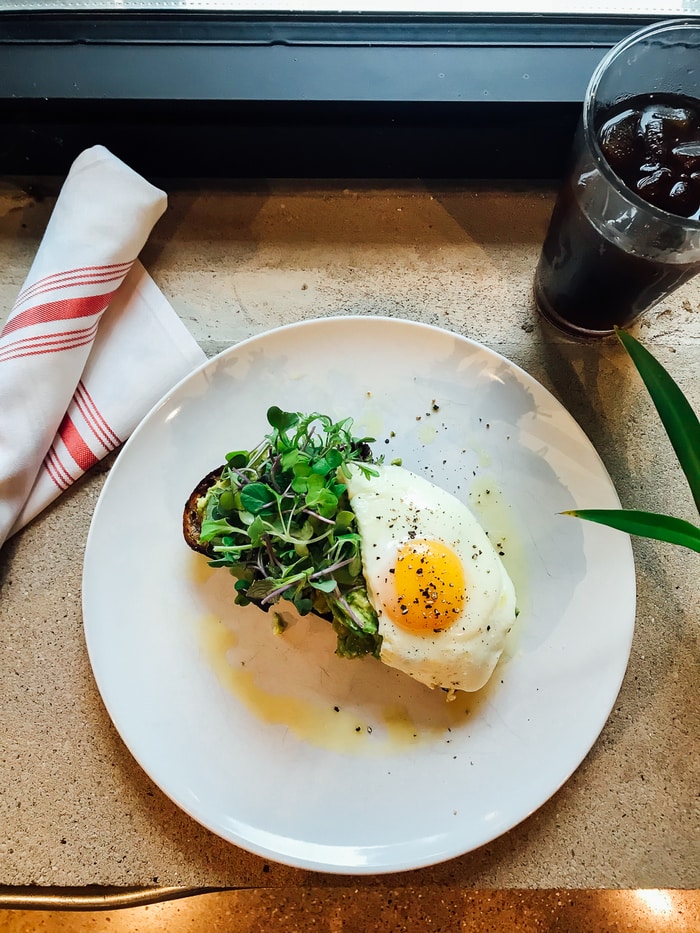 Field & Fire Cafe

– A w

ood-fired bakery specializing in rustic artisan breads and croissants. I was happy to learn that they have a lot of vegan and gluten-free options. I ordered a cold brew and the avocado toast (spelt bread) with a perfectly cooked egg on top. So delicious and filling!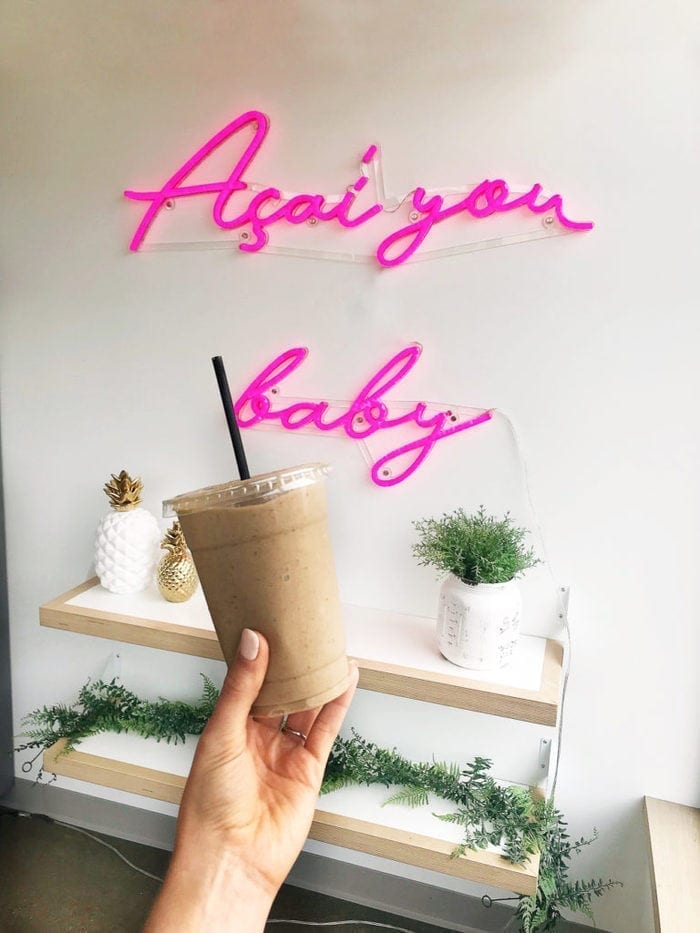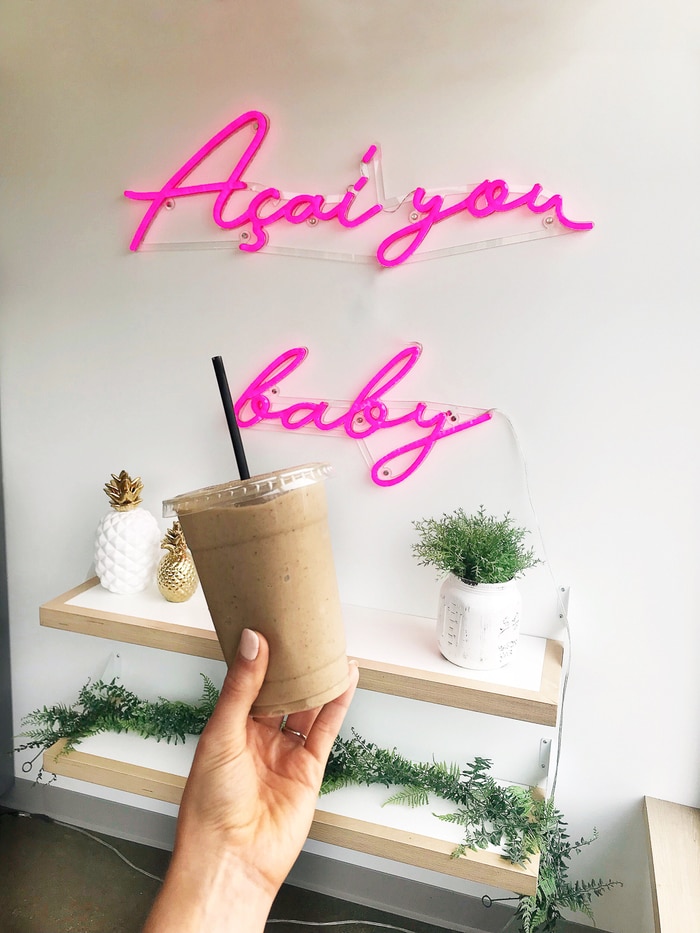 Fruition – This cute spot in East Grand Rapids serves up

acai bowls, avocado bowls, healthy green juices, fresh smoothies and healthy toasts. I ordered the get up and go protein smoothie, but the avocado bowls looked delicious as well (maybe on my next trip!).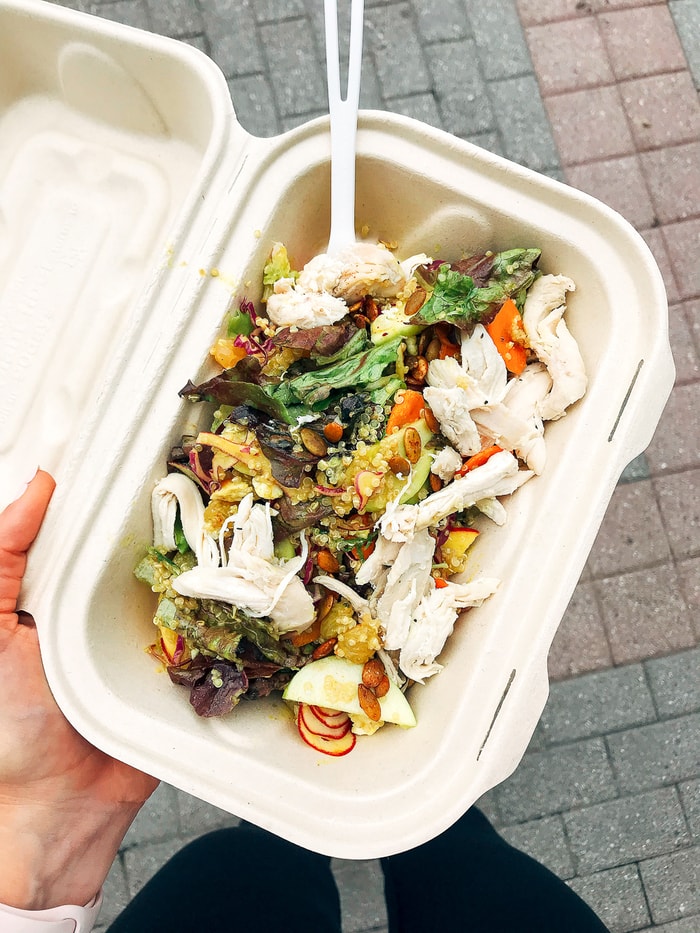 Little Bird – I arrived at the hotel starving so I did a little online searching for healthy options nearby and found this spot (I immediately knew I needed to go based on the name alone). I ordered the chop salad with chicken and it was really good. They also have an untraditional Caesar salad with kale and potato chips, plus tons of healthy-ish food items and a stellar looking breakfast menu (looking at you avocado toast). Highly recommend.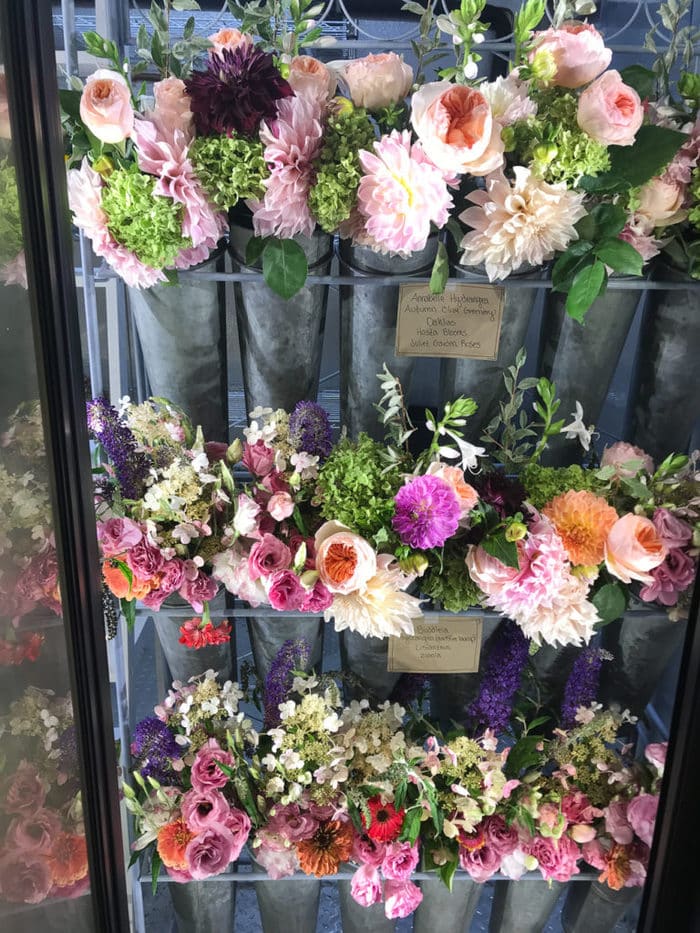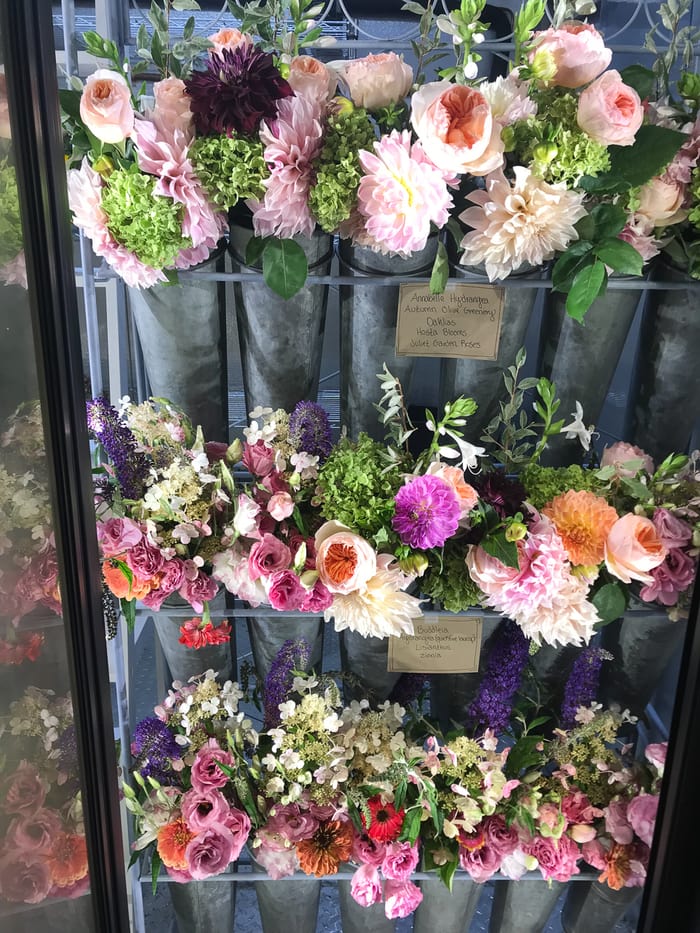 Grand Rapids Downtown Market – This downtown market is a great place for shopping, food, art and culture. Their indoor facility features a 24-vendor market hall. There is a Madcap location and a bakery, but you'll have more options for lunch than breakfast here. We stopped by to grab picnic and lunch supplies before heading to Lake Michigan for the day. I highly recommend the chipotle smoked salmon from Fish Lads.
Dinner Spots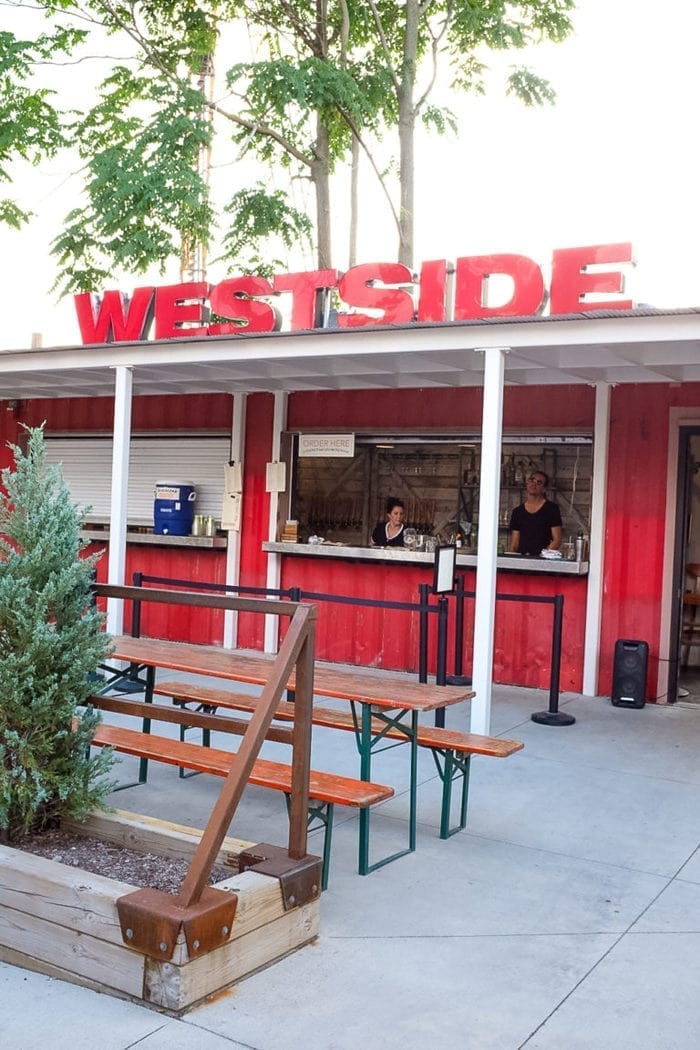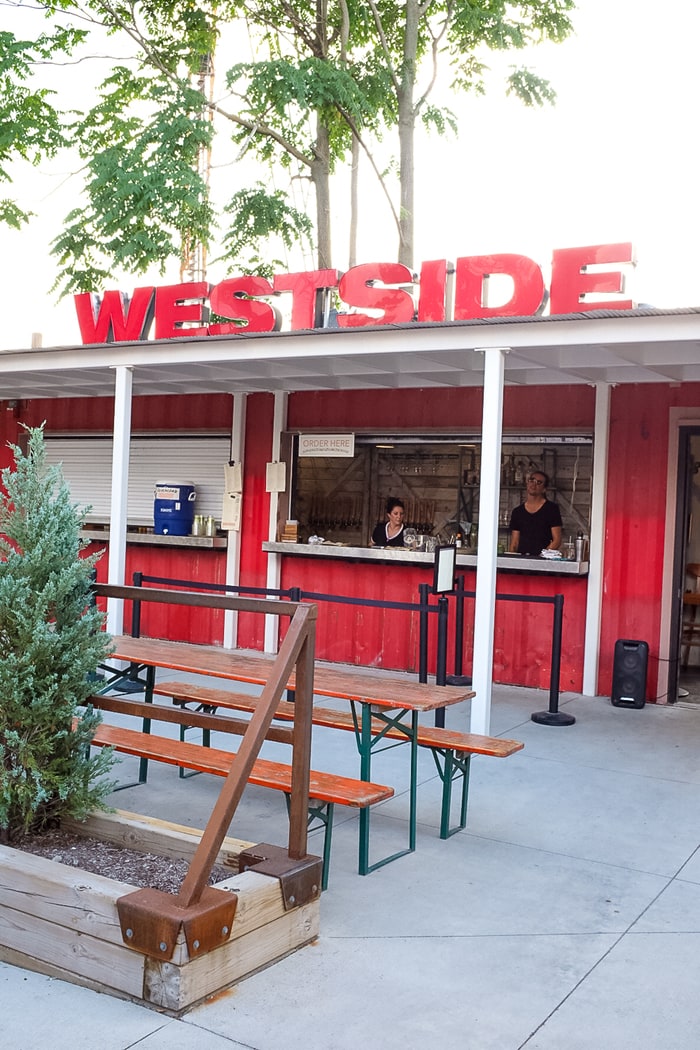 The Sovengard –

Seasonal produce is given a Scandinavian treatment at this super cute, hip destination with a picture-perfect outdoor space. Highly recommend the sour beer fries, which are made with hand-cut russet potatoes and tossed with sour beer vinegar. Totally worth the splurge!

Reserve Wine & Food

– We did happy hour here on our first night and loved the wine on tap and the wine flight options! We didn't eat here but it looks like a great spot for dinner with

farm-to-fork fare.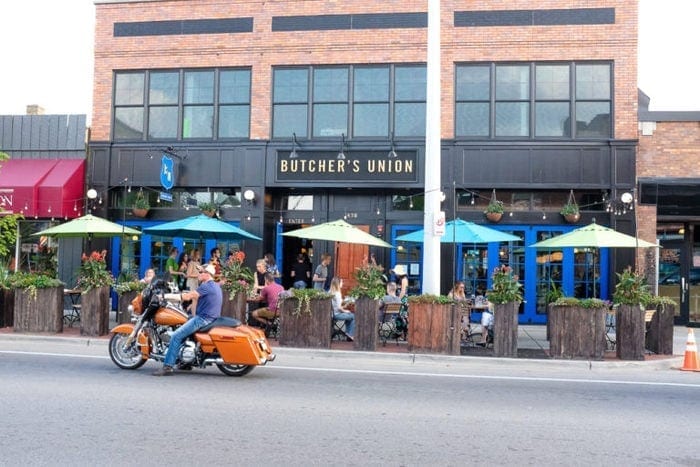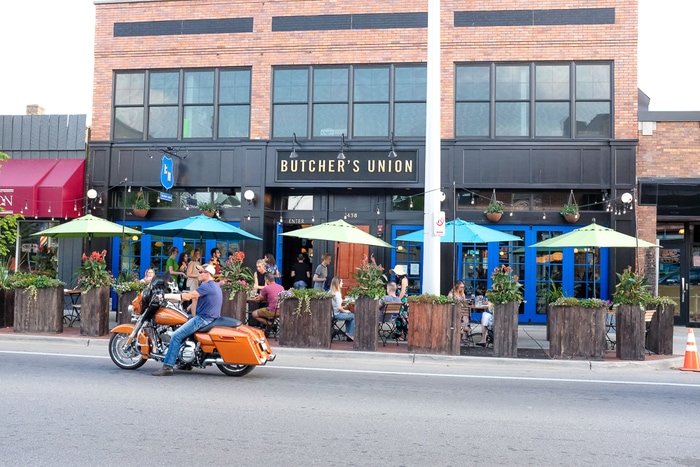 Butcher's Union – This was one of my favorites. They have an adorable

outdoor patio with American cuisine and great cocktails. Known to be meat-centric and have amazing steak (some of the ladies were raving about it). I had an awesome vegetarian meal here and highly recommend the cauliflower hummus.

Zoko 822 – Offers

Basque-inspired cuisine, a combination of Northern Spanish and Southern French styles and flavors served small plate style.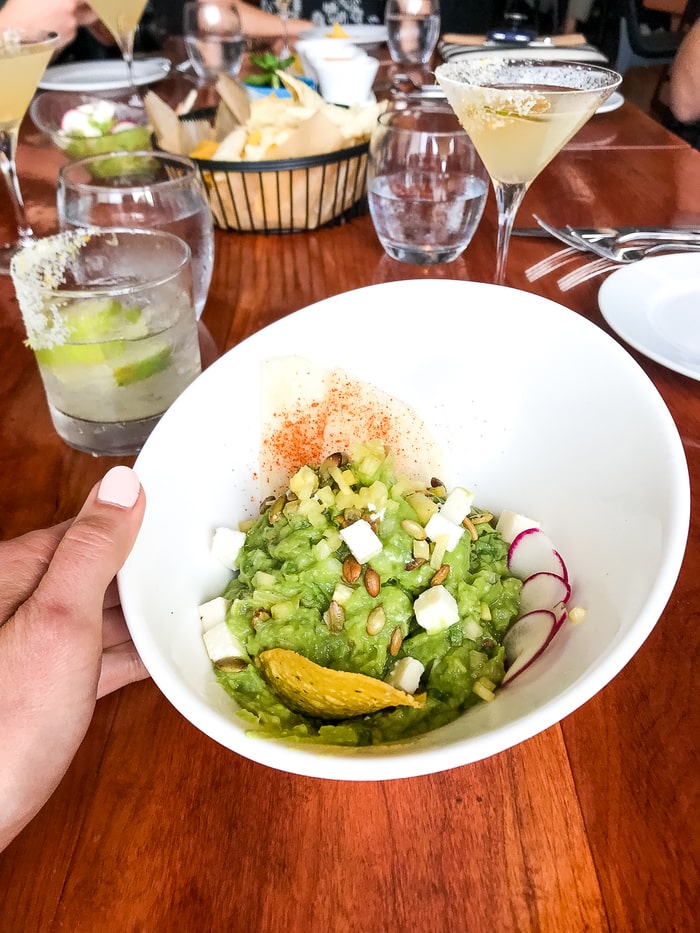 MeXo – A

Mexican restaurant and bar that brings a modern touch to the classic pre-Hispanic cuisine of Mexico. The fresh guac was delicious and I love that it comes with jicama and radish slices for dipping! Any spot that offers veggies as a dipping option gets my vote.
Spots for a Drink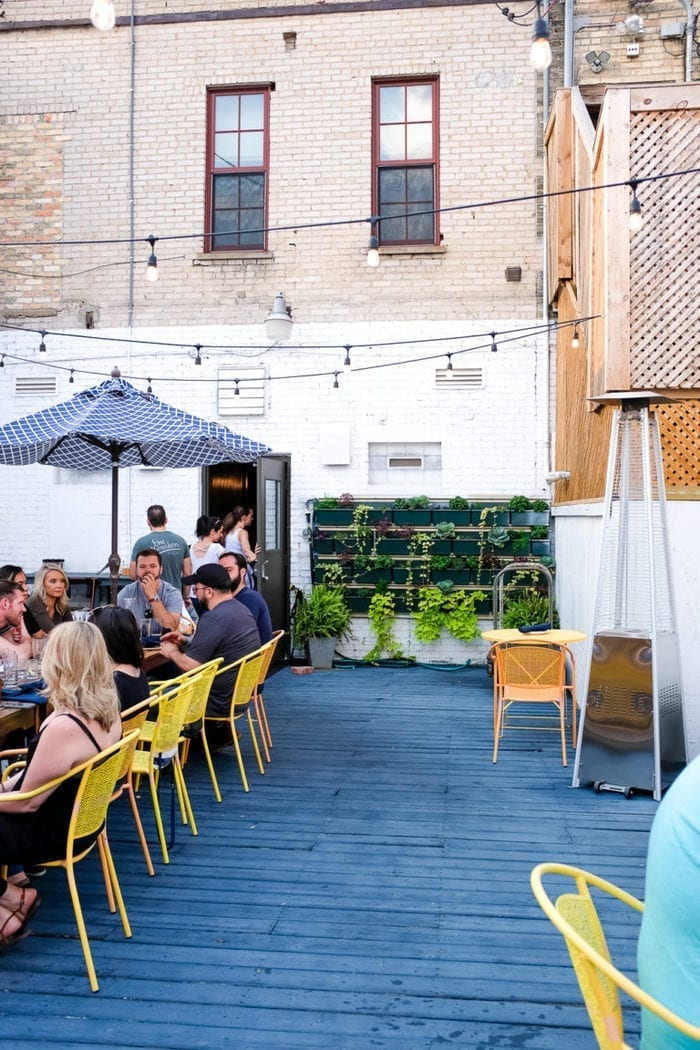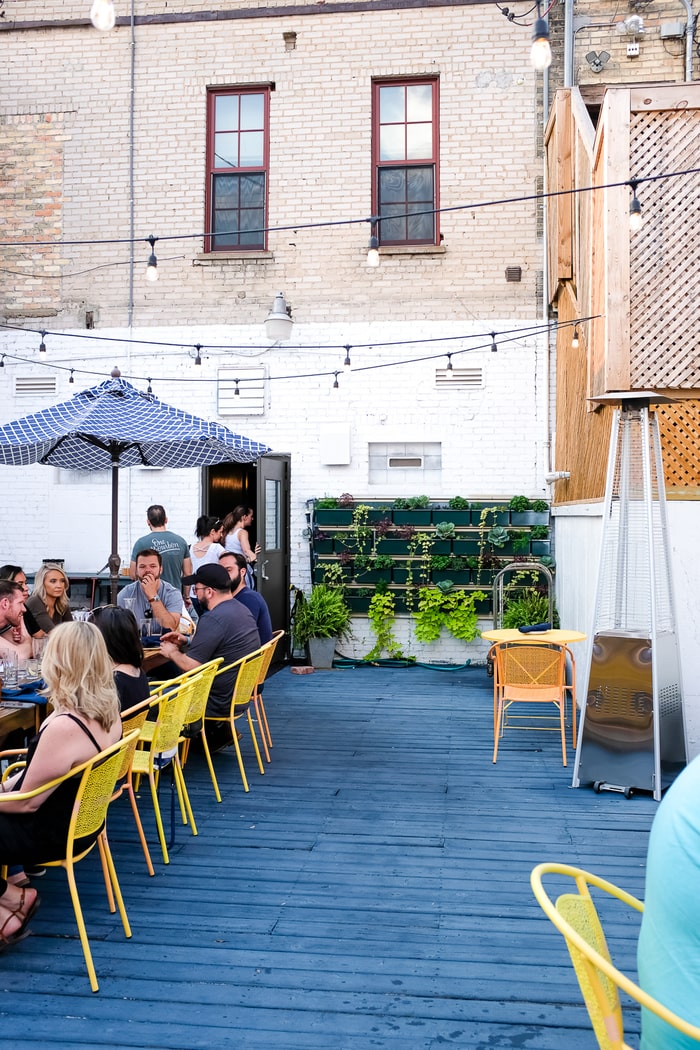 One Bourbon – A vibrant patio with an epic whiskey selection. I don't love whiskey so this didn't excite me, but they have other drinks as well and the paloma I ordered was perfect! I loved all of the greenery here too.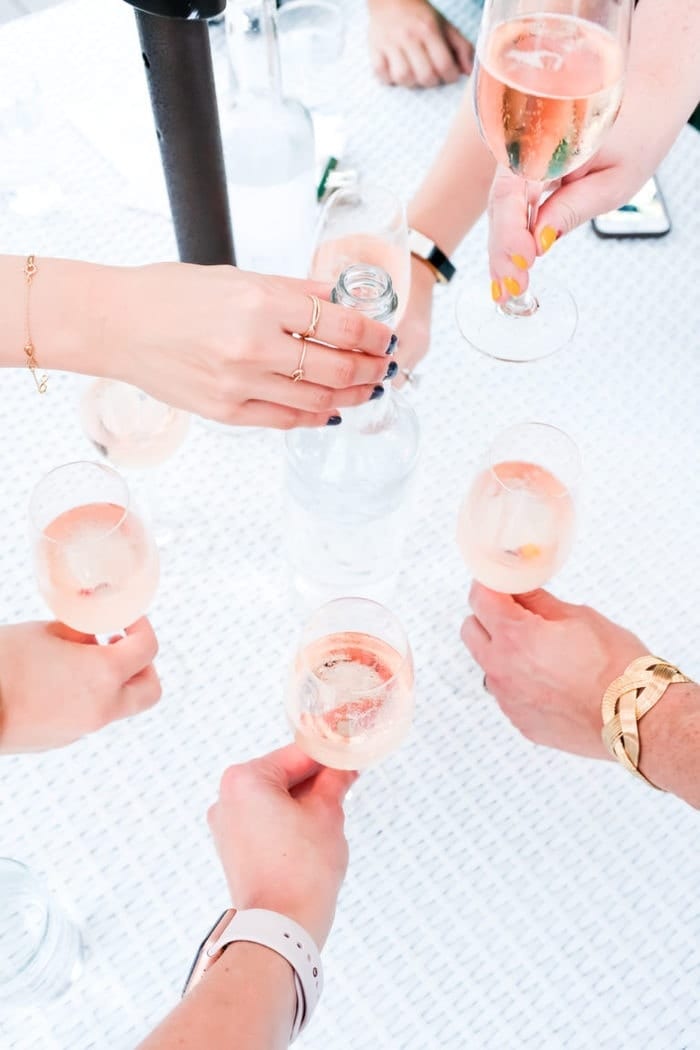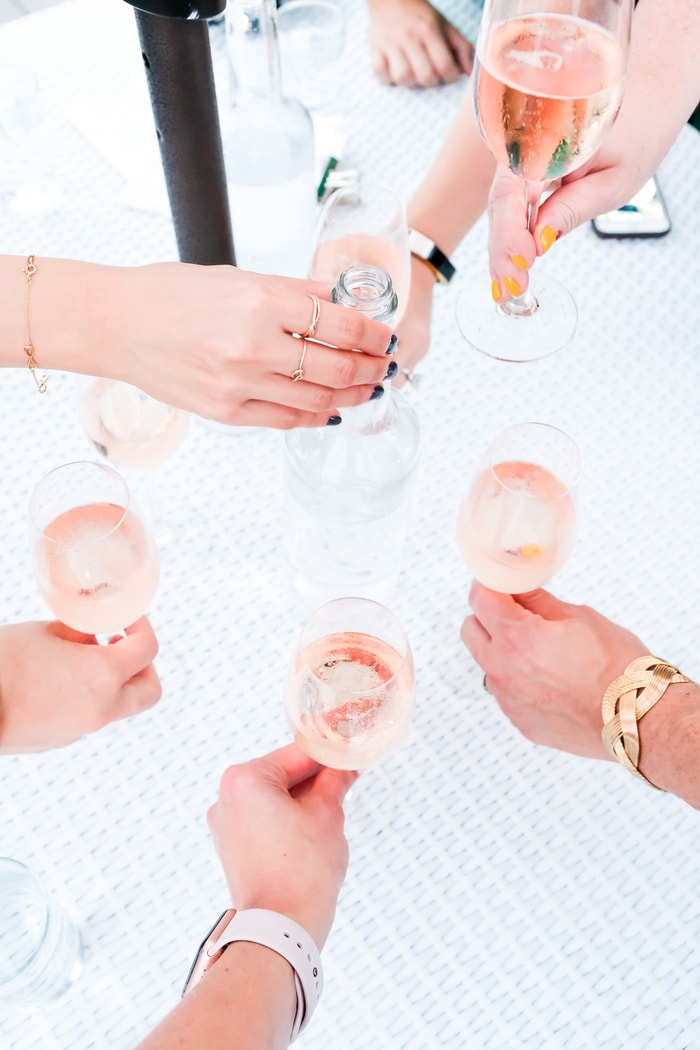 Haute Rooftop Lounge at New Hotel Mertens – There aren't many rooftop spots in Grand Rapids, so this is a real gem and was hands-down one of my favorite spots in the city. Haute serves appetizers, desserts and has a full bar. The drinks were great, but I highly recommend the chocolate pot de crème. It was soooo rich and creamy. But, if you're looking for dinner, check out the retro-chic brasserie downstairs serving French classics and old-school cocktails in a historic, former hotel.
Founders Brewing Co – We actually didn't make it to Founders on this trip, but I have to give them a shout out because Grand Rapids is known as the Beer City. So if you're a beer lover, definitely take advantage of the beer scene. Check out the Beer City Ale Trail with over 80 breweries or schedule a brewery tour.

Cygnus27 – E

njoy the skyline as you sip a cocktail atop a Glass Tower. A great spot for dinner as well!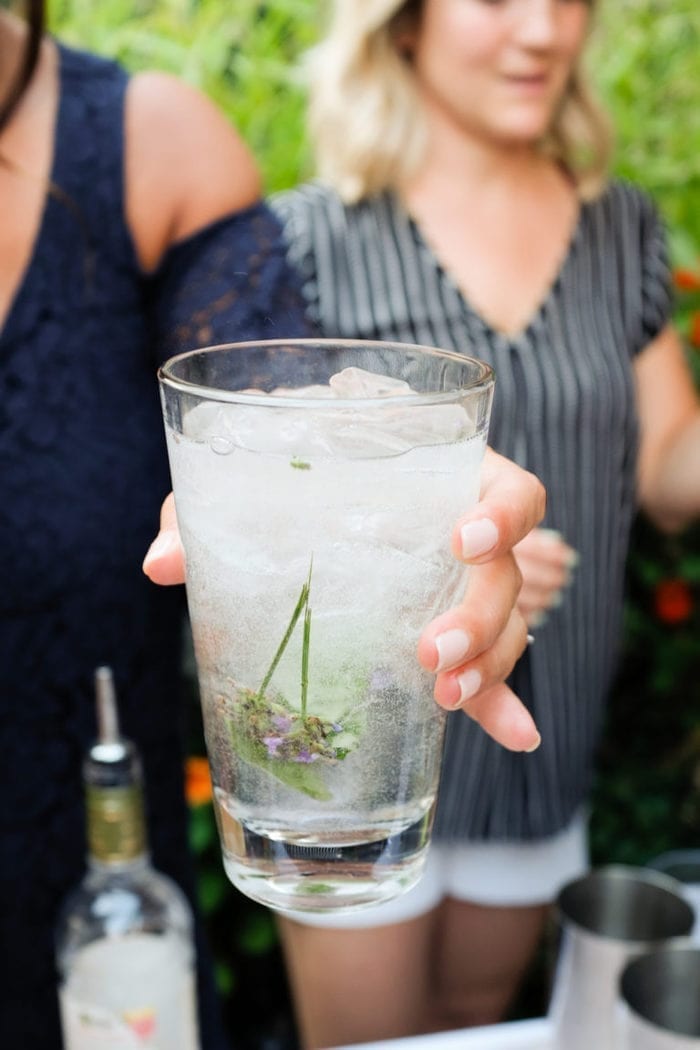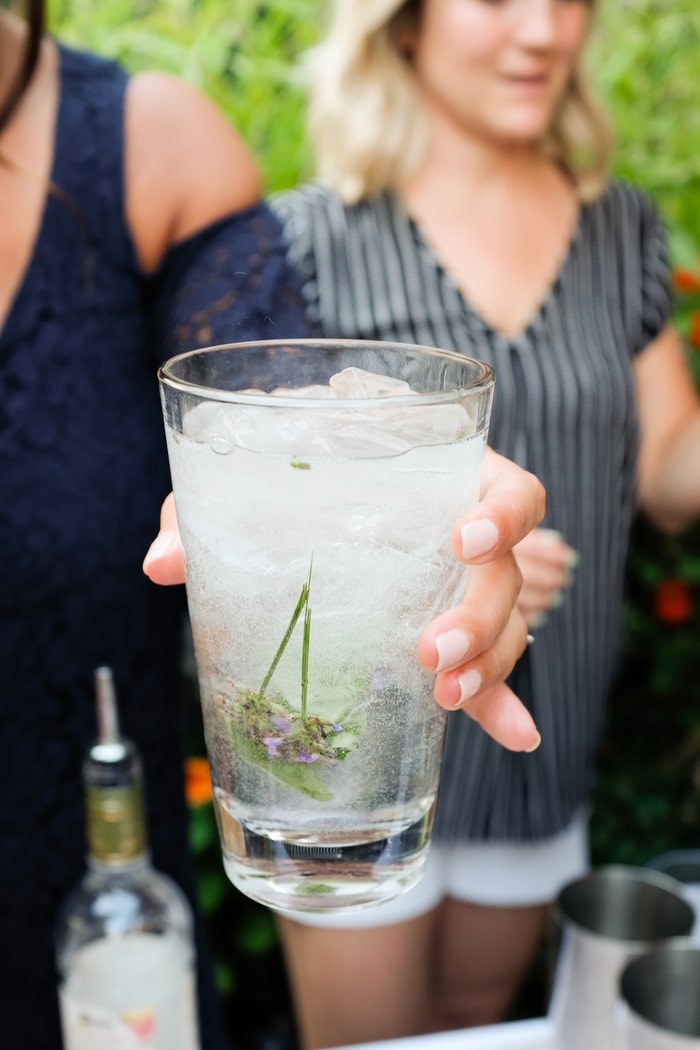 THE B.O.B – This is a fun downtown spot that has restaurants, bars and a club all in one building. There's basically something for everyone here — pizza, live music, dancing and more. There was a special botanical garden event with Ketel One going on during our visit and we were able to b

uild our own cocktails using fresh picked herbs and Ketel One's low-sugar botanical-infused vodkas.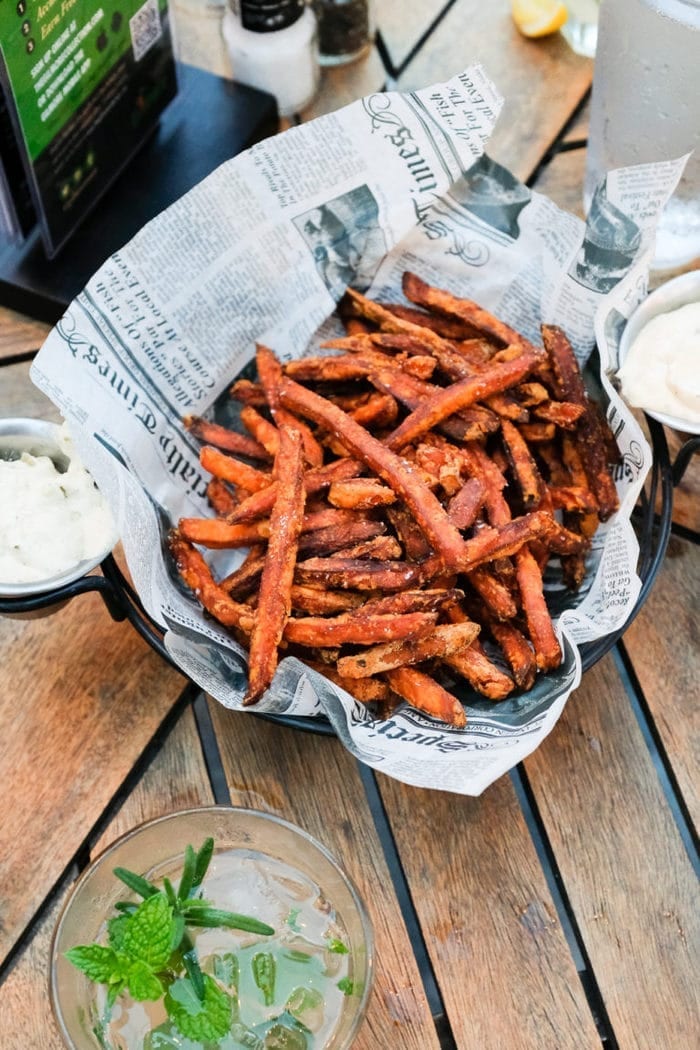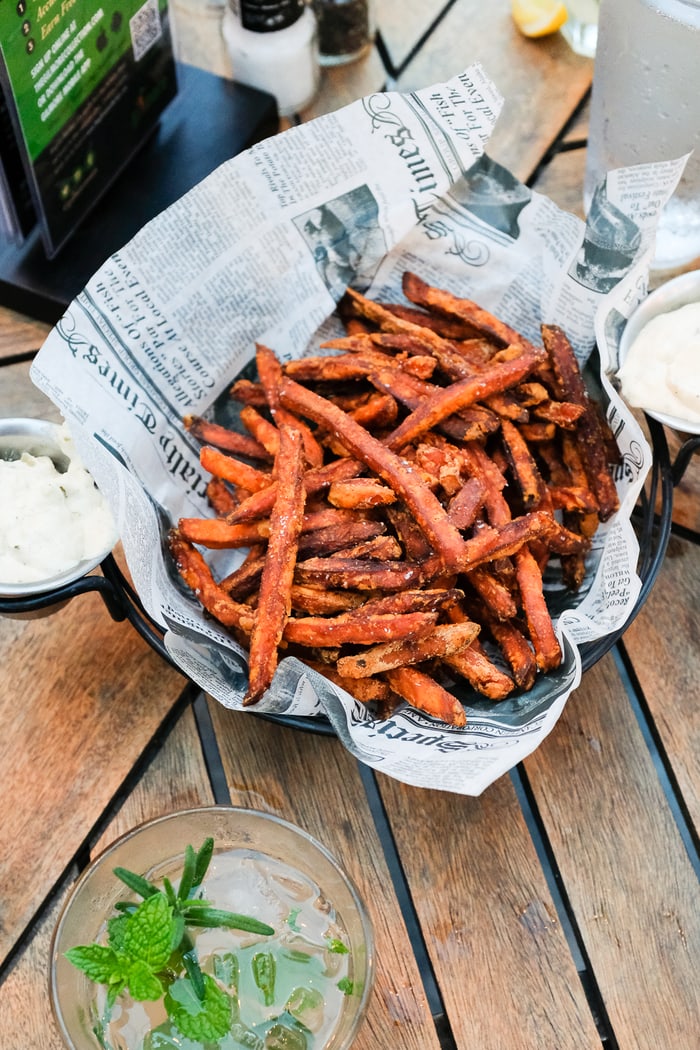 And OMG, the sweet potato fries from Bobarinos Pizza were so good! Have you noticed that fries (especially sweet potato fries) are my weakness? My typical move is to ask Isaac to order fries with his meal so I can steal a few, but when I'm on vacation I happily indulge in my own basket of fries. #balance
Coffee Shops
If you've been reading EBF for a while you'll know that I love coffee, and whenever I visit a new city I'm always on the hunt for the best local coffee shops. Funny enough, our itinerary for the trip included a coffee crawl so I got to experience some of the coolest local coffee spots in Grand Rapids.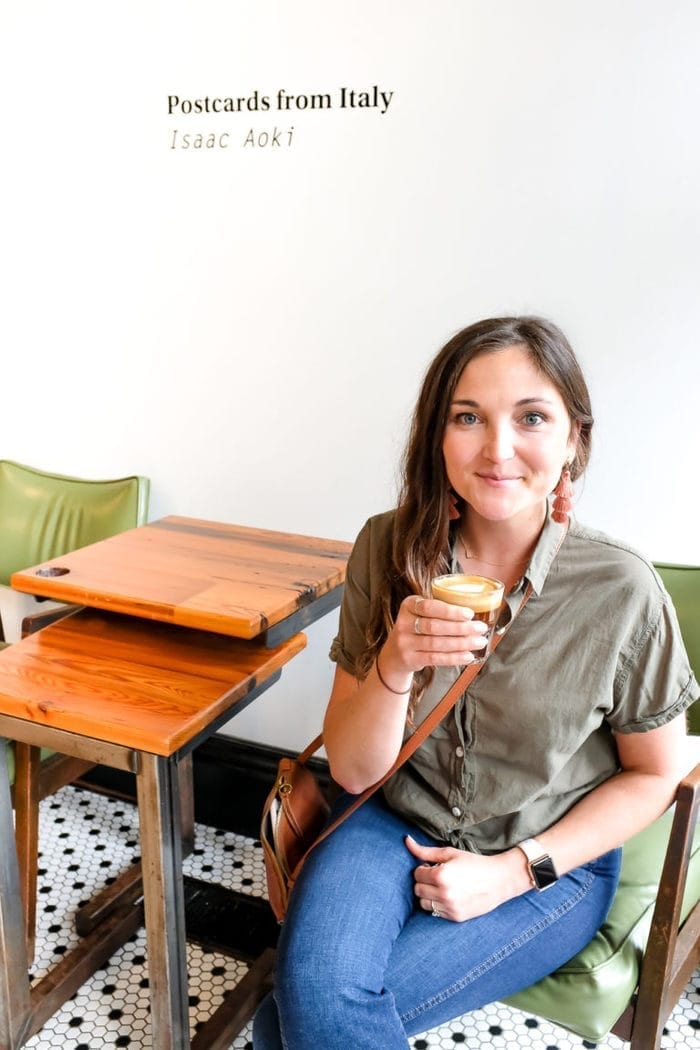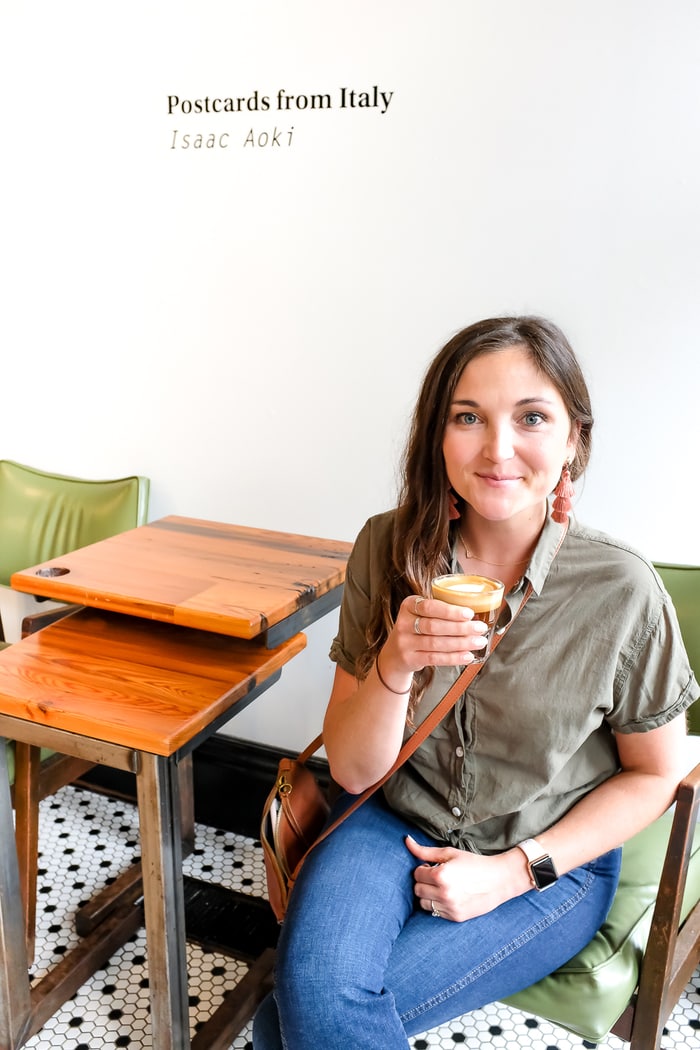 Madcap – Serves locally roasted coffee at three locations around Grand Rapids. I visited the Monroe Center location one morning because it was within walking distance from my hotel and also grabbed a cold brew from the Downtown Market location. Their coffee was so good. I totally would have brought home some coffee beans for Isaac, but our kitchen was being renovated at the time.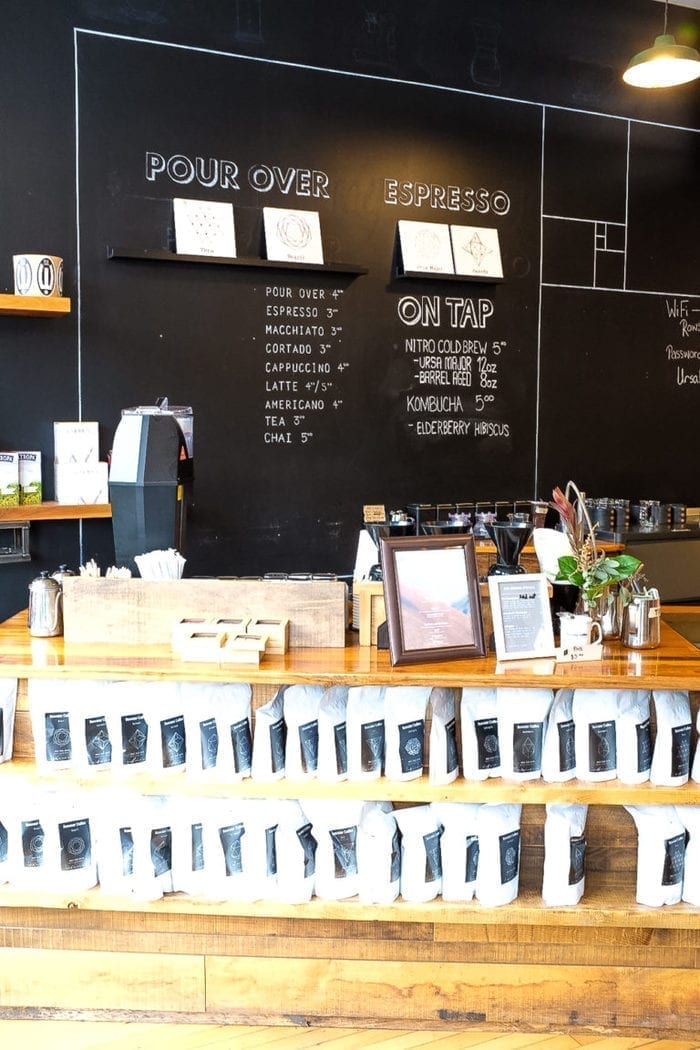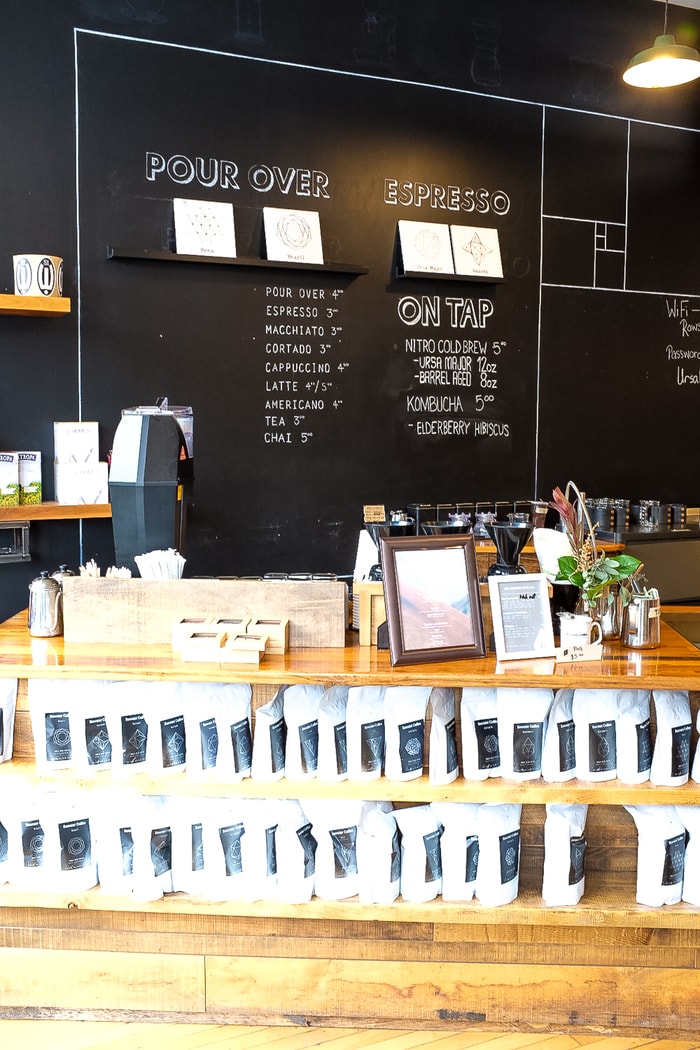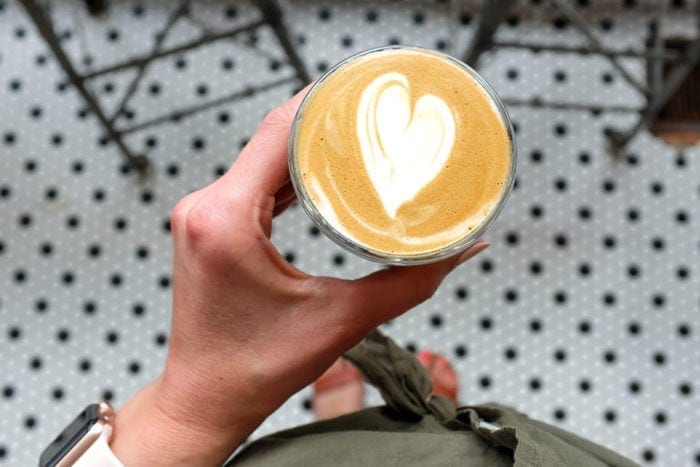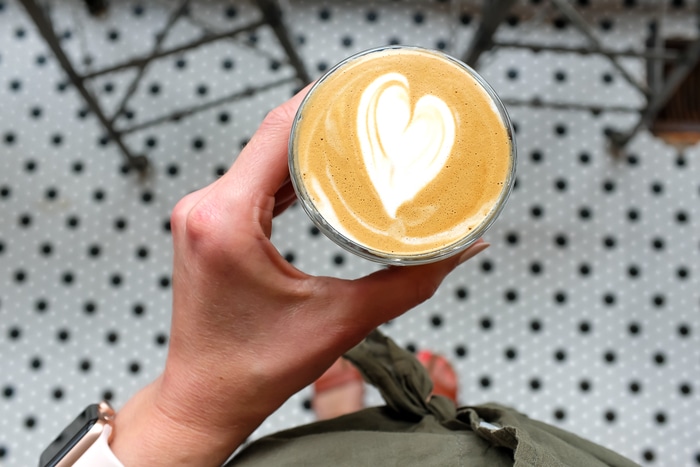 Rowster Coffee

– I was super impressed with the house-roasted coffees AND homemade almond milk. I had to get an almond milk latte once I found out they made their own in-house, and it was delish.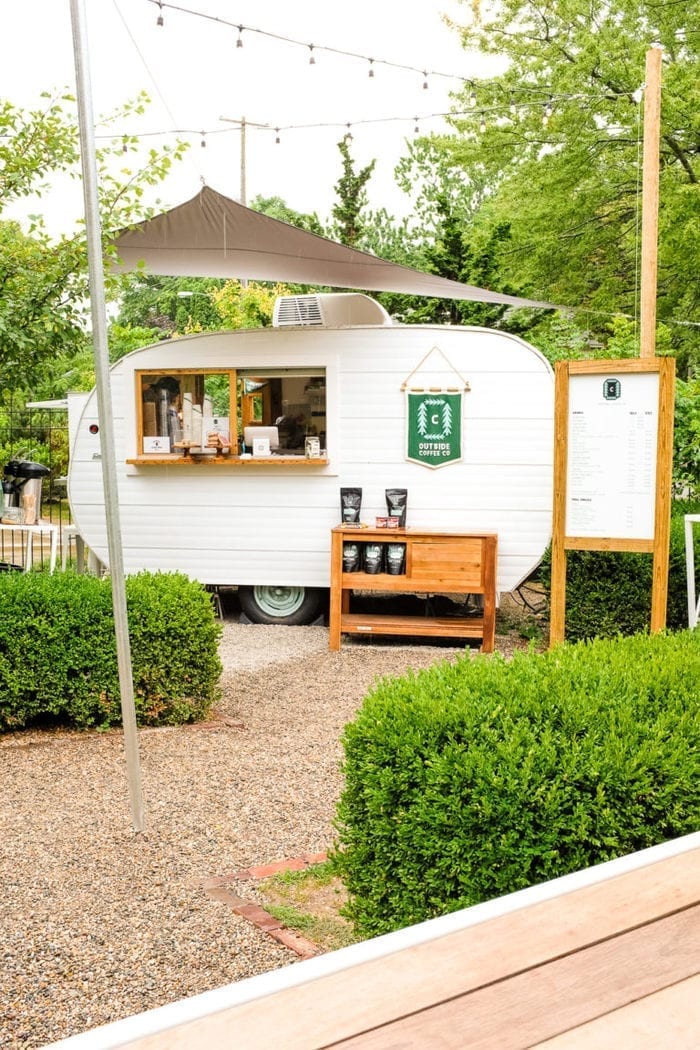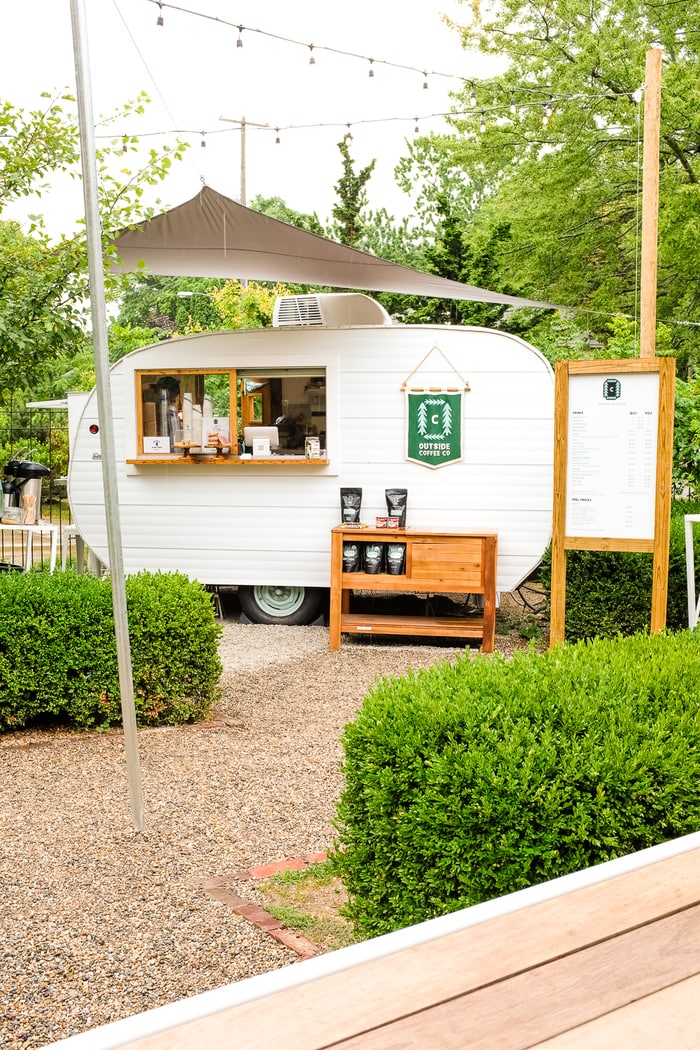 Outside Coffee

– A camper-converted coffee shop parked in the community garden at

Woosah Outfitters

. This spot wins for being the most unique and hip! Grab a cup of coffee and relax in the nearby hammocks.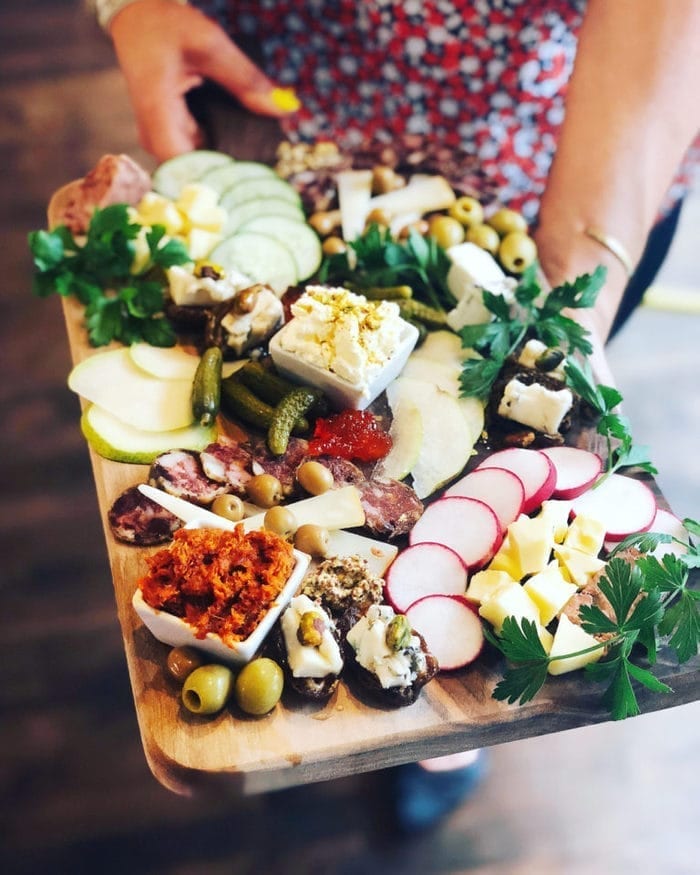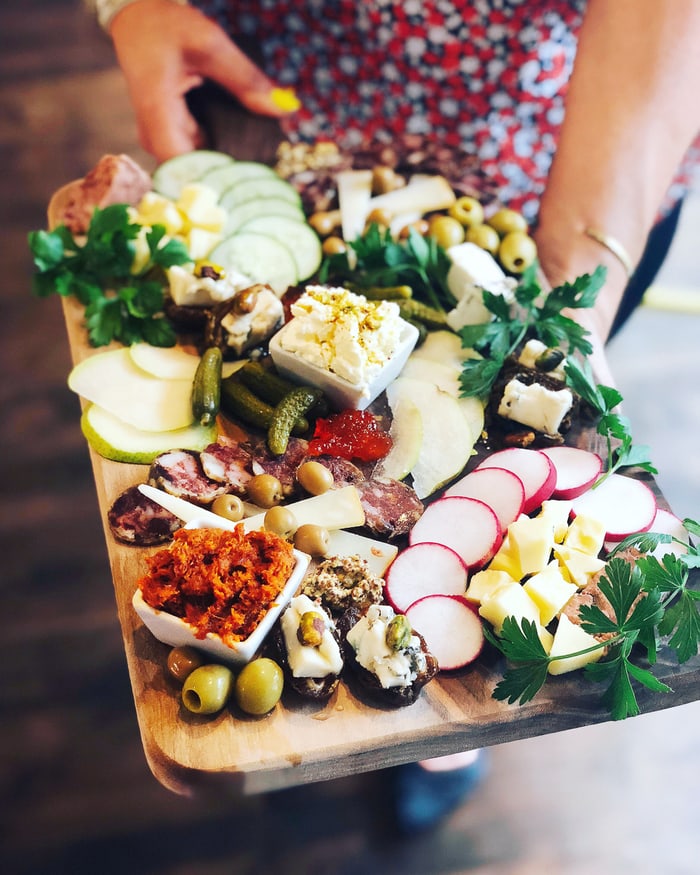 Squibb Coffee & Wine Bar – the perfect spot for coffee or a mid-afternoon glass of wine (or local kombucha). They also make epic cheese and charcuterie boards.
Movement and Workouts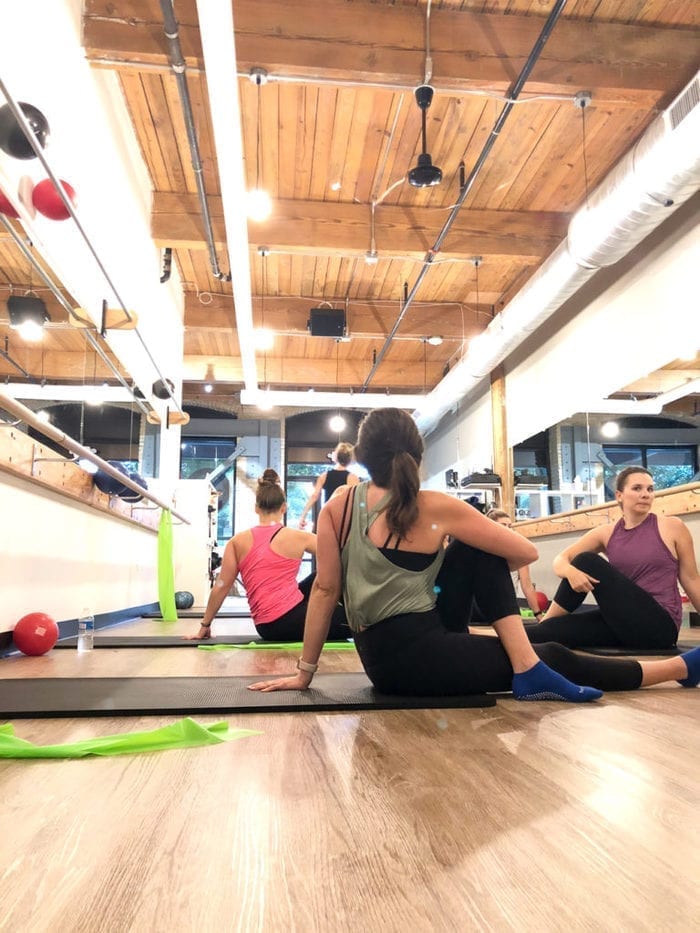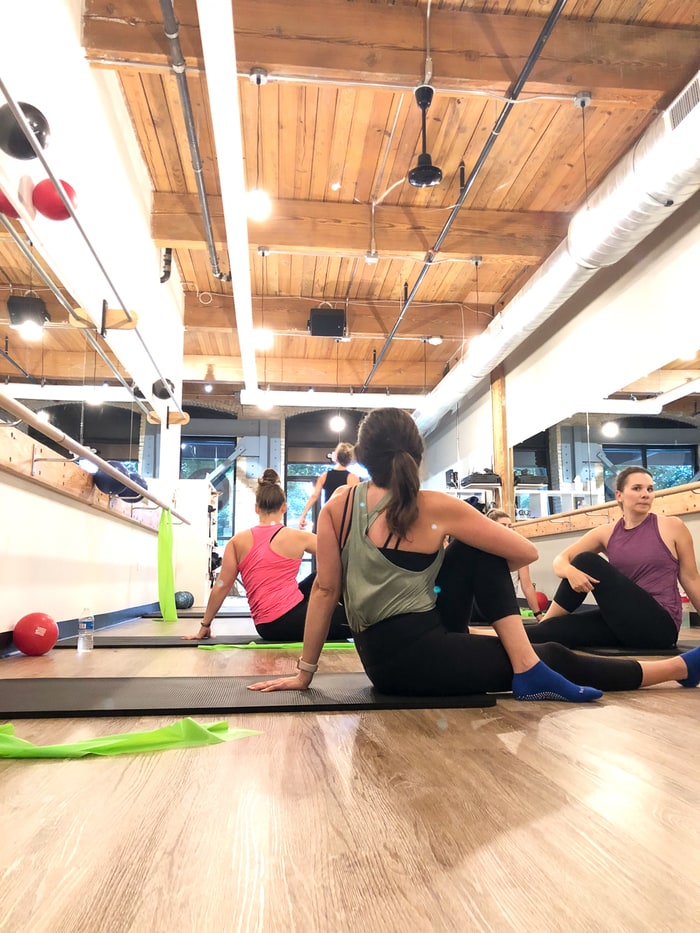 My activity of choice while traveling is walking (or running) so I can explore while getting in my movement for the day but there are a ton of fitness studios in Grand Rapids as well. One morning we had a chance to check out one of the local studios, Beer City Barre, which offers a full body, 60-minute class that blends techniques from ballet, Pilates and yoga.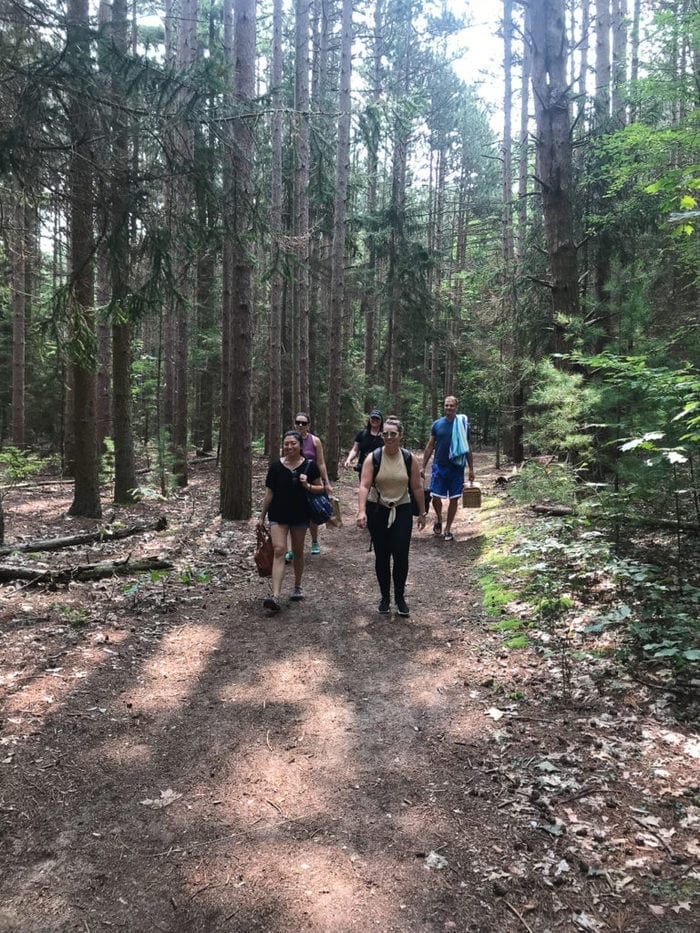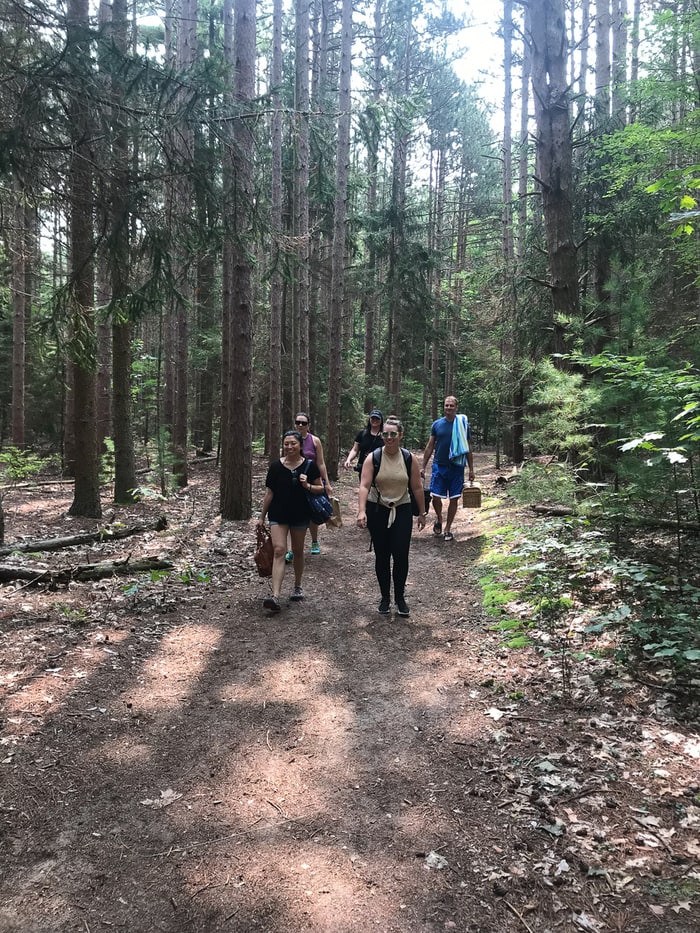 Another great way to stay active while visiting Grand Rapids is to plan a day trip to Lake Michigan and hit up one of the numerous trails. We decided to hike the North Point Trails to Saugatuck Dunes State Park. The hike wasn't strenuous at all, but there are some huge coastal dunes (over 200 feet tall) near the water so if you're inspired to get in a good workout I highly recommend climbing those bad boys a couple times before hopping in the water for a swim.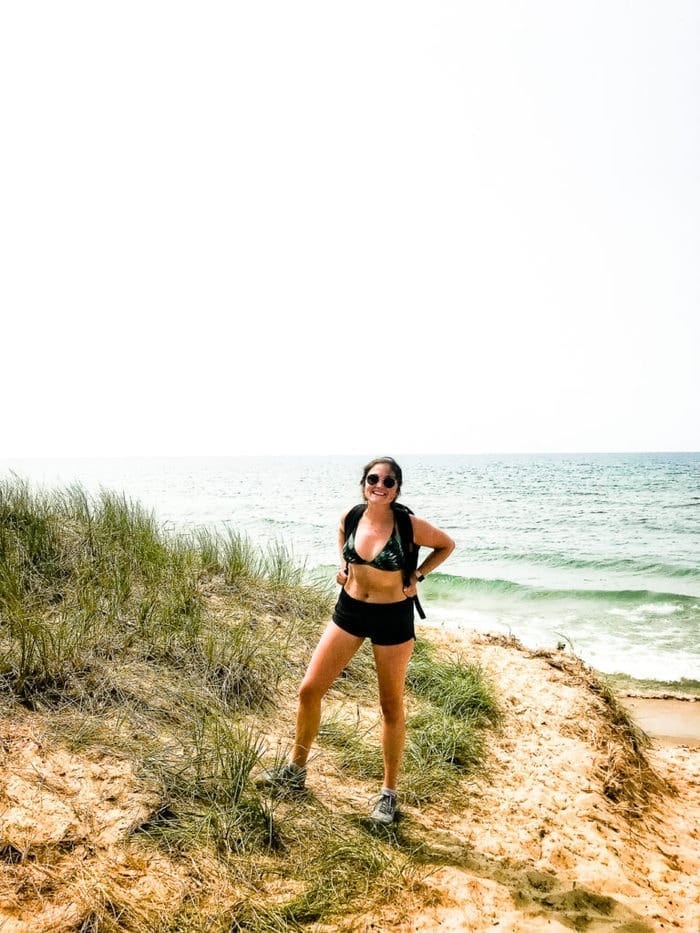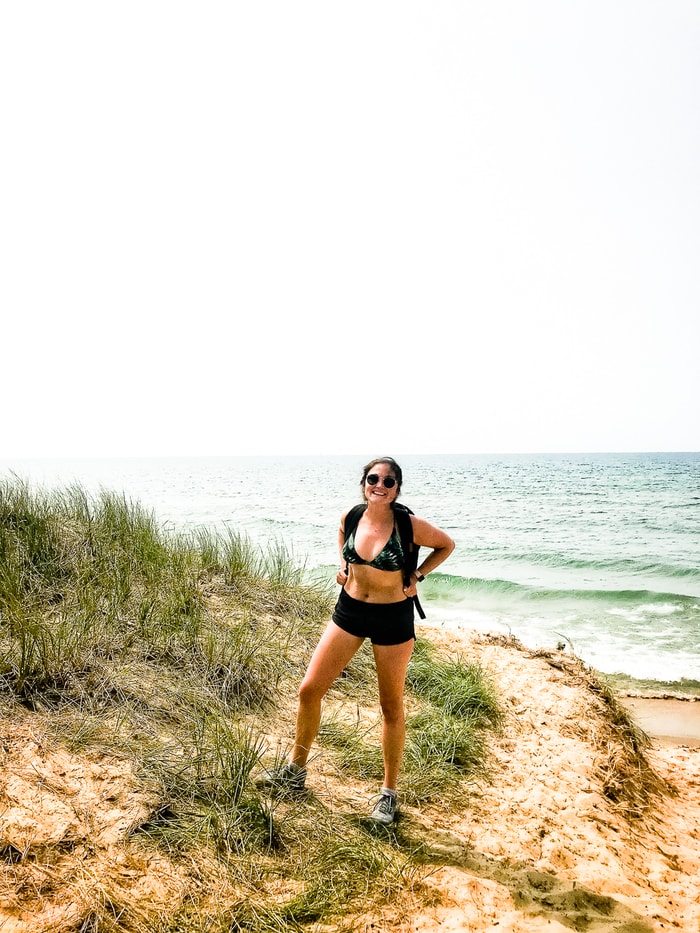 Speaking of Lake Michigan, I have to mention that I had never been before and dang, I was SO impressed! The water is clean, turquoise, clear and simply beautiful. As an East Coast girl, I grew up going to beaches in Virginia, the Carolinas and Florida, which are obviously all salt water. The cool thing about Lake Michigan is that the lake has waves, but it's fresh water so you don't have to worry about salt getting in your eyes/mouth, and when you get out of the water you feel fresh/clean rather than sticky and salty. It's pretty amazing. Oh, and there's no need to worry about sharks or jellyfish either!
Boutique Shops
So I thought Richmond had some cute local boutiques (and we do!) but Grand Rapids has SO many little neighborhoods with cute boutiques. Here are a few that I enjoyed: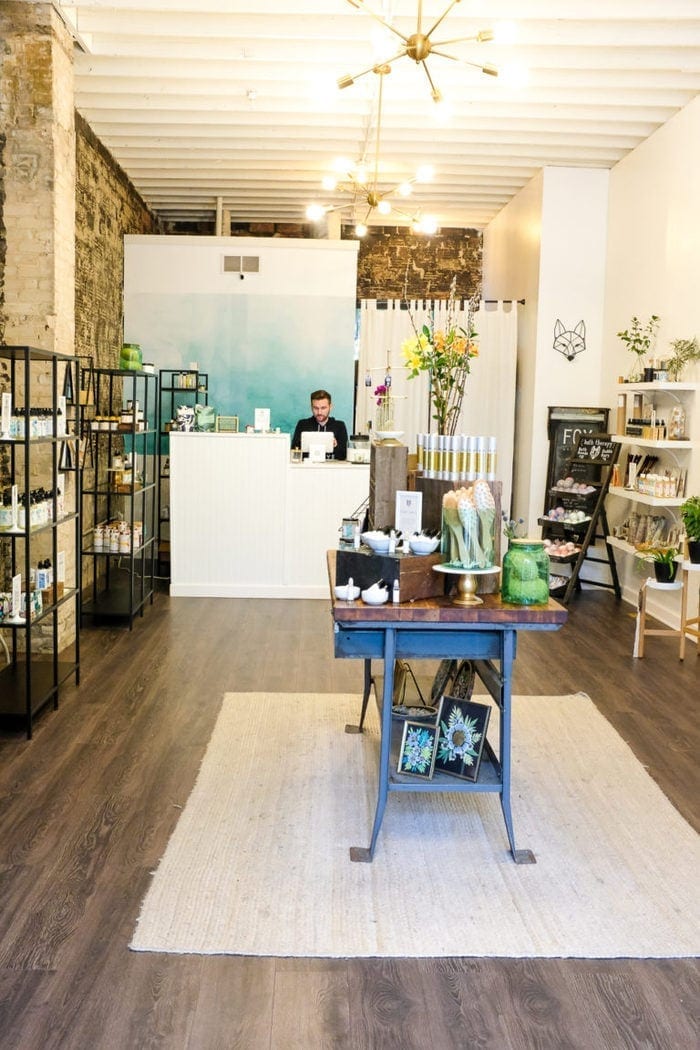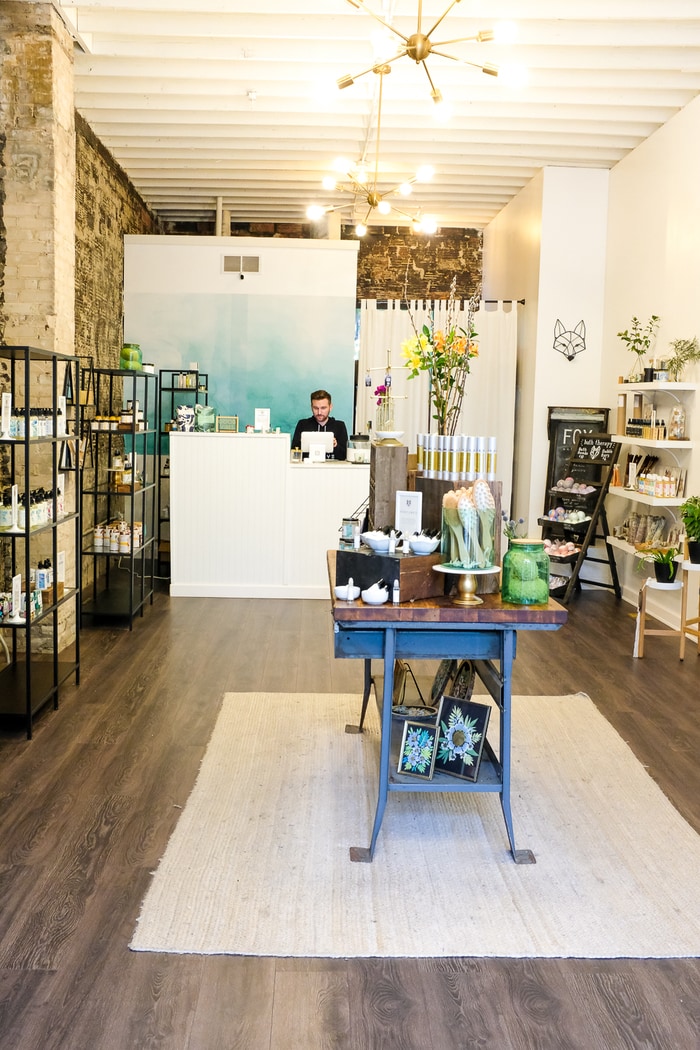 Fox Naturals – Sells locally made natural skin, hair and beauty products. Such a cute shop with the most adorable branding.

Art of the Table

– A gourmet shop with a unique range of food, libations and table accessories. Perfect spot for food photography props. 🙂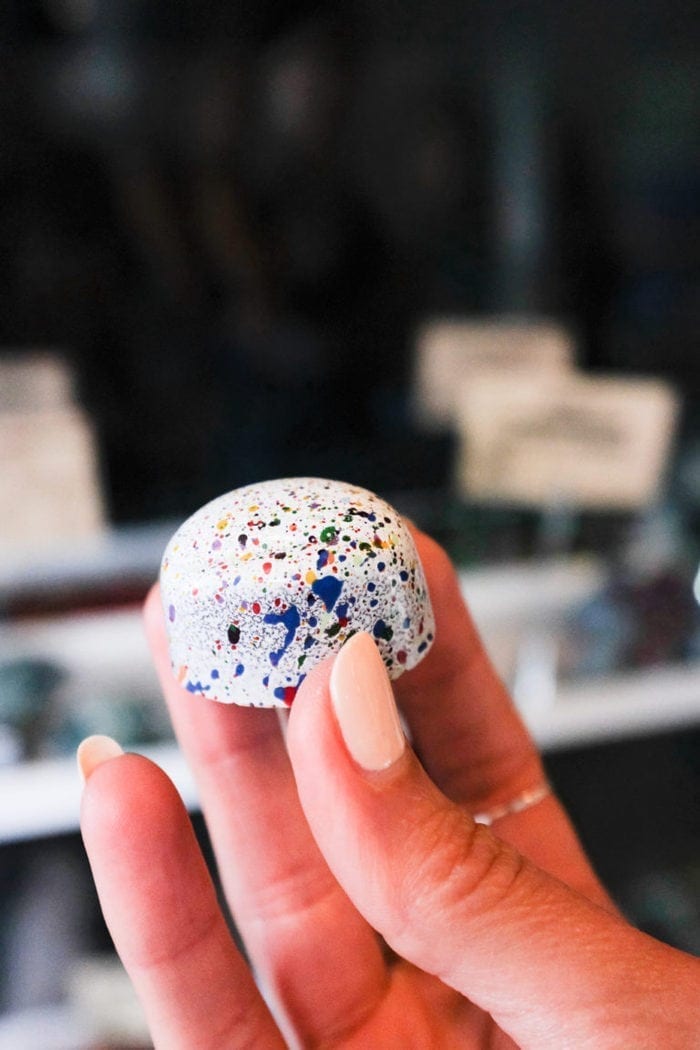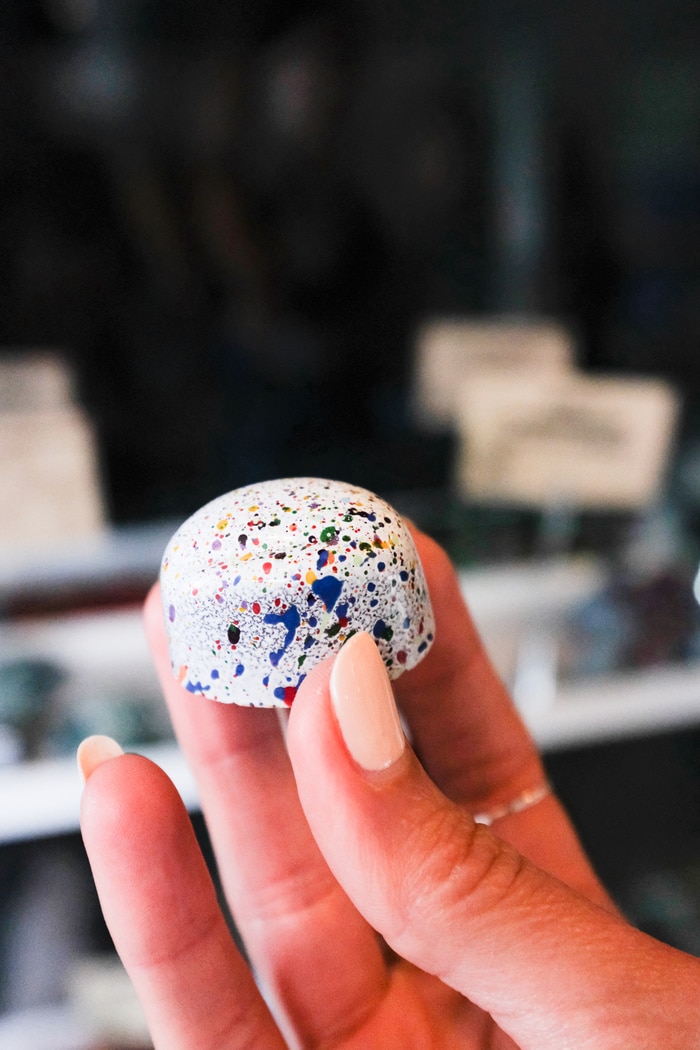 Mokaya – Locally made chocolate shop with so many interesting flavors and designs including truffles shaped like little hedgehogs and turtles. I brought a mixed pack of truffles home to Isaac and he loved them. PS – Don't sleep on the candy bar. It was my favorite thing I tried.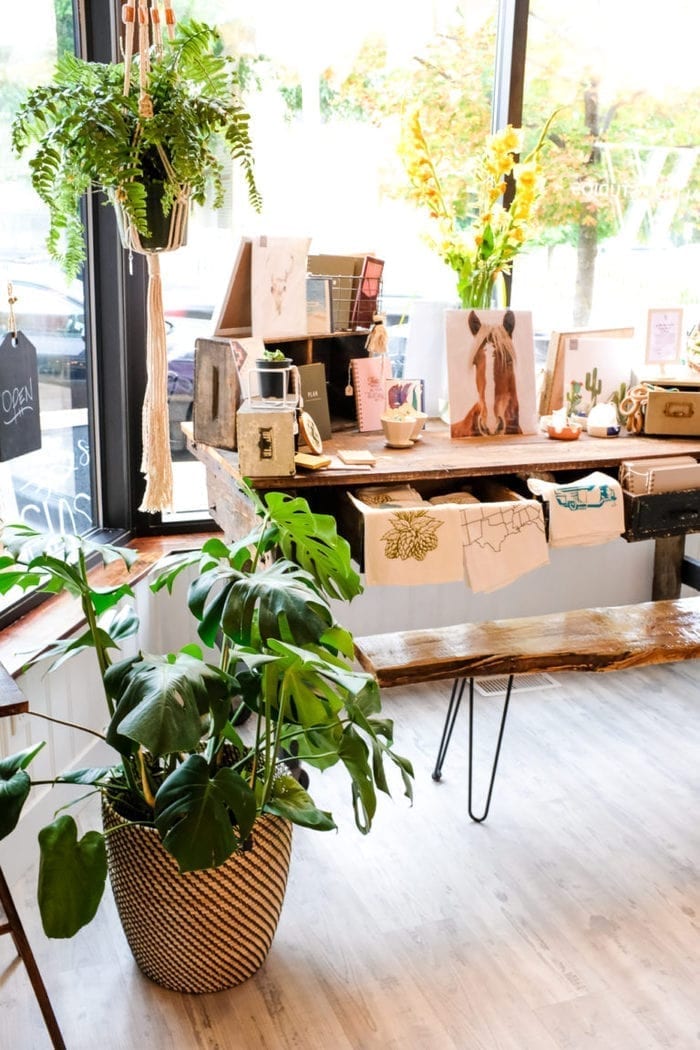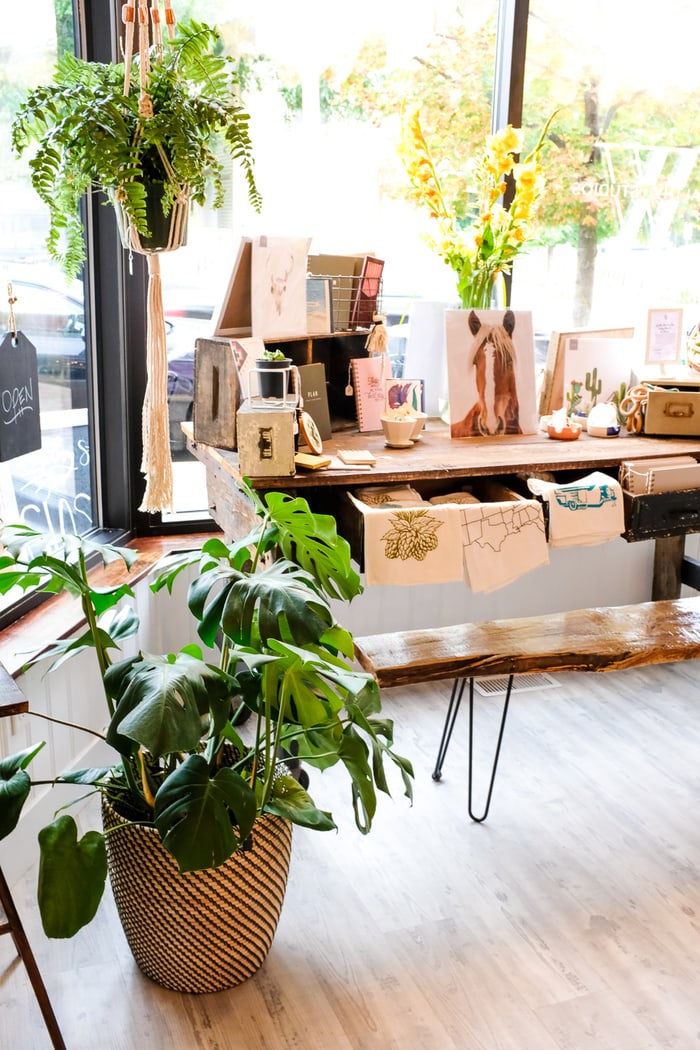 Dime & Regal – Shop for loads of cute jewelry and housewares.

Woosah Outfitters

– Find nature-inspired art and apparel from a brand based out of Grand Rapids. This shop features artwork from the owner, Erica Lang. The designs and drive behind Woosah revolve largely around woodcuts and the outdoors. How cool!

Lee & Birch

– Fashionable women's clothing and accessories – with three locations throughout Michigan.
Other Activities in Grand Rapids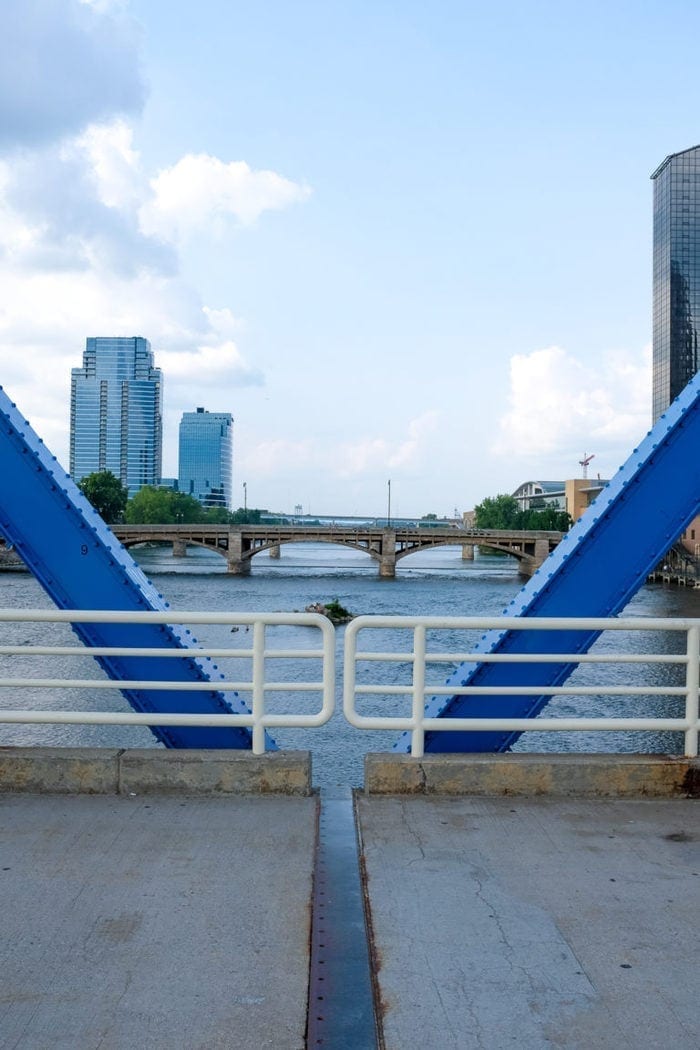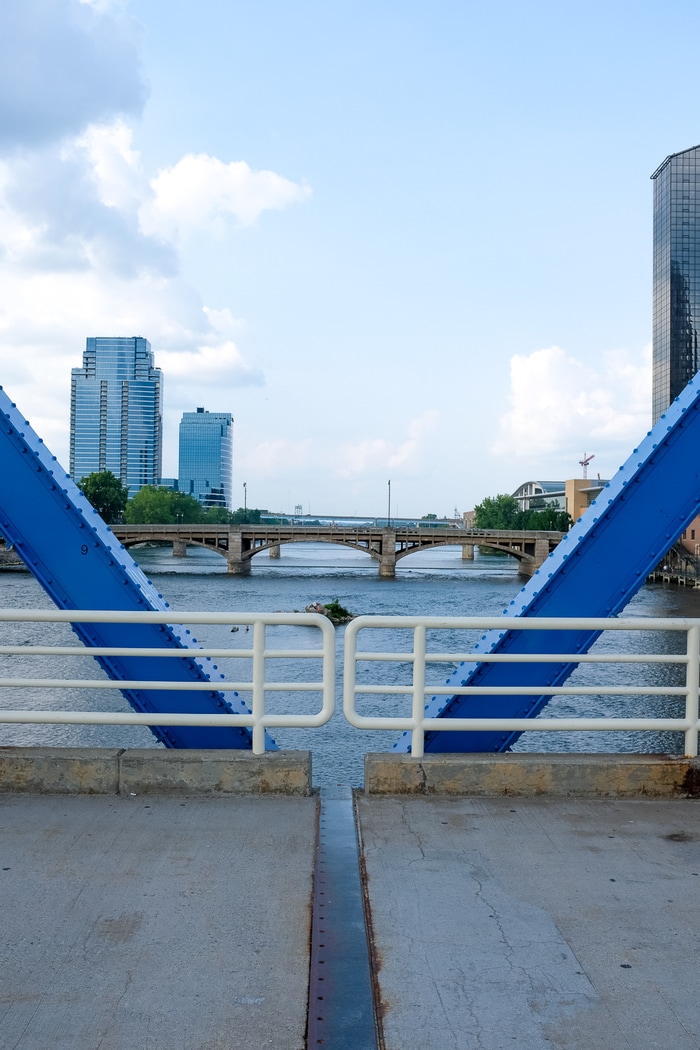 I was only in the city for a few days so I barely scratched the surface when it comes to checking out all the cool attractions, restaurants, breweries and boutiques that Grand Rapids has to offer. Here's a little list of a few things I definitely want to check out the next time I visit:
For up-to-date events and even more info about the lovely city of Grand Rapids, check out Experience Grand Rapids!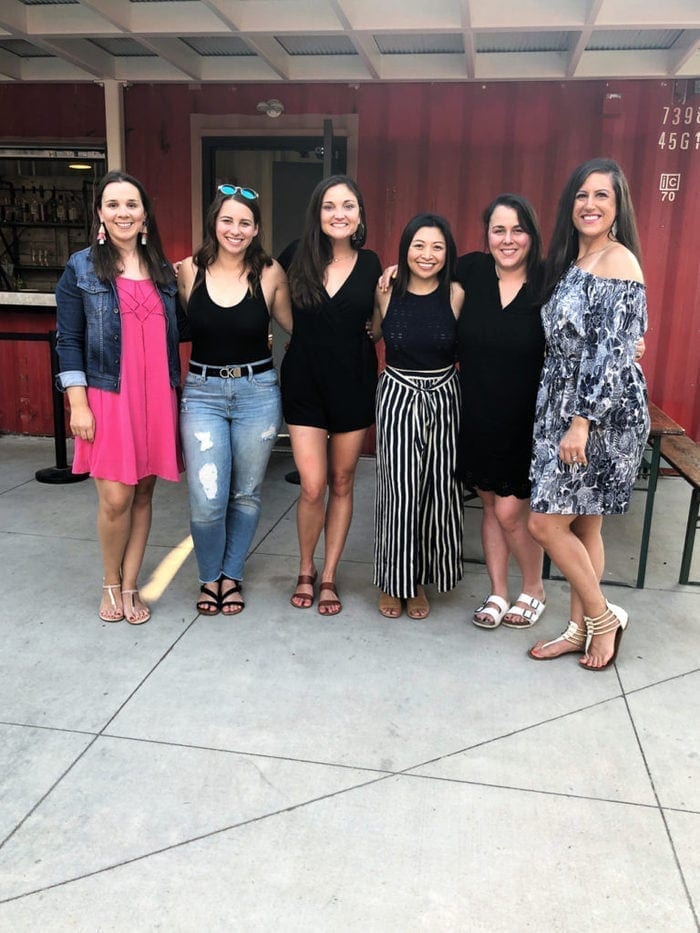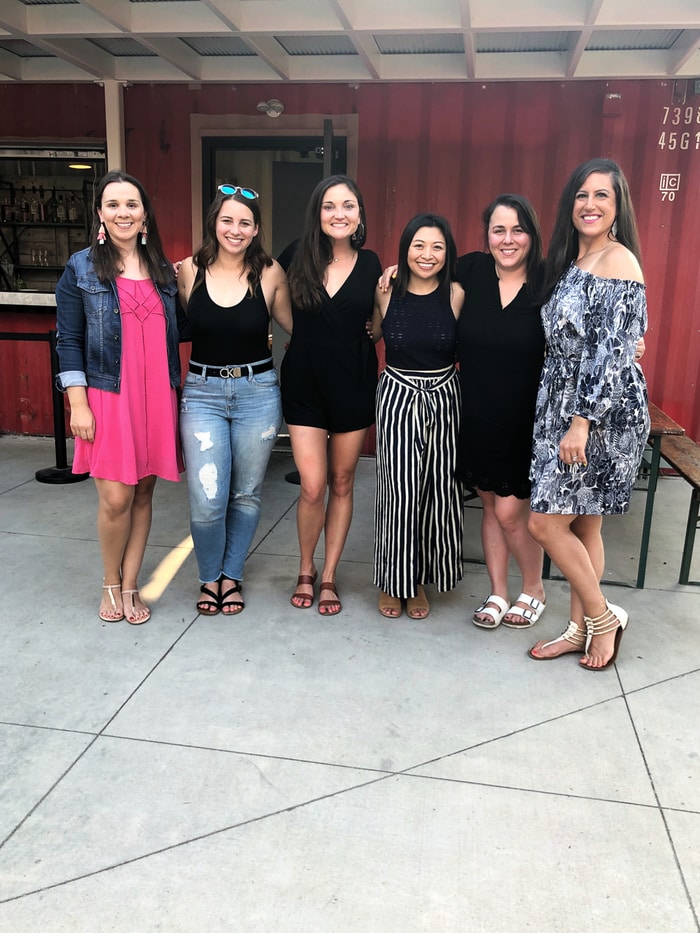 Here's the awesome group of ladies I had the pleasure of experiencing Grand Rapids with: Ashley, Stephanie, me, Maryanne, Sherrie and Liz. Check out their sites to see their thoughts on Grand Rapids as well!
So tell me, have you ever visited Grand Rapids? Are you a local? Did I miss anything in terms of food or attractions that you would recommend? Leave me a comment letting me know!