Healthyish Getaway: Charleston, SC
12
Published Aug 24, 2018, Updated Mar 20, 2023
After hearing amazing things about Charleston, South Carolina, I finally took a road trip to check out what the city has to offer! I'm so excited to share where we stayed, what activities we enjoyed and of course, what we ate!  
This is the first of my new healthyish getaway series, where I highlight my healthyish travel adventures. As a health and fitness lover, I'm all about finding the best spots for healthy eats (gotta have my daily salads!) and staying active during my travels, but I also love enjoying everything a new city has to offer. It is a vacation after all — and there are some foods you just have to try (like a lobster roll in Maine or a bagel in New York). Plus, I fully believe (and preach) that living a healthy life is all about balance, and this new travel series totally represents that.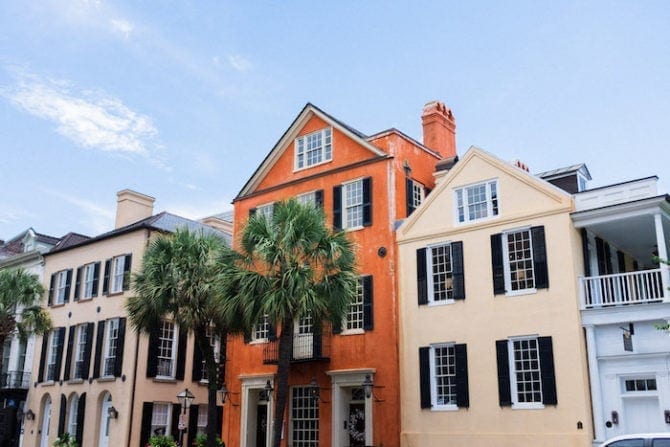 The first city I'll be featuring is Charleston, South Carolina. Earlier this summer, my friend and awesome photographer, Michelle, and I decided to plan a trip to Charleston because neither of us had been before. It's known for its rich history, architecture and walkable neighborhoods filled with stunning homes, gas lanterns and gorgeous window box planters. And the food… everyone raves about the food and let's be honest, checking out the food scene was the big reason we wanted to visit.
Michelle is also a fan of the show Southern Charm, so I didn't have to do much convincing! I usually avoid Bravo shows (so much drama) but since visiting I've started to get into Southern Charm too. Isaac thinks it's awful, but I think it's a fun watch and now I follow the entire cast on IG. 😉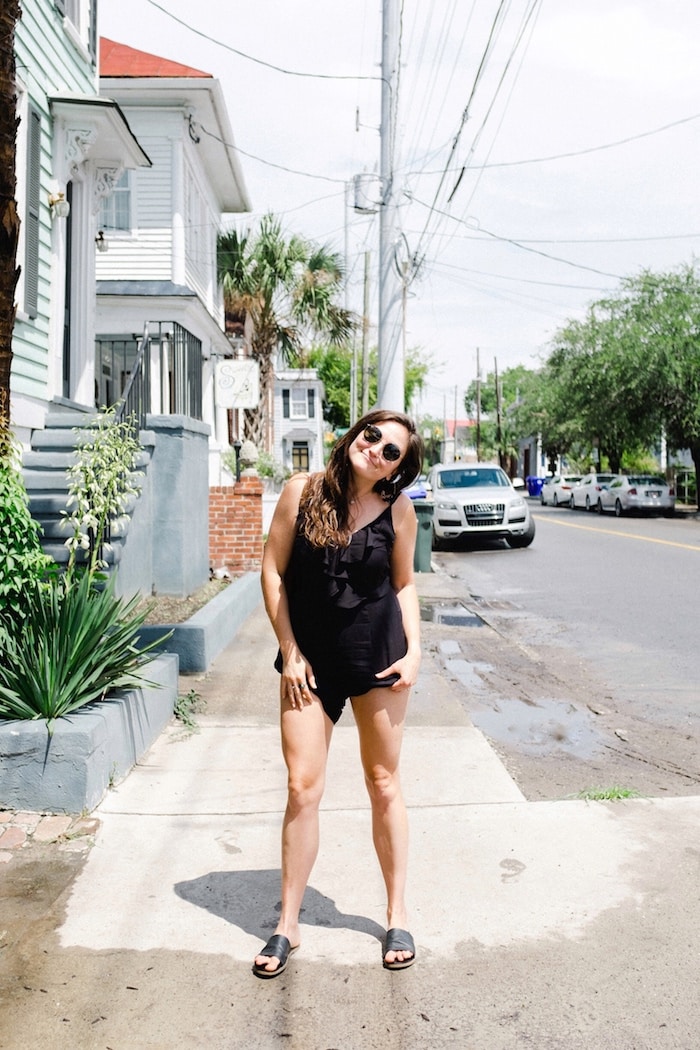 PS – It rained every single day we were in Charleston and it was humid and hot, but we embraced it and had such a fun trip!
Where to Stay: Charleston Airbnbs
Our trip was during the first week of August and we stayed for four nights, five days — in two super cute Airbnbs. One was in the heart of downtown and walking distance to tons of restaurants, while the other was on James Island, closer to Folly Beach. Next time, I'll probably just stay in one Airbnb because it's kind of annoying to switch — it takes up time to pack and move, plus there's usually a few hours of limbo where you don't really have a spot for your stuff between the check-out time of the first place and check-in to the next one. That said, I loved both of our spots in Charleston.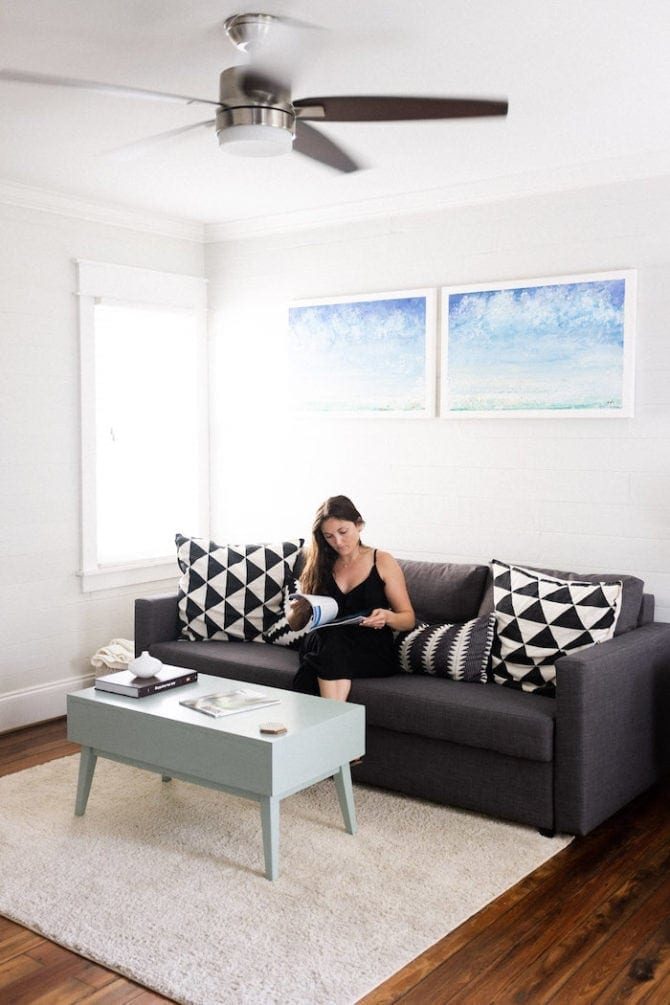 The Bright Spot – Our first Airbnb was in a super cute neighborhood called Elliotborough-Cannonborough in downtown Charleston. We loved staying here because we could walk pretty much everywhere and it was close to some of the best food spots (like Xiao Bao Biscuit).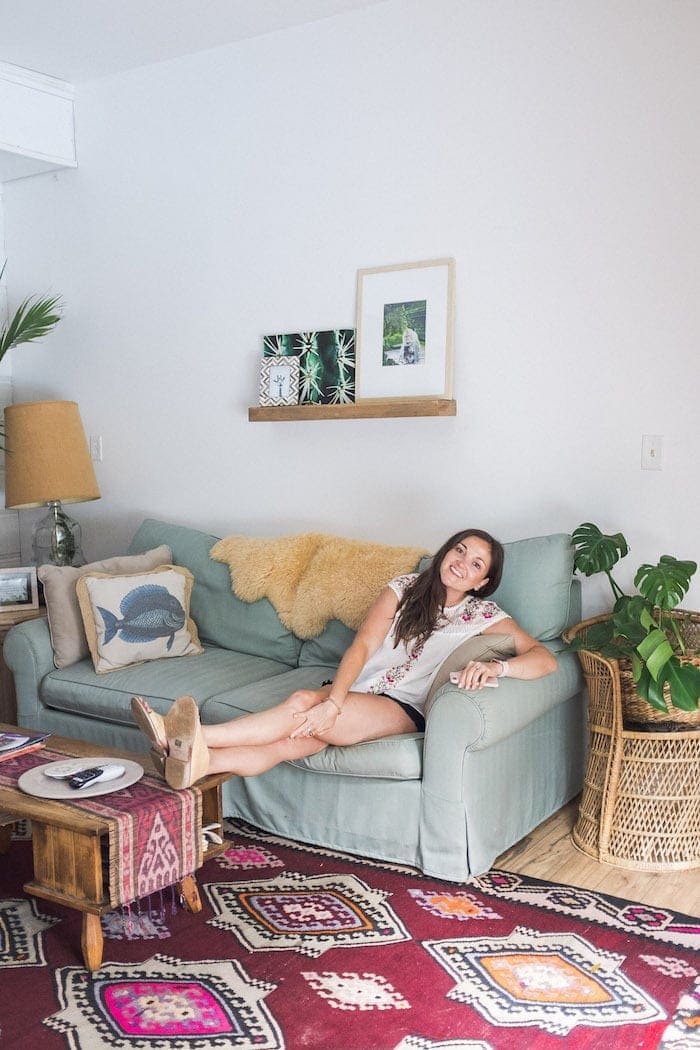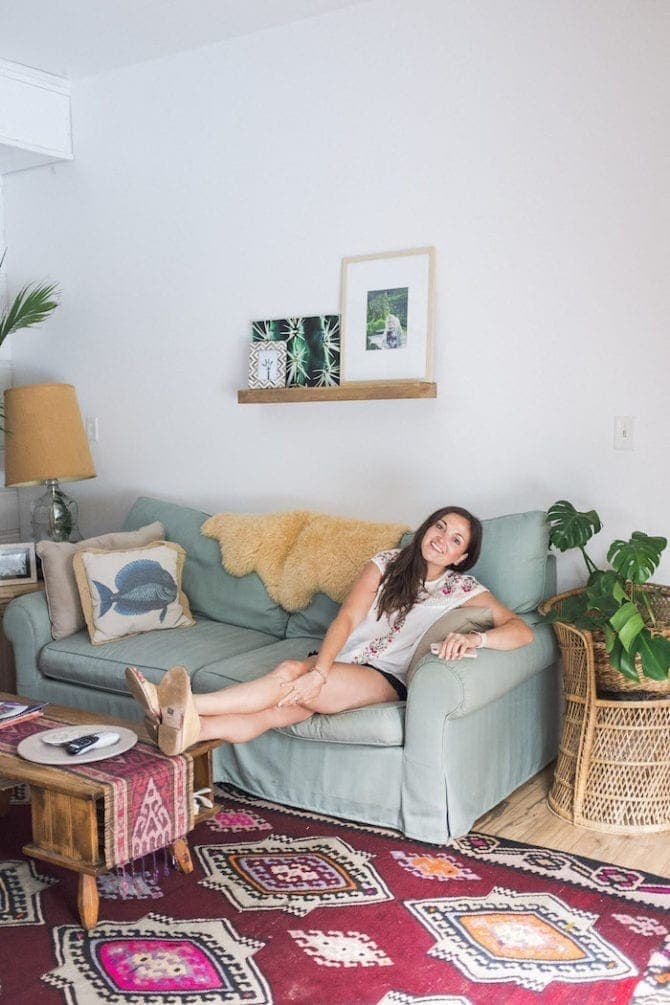 Indigo House Poolside Retreat – Our second Airbnb was on James Island, which is close to Folly Beach. It had a pool, which we sadly didn't end up using, and Ubers were only about $12 to get to downtown Charleston.
Charleston Restaurants
Before visiting Charleston, I had heard nothing but great things about the food scene. Michelle and I both like good food so we based our trip around trying some of the top restaurants. Of course, I wanted to try all the health-focused spots, so many of the restaurants we choose (especially for lunch) were based on this.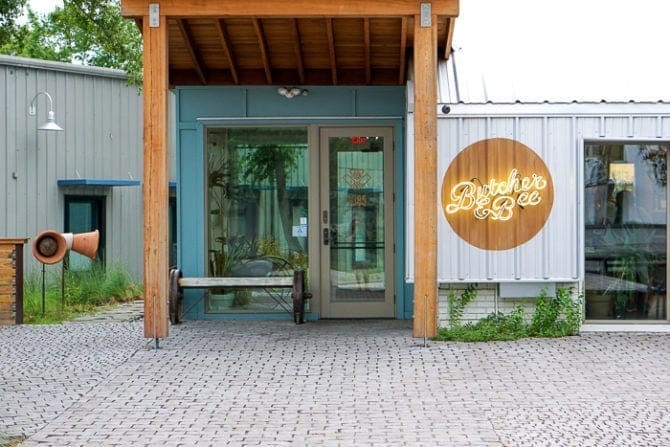 The Butcher and the Bee – This restaurant came highly recommended, and I'm so glad we decided to try it out because we really enjoyed our meal. We went for dinner but they're also open for breakfast, lunch and brunch (the bakery items look so good!). The menu is filled with local, seasonal offerings and the space is bright and open with a white honeycomb ceiling. The whipped feta with honey and black pepper is a must! PS – There's a location in Nashville as well.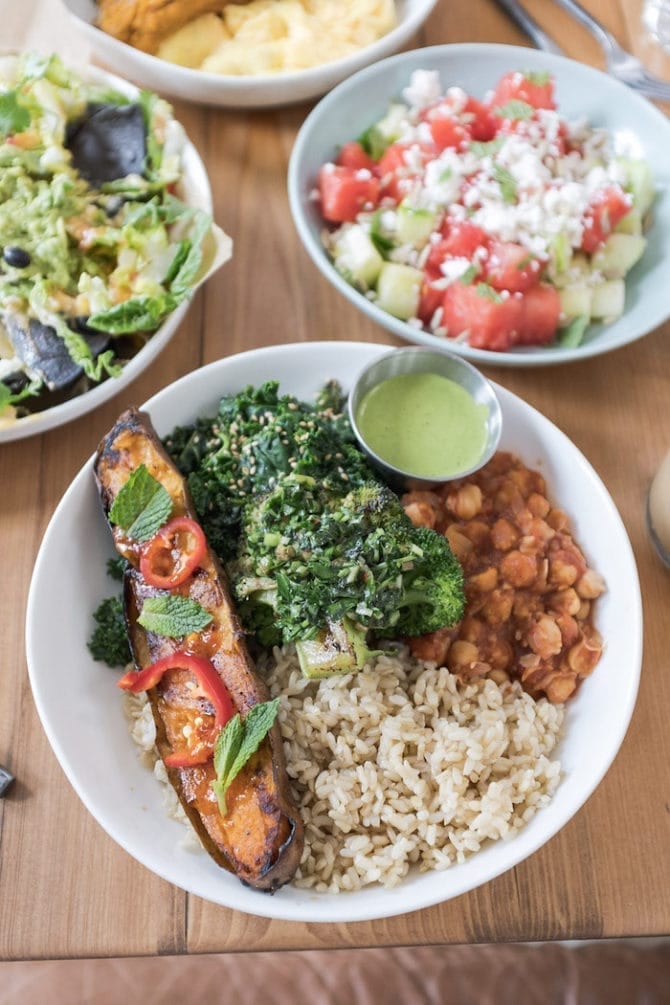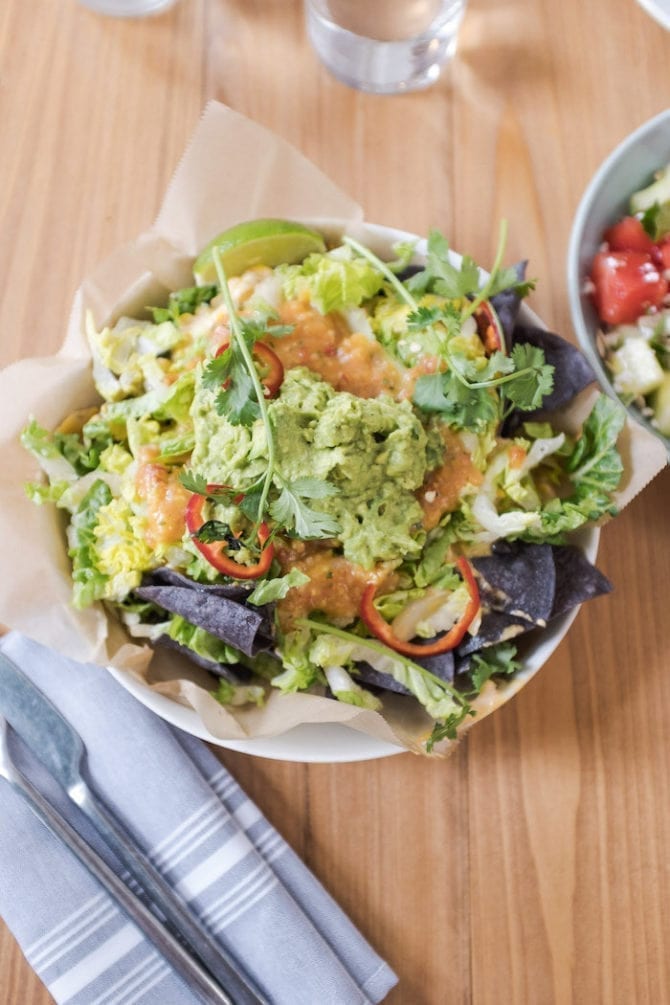 Basic Kitchen – This restaurant wins for cutest decor and delicious, healthy dishes. As the name suggests, most dishes on the menu feature whole foods — dishes you might prepare at home for a healthy meal. The portions were large, the food was delicious and they don't skimp on the avocado, which I admire. The nachos were definitely not basic and the best thing we ordered. #worthit. The drinks were great too — they serve booze, smoothies, juice, a full coffee menu and tea lattes. Michelle got the golden latte and loved it.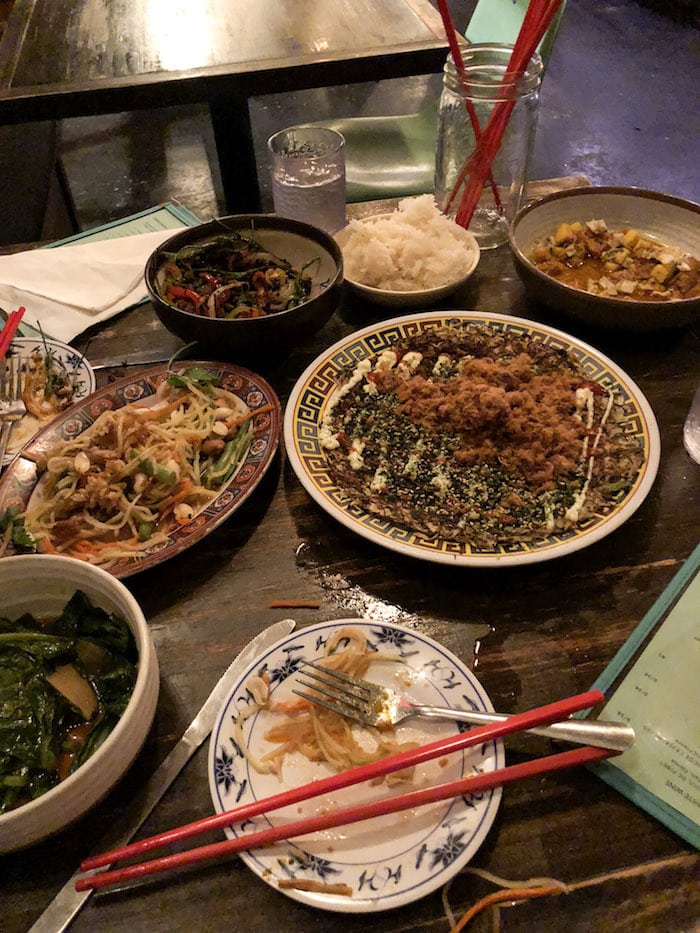 Xiao Bao Biscuit – This spot was by-far our favorite restaurant for dinner. If you go to one restaurant on my list — go here! The food is Asian soul food inspired by a variety of Asian countries and the menu is filled with Thai, Japanese, Vietnamese and Chinese dishes. It's super unassuming from the outside and almost looks like an abandoned gas station. I still don't know how to correctly pronounce the name, but the delicious food makes you forget about all of that. We ordered 5-6 dishes to split… it was a lot of food but everything was so good and we ended up cleaning our plates. I don't think you can go wrong with anything on the menu, but I highly recommend the okonomiyaki cabbage scallion pancake and don't sleep on the side of greens — they were amazing!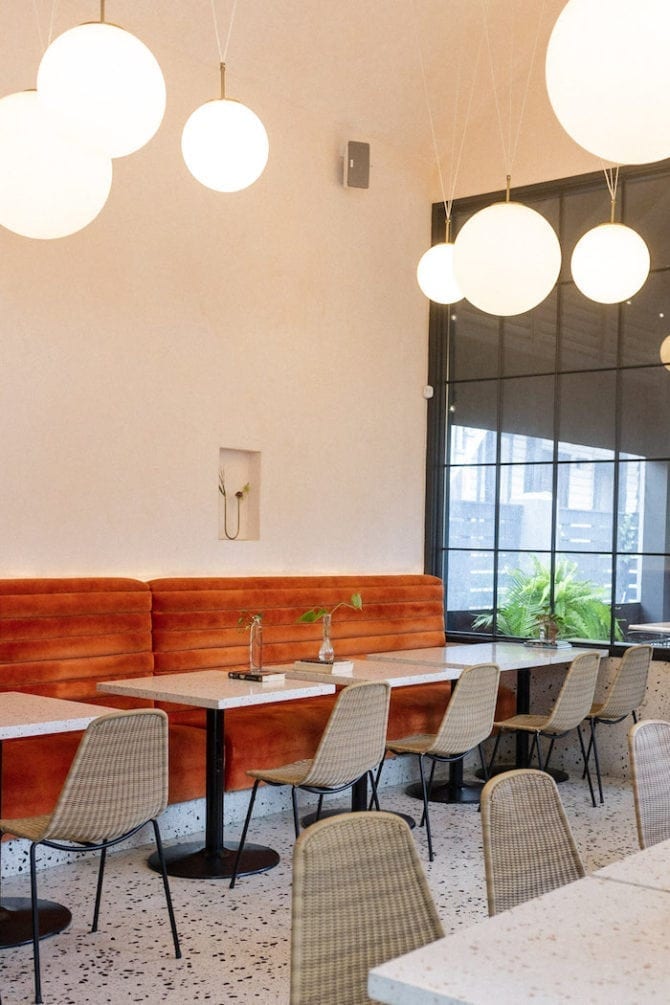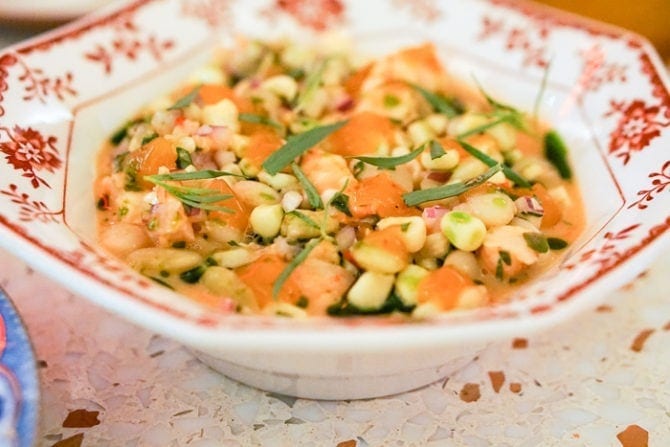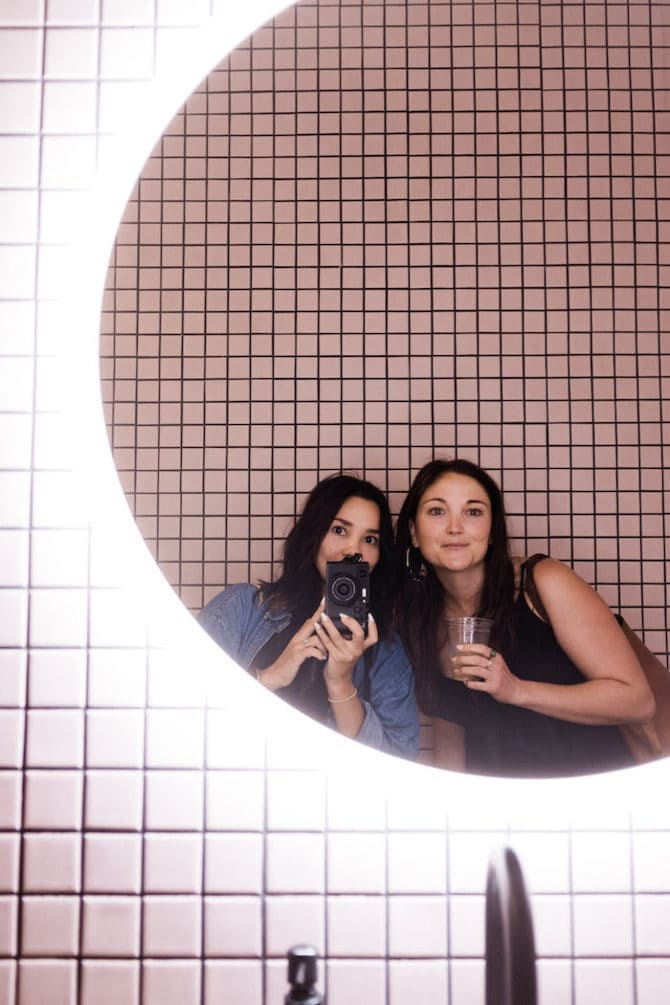 Tu Restaurant – After having such a great meal at Xoai Bao Biscuit, we did a little research and found out that the owners of XBB also opened this spot as well. We went for coffee one morning (they had just launched their cafe the week we were visiting) and then decided to do dinner as well. The space is super hip, modern and eclectic with burnt orange seating along both sides of the space, pink tiled bathrooms and lots of plants. Michelle and I had a blast taking a bunch of photos of the space and really enjoyed our dinner. Most of the dishes seemed to have Latin American influence with a fun/unique spin. My favorites were the crudo (which was topped with popcorn) and the shrimp salad with corn and tomatoes.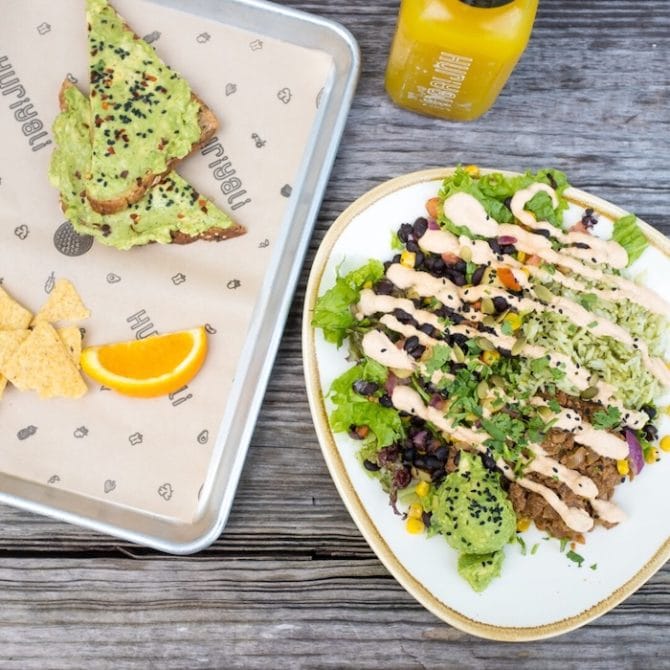 Huriyali – A cute little breakfast/lunch spot serving juices, smoothies, bowls and avocado toast. This spot was right up my alley and perfect for a light brunch.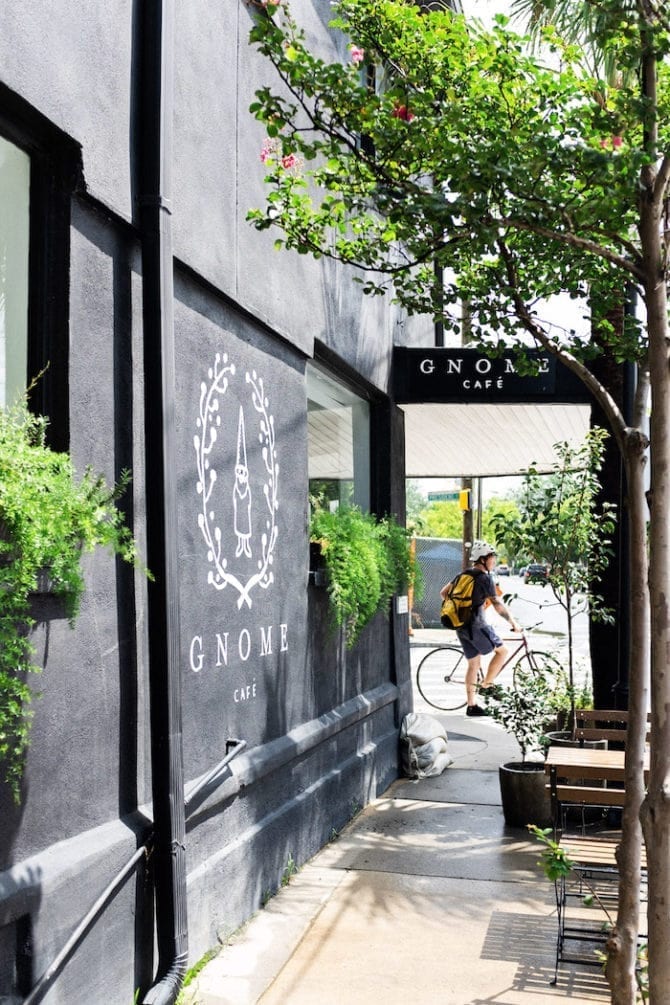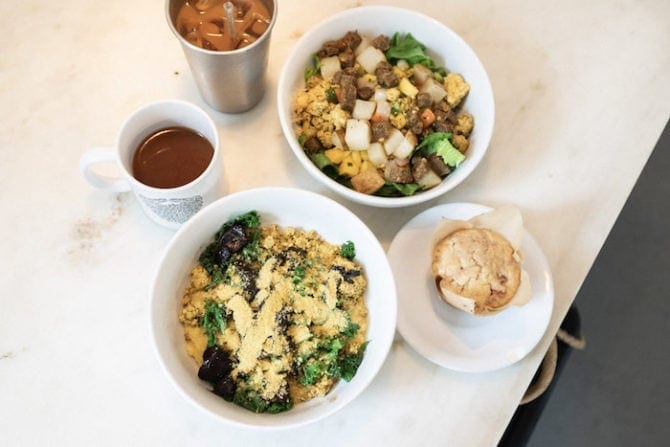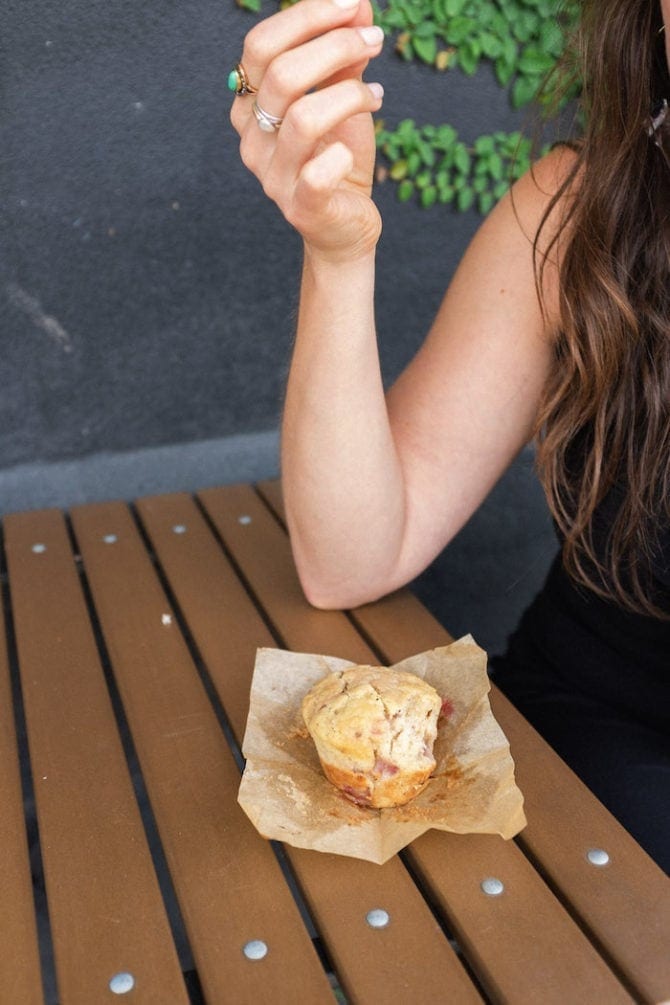 Gnome Cafe – 100% plant-based cafe serving coffee, breakfast and lunch. I think this might be my favorite coffee shop that we visited. The coffee was delicious, they had a ton of non-dairy milk offerings, and the food we ordered for breakfast was really good. I ordered the breakfast burrito but had it plated in a bowl and Michelle got the grit bowl with portobello "bacon" and a strawberry muffin. Definitely get something that has the portobello "bacon" — it's delish!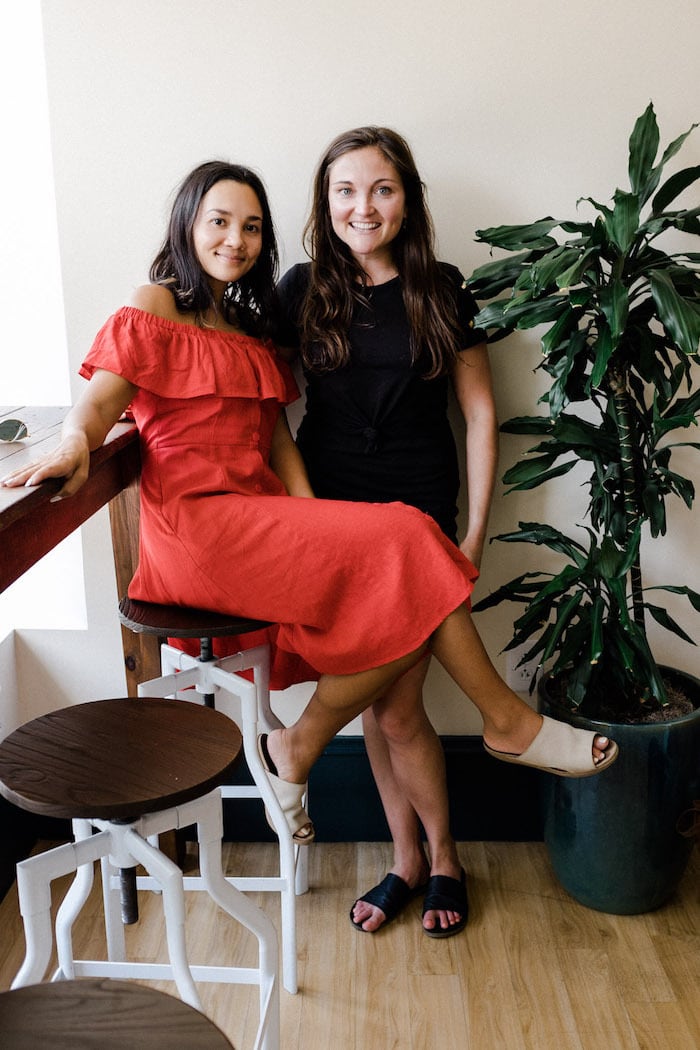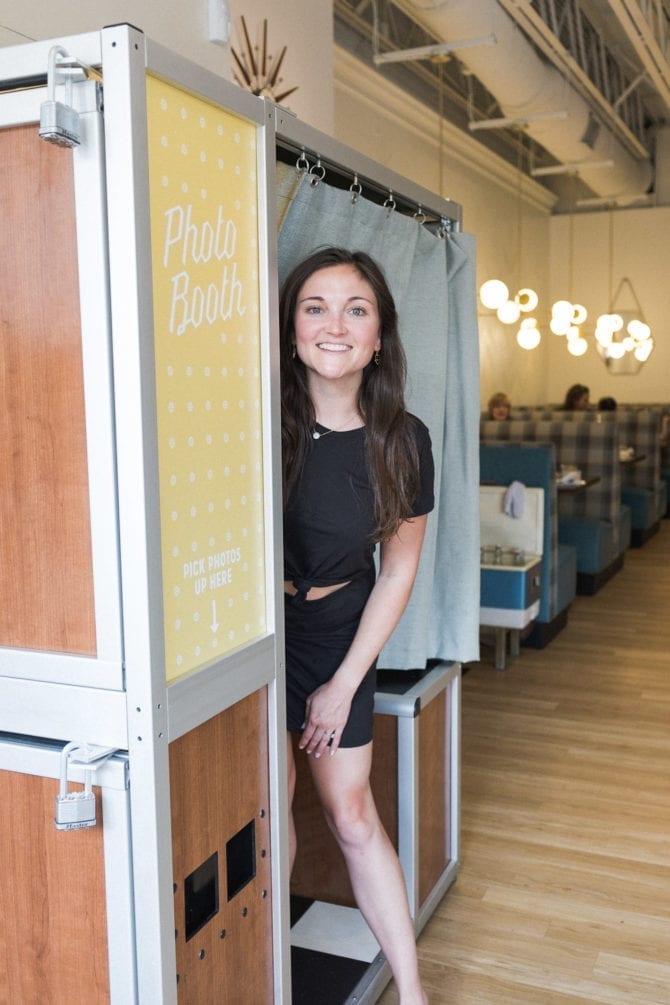 Millers All Day – Have pie and beer for lunch or grits and biscuits for dinner at this refined bistro, bakery and bar that serves breakfast all day. We actually just popped in for iced coffee one afternoon and had a blast taking shots in the old school photo booth.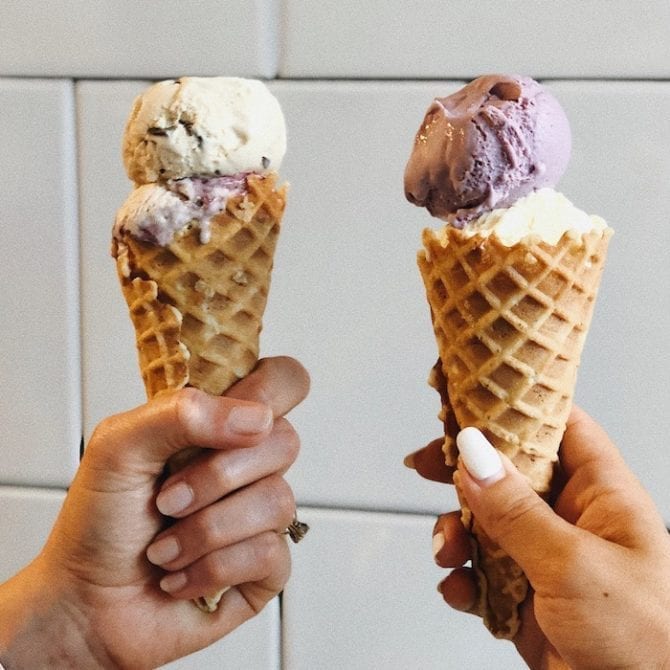 Jeni's Ice Cream – I had never had Jeni's ice cream before, but had heard amazing things so I was really excited to try it. OMG — it's SO good! I got the salted peanut butter with chocolate flakes as well as the brambleberry crisp and both were amazing. Since we've been home I've been thinking about buying a pint of the peanut butter every time I got to the grocery, but I've resisted because I know I'd likely eat the whole pint in a day.
Other recommended Charleston restaurants we didn't get a chance to check out: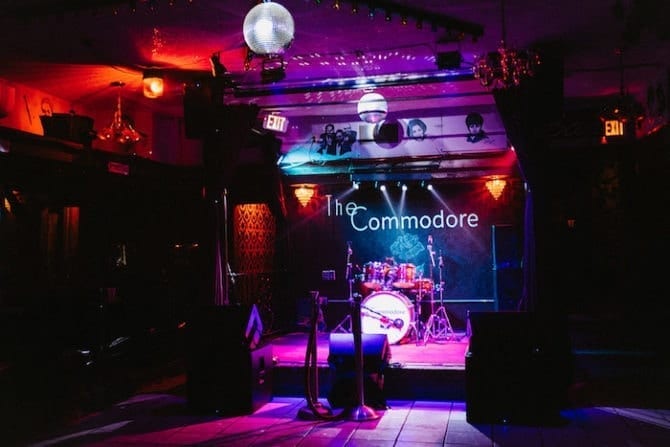 Charleston Nightlife:
The Vendue Hotel Rooftop Bar: A few people recommended this rooftop bar to me and Michelle. The drinks were average, but the vibe was fun! They had multiple bars and ample space. It was a great spot to grab a quick drink before heading out for the evening.
The Commodore: Old jazz club turned modern-day bar and night club, The Commodore will have you feeling like you're stepping back in time. The bar is lined with green velvet stools while velvet curtains surround the stage and a disco ball casts patterns of light onto the dance floor. We were here on a Wednesday night so the place was pretty empty, but don't worry we still had a little fun on the dance floor!
The Republic: This spot was a nice find because there was a live band playing and an outdoor bar to sit at. Drinks were your average dive bar drinks, definitely not a cocktail focused menu.
Cocktail Bars: Prohibition, The Gin Joint, Proof, The Cocktail Club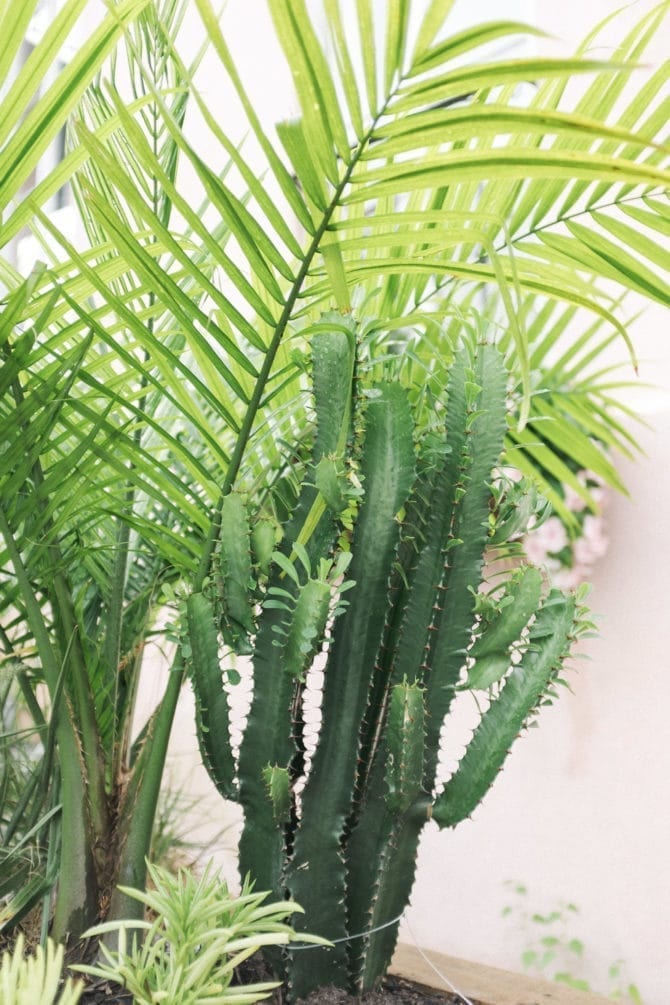 Staying Active in Charleston:
There are a ton of workout studios to check out in Charleston, but Michelle and I stayed active by walking around and doing quick HIIT routines at our Airbnbs. The downtown area is super walkable and the first day we got over 25K steps just exploring… NBD.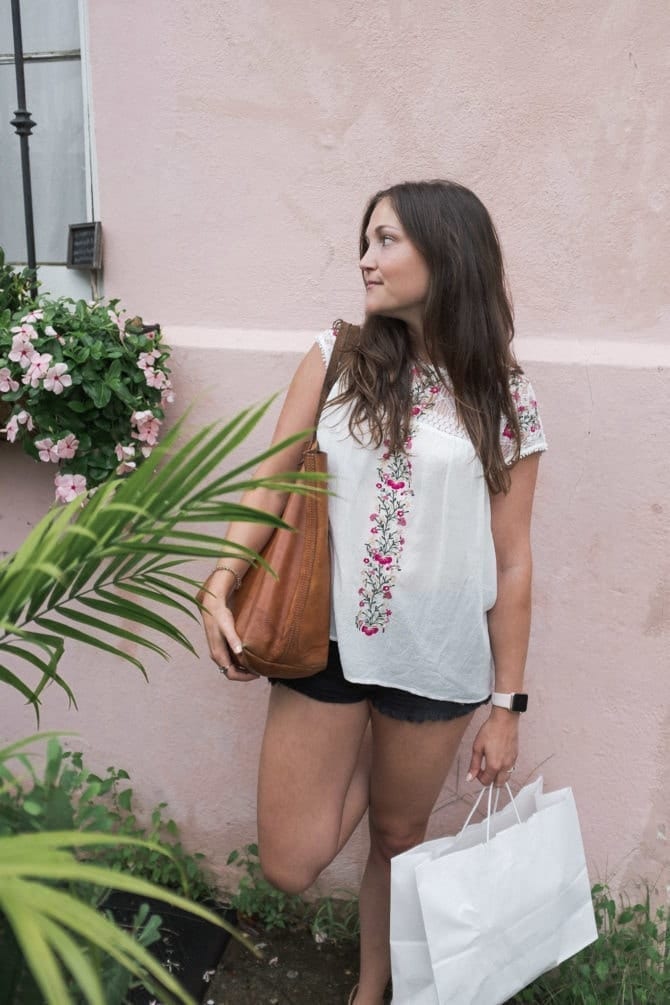 Charleston Shops:
King Street is packed with a variety of shops — all the well-known stores like Anthropologie, Lululemon and Madewell — along with a ton of local boutiques. This little list barely scratches the surface of the cute shops to check out, but I wanted to share the few that we actually bought things from.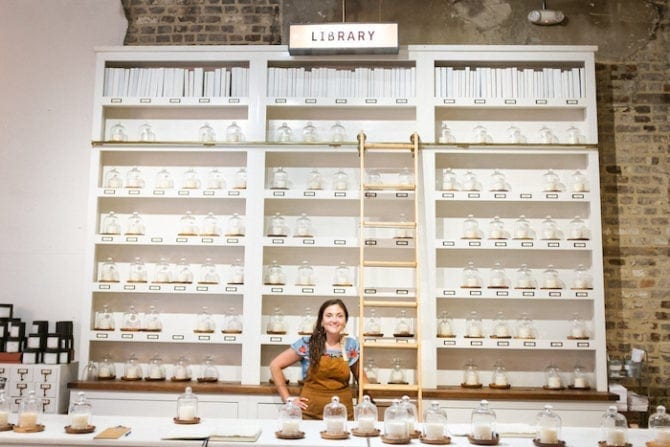 Candlefish – An amazing candle store right off of King Street with a full library of candle scents. They were hosting a candle making workshop during our stay and we were looking for some activities that didn't involve eating so we signed up and walked away with new candle making knowledge and two new candles. It was really fun!
Worthwhile – A modern/hip boutique on King Street that caught Michelle's eye.
Charleston Shoe Company – A Charleston staple offering a variety of cute and comfy shoes. Michelle and I both bought a pair!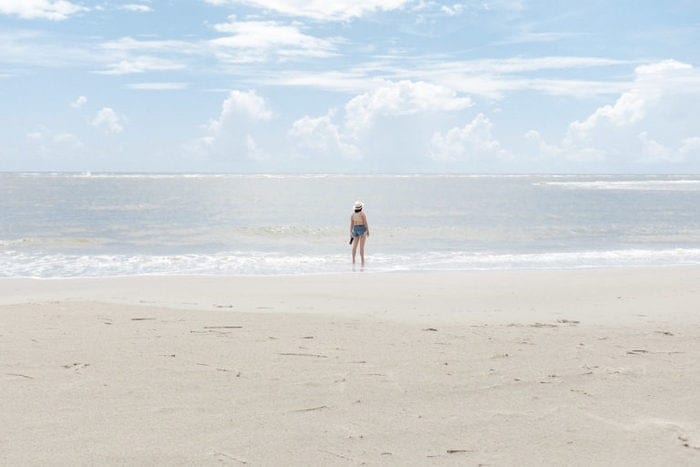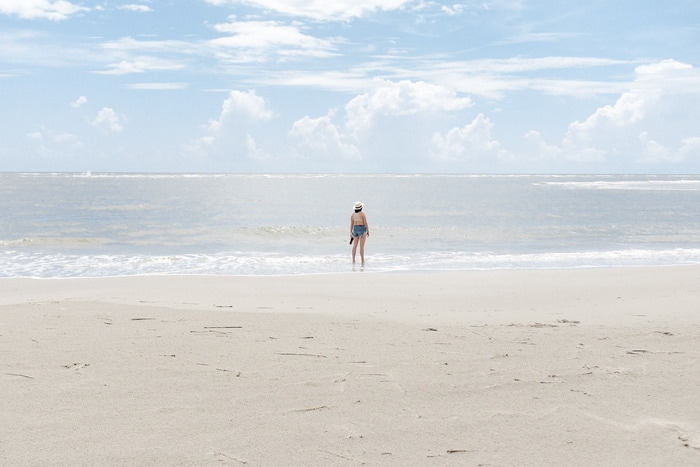 Charleston Beaches:
Folly Beach – This beach seems to be the most popular, especially right near the pier which offers a public restroom and a restaurant. There's also a variety of restaurants right near the beach including the popular Taco Boy that was on our list but unfortunately we didn't get a chance to check it out.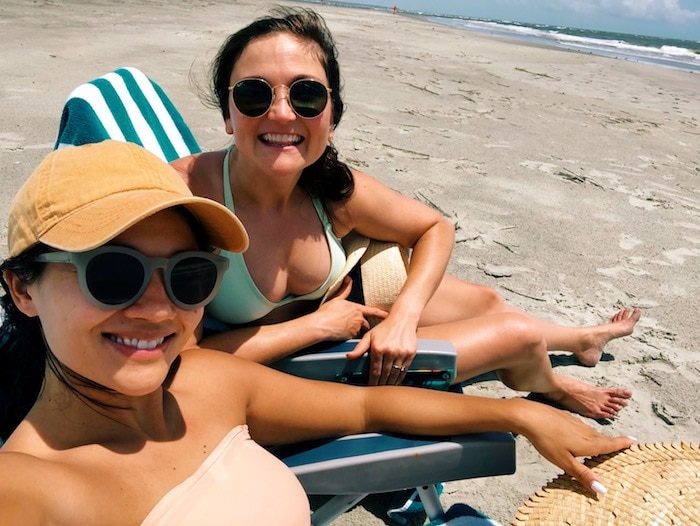 Sullivan's Island – We parked in a residential area blocks away from the more populated area and it was almost like we had the whole beach to ourselves. And don't miss taking a peek at the eye of the storm house, which is hurricane-proof and for sale right now. It can be yours for only $5 mil…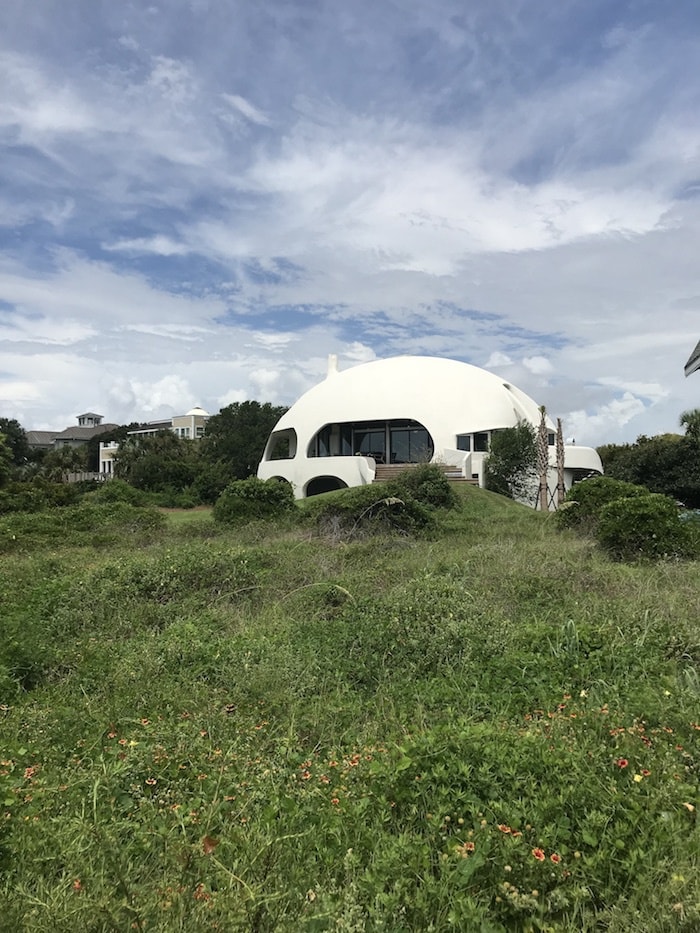 Isle of Palms – We didn't have a chance to visit Isle of Palms, but I've heard that it's one of the more upscale beaches known for being family-friendly and noncommercial.
Have you ever visited Charleston, SC? Would love to hear about your favorite spots in the comment section.
All photos were taken by Michelle Chu, aka the best photographer ever! <3