So last night I spent way too much time scouring some of my favorite blogs for healthy Thanksgiving recipes. It was a crazy Saturday night, let me tell ya. The sad thing is that I still don't know exactly what I'll be making… but at least I have a ton of recipes for inspiration.
I figured there might be some other folks out there, like me, who are need of some healthy recipe ideas for this year's Turkey (or Tofurkey) feast so I put together a little post of healthy (EBF approved) Thanksgiving dishes.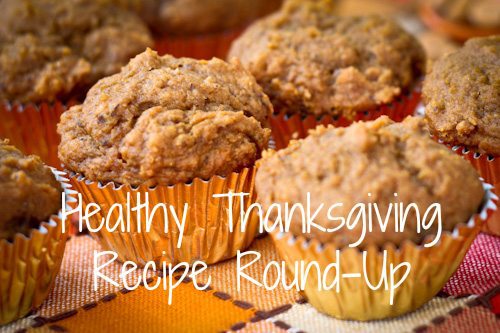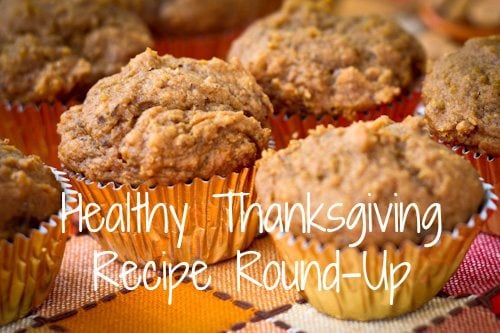 I found so many delicious (and nutritious) recipes – I can't wait to get in the kitchen and try some of them next week! I should note that this is just a preview of the recipes I found – check out my Healthy Thanksgiving Recipes pinterest board to see them all. 
Baby Greens with Goat Cheese, Beets and Candied Pecans – This one had me at candied pecans. 
Vegan Lentil Walnut Loaf – I made this last year and it was a huge hit. All the vegetarians/vegans at your Thanksgiving meal will love you for making this.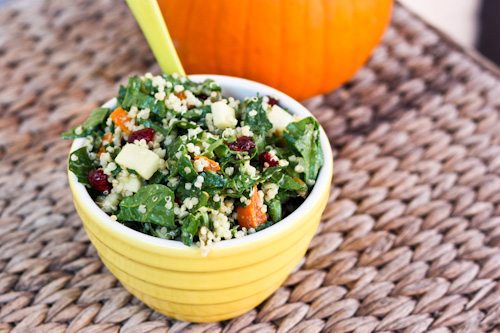 Fall Harvest Spinach Salad – A blend of butternut squash, dried cranberries, apples, quinoa and fresh spinach, this salad screams fall!
Maple Roasted Brussels Sprouts – Sweet and savory brussels sprouts – it doesn't get much better. Even brussels sprout haters will change their mind after trying roasted brussels sprouts. They're a game changer.
Pumpkin Hummus – This looks like the perfect Thanksgiving day appetizer. It would be so cute to use a real pumpkin as a serving dish for the pumpkin hummus!
Mashed Potatoes with Kale – Green potatoes – yes please. 
Spiced Cranberry Sauce – Forget the canned stuff. 
Sweet Potato Casserole w/ Maple Pecan Topping – Sweet potato casserole has always been one of my favorite Thanksgiving side dishes but it's typically made with canned yams, butter and brown sugar. This lighter version uses fresh baked sweet potato and butternut squash and also skips the butter and brown sugar. Yum!
Cauliflower Mash – I've made cauliflower mash before and loved it so I was excited to find this recipe. In addition, it only has 4 ingredients – cauliflower, garlic, pepper and veggie broth. Right up my alley!
Butternut Squash Salad with Farro and Pepitas –  If I want to make this I'll need to make a special trip to the grocery store to find farro, but by the looks of this dish, I'm pretty sure it would be worth it.
Tone It Up Green Bean Casserole – Green bean casserole is another Thanksgiving staple that is often loaded with canned foods and extra calories. This version is not only vegan and gluten free, but it's made with all fresh ingredients. And don't worry, the recipe includes homemade crispy onions for the topping, which is awesome because everyone knows those little guys are the best part. 🙂 
Quinoa with Roasted Chanterelles, Apples and Squash – Anything with roasted squash catches my attention and this recipe looks like a great vegetarian main course. 
Acorn Squash with Cranberry Apple Stuffing – I love stuffed squash recipes and this one sounds pretty amazing.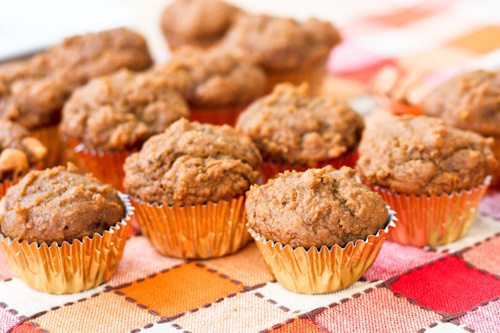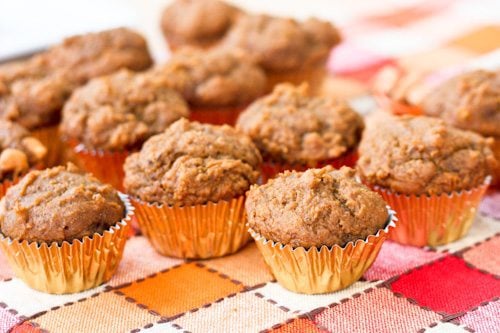 Mini Vegan Pumpkin Muffins – Perfect for a light Thanksgiving day breakfast. Top with vegan vanilla cream cheese icing to turn them into dessert. 
Cinnamon Sugar Hasselback Sweet Potatoes with Oatmeal Cookie Crumble – Three words = Oatmeal. Cookie. Crumble.
Spice-kissed Pumpkin Pie – Coconut milk and hazelnuts makes this recipe different from traditional pie and oh so tempting. 
Hot Apple Crumble Bars – Each bar has only 85-140 calories, depending on why type of butter option you choose to use. With dessert like this, having seconds is totally acceptable. 
Baked Apples Stuffed with Cinnamon Date Pecan Oatmeal – Serve these baked apples for a Thanksgiving day breakfast or dessert. Or both! 
Four Ingredient Vegan Pumpkin Pie – As you can probably tell, I'm a sucker for simple recipes. This pie looks super easy and absolutely delicious.
If you have any healthy Thanksgiving recipes you love, please feel free to share them in the comment section below. I know I would love to check them out and I'm sure other EBF readers would as well!