Is there anything better than a tasty pumpkin recipe?! Nope! Fall is here and it's time to enjoy all things pumpkin.
Fall is in the air! Don't get me wrong, I loooove summer, but there is something about fall #amiright? I love the cool mornings, the crisp air and all things pumpkin. Yup, I'm that girl. I honestly love pumpkin year round, but I am definitely drawn to it more in the fall. Bring on the big sweaters and pumpkin recipes!
If you've never used pumpkin for cooking or baking, I'll give you the 4-1-1.
I typically buy canned pumpkin, which you can find in the baking aisle year round (pro tip). When it's in season, I feel like they have it on every end cap of every grocery store. When buying, be sure to look at the ingredient list and make sure it's just pureed pumpkin (no other additives).
Of course, if you're feeling ambitious, you can also use a pie pumpkin to make your own pumpkin puree!
Health Benefits of Pumpkin
Pumpkin is a part of the squash family and is packed with great nutrition benefits. It's low in calories, saturated fat and cholesterol. It is considered "nutrient-dense" because it has a ton of great vitamins and minerals but not a lot of calories. It's super high in vitamin K which helps your blood clot and is great for bone health. It's also high in beta-carotene, which is a powerful antioxidant and important for eye and immune health.
What Can You Make with Pumpkin?
So many things! I love making everything from desserts and smoothies to soups and burgers (yes burgers!) with pumpkin. It's such a diverse vegetable as it can be made sweet or savory. Let's jump into some recipes!
Pumpkin Breakfast Recipes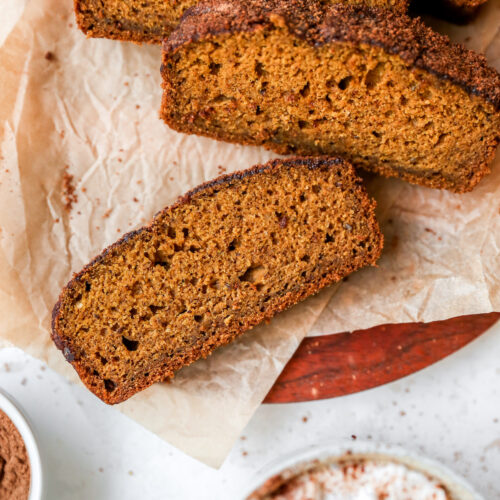 Healthy Pumpkin Bread
This healthy pumpkin bread is made with fiber-rich whole wheat flour, naturally sweetened with maple syrup and packed with warm spices. It's moist, fluffy and makes for the perfect fall treat. Plus, it can easily be made vegan.
View Recipe
Savory Pumpkin Recipes
Dessert Pumpkin Recipes
Snack and Misc Pumpkin Recipes
More Collections You Might Enjoy