We had a blast at the Montpelier Hunt Races yesterday!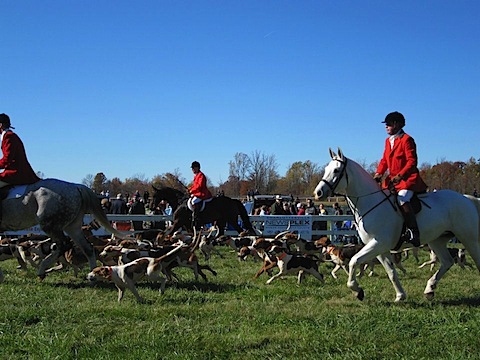 Thanks for the pict Liz!!
I grew up in Orange, VA so a big group of my friends has been going every year since high school. I went in 2008 (here's the recap) but the races fall on the same weekend as the Foodbuzz Festival so I wasn't able to attend for the past two years. Traveling to San Fran for Foodbuzz just wasn't in the cards this year so I got to go to the races once again.
This made me happy because I love getting to see all of my friends and Virginia is so beautiful in the fall – especially out in the country.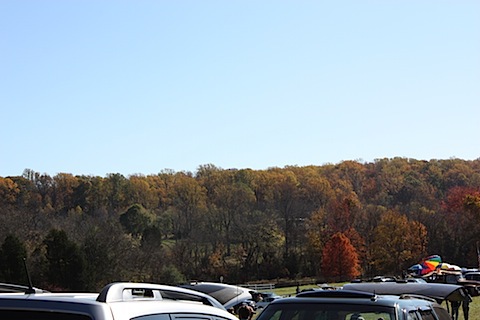 As I said, we had a great time. But things were a little different at the races this year –
1.) Our group has grown…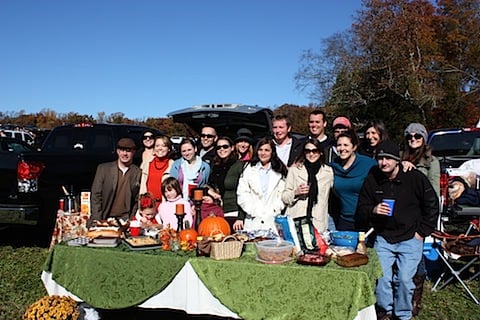 Of course, some members of our close group of friends from high school don't make it each and every year but we've now have friends from college and work, family, significant others and even some kiddos in our group.
I was super excited that Isaac was able to come with me again this year.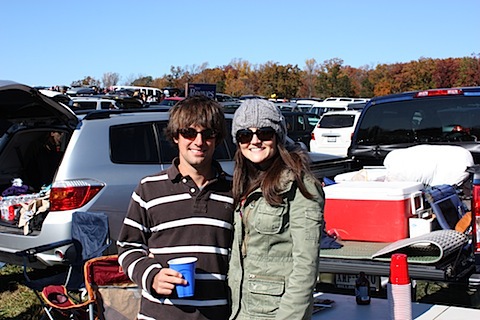 2.) The food and decor have gotten more elaborate. <– I typed sophisticated but then looked down and saw the jello shots in the photo below and decided against it. 😉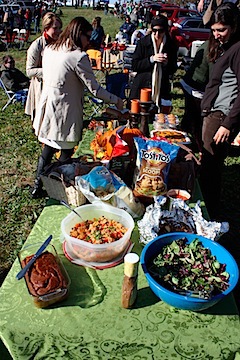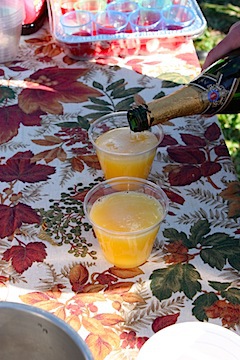 3.) We watched some of the races this year! Shocking, I know.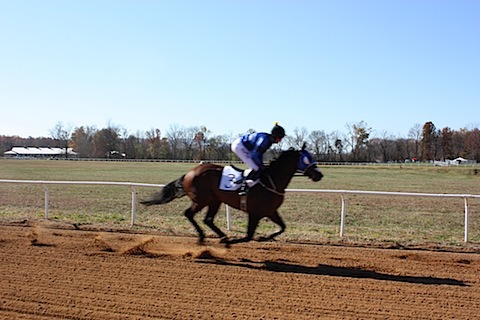 4.) And finally, it's less about drinking and more about catching up with friends and hanging out on a nice fall day. The mimosa being poured above was drank around 10:30 AM and actually end up being my only drink of the day. I made up for not drinking much by eating a lot. 🙂
Speaking of food, I brought a couple things to share – a loaf of vegan pumpkin bread, quinoa salad and a bag of popchips. Recipes to follow…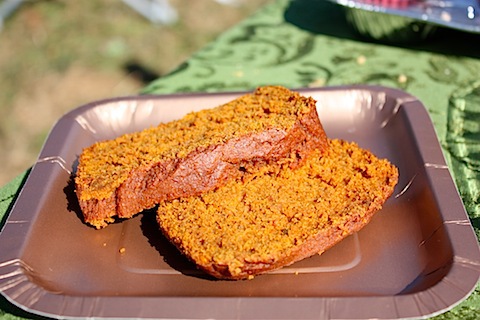 I was excited at how great this bread turned out! It was moist, fluffy, flavorful and not too sweet. Perfect for breakfast or mid-day snacking.
Healthy Vegan Pumpkin Bread
Serves 8 / Adapted from Fat Free Vegan and Oh She Glows
I found two recipes for vegan pumpkin bread online and used them both as a base for this healthy pumpkin loaf. The whole wheat pastry flour works better than regular whole wheat flour if you're looking for the light and fluffy bread that regular all-purpose flour provides. If you can't find whole wheat pastry flour you could use 1 cup all-purpose and 2/3 cup regular whole wheat. I used that combo when I made pumpkin bread before and it turned out great.
Ingredients
1 2/3 cups whole wheat pastry flour
1 teaspoon baking powder
1 teaspoon baking soda
1 teaspoon cinnamon
1 1/2 teaspoons pumpkin pie spice
1/2 teaspoon sea salt
1 cup canned pumpkin puree
3/4 cup sugar or evaporated cane juice (I used sucanat)
3 Tablespoons maple syrup
1/2 teaspoon vanilla
1/4 cup canola oil
1/4 cup apple sauce
1 flax egg (1 Tablespoon ground flaxseed + 3 Tablespoons water)
Preparation
Preheat oven to 350° F. Prepare 1 regular sized loaf pan (8.5 X 2.5 X 2) by spraying it with cooking spray.
Whisk together ground flaxseed with water in a small bowl with a fork and let it sit for a few minutes until an gel like consistency forms.
In a large bowl, combine the dry ingredients (flour, baking powder, baking soda, cinnamon pumpkin pie spice and salt). Combine the wet ingredients (pumpkin, sugar, maple syrup, vanilla, oil, apple sauce and flax egg) in a medium-sized mixing bowl and blend well. Add the liquid mixture to the dry and stir well.
Pour batter into the loaf pan and place on the center rack of oven. Bake for 60 minutes or until a toothpick inserted in the middle comes out clean.
Allow to cool before removing from pan.
Along with the pumpkin bread, I brought a Southwestern Quinoa Salad. I posted the recipe for this salad a while ago, but here's the updated version.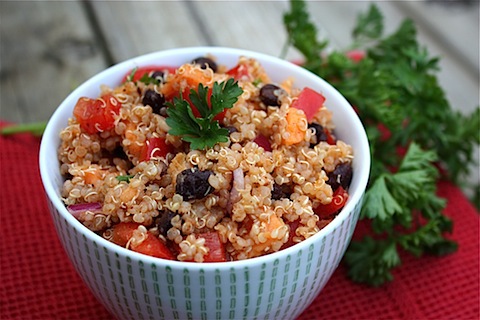 Southwestern Quinoa
Updated from this Southwestern Quinoa recipe.
The last time I made this for a cookout, my cousin suggested it need more spice to it so I amped things up with this version and it turned out great! It's a great dish for outdoor events where the food usually sits out for a while because there's no dairy involved.
Ingredients
1 cup uncooked quinoa, rinsed and drained.
1 large sweet potato
1 red bell pepper, cored, seeded, and diced
1 cup black beans
1/4 cup minced red onion
1/4 cup olive oil
2 tablespoons lime juice
1/4 cup fresh parsley, finely chopped
1 teaspoon chili powder
1/2 teaspoon cumin
1/4 teaspoon cayenne pepper
ground black pepper/ Sea Salt, to taste
Preparation
Cook quinoa by placing 1 cup of quinoa and 2 cups of water into a medium sized sauce pan and cover. Bring water to a boil, turn down heat and simmer for 15 minutes, until the water is fully absorbed. Turn off heat and let the quinoa sit for a few minutes (about 5).
Meanwhile, peel the sweet potato and dice it into 1/2-inch or smaller pieces. Cook it in boiling salted water (just enough to cover all the potato chunks) until tender, about 15 minutes. You could also steam it. Drain well.
Toss together the potatoes, quinoa, bell pepper, and onion; sprinkle with salt and pepper. Whisk the oil, lime and spices together and toss the salad with the mixture. Taste and adjust the seasoning, garnish with extra parsley and serve.
This salad can be served warm, cold or room temperature.
We headed back home after the last race of the day and crashed out pretty early. That's what waking up at 6:30 in the morning on a Saturday does to ya! I was so pumped when I remembered that we set the clocks back this morning. That extra hour of sleep was glorious.
I hope you're having a lovely Sunday and enjoying your extra hour!