My Favorite Spots for a Healthy Lunch in Richmond VA
19
Published Mar 01, 2017, Updated Oct 26, 2021
One question I get asked often is where I like to go out to eat here in Richmond. Isaac and I have a ton of local favorites for a nice dinner out, but today I want to share options for a quick and healthy lunch. Since I work at home and spend a lot of time cooking, I typically have lots of food on hand and just eat lunch at home. But there are definitely times when I'm meeting a friend for lunch, busy and on-the-go or just don't feel like cooking. When moments like this hit I have a handful of spots I know I can go to get something quick that's nutritious and delicious.
Here are my top picks for a healthy lunch in Richmond, VA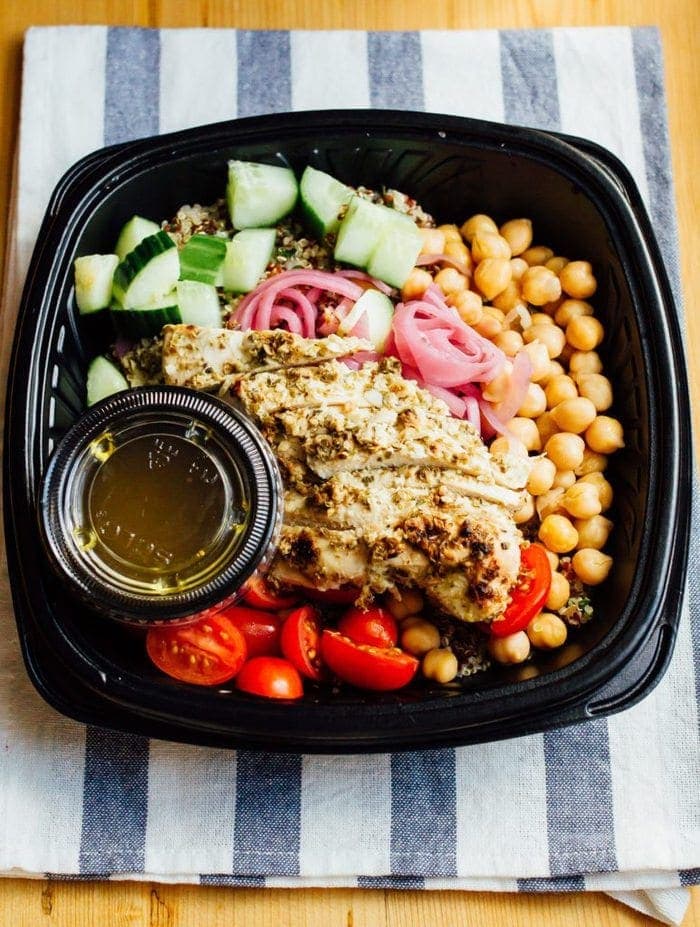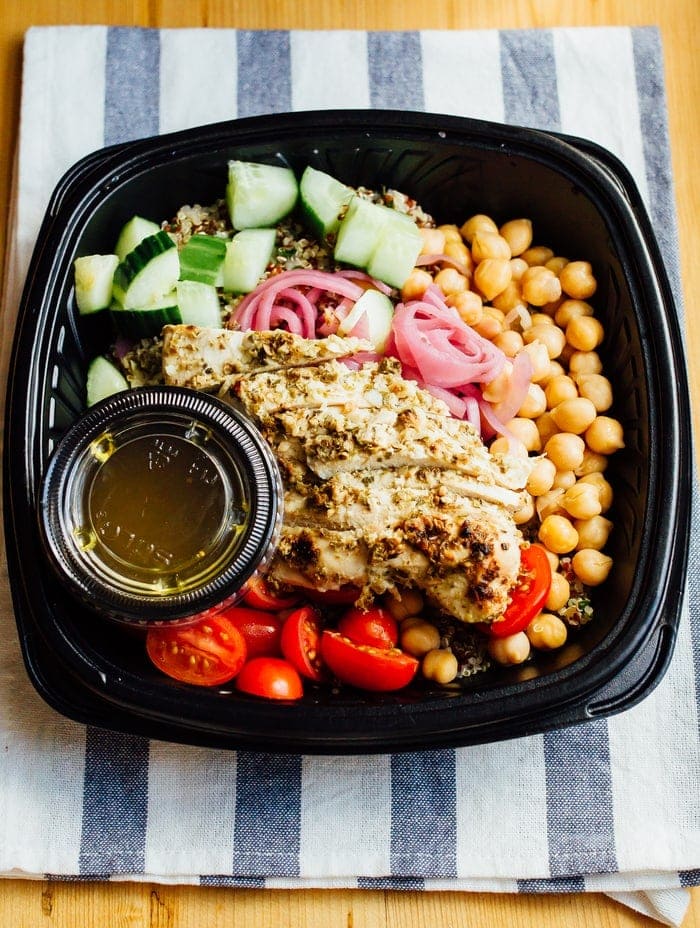 Stella's Grocery | Near West End
Stella's, one the best Greek restaurants in Richmond, has the cutest little market across the street with to-go items from the restaurant, other prepared foods, coffee, beer, wine and a variety of other grocery items. Within the prepared foods section they have a bunch of healthy options like whole roasted chickens, grilled veggies, salads, hummus, tabbouleh and more. This is a great grab and go spot because they only have two small tables, both of which are outside.
What I get: Grilled chicken quinoa bowl with chickpeas, tomatoes, cucumbers, pickled onions and a Greek dressing OR the fresh village salad.
Union Market | Church Hill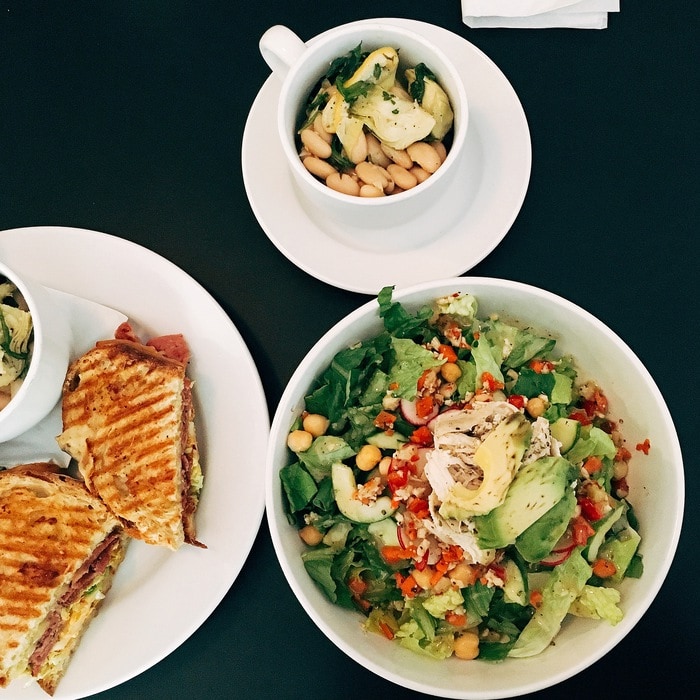 Whenever we have friends from out-of-town visiting, we take them to the eatery in Union Market for lunch. They have an awesome menu with a variety of sandwiches, salads and soups so everyone can find something they like. The food comes fast and they have a good amount of indoor and outdoor seating, which is lovely when the weather is nice. They serve beer and wine, plus they have kombucha on tap!
What I get: Chopped salad with chickpeas, avocado, housemade giardinera, cucumber, radish, romaine and feta cheese with house vinaigrette.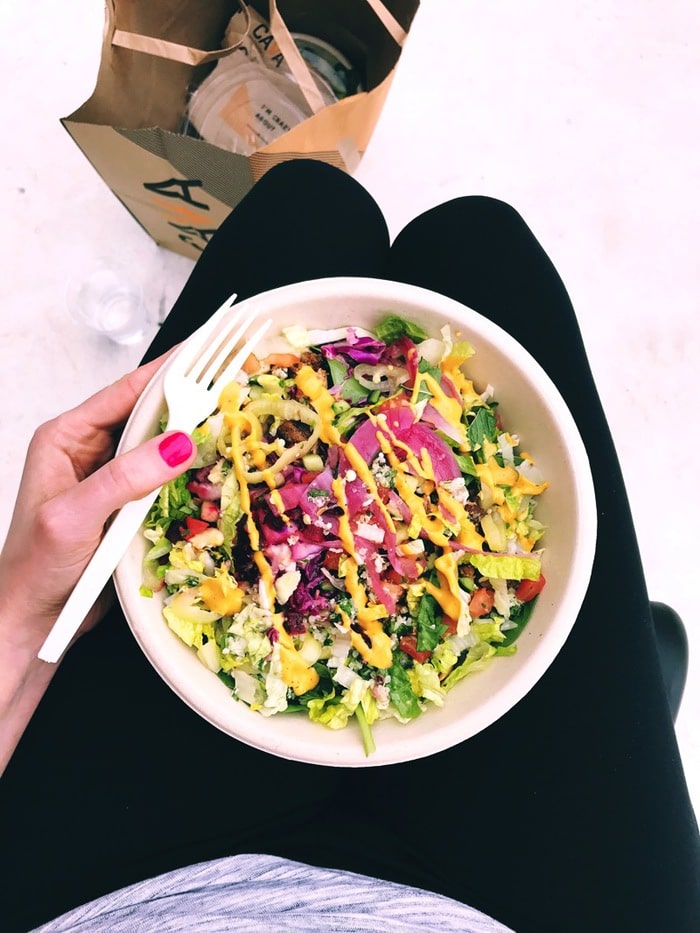 Cava Grill | The Fan
This fast-causal spot started in DC and finally made its way down to Richmond. I tweeted and messaged them so many times begging them to come so needless to say I was so pumped when their first location opened in 2017.
When describing Cava Grill to people I say that the concept it similar to Chipotle, but with Mediterranean food. It has the same assembly line approach to ordering so you decide if you want a bowl or pita, which base you'd like (greens and grains or a combo of both), your protein, 3 dips and spreads as well as a variety of toppings. The dips and spreads consist of things like red pepper hummus, tzatziki, eggplant and red pepper dip, harissa while the toppings are things like cabbage slaw, pickled onions, cauliflower tabbouleh, tomato and cucumber salad, raw beet and dill salad, etc.
What I get: Greens and grains bowl with half super greens and lentils OR greens bowl with a mix of baby spinach and super greens // dips: eggplant and red pepper dip, harissa and red pepper hummus // protein: a mix of grilled chicken and falafel toppings: cabbage slaw, pickled onions, cauliflower tabbouleh, tomato and cucumber salad, raw beet and dill salad, fresh mint, extra romaine // dressing: spicy turmeric tahini.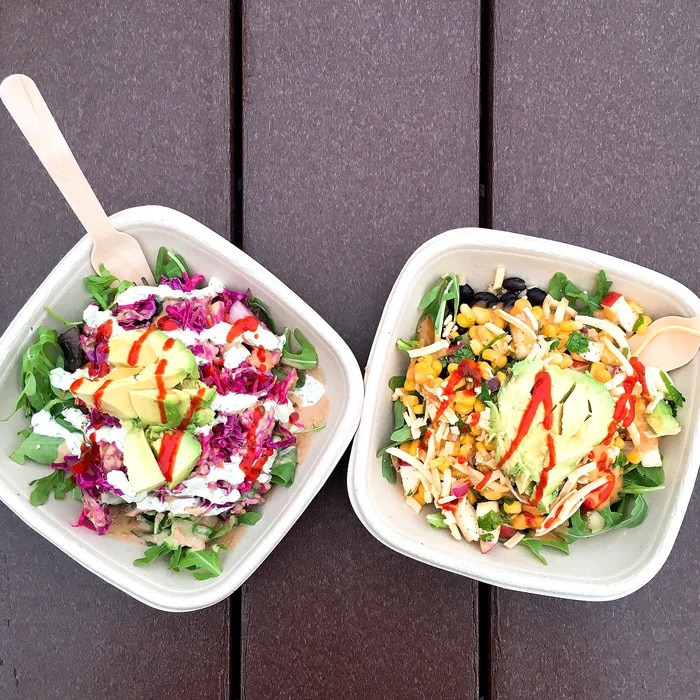 Goatocado | The Fan
Goatacado is a local spot that started as a single food truck, but now they have more than 5 carts and a brick and mortar location in the Fan area. They've always served fresh, flavorful foods and I've been obsessed with them since the beginning! The cart menu is a little different than the restaurant menu, but both have awesome quinoa bowls made with seasonal ingredients.
What I get: The Vietnamese quinoa bowl (with seared mushrooms, pickled veggies, shaved red cabbage, cucumber, fresh herbs, zesty carrot top aioli, peanut sauce, toasted sesame seeds and fresh avocado) OR the Californian quinoa bowl (with zesty black beans, apple-corn pico de gallo, chipotle-pineapple dressings shredded smoked gouda cheese and avocado). I like adding a fried egg or grilled chicken too!
Ellwood Thompson's | Carytown
Richmond's local, organic market. Ellwood Thompson's has a hot bar/salad bar, juice bar, cafe, a large selection of prepared foods and a bowl bar where you can get specialty earth bowls or create your own.
What I get: Veggie fresh rolls from the sushi section OR the Hipster earth bowl (with quinoa, roasted better, butternut squash, sweet potatoes, roasted brussels sprouts, roasted carrots and a lemon dill dressing) OR the salad bar. I love the oven-fried tofu, but they haven't had it on the bar recently.
Whole Foods | Short Pump
This one is a given, but I had to include it on the list because I often find myself here for lunch.
What I get: A big container from the salad bar with a base of mixed greens, fresh veggies and some of the fun salads. My favorite is the cracklin' cauliflower and garlicky kale salad <— two recipes I love so much I recreated them at home.
Richmond's healthy food scene is definitely growing and I couldn't be more excited about it. We don't have all the options that big cities like NYC, LA and DC have but we're moving in the right direction! I still have my fingers crossed that sweetgreen will make its way down here soon!