I love Richmond. We've lived here for over 5 years now and it's become home. I grew up in Orange, Virginia and while absolutely beautiful, it's just a little too rural for me. I lived in Northern Virginia during college. I loved being close to D.C. but despised the traffic. Richmond is great because we have the convenience of city life without insane traffic and there's a certain "small town" feel about it.
Of course, there are a couple things I wish were different about the city. For instance, it would be awesome if it were easier to meet friends here. I think that many 20-somethings who move to new cities feel the same way, so that's not necessarily a Richmond thing. I also wish Richmond had a more dynamic offering of healthy restaurants. When we first moved here, there was one vegetarian restaurant, Ipanema Cafe, and Ellwood Thompson's, a local organic market, and that was about it. We now have a Whole Food's and a few healthy restaurants have popped up here and there — including one of my favorite vegetarian spots, Fresca on Addison. (You can see all of my favorite Richmond restaurants here.) 
Not to say that it's super difficult for me to eat healthy when dining out here, I can usually always find something on the menu, but when comparing our restaurant scene to other cities, it's noticeable that we're a little limited in this department. When someone asks you where you want to go out to dinner and an organic grocery store would be one of your top picks, that tells you something. What I wouldn't do to have a place like Tender Greens, True Food Kitchen, Sweetgreen or Cafe Gratitude in Richmond…
Anyhow, I'm pretty stoked because there are two new spots that recently popped up in Carytown that give me hope that Richmond is slowly but surely catching on to the healthy living movement.
The first is a new restaurant called The Daily Kitchen and Bar. Knowing that their mission is to serve foods that are health conscious, environmentally friendly and socially responsible, I've been pumped for this place to open for over a year. Naturally, I have already been there twice since they opened last weekend. 
The first time was with my cousin, Brooke, for drinks.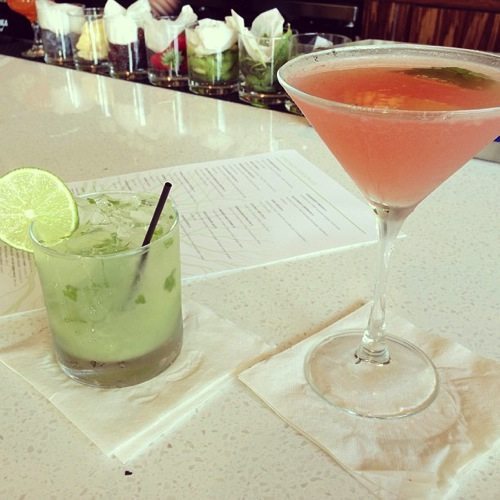 Brooke has a little bun in oven so she had the virgin coconut mojito (made with coconut water) and I had a watermelon kombucha martini. Unless I'm mistaken, The Daily is the first restaurant in Richmond to have kombucha on tap and when I saw they they had it, I was super excited and knew I had to get one of the cocktails with kombucha. Both of our drinks were outstanding, which made me even more eager to come back for dinner. 
Luckily Isaac and I were able to get a dinner reservation this weekend. Knowing that their speciality cocktail menu was amazing (and healthier than most), starting with drinks was a must. I decided to get the alcoholic version of the coconut mojito which has coconut water, mint, lime and Cruzan rum. We went to the Cruzan rum distillery in St. Croix and this drink definitely brought me straight back to our honeymoon. Too bad I wasn't actually sitting on the beach while drinking it. 😉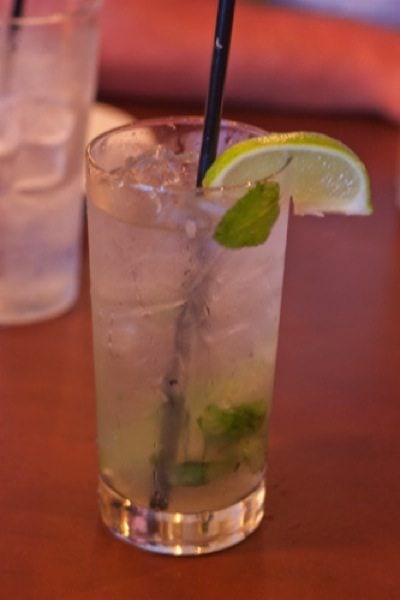 The coconut water base for the mojito makes it so refreshing and not overly sweet like some mojitos tend to be. We brought home lots of Cruzan rum so I know I'll be recreating this one at home sometime soon. 
Isaac had the Triple Ginger Ale with bourbon, candied ginger, ginger syrup and ginger kombucha. I'm not a bourbon fan at all so it wasn't my favorite, but Isaac enjoyed it. 
It was tough deciding what to get for dinner because there were so many delicious looking dishes on the dinner menu, including lots of vegetarian, vegan and gluten-free options. We ultimately decided to go with the Lettuce Wraps with Tofu as an appetizer.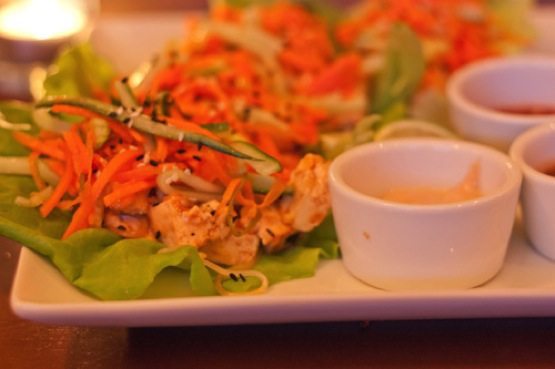 The wraps had vermicelli noodles, pickled carrots and cucumber, as well as, a bit of cilantro and they came with a trio of sauces. The wraps were super flavorful on their own, but we enjoyed the sauces too. I used one that was chili pepper based to heat things up a little and one that tasted like a peanut sauce. The wraps were a great start to the meal. 
For dinner I had the Seared Salmon.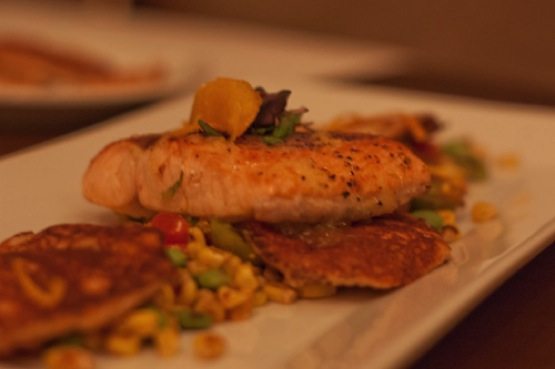 It was in a orange ginger glaze and had quinoa cakes, corn, edamame and smoked cippolini onions on the side. I order salmon out a lot, but I was pleasantly surprised at how unique this dish was. The orange glaze added a light sweetness to both the salmon and the quinoa cakes, which were like light pancakes. I liked them, but Isaac loved them! He kept saying he wanted me to make him quinoa pancakes for breakfast the next morning. That didn't happen this morning so I'll have to make him some soon. I do have the purely elizabeth perfect pancake mix in the pantry so he might just be in luck. 🙂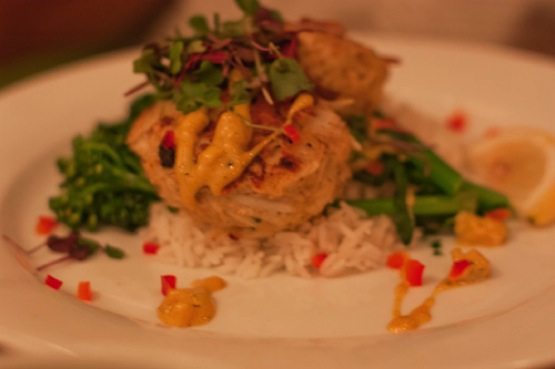 For dinner, Isaac ordered the crab cakes and was just as impressed with his meal as I was with mine. The crab cakes had a curry apple remoulade and were served over jasmine rice and broccolini. I tried a bite and they were amazing. I love crab cakes that are pretty much all meat without lots of filler and these cakes fit the bill. 
After our entrees, we both commented on the fact that we both were perfectly satisfied without feeling stuffed. Everything was fresh and full of flavor without being over-dressed or oily. We took at a peek at the dessert menu but ultimately decided dessert would just put us over the top. We'll have to go back for dessert sometime soon because there were quite a few tasty looking options. 
Naturally, I'm thrilled to have a health conscious restaurant like The Daily in Richmond. I think it will attract health nuts like me but also show folks that aren't necessary keen on healthy foods just yet that healthy eating can taste good. Pretty exciting stuff! I can't wait to go back again soon and try some of the other dishes. I've heard great things about the seared scallops and the curried lentil bowl so those are on my list next. 
The second healthy spot that I'm loving as of late is called called yu-mi.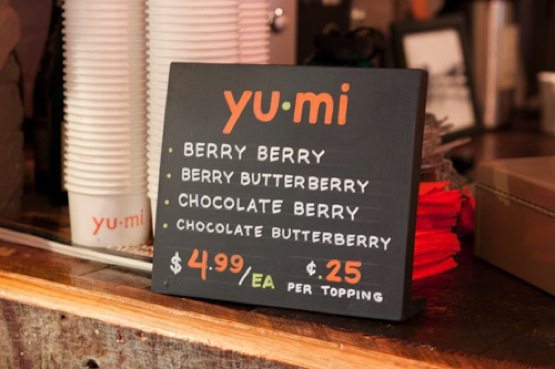 It's a new barista style frozen treat, like fro-yo, only vegan and healthier. The original flavor is made of frozen berries, banana and a plant based raw protein blend — it reminds me of a smoothie, but it's thicker and you eat it with a spoon.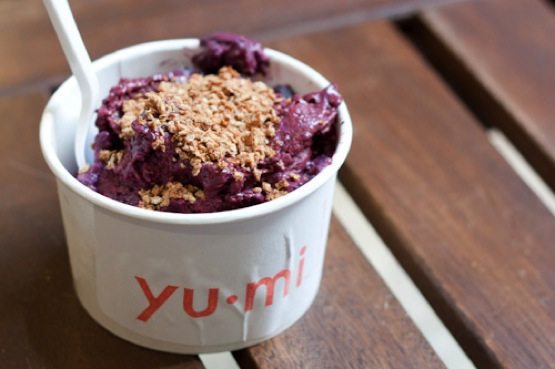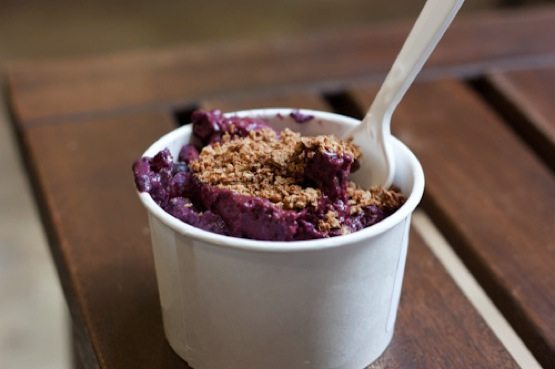 Currently they have four flavors, the berry berry (the orginial one I mentioned above), berry butterberry (this one has peanut butter), chocolate berry (this one has dark chocolate) and chocolate butterberry (with peanut butter AND dark chocolate). They also offer toppings like sprouted sunflower seeds, sprouted crunch blend and gluten-free chocolate cookie crumbles. 
I've tried the berry berry, the chocolate butterberry and the berry butterberry. They're all so darn delicious. I'm pretty much in love with all the flavors, but I'm quite certain the berry butterberry and chocolate butter berry are my favs. Everything is better when peanut butter is involved!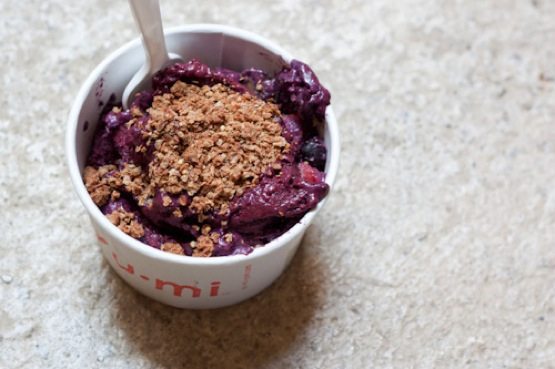 So yes, if you're in Richmond and want to try a cool treat that's healthy (but also delicious), definitely check out yu-mi. You can currently find it at Carytown Bicycle Company, Monday – Saturday 10AM to 5PM and Sunday 1PM to 4PM.  
So there you have it guys —  two of my new favorite eating spots in Richmond. 🙂 If you're local, have you tried either of these places? If you're not local, what's the healthy restaurant scene like where you live? If you live in California, you don't have to comment — I know your healthy eating scene is amazing and I'm totally jealous. 😉