Last year I shared my top 10 tips for staying healthy during the holiday season and hosted a 10 Day Sugar Detox, but this year I decided I wanted to host something that lasts longer and takes a more moderate approach — something to keep us all accountable throughout the holiday season.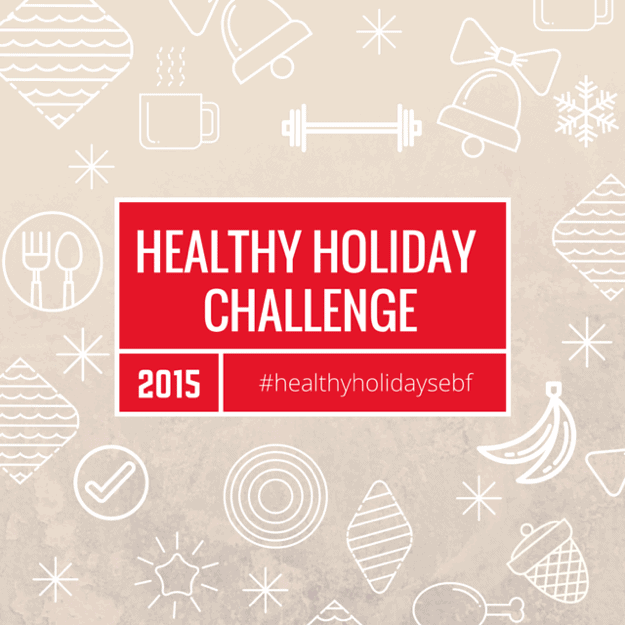 I know it can be tough to stay motived throughout the holidays, especially the month of December. It's cold outside, it's dark when you leave for work AND when you get home and it seems like there's one holiday event after another. Cocktails, party food, holiday baked goods… it's easy to get overwhelmed with everything and just decide to take December off and hop back on the health wagon in January. But why? You can totally enjoy yourself throughout the holidays while managing your stress level and maintaining healthy habits which will in turn, help you to maintain your weight! Simply stick with all your regular healthy habits on the daily, have a couple treats here and there (without guilt) and move on.
With this idea in mind I decided it'd be fun to host a Healthy for the Holidays Challenge to keep us all (myself included) on track with a healthy habit mindset this holiday season.
We all know what we should be doing to stay healthy — drinking enough water,  exercising, getting enough sleep at night, eating at least five servings of vegetables a day, managing stress etc. — but for some reason these simple habits fall to the back burner during the holidays.
I've found that accountability is THE KEY to success when it comes to sticking with a goal so that's what this program provides. There's no rules, meal plans or deprivation and the focus of this challenge isn't weight loss. I want you to truly enjoy the holidays, BUT also keep up with your healthy habits so that when January 1st comes around you feel awesome.
The program will run from Monday, November 30th – January 3rd. It involves 10 simple healthy habits and a point system. You can get a total of 10 points each day and you'll log your points every evening through a challenge website I have setup. If you don't complete one of the habits you simply don't get a point for it. Each week I'll check the stats and the top performers will be entered to win a prize. Sounds fun, right?
Learn more about the challenge, see the ten simple healthy habits we'll be following and learn how to sign up here. I'm really excited about this challenge and hope you'll join me. If staying healthy isn't enough to attract you, maybe knowing that there will be cash prizes each week will entice you. 🙂
Ready to join? The cost is just $15! Be sure to sign up before November 28th.