A full collection of healthy casseroles that are easy to prepare and perfect for families or big groups. Many are freezer-friendly and can be made ahead of time!
I'm all about quick and easy meals lately. More often than not I've been leaning on slow cooker meals and/or casseroles! Even though we have a small family, I love making large batch meals like casseroles so that we have plenty of leftovers for the week.
What Makes a Casserole Healthy?
Casseroles tend to get a bad rap because they're commonly loaded with things like canned soup, cheese and/or cream. But casseroles can totally be elevated using better ingredients and still taste delicious.
My philosophy when it comes to building healthy casseroles is the same as every other meal. I like to have a balance of protein, healthy fats, fiber and carbs. This is usually pretty easy because most casseroles involve some sort of grain, protein and veggies. Of course, if you are missing one of these macronutrients in the casserole, you can always serve with a side dish to balance out the meal!
I'm all about taking casseroles I grew up loving and making them healthier. To do this, I usually try to swap any refined grains for whole grains, use fresh or frozen items instead of canned foods, sneak in more veggies (even if it's just a handful of spinach) and lighten up the amount of cheese needed. These are easy adjustments and trust me, everyone will still love these healthier versions.
How to Meal Prep Casseroles
There are two different ways you can meal prep casseroles:
Assemble but don't bake. Prep all of the ingredients and follow the directions up until you are supposed to bake. Cover and refrigerate or freeze until you're ready to bake. If you freeze it, make sure you thaw it in the refrigerator first.
The other option is to follow the recipe all the way through baking! Let the casserole cool completely before covering and storing in the refrigerator or freezer.
Healthy Breakfast Casseroles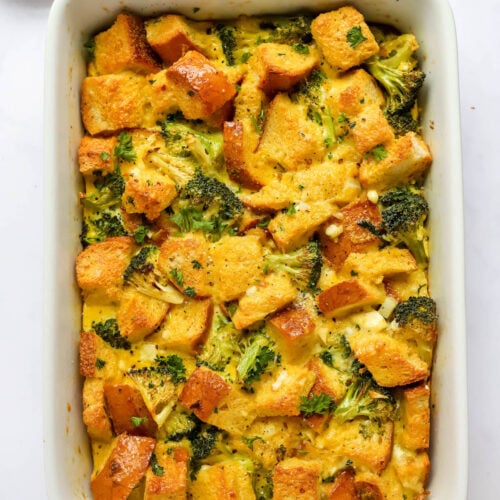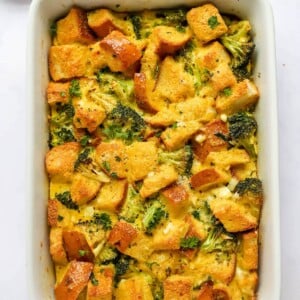 Healthy Breakfast Casserole
This healthy breakfast casserole is flavorful, cheesy and packed with veggies. It's the perfect make ahead dish for brunch and great for serving a crowd!
View Recipe
Healthy Dinner Casseroles
More Collections You Might Enjoy
Love these ideas? Be sure to check out all of the popular dinner recipes here on EBF!
More Collections and Recipes to Try