Looking for some healthy baking inspiration? I've got you covered with 100 healthy baking recipes with everything from muffins and quick breads to cakes and cookies.
If you love baked goods you're going to love today's post because I'm sharing over 100 healthy baking recipes that your whole family will love!
From muffins and quick breads to cookies and brownies all of the recipes I'm sharing below are made with wholesome better-for-you ingredients, easy to make and absolutely delicious… trust me nobody will even be able to tell that they're healthier.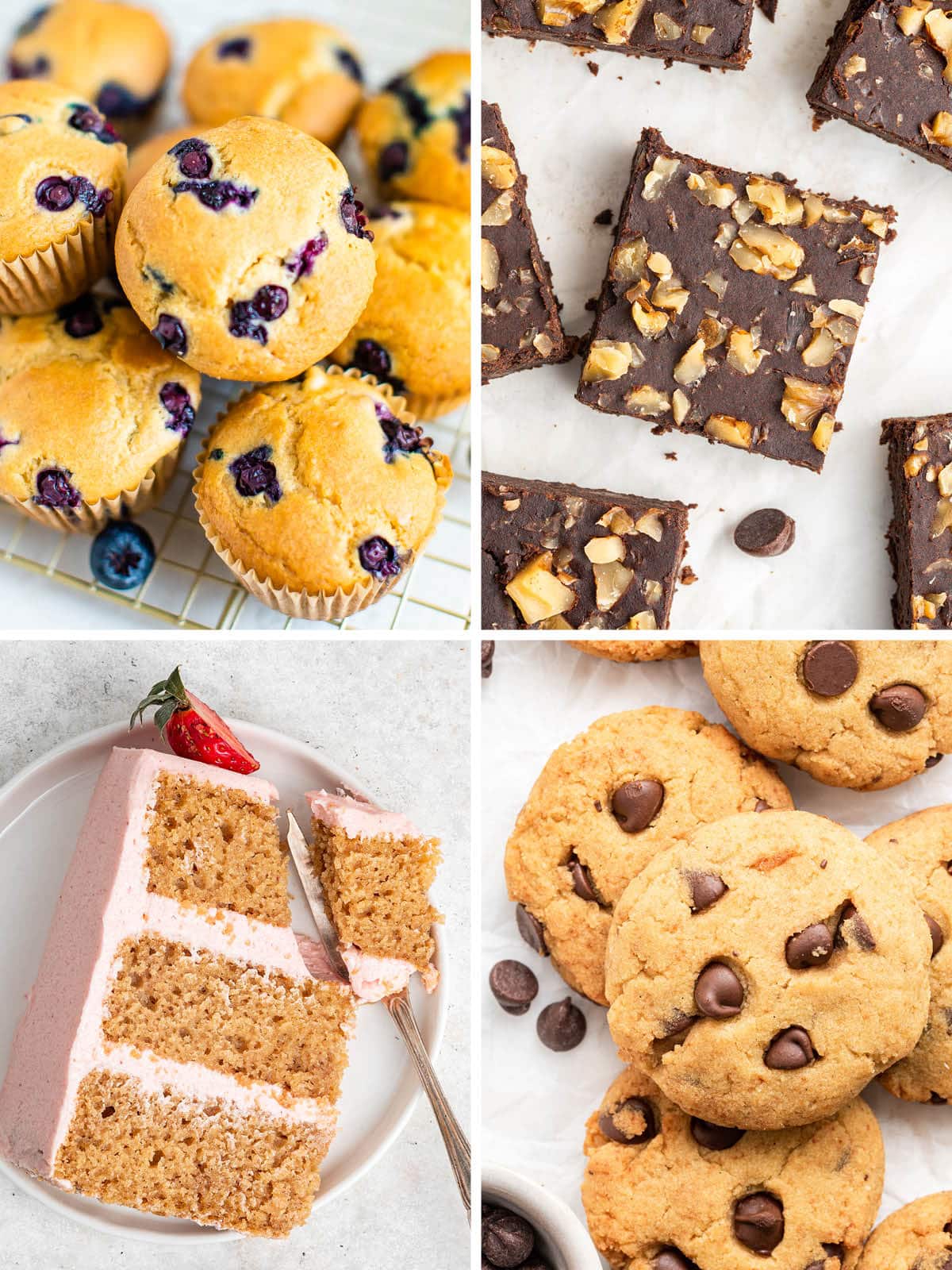 Baked Goods Made Healthier
In many baked goods recipes you'll commonly see white flour, white sugar and butter or vegetable oil, but in true EBF fashion I always try to create recipes that are made healthier with wholesome, better-for-you ingredients. Here are some swaps you'll typically see in the EBF recipes when it comes to baked goods:
flour – instead of using white flour you'll typically see whole wheat pastry flour, almond flour, oat flour or coconut flour being used here. All three options are great if you're looking to incorporate more nutrients into your baking in place of a traditional all-purpose flour. I have a full guide on healthy flours to use if you're interested in learning more.
sugar – instead of using white, refined sugar, you'll usually see me using maple syrup, honey, coconut sugar or medjool dates for a natural sweetener in my baked goods.
oil – when it comes to using oil in my baked goods I typically use coconut oil, olive oil or avocado oil instead of seed oil or butter, which all adds healthy fats and aren't as processed as some of the alternatives. In a lot of recipes you'll also see Greek yogurt, applesauce, sweet potato or pumpkin being used to replace some of the oil in recipes. This is a great way to keep baked goods moist without the need for a ton of oil.
Muffins
Whether you're in the mood for a fruity blueberry muffin or something more decadent like a chocolate muffin I've got you covered with loads of recipes for easy and healthy muffins with a variety of options to meet your dietary preferences.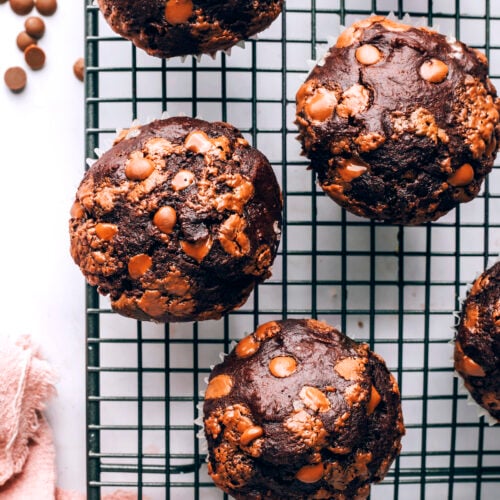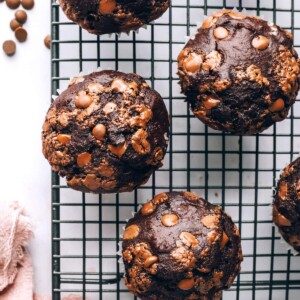 Healthy Chocolate Muffins
These healthy chocolate muffins are dairy-free and made with whole wheat flour, applesauce and naturally sweetened with maple syrup. They're fudgy, rich, perfectly moist and absolutely delicious.
View Recipe
Cookies
Love cookies, but want to make them a bit more nutritious for you and your family? You're in for a treat because I have a variety for healthy cookies recipes to meet your needs. Some popular recipes include my Healthy Oatmeal Chocolate Chip Cookies, Tahini Chocolate Chip Cookies and Oatmeal Chia Cookies.
Cakes + Cupcakes
Who says you can't have your cake and eat it too — especially when it's made with better-for-you ingredients? These cake and cupcake recipes have been created with healthier ingredients without sacrificing that indulgent taste you love. From rich chocolate cupcakes to healthy apple cake, these recipes will make you rethink what a healthy dessert can be. All of these recipes are healthy enough for an everyday dessert, but fancy enough to be served at celebrations like birthday parties and holidays.
Quick Breads
Quick breads are the unsung heroes of the baking world—simple to make, versatile, and incredibly satisfying. They're perfect for a quick breakfast, snack or even dessert. Some of my favorites are my Coconut Flour Banana Bread, Healthy Lemon Loaf and Healthy Zucchini Bread.