I interrupt my regular posting for a BIG Announcement:
As I mentioned, I am one of the top 3 finalists for Richmond's Healthiest Person – a contest sponsored by Retreat Doctors' Hospital. The voting starts today and goes until next Wednesday, June 16th. Obviously, I would be honored to win the title of RVA's Healthiest Person, so I need your help. Thank you in advance for Clicking here to vote for me!
Back to the regular scheduled programming – here are some of my eats for the week.
Dinner on Sunday was easy peasey = White bean and arugula salad from The Whole Truth Eating and Recipe Guide
.
I followed the recipe but added some CSA beets and local raw cheese for a little variety.
I also broke out the vegan cranberry cookie I brought from annaB's gluten free bakery at Broad Appétit,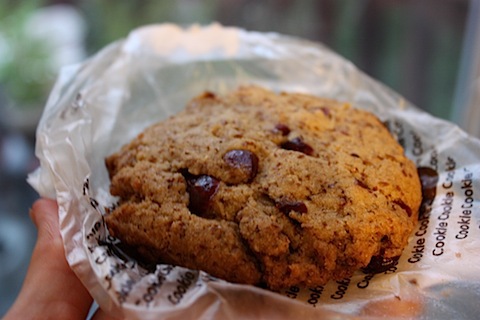 This g-free cookie was delicious, as was the other items I was able to sample at annaB's booth. The multi-grain bread was amazing!!
I was craving cereal for breakfast on Monday and ended up diving into a bowl of Barbara's brown rice crisps with a naner.
This gluten free cereal was sent to me for review. I must say, I was weary of gluten free cereals, but this one hits the spot. It's just like rice krispies, but a bit healthier with less sugar, fruit sweetened instead of sugar and brown rice rather than white. Because the cereal isn't very sweet, I like to add a couple drops of stevia to my milk to sweeten it up a bit.
Other eats included left over meatless sloppy joes and more arugula salad.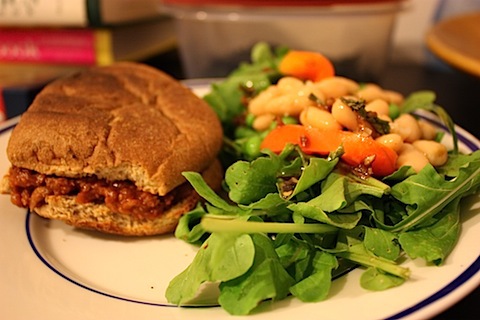 As you can tell, we've got a lot of arugula in the house right now. 🙂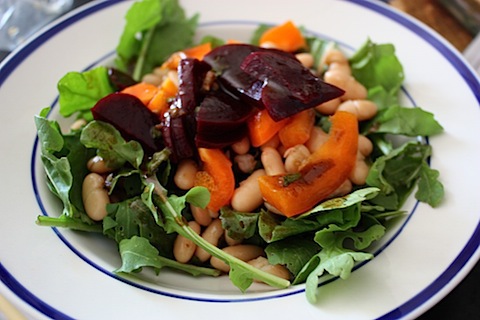 For breakfast yesterday morning I decided to try my hand at the blueberry tahini idea I picked up via the carbonated ice cream on Sunday.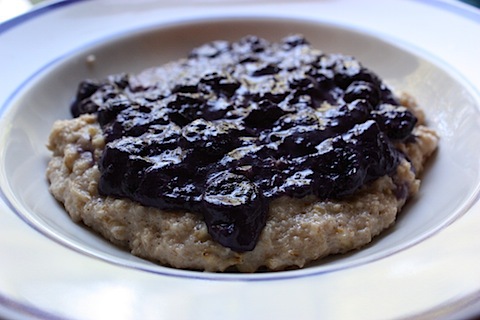 I made a normal bowl of oatmeal/oatbran and topped it with a blueberry tahini compote and a drizzle of agave nectar. As expected, this combo did not disappoint! Blueberries and tahini are quite possibly a match made in heaven. And, here's how I made the compote.
Blueberry Tahini Compote
1/2-1 cup, frozen blueberries , thawed for a few minutes
1/4 cup water
2 drops of stevia
1 tablespoon tahini (ground sesame seeds)
Heat a small sauce pan with blueberries water and stevia on medium heat. Stir, while lightly smashing the blueberries until the mixture starts to bubble a little (about 4-5 minutes), add tahini and stir. The compote should thicken up a bit, but not too much. Turn off heat and spoon the compote onto your oats.
Other fun things I've been nibbling on include homemade wasabi edamame trail mix.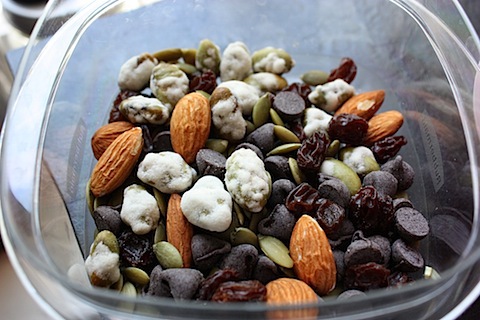 Love the spicy, sweet, savory combo of this mix.
And I can't forget the roasted summer veggies! I tossed carrots, squash, zucchini, onion and mushrooms with a little evoo, sea salt & pepper and put them in the oven for an hour at 425°. Served with quinoa- this makes the perfect summer dinner.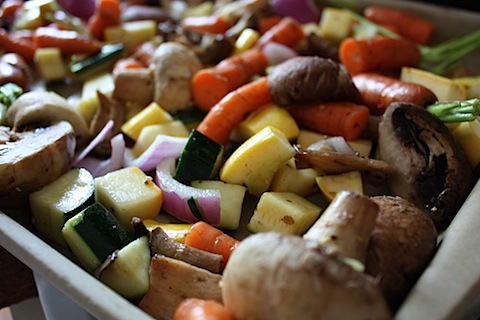 In terms of working out – I'm still doing the New Rules program as well as cardio workouts. Yesterday evening I went with Isaac to do a sprint workout with some of his ultimate frisbee teammates. Let's just say that I've never done a sprint workout before and it was KILLER! I think I need to start incorporating speed work to my weekly routine as I am seriously slacking in that area. ;/
Happy Wednesday my friends.
– Brittany