As you all know, I love my chia seeds! I've actually done a whole post on the benefits of eating chia seeds, but as a quick reminder: they're a good source of omega 3 fatty acids, protein (plant based), antioxidants, fiber, magnesium and potassium. They're also super versatile. What's not to love?
Hmmm… maybe the fact that they get stuck in your teeth… oh well, I still love them!
Recently I was asked to try out some chia bars from a local company called Health Warrior. <– I think it's so cool that there's a natural food company selling chia seeds and chia seed bars right  here in Richmond! First Sabra hummus, now Health Warrior chia, who knows what food product is next.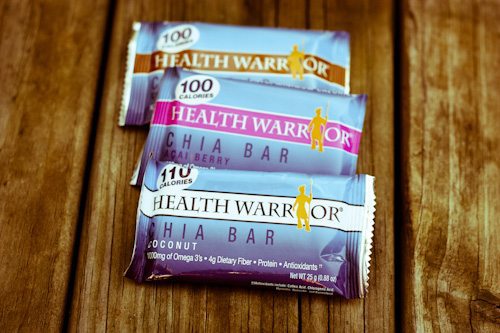 The bars come in three flavors (coconut, acai berry and chocolate peanut butter).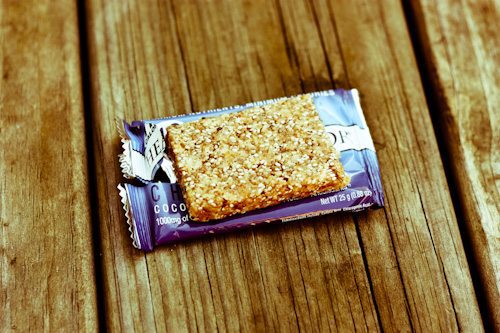 I've tried all three flavors. Each one is soft and chewy with a hint of sweetness, but the coconut chia bars are definitely my favorite. They're moist with a rich coconut flavor, like a healthy samoa (without the chocolate). I'm a huge fan!!!
I also like the fact that the bars are portable. Sometimes I forget to add chia seeds to my meals so it's cool to have a chia seed snack I can take on-the-go! I brought a couple to work and put them in my desk drawer so whenever I need a snack I can just grab one. And don't be fooled by their small size – they're quite filling and perfect for that mid-day slump.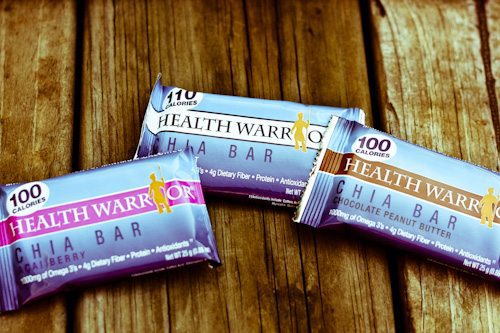 The acai berry is next on my favorites list and then the chocolate peanut butter. If you know me, you'd automatically assume the peanut butter would be my favorite (I love all things pb), but this bar was kind of dry and the peanut butter flavor just wasn't there. I'd eat it in a pinch but the coconut is so much better. 
In terms of nutrition, all the bars are 100-110 calories and contain 1000mg Omega 3, 4g dietary fiber, 3g plant-based protein and 5 critical antioxidants. They're also gluten, dairy and soy free, 100% vegan and 100% natural. The ingredient lists aren't very long and the sugars are pretty low as well, both of which are things I pay close attention to when it comes to bars.
The best part about all this? Health Warrior is willing to give away 3 boxes (one of each flavor) of their bars + a Health Warrior t-shirt to one EBF reader!! Simply leave a comment on this post telling me your favorite way to eat chia seeds. If you haven't had chia seeds before, just let me know why you'd like to try the Health Warrior bars.
If you don't win, not to worry – you can still try the bars! They're available at Whole Foods, Amazon and on their website. Oh and they're actually hosting a "marathon sale" right now in light of the NYC Marathon – 2 boxes (15 bars each) of chia bars for $26.20 (usually $23.50 for one box). That's less than .87 a bar! Just enter the code "CHIASALE" at checkout.
Happy Thirsty Thursday! Fill your water bottle and drink up. 🙂