Last night's Harvest Moon celebration, which included a slow vinyasa flow and a potluck was relaxing, renewing, and fun! The yoga instructor, Karen, mentioned that the Harvest Moon is a time to let go, celebrate abundance, and prepare for the change of seasons. She also said that we should celebrate all the positive things that happened over the past year and let go of all the things that maybe didn't go so well. It's similar to the trees releasing their leaves, which in turn go into the soil and provide nourishment for the year to come. I really liked this analogy.
It's still hot here during the day so practicing late into the evening, as it was starting to cool off a bit, was lovely. The flow was calming and gentle, which was perfect for me, since I'm still dealing with the leg tingling issue!?! Lastly, we ended the practice with a yoga nidra, something I had never expereienced before. T'was the perfect way to spend a Friday evening…
The event was hosted at a fellow yogi's house. She had the perfect backyard for outdoor yoga!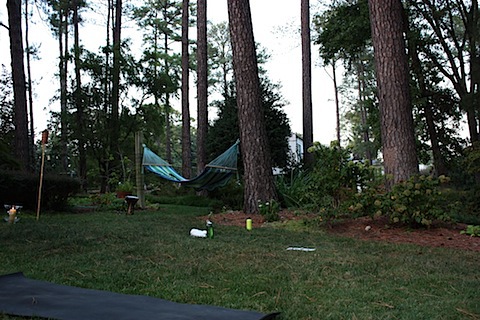 Post practicing there was plenty of food to be harvested eaten and drinks to be sipped – including home brewed beer and chai tea!
I, per the usual, couldn't decide what to bring to the potluck so I rummaged through the FOOD & WINE website until I found a recipe for Eggplant Caponata.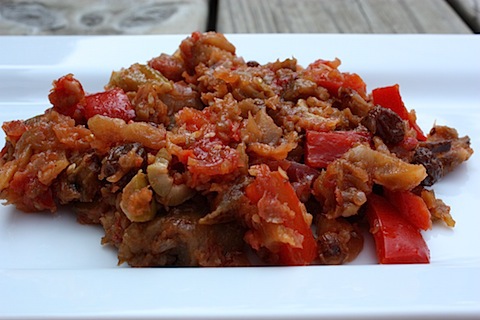 To be honest, I'm not sure I've ever had caponata, nor did I know what exactly it was. But, it sounded delicious, looked moderately healthy and not overly time consuming so I went with it.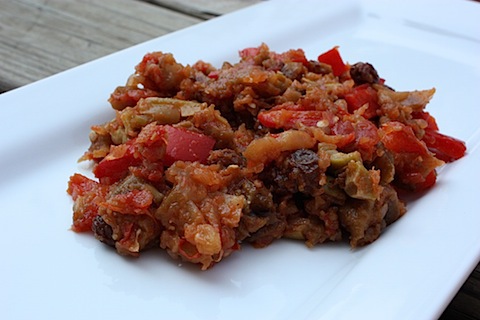 Boy am I glad I did! It was delicious!!
For those of you (like me) who don't know what caponata is, it's a Sicilian dish which most likely originated in Spain. Several versions of this dish have emerged that add fish or cheese, but most are fully vegetarian and include eggplant and celery seasoned with sweetened vinegar, and capers. Numerous local variations of the ingredients exist with some versions adding olives, carrots and green bell peppers, and others adding potatoes, or pine nuts and raisins. Caponata is best served lukewarm, as an appetizer or a side dish. Caponata can be kept in a sealed container in the refrigerator for several days. The FOOD & WINE recipe called for a few items I didn't have on hand so I switched it up a bit. Here's my version:
[print_this]
Eggplant Caponata with Raisins
Ingredients
3/4 pound (12 ounces) eggplant, peeled and cut into 1/2-inch dice
Salt
2 tablespoons raisins
2 1/2 tablespoons extra-virgin olive oil
1 small red onion, finely diced
1 celery rib, finely diced
1/2 red bell pepper, cut into 1/2-inch dice
1 garlic clove, minced
1/2 chile pepper, seeded and minced
1/2 tablespoon tomato paste
1 medium tomato, cut into 1/2-inch dice
2 tablespoons chopped picholine olives
1/2 tablespoon red wine vinegar
baguette slices, brushed with olive oil and broiled
Directions
In a colander, sprinkle the eggplant with 1 teaspoon of salt and toss; let stand for 30 minutes. Squeeze out any excess water.
Meanwhile, in a small bowl, soak the raisins in hot water until softened and plump, about 10 minutes. Drain.
In a medium saucepan, heat 1 1/2 tablespoons of the olive oil. Add the onion and celery, cover and cook over moderately low heat until softened, about 4 minutes. Add the red bell pepper, garlic and pepper and cook over moderate heat until softened, about 4 minutes. Add the tomato paste and cook, stirring, until shiny, about 1 minute. Add the tomato and cook over moderately high heat, stirring a few times, until it begins to break down, about 2 minutes. Transfer the mixture to a bowl.
In a large nonstick skillet, heat the remaining 1 tablespoon of olive oil until shimmering. Add the drained eggplant and cook over moderately high heat, stirring occasionally, until browned all over, about 4 minutes. Reduce the heat to moderate and cook, stirring occasionally, until the eggplant is very tender, about 3 minutes longer.
Transfer the eggplant to the bowl and add the olives, raisins and vinegar. Let the caponata cool to room temperature and serve with the baguette toasts. The caponata can be refrigerated for up to 3 days. Serve at room temperature or lightly chilled.
[/print_this]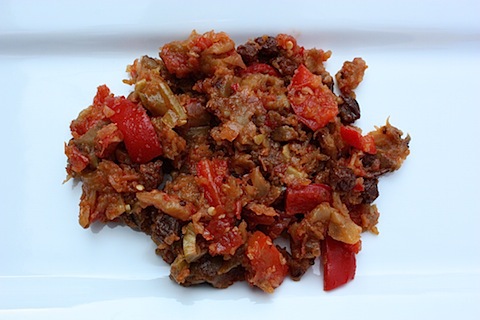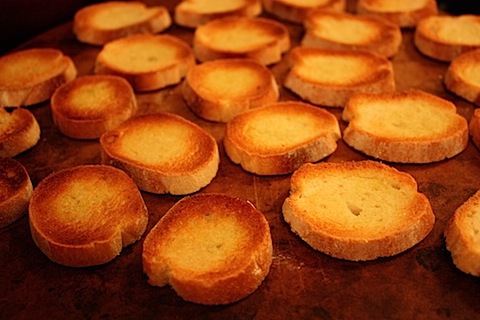 The caponata was delicious as a dip/spread on the toasted baguette slices but I liked it plain as well. Seriously, it was so tasty!
And here's all the yummy potluck food: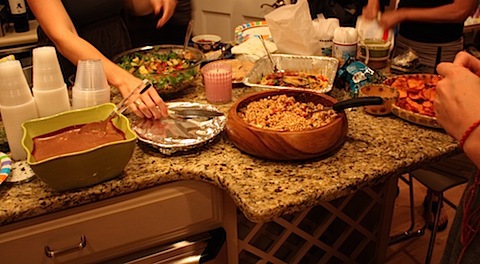 5 words: Yogi's know how to cook!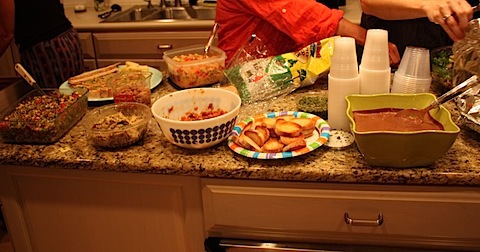 Just from memory, although I know I'm forgetting something, there was quinoa, ravioli, vegetarian paella, a fig and brie spread, hummus, bean salad, homemade sweet potato chips with mango salsa, tofu chocolate pudding (so good!), blueberry cobbler (amazing!), and apple tart!
I was able to get a few close ups: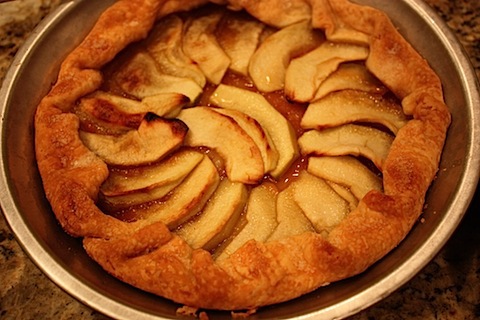 How amazing do these sweet potato chips look?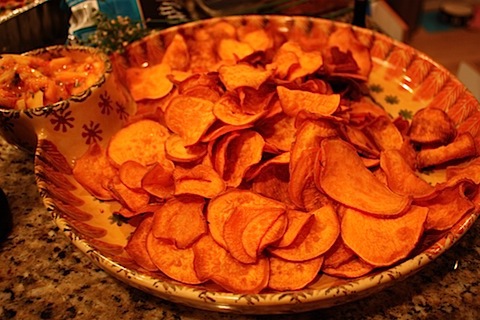 I think I officially used delicious way too many times in this post – but just so you know, everything was delicious and the eggplant caponata was a hit. Thanks to FOOD & WINE, I was inspired to step out of my comfort zone and try something new. And, it definitely paid off – the bowl was empty when I returned home. 😉
The whole night was great because I was also able to connect with some new friendly faces, and much more so than I would have had it just been a class at a studio where everyone comes and leaves in a bit of a hurry! I'm already excited for more yoga community events in the future. Much thanks to Ellie for inviting me!
—–
As part of my participation in the FOOD & WINE Blogger Correspondent program, FOOD & WINE is giving away a year-long subscription to a lucky reader from Eating Bird Food. Click here to enter and read official rules here.
This post is part of a series featuring recipes from the FOOD & WINE archive. As a FOOD & WINE Blogger Correspondent, I was chosen to do four recipes a week from FOOD & WINE. I received a subscription to FOOD & WINE for my participation.