I've been out of town for work the past couple days so I don't have a ton of food pictures or any out of this world recipes, however I do have a few tips to share about working out while traveling — particularly when your hotel gym stinks.
Since I knew I would be sitting for 8 hours each day (not so out of the norm for anyone working an office job) I packed my workout clothes and planned to workout both days I was there.
5 PM rolled around, I went up to the room, put on my workout gear and headed to the hotel fitness center. Based on my internet research skills, I was expecting the hotel gym to look like this: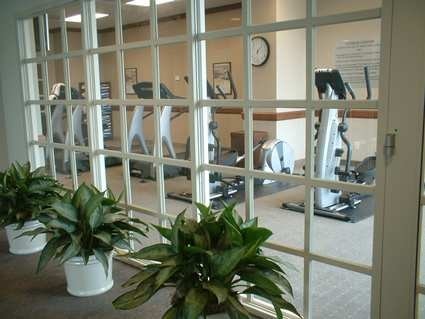 Turns out a mirror had broken in the gym area the day before so all the equipment was moved into a meeting room. This would have been fine but the one, yes one, weight machine that they had (a lat pulldown) was broken, the T.V. was propped on a buffet table below eye level, and the cardio machines were the cheapest models they could purchase. I tried out one of the ellipticals and after clunking for about 30 seconds, hopped off.
All dressed for a sweat sess, I wasn't going to let this dinky gym deter me so I decided I'd go outside for a run. Surprise – in addition to being super cold it was also raining. Being the fair-weather runner that I am, I went back inside. I couldn't fathom going back into the fitness center, but luckily I had a grand idea- the stairs! I ended up using the stairs for the majority of my workouts both that evening and the next morning. I also did a few other "no gym required" exercises and ended up getting in two decent workouts.
Here are a few tips for how to get in a good workout, even while traveling/staying at a hotel with a less than stellar (or non-existent) workout center.
Go for run, jog or walk outside

. So long as the weather is okay and it's light out, this is a great option. You get to see some new scenery and get in a little cardio at the same time. Just make sure you don't get lost.

Take the stairs.

You can focus on going up and down the stairs fast or try taking 2 stairs at a time slowly for leg strengthening. This can be quite a workout – especially if you're staying in a high rise hotel.

Bring along your yoga mat.

Stretch, do

planks

, do

your own vinyasa flow

or if you have a laptop you can do a recorded yoga session (ie

YogaDownload

)

Do body weight exercises.

Push ups, squats, lunges,

tricep dips

– you can use the desk chair or even the toilet – kind of gross, but it is the perfect height 🙂

Work your core.

If you didn't have room to bring your mat simple put a towel down. You can do crunches,

leg lifts

,

flutter kicks

.  

No-equipment cardio.

Run in place, jumping jacks, butt kicks, high knees,

mountain climbers

, or

jumping on the bed

(it's not like you have to worry about breaking your own bed.)
Obviously this list doesn't exhaust the endless possibilities, but it's a good start if you were in need some some ideas.
Do you have any go-to workouts you do while traveling? Do you always pack your workout gear and continue your exercise routine as normal or do you view trips as a break and slack off on working out?
I do a little of both. Had this been a vacation trip where I was out exploring, swimming, and walking around I wouldn't find it necessary to work out as much, but considering I was traveling for work and sitting for 8 hours each day, the 45 minutes of activity actually felt good and provided a nice release.
Speaking of working out, I took the day off and instead of heading to the gym after work, Isaac and I had a picnic dinner. It was out of the ordinary and so fun. We need to do things like this more often. Here's a teaser photo: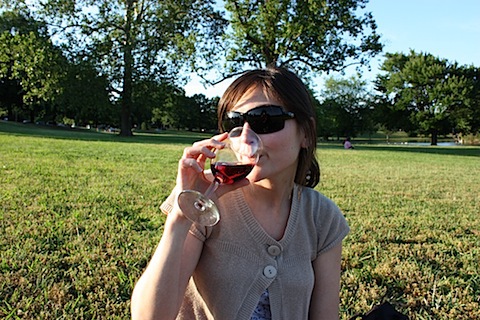 And last but not least, I'll be sure to post the tofu and bok choy stir-fry recipe asap. Happy almost TGIF!