I love Saturday mornings. Nothing on the agenda except for stopping by the farmer's market to pick up CSA veggies for the week and the 10lbs(!!) of peaches I ordered. Who knows what else we'll get into today, but the weekend is off to a fabulous start…
Here's how the end of the week went down:
Thurs night we had whole wheat penne pasta with a veggie mixture of fresh tomato, squash/zucchini hybrid, red onion, basil and peppers. I sauteed the veggies in a tad bit of canola oil cooking spray and then mixed in the leftover easy pizza sauce to make a delicious pasta topping. I also added a sprinkle of mozzarella for good measure.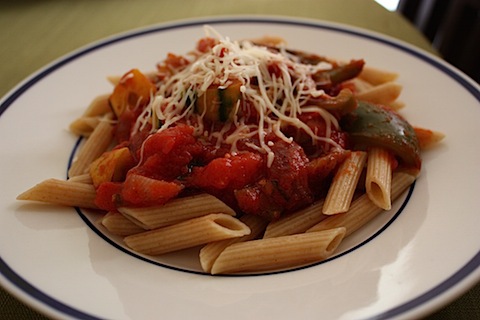 Both Isaac and I throughly enjoyed this simple dish and the best part? All the veggies came from local gardens!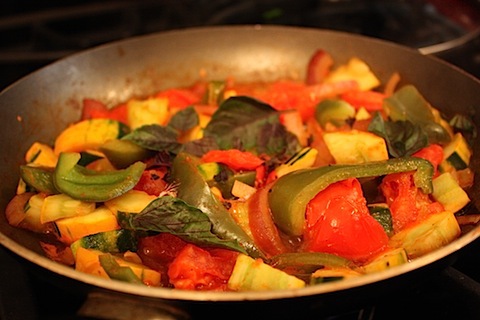 After dinner I wanted a snack so I had Isaac chop open a young thai coconut that we recently picked up from a Asian Market. I'm sure you've all seen packaged coconut water in you local heath food store but do you know you what a Thai Young Coconut looks like?
A very young coconut is filled with water and has very little meat, and the meat is very tender, almost a gel. As the fruit matures, the coconut water is gradually replaced by the coconut meat and air. So you can get your coconut water in the package or from the fruit itself, but either way it offers amazing health benefits – particularly if you're looking to rehydrate or replenish electrolytes after a tough workout.
Coconut water contains organic compounds possessing healthy growth promoting properties that have been known to help
Keep the body cool and at the proper temperature.
Orally re-hydrate your body, it is an all natural isotonic beverage.
Carry nutrients and oxygen to cells.
Naturally replenish your body's fluids after exercising.
Raise your metabolism.
Promote weight loss.
Boost your immune system.
Detoxify and fight viruses.
Cleanse your digestive tract.
Control diabetes.
Aid your body in fighting viruses that cause the flu, herpes, and AIDS.
Balance your PH and reduce risk of cancer.
Treat kidney and urethral stones.
Boost poor circulation.
The coolest thing I learned while researching the benefits of coconut water is that it's also used as an intravenous hydration fluid in some developing countries where medical saline is unavailable. Cool right? Isaac plays ultimate frisbee and was drinking a lot of Hatorade during his games. I've turned him on to coconut water and he has fallen in love- it makes him feel great while pushing through 3-4 game days and no more artificial ingredients and added sweeteners!
I've never opened one at home before, but had heard from Isaac's mom that it's no small feat. Isaac used one of our big knives to chop a square hole in the top and despite a splash of coconut water going across our kitchen everything went smoothly. I put a straw in the hole and drank the water straight from the coconut and then ate some of the meat as well. So good….
Here's a good video if you're interested in opening one of your own.
Moving right along to Friday I had a egg wrap with 1 egg/1 egg white, green pepper, onion, and tomato with a veggie sausage pattie on the side for breakfast.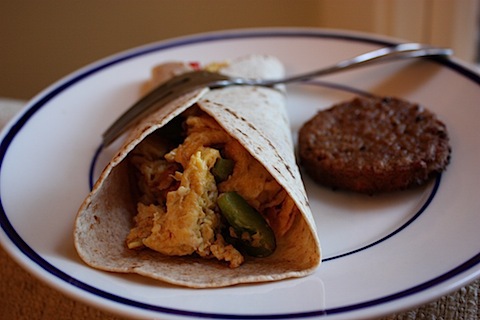 I topped the wrap with a little hot sauce was a good to go until lunch rolled around.
For some reason I've been drawn to eat more fruits than veggies lately. I'm not sure why, besides that fact that fruit is sweeter and tastes amazing, but realize I need to hop back on the veggie train asap. I attempted to ease my way back into eating more veggies by having a green monster for lunch.
Hemplicious Swiss Chard Smoothie
1 frozen banana
1 handful of swiss chard (about 3/4 big leaves)
1 cup unsweetened almond milk
1 T coconut manna
2 T hemp protein powder
3 drops of liquid stevia
Put all ingredients into a high powdered blender and blend until smooth.
I've been a fan of Nutiva's hemp protein powder for quite sometime, but this was my first time trying out Nutiva's coconut manna in a smoothie. It's basically a creamy, dried coconut spread, similar to what other companies label as coconut butter. It made the smoothie so rich/creamy and added a subtle coconut flavor – I LOVED it! I can't wait to try it spread on a piece of hot toast. 🙂
Speaking of nuts, Isaac and I attended our first Flying Squirrels baseball game last night.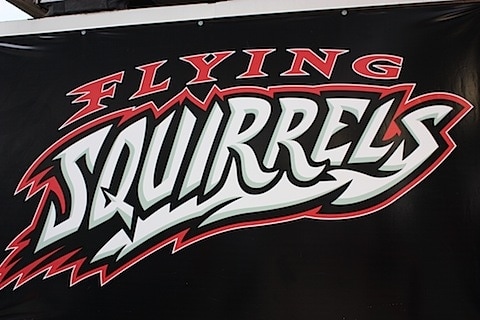 I was invited to be part of the on-field HCA's Healthiest Person in Richmond awards ceremony because (drum roll please) I won second place!!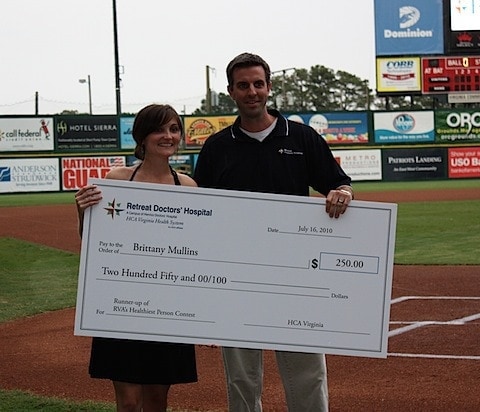 Chris Accashian, COO of Retreat Doctors' Hospital, presented the big checks to both me and Elizabeth, the grand prize winner.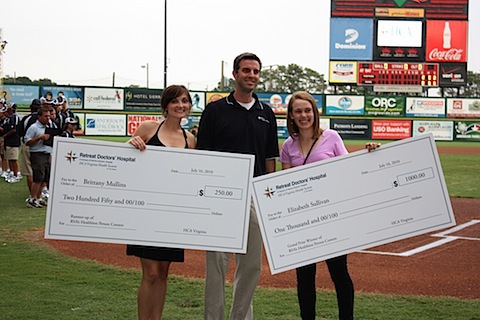 I'm so happy I was able to participate in the contest and proud to say that I'm one of the healthiest people in Richmond. Thanks again to HCA for hosting the contest for to you all for voting for me. I couldn't have done it with you all!!
After the quick ceremony the HCA team took us up to their box and in honor of celebrating I decided to partake in a glass of white wine.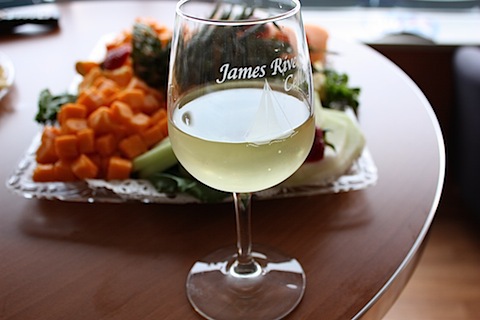 We watched most of the game and although the squirrels ended up losing we had a blast meeting the HCA staff and cheering on the squirrels. Box seating is definitely a fun way to enjoy a sporting event.
After the game one of my best girlfriends popped over (she's in town from LA) and we went and grabbed a glass of Chianti at Stuzzi.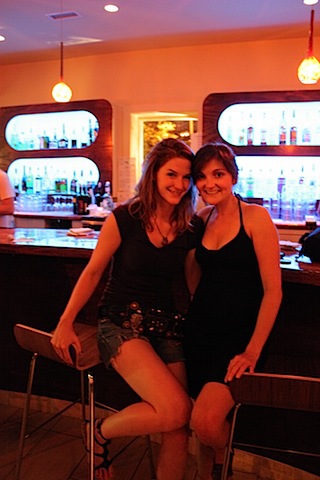 Then wandered down to Commercial Tap House, Isaac's watering hole. We like this place because the staff is friendly, they have a huge beer selection, the music is good and not super loud (you can actually have a conversation), and it's not packed to the brim with popped polo collars like most Richmond Fan bars.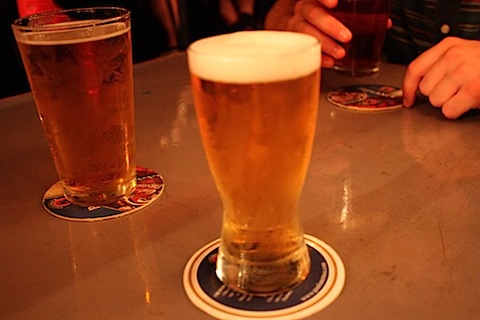 I enjoyed a wee Legend Lager (best Richmond beer!) and then called it a night. We walked home and I crashed out of the couch before our company even left (sorry Laurel)! I tend to turn into a pumpkin when the clock strikes midnight, especially after a couple drinks. 🙂
So that's that folks. I'm off to figure out what I'm going to do with my millions of peaches and enjoy this lovely Saturday. I hope you will do the same.
-Brittany