Hi and Happy Thanksgiving!
Since today is about giving thanks I found it fitting to share this recipe for bountiful loaves. For one, this hearty and healthy bread this will be part of our Thanksgiving meal and two, I have an abundance of things to be thankful for and the title sort of speaks to that…
So backing up for just a minute, I got off work early yesterday and came home to get started in the kitchen. Since I scratched the homemade pie idea last week I decided to embark on another baking challenge I have yet to persue – baking a yeast bread! I've made about a million quick breads but kneading, rising, yeasting – well, let's just say, it's a whole other ball game.
Despite a few little things that were a bit off (i.e. my kneading technique and the shape of the loaves) – the bread turned out!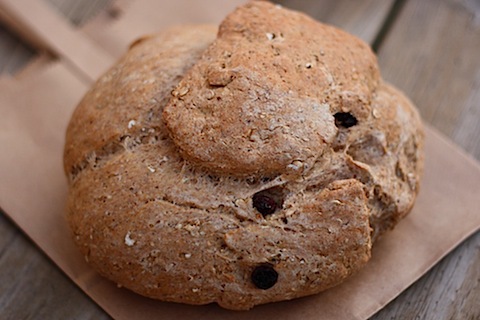 After combing all the main ingredients my dough was too dry to stir in the raisins and sunflower seeds. :/ I added about 3 tablespoons of water to the dough, started kneading it and as I did I rolled in a few raisins. They'll be a nice surprise for those that actually find one.
Turns out kneading is quite the workout when you're working with a dry dough.
The rising happened and I got to punch the dough, which was surprisingly fun to do – it reminded me I need to try a kick boxing class again. I shaped the dough into two semi nice looking loaves and then let them rise again.
Baked for 30 minutes and TA-DA! A chewy, dense and tasty loaf of bread was born.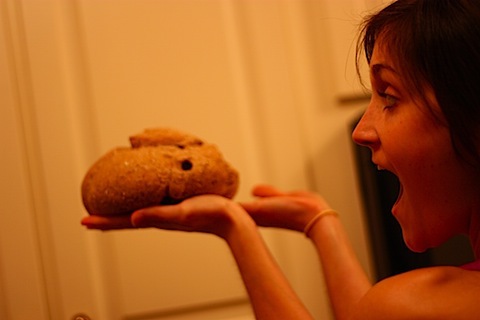 Since it was my first time I had to make everyone celebrate with me, even our house guest for the holidays, Aubrey.
Isaac, Aubrey and I taste tested one of the loaves to make sure it was okay to share with the Thanksgiving crowd today. Although it is on the hearty side, it tasted yummy and is totally worth sharing!
The whole process of bread making was so cool. I liked the process of waiting for the bread to rise and seeing it double in size, plus now the thought of making bread isn't something unachievable. I'm already excited to try some other types of bread – CHALLAH!
So for the recipe, I found it in the October/November Issue of Taste of Home's Healthy Cooking magazine. The recipe looked delicious to me because it included oatmeal, oat bran, whole wheat flour, raisins, wheat germ, flax, sunflower seeds and raisins. Basically, all the things Eating Bird Food is made of. 😉
[print_this]
Bountiful Loaves
Ingredients
* 2 packages (1/4 ounce each) active dry yeast
* 3 teaspoons sugar, divided
* 2-1/2 cups warm water (110° to 115°)
* 3 cups whole wheat flour
* 1 cup old-fashioned oats
* 1/2 cup oat bran
* 1/2 cup toasted wheat germ
* 1/2 cup ground flaxseed
* 1 egg
* 2 tablespoons olive oil
* 2 teaspoons salt
* 2-1/2 cups all-purpose flour
* 1/2 cup sunflower kernels
* 1/2 cup raisins
Directions
* In a large bowl, dissolve yeast and 1 teaspoon sugar in warm water; let stand for 5 minutes. Add the whole wheat flour, oats, oat bran, wheat germ, flaxseed, egg, oil, salt, 1 cup all-purpose flour and remaining sugar. Beat until smooth. Stir in the sunflower kernels, raisins and enough remaining flour to form a firm dough (dough will be sticky).
* Turn onto a lightly floured surface; knead until smooth and elastic, about 6-8 minutes. Place in a bowl coated with cooking spray, turning once to coat the top. Cover and let rise in a warm place until doubled, about 1 hour.
* Punch dough down. Turn onto a lightly floured surface; divide in half. Shape into two round loaves. Place on a baking sheet coated with cooking spray. Cover and let rise until nearly doubled, about 30 minutes.
* Bake at 375° for 25-30 minutes or until golden brown. Remove from baking sheet to wire rack to cool. Yield: 2 loaves (16 slices each).
Nutrition Facts: 1 slice equals 133 calories, 4 g fat (trace saturated fat), 7 mg cholesterol, 161 mg sodium, 23 g carbohydrate, 3 g fiber, 5 g protein. Diabetic Exchanges: 1-1/2 starch, 1/2 fat.
[/print_this]
Notes to novice bakers (like me):
Research how to knead dough before starting the bread making process. I actually had to google it when I got to that part of the recipe.

Make sure you have enough time set aside for rising and baking the dough.

Read the instructions carefully. I ended up putting all the white flour in at once when your suppose to just add a cup and then add the additional flour if needed – it's not wonder my dough was so dry.
So there you have it, my first ever bread making experience! Have you made your own bread before – if so, please tell me about your first time.
I'm off to the gym for a quick workout and then we'll be headed to Isaac's family's house for a Thanksgiving feast. I can't wait to share with you the two dishes I'm bringing to the dinner as I think they're going to be good!
No matter what you are doing, have an enjoyable day and don't forget to give thanks…