Happy Modern Family Day!
To celebrate I have a little review and a GIVEAWAY for you guys.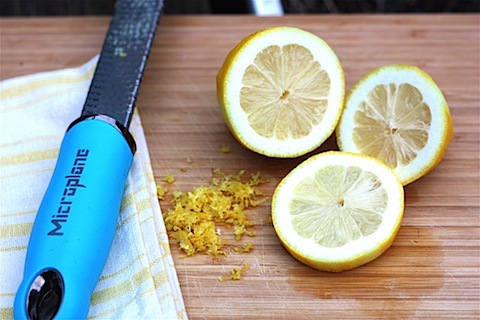 If you've been to a store with kitchen supplies like Williams-Sonoma or Sur La Table you've probably seen a Microplane zester. Who knows, perhaps you've even tested it out on a lemon at the store like I had.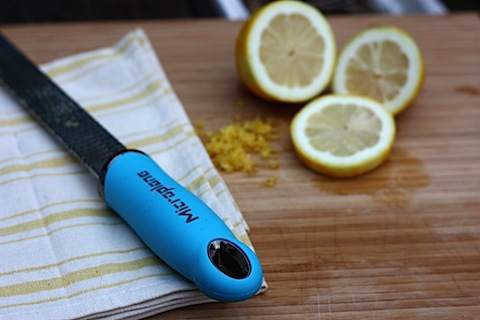 I've had my eye on this nifty zester for a while so when Microplane emailed me about receiving one of their new, brightly colored zester/graters to try out, I happily accepted. They're not super expensive so I don't know why I never purchased one before. I'm not sure, but the stars aligned and now I have one. 🙂
The zester I was sent is the turquoise premium classic hand-held zester/grater. The other new colors are hot pink and purple but the turquoise spoke to me. It doesn't really match my kitchen, but it's a fun color and like it!
The handle is soft, comfortable and there are non-slip rubber feet at the end of the blade to add stability when grating vertically on a cutting board, counter, inside a plate, or bowl. I also like that it's long enough to lay nicely on top of a bowl for easy grating. The stainless steel blades are extremely sharp so I was happy to see that it comes with a slip-on cover to put on it when not in use. <– Wouldn't want to put my hand in the kitchen gadget drawer with a blade like that sticking out.
This little tool is ideal for quickly and easily creating zest from different types of citrus peel without lifting off the fruit's bitter-tasting pith. I tried it with a lemon and was very impressed with how well it worked. It shredded tiny, uniform pieces of the peel faster and with less pressure than my regular grater. The best part is that it's not just for zesting! It also can be used to create fine shreds of fresh ginger, garlic, coconut, hard cheeses like Parmesan or even chocolate! I'm all about having multipurpose tools in the kitchen to save space so I'm excited to add this one to my collection.
And in case you are wondering what exactly citrus zest is used for – it's often called for in recipes to add a boost of flavor. When used in cooking, zest refers to the outermost colored layer of citrus peel (not the white pith). Here are a few recipes that have been featured on EBF that call for lemon or orange zest: Carrot Cake Cookies, Overnight Oats and Sweet Brown Bread.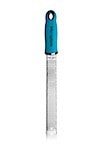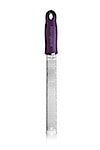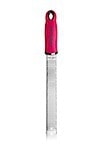 The real news is that Microplane is also offering to giveaway one brightly colored Classic hand-held zester/grated to a lucky EBF reader. Woo-hoo! Simply leave a comment on this post telling me your favorite recipe that involves citrus zest or why you'd like to win the zester. The giveaway will end Friday (9/30/2011) at 11:59 PM and the winner will get to choose which color Microplane they wish to receive – turquoise, purple or pink. Good luck!