I've noticed that Mondays are always better when I have something fun to look forward to. Today's fun-filled event was the monthly Whole Food's Cooking Demo. The best part is that I had completely forgotten about it until around lunch time when I looked at my email calender. Surprise!!
More on that in a minute, here's what I ended up noshing on before indulging in tapas and wine at the demo.
A delicious peach smoothie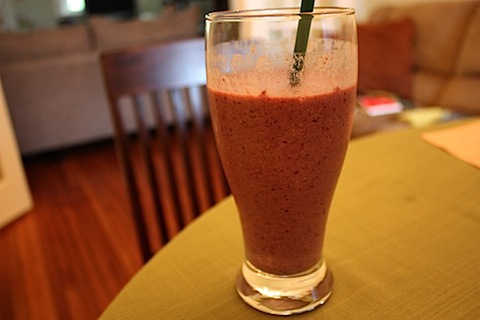 3 small white peaches (which are delicious, btw)
1/2 frozen banana
1/2 cup, frozen cherries
1 scoop brown rice protein powder, sunwarrior vanilla
1 cup unsweetened almond milk
And, a non-liquid component to munch on- a brown rice cake with almond butter.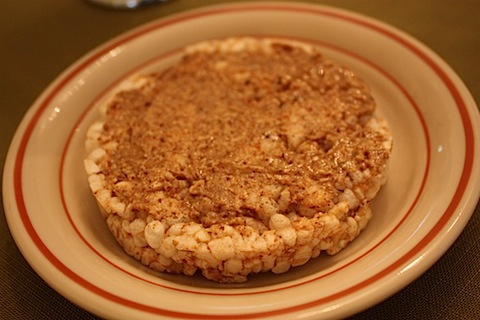 Lunch was a hodge-podge salad of leftovers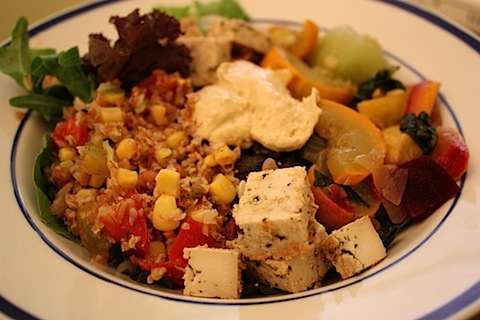 Spring mixed topped with local fu', Corny Tabbouleh, and leftover sauteed veggies (squash, bok choy, and beets) with a blob of garlic hummus as the "dressing"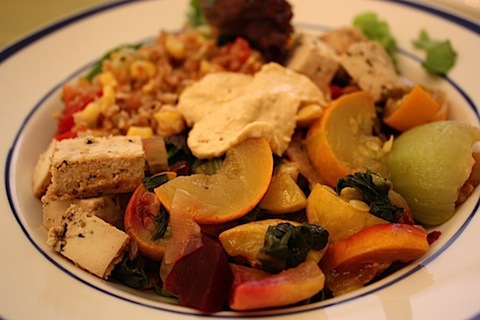 It ended up being one the better salads I've made in a while. Sometimes leftovers make the best salad toppings.
Work went by rather quickly as I was busy working on a project and before I knew it, it was time to head to Whole Foods for the demo. This was Isaac's first time attending and he choose the perfect night as the theme was tapas, the menu was more meat based than usual and a wine was paired with each dish.
Luckily, the many wines to be sampled made up for me not being able to sample some of the dishes. 🙂
Here are a few highlights:
Gildas (anchovy, olive, and chile lollipops)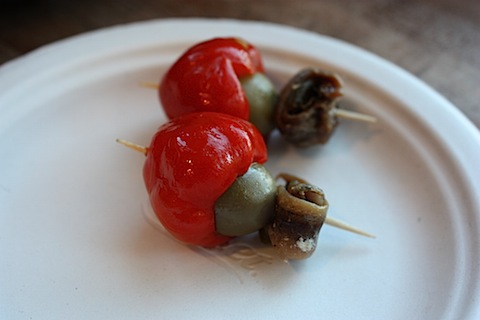 Spiced Clams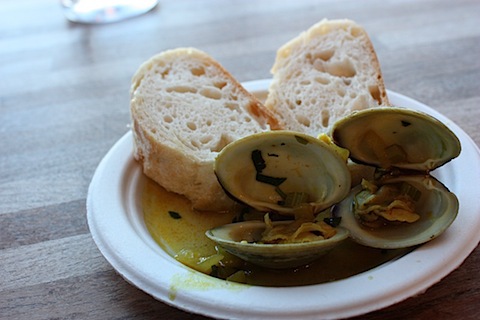 My favorite of the evening – cherry tomatoes stuffed with olive tapenade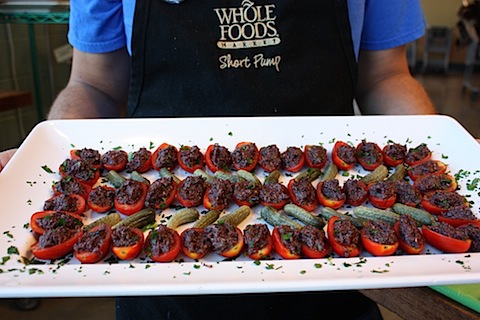 Jesse plated all the tapas beautifully – he's top notch.
My favorite wine of the evening was the Kaiken Ultra Malbec, an Argentinean wine with aromas of red berries, black cherry and hints of tobaccos. It was a bit dry but still had a subtle sweet flavor as well. I loved it!
Overall, these WF cooking demos never disappoint and after seeing how much Isaac enjoyed it I think I might have a new buddy to attend with me. 🙂 After doing a little shopping and meeting a blog reader at the check out line (Hi Amanda!!), we headed home.
I just popped a peachy delight in the fridge for a quick breakfast in the morning as I hope to make it to the gym. Although… we shall see. I've actually taken the last fews days off because my left thigh keeps tingling (you know, the feeling as though your leg is asleep, only it's constant and doesn't go away.) My sister, who is a nurse, seems to think it's a nerve issue stemming from the low back pain I experienced after doing dead lifts a few weeks ago. So currently I'm taking lots of anti-inflammatory ibuprofen, resting my back and hip as well as taking a break from working out. It's tough not working out when you're used to doing it everyday so I hope to at least get in some light activity at the gym in the AM.
Good night and hope you had a lovely Monday!
-Brittany