Hi and happy Friday to you! I just arrived home from Florida. I'm definitely super excited to see Isaac and Olive, but I'm also going to miss this…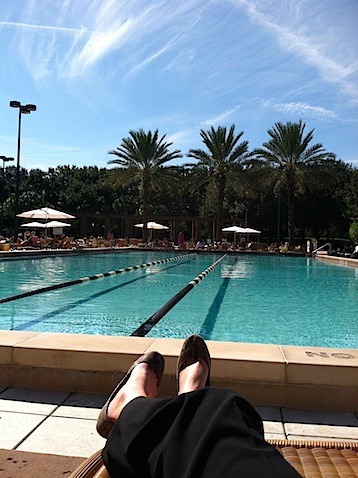 It really doesn't get much better than being poolside, in 80° weather in November. Yes I was wearing pants by the pool, but that's only because I was a break from the conference. As soon as I conference ended, I broke out the flip-flops!
I was actually here on a work trip for my full-time job but it worked out that I was able to sneak in a little fun as well. As part of the conference I received a pass to attend Epcot last night for the International Food and Wine Festival. I had asked Meghann if she wanted to join me for dinner and she has an annual pass to Disney so we were able to attend the food festival together. It was a blast! We both decided it would be best to put our funds together for a shared festival passport gift card. It worked out great because we got to try so many different items.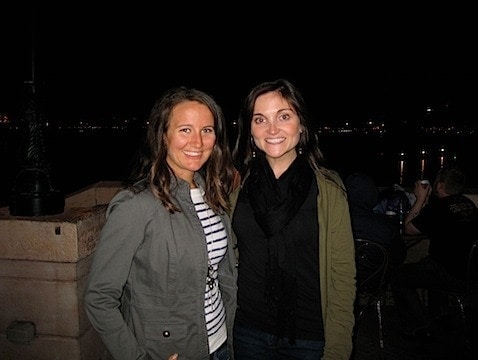 Meghann is a pro and did a much better job than I did documenting the whole process. I only had my point and shoot camera and the night time photos just didn't turn out very well so I'll spare you the bad photos. My favorites dishes of the night were the tuna poke from Hawaii, which was served over seaweed salad and the Belgium waffle with a berry compote and whipped cream. Check out Meghann's post to see everything we ate!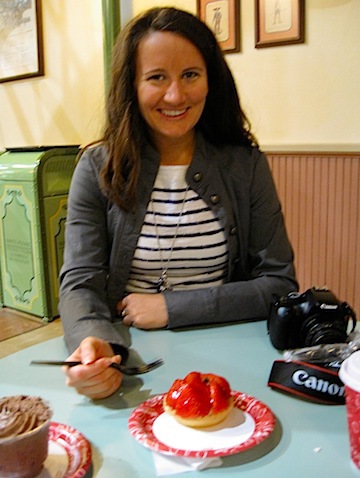 I did capture our desserts for the evening – a strawberry tart and chocolate mousse from Boulangerie Paitisseri, a pastry shop in France. The tart was delicious with cold berries, cream and a flakey crust. The chocolate mousee was okay. I was really craving ice cream but alas there wasn't any ice cream at the pastry shop so I settled with chocolate mousse. After eating our way through all the different countries and sitting down for dessert, we watched the IllumiNations fireworks show. It was one of the best fireworks shows I've ever seen and a fabulous end to a fun evening hanging out with Meghann.
My company was only required to have our exhibit booth set up for a couple hours this morning so I planned to eat lunch and then do a little outlet shopping before my flight. It turned out that one of my twitter friends, Jenny, saw a picture I tweeted and realized that I was staying at the hotel she works at. She was free today so she came to have lunch with me and then we went shopping. Totally unexpected, but so fun!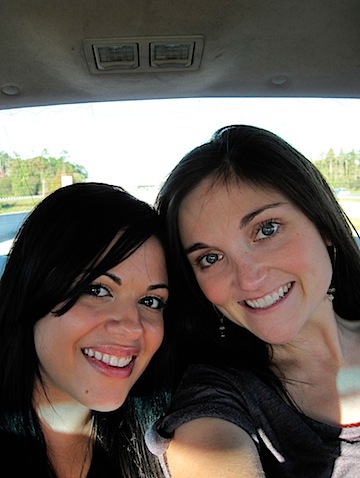 Jenny is a fellow ToneItUp girl and super sweet. She and I had so much to chat about – eating healthy, working out and life in general. It was a lovely.
We at the Cabana Bar at the Sawn/Dolphin Hotel. Since Jenny works at the hotel she knew exactly what to order so we split a lobster summer roll and ordered crab salads for our meal.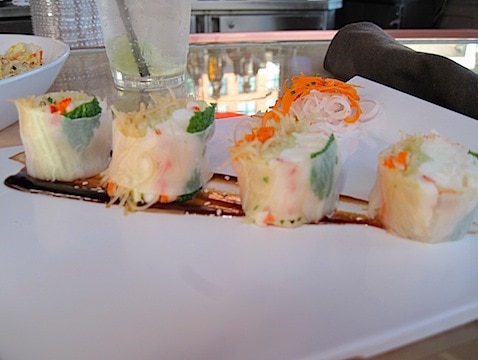 I love summer rolls but I've never had one with lobster. It was fresh and tasty.
The crab salad was lump crab meat served on top of pressed watermelon with a lemon vinaigrette and it was amazing. I can't say that I've ever had crab with watermelon before but the flavors worked really well together. It was probably the best thing I ate during my stay in Florida!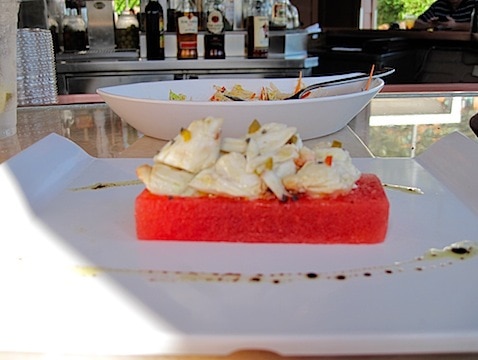 After lunch, Jenny and I headed to the outlets. We got in a good amount of walking and did a little shopping as well. I snagged a cute skirt from J CREW, Jenny got a new pair of running shoes for her first 5K tomorrow (woo-hoo!) and we both got a super cute pair of gray Lululemon crops for 40% off. Seeing the prices at the Lululemon outlet made me so sad that there's not one closer to Richmond. :/ Although the size selection is limited, the deals are great! I'd definitely recommend checking the store out if you're ever in the Orlando area.
Another fun coincidence happened when Ryan (the former author of the blog Greens for Good, now manager of the Lululemon in Orlando) rang up my purchase at the store. I feel like I've "known" her for several years through her blog so it was awesome to get to meet her in person. 🙂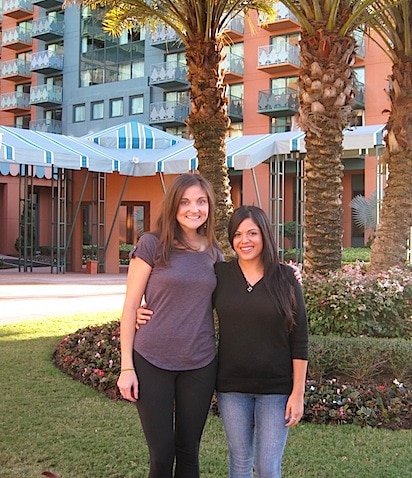 Once we were back at the hotel, Jenny and I parted ways and I headed to the airport.
These two experiences are great examples of why I love blogging and social media so much! They've both connected me to so many amazing, like-minded people I would have never had the chance to meet otherwise. I feel very lucky to be part of the healthy living blogging community!!
Have you had the chance to meet up with bloggers or people you've met through the internet?