Happy Monday! Today flew by for me, which was awesome. Did anyone else have a quick Monday?
Since it's a new month I thought I'd shake things up a bit and post a full day of eats, something I haven't done in quite sometime. I thought some of you new readers might be interested to see it, plus it's wedding season so I'm trying to keep myself accountable…
For breakfast I took Ms. Reno's advice and had a healthy mix of carbs, protein and fat with a bowl of oats, some almond butter and a side of egg whites.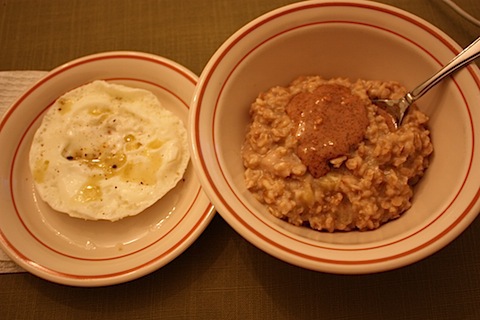 I know the eggs look like they're dotted with oil, which kind of grosses me out, but I promise that's not the case (see below)
The oatmeal:
1/3 cup old fashioned oats
1/3 cup unsweetened vanilla almond milk
1/3 cup water
1/2 banana, sliced
cinnamon, to taste
The above ingredients were cooked all together on the stove top for about 5-7 minutes and then topped with a blob of Trader Joe's almond butter with roasted flaxseeds (approx. 1/2 tbsp).
The eggs:
2 egg whites placed in a microwaveable-safe bowl that I sprayed with oil so the eggs wouldn't stick, microwaved for 45 seconds and topped with green jalapeno Tabasco sauce and black pepper.
And, I almost forgot. I had some iced coffee with a dribble of almond milk as well. Loving my Toddy.
Breakfast was filling but when I came home for lunch I was hangry. Although, it was nothing a salad and Sunshine burger couldn't handle.
Spinach salad with 1/4 cup of wheat berries, tomatoes, roasted beets, avocado, onion and a new dressing (Maple Grove Farm's Asiago and Garlic).
Along with the salad I has a plain Sunshine burger with some un-photographed ketchup. It was the end of the bottle and I knew it was going to squirt everywhere so I decided to take the photo first. I'm glad I did, because just as I expected, it splattered.
This is the garden herb Sunshine burger and I really liked it! Sunshine burgers a bit more expensive than most frozen veggie burgers but I LOVE their short ingredient list and the fact that they don't include any processed soy. This one has organic raw sun-flower seeds, brown rice, carrots, herbs, and sea salt. Super simple ingredients + tastes delicious = winner in my book.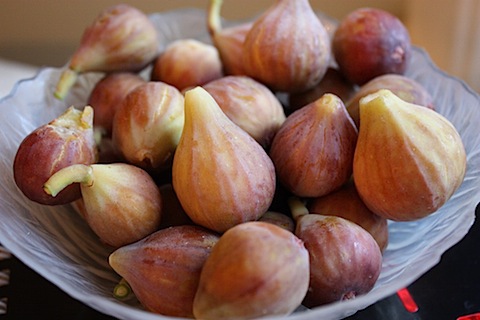 To my delight, Isaac's Dad brought a bowl of fresh figs over this morning so I popped a few (4) of the little nuggets before heading back to work.
A serving of my favorite trail mix (Simply the Best Trail Mix from Trader Joe's) mixed with a few raw coconut chips held me over while finishing up the work day.
Isaac and I went to the track after work. He did a sprint workout and I walked a couple miles. My tingling leg is still giving me issues so I didn't want to push it today.
By the time we got home I was starving so dinner ended up being a quick and easy sandwich on sesame Ezekiel bread with homemade creamy hummus, smashed avocado, sauteed squash and onions, spinach and tomato slices.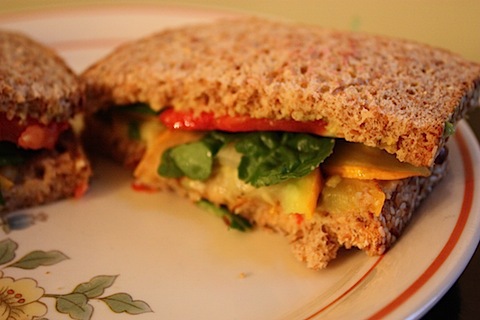 I ate the sandwich with the remaining sauteed squash and onions on the side. Yum!
So there you have it ladies and gents- a full day of eats (minus the 2 small figs and 1/2 a peach I'm eating for dessert as I type).
Along with this, I thought I would post what a normal week of working out looks like for me. Things are odd right now due to my back pain/leg tingling problemo but typically I workout 5-6 times a week. Each day I try to do something different than I did the day before but I don't always plan it out. Currently I've been focusing on getting in 3 days of strength training and 3 days of cardio, in addition to yoga whenever possible.
Sample Week of EBF Workouts
Monday: AM yoga session at home (30-60 minutes)
Tuesday: Strength training (full body, stage 1 of NROLFW) and 10-15 minutes of cardio (elliptical, walking, cycling)
Wednesday: 3 mile run outside
Thursday: Strength training (full body, stage 1 of NROLFW) and a 10 minute treadmill routine
Friday: HIIT (High Intensity Interval Training) on the treadmill
Saturday: 20 minute yoga session, strength training (full body, stage 1 of NROLFW), no cardio
Sunday: off
Let me know if this type of information is helpful to you. If so, I'll try to include more workout details than I have been lately. For some reason, I've been more focused on the food, but as you know, I like my exercise as well. 🙂
I also like to sleep and I'm actually about to do that right now… good night friends!
-Brittany