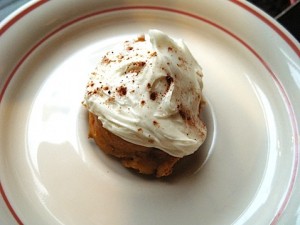 Phyllis' Frosted Pumpkin Puffs
My friend Nick's mom, Phyllis, makes these little cookies and they are super tasty. She was kind enough to share a few with me and even allow me to post the recipe here on EBF. Once upon a time I tried making a vegan version and they turned out to be a major flop. They still tasted good, the puffs were completely flat. I'll have to make another attempt sometime. 🙂
Ingredients:
1 package SuperMoist yellow cake mix
2 teaspoons pumpkin pie spice
1 can (16 ounces) pumpkin
2 eggs
1/2 cup raisins or chopped nut, if desired
1 tub of Rich & Creamy vanilla (or cream cheese) ready to spread frosting
Pumpkin pie spice or ground nutmeg, if desired
Directions:
Heat oven to 375°. Spray cookie sheet with cooking spray.
Mix cake mix (dry) with 2 teaspoons of pumpkin pie spice in a large bowl. Stir in pumpkin and eggs with spoon until well blended (about 50 strokes). Stir in raisins. Drop dough by heaping tablespoonfuls about 2 inches apart onto cooking sheet.
Bake 12-15 minutes or until set and very light brown. Immediately remove from cookie sheet; cook puffs completely. Frost with frosting; sprinkle with pumpkin pie spice.