Morning and happy Friday to you! I hope you have an exciting weekend to look forward to. Isaac and I actually signed a lease on a new house last week so most of our weekend is going to be spent packing. Fun fun! I'm definitely going to be sad to leave our current house (especially the kitchen) and all the memories we've made here but I'm also pretty pumped for our new place and for the next chapter of our lives. Oh, and if you have any expert packing/moving tips, feel free to send them my way — Isaac and I need all the help we can get. 🙂
On to today's post…
One of my favorite things about blogging is the people I've connected with. I know bloggers say this all the time, but it's so true. From readers to other bloggers to business owners, I've met sooo many amazing folks through Eating Bird Food, many of which I've become good friends with — both online and IRL (in real life).
Although I've never met Hillary of Nutrition Nut on the Run, she and I have been blog friends for a few years so when she emailed me about doing blog swap interviews as part of her Friday Feature series a few weeks ago, I was totally game. Such a fun idea!
Without further ado, meet Hillary. She recently graduated Food & Nutrition Communication degree from California Sate University and is now a Wellness Assistant (which I think is super cool). If you read her blog at all you'll see that she posts awesome workouts and recipes, has an awesome outlook on healthy eating and is always super positive! She's also an iced coffee lover (<– a girl after my own heart).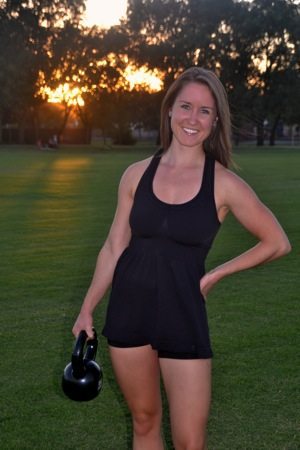 1. You're always posting awesome workouts on your blog. What's your favorite workout at the moment?
I have a lot of fun creating quick, at-home workouts for Workout Wednesdays. Right now, I am loving the September Sizzler Pyramid Workout I posted at the beginning of last month. I've been including it in my workout regime once a week, and am always drenched in sweat after completing the 30-35 minute routine. The kettlebell, medicine ball, and dumbbell combination is definitely a "triple threat"!
2. In addition to writing your blog, you're a Wellness Assistant. What does a normal day as a Wellness Assistant look like?
My day to day job varies as it depends on what projects our Wellness Program is working on, in addition to the year-round activities. Currently, I am helping to plan our Food Day event, as a part of the national campaign. This will be our second year hosting a real food lunch buffet free to all employees, featuring local and plant-based foods. In other words, I get to research tasty kale salad and quinoa recipes 🙂
In collaboration with working in the corporate wellness industry, I am very interested in adding a Health Coach certificate to my resume via the Institute of Integrative Nutrition. During my undergrad education, I got a taste of nutrition counseling and it is something I'd like to pursue.
3. What's your go-to healthy dinner option during the week when you're busy and strapped for time?
A loaded sweet tater! It's a veggie lover's ultimate 15-minute meal. Pop a sweet tater in the micro for ~5 minutes, until tender. Top with warmed black beans, bell peppers and onions (sautéed in olive oil + cumin), fresh salsa, creamy avocado, and a dollop of Greek yogurt (substitute for sour cream). Gluten-free, colorful, filling (hello, fiber) — it's certainly a go-to healthy dinner option during a busy week.
4. You've run 6 half-marathons! That's amazing. Would advice would you give to any running newbies who are tinkering with the idea of running a half-marathon. 
1. Get a training buddy. I can't imagine training for my first half without one of my best girlfriends. I don't know if the weekend long runs and coffee dates or crossing the finish line hand in hand was better.
2. Take rest days – they're just as important as training days.
5. You mention that you eat a low-gluten, pescatarian diet. What does a typical day of eats look like for you?
While I don't eat strictly gluten-free, over the past couple of years, I've found that I feel much better in my own skin with less of it in my daily "diet." My eats typically revolve around the seasons, so since autumn has officially arrived, here's what a typical day might look like on a cool, Fall day…
Breakfast:
iced coffee – espresso roast – with a splash of organic half and half
a steaming bowl of creamy steel cut oatmeal with banana, coconut, and a big dollop of almond butter
Lunch:
a huge kale salad with roasted sweet taters, tart Granny Smith apple, and delicate chevre crumbles tossed in Apple Dijon Vinaigrette
then a chunk of 85% dark chocolate to finish
Afternoon Snack:
plain Greek yogurt with canned pumpkin, chopped apple, crushed raw walnuts, sprinkle of chia seeds, cinnamon, and a drizzle of real maple syrup OR a Pick-Me-Up Power Bar
Dinner:
Connect with Hillary: Facebook | Twitter | Bloglovin' | Instagram | Pinterest