This past weekend my dad and I met in downtown Fredericksburg to celebrate Father's Day. We ate lunch and walked around a bit, checking out all the shops. I love quaint little areas like this – you find the most unique stuff (perfect for gifts) and often times there are a ton of yummy places to eat.
Whenever I go to Fredericksburg I usually want to dine at Sammy T's (they have the best sweet potato fries/lots of veg friendly options) but I had heard great things about a new restaurant called FoodE so we decided to go there.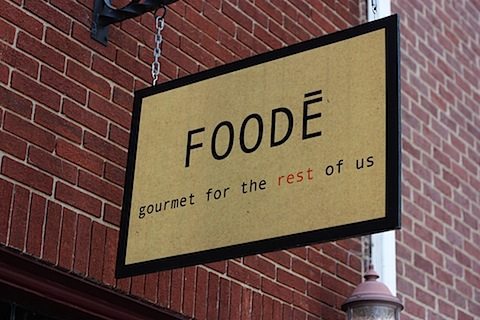 From their website:
The philosophy at FOODE is simple: we believe that the freshest, cleanest ingredients make the best dishes. We also believe in supporting the local community by highlighting the products grown and harvested right here in this region. We have fantastic organically- grown vegetables from Washington's Birthplace; heirloom produce from Spotsylvania County; and organic beef, free-range chickens and hormone free eggs from Gladys. We're proud to say we source approximately 85% of the food we serve at FOODE from the local farms and merchants.
The restaurant was small and cute. We placed our order at the counter and even though the restaurant was packed our food came out rather quickly.
Dad got the Cheesy Black Bean Burger with potato salad.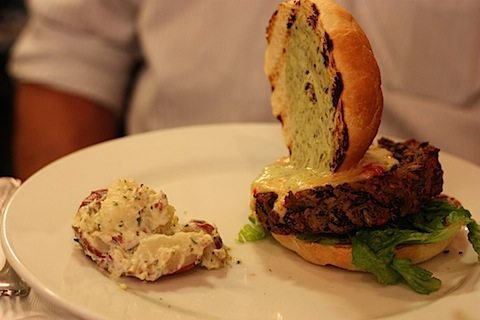 Vegetarian black beans, green and red peppers, seasoned rice, organic lettuces all on a seared nancy's bun with cilantro mayo and topped with our house pimiento cheese. served with our house potato salad.
Dad really enjoyed it! I snagged a little bite of the burger when he wasn't looking and it was EBF approved. Definitely homemade and packed with beans and veggies. I liked the texture.
I had the Cherry Apple Salad.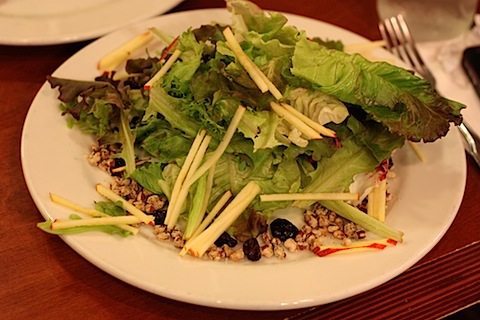 Organic mixed greens, spiced pecans, dried organic tart cherries, organic gala apples. dressed with our housemade creamy feta dressing.
The salad was really tasty but lacking sustenance. I'm used to having more protein at my meals so I should have known this wasn't going to fill me up for lunch. Oh well, it tasted good and I had a Luna Bar in my purse – which I ate about an hour after eating. 🙂
Overall, I enjoyed lunch at FoodE and I love that they are committed to local and organic ingredients. I think it's awesome that so many restaurants are popping up that focus on supporting local farmers, using organic produce and having healthy options. And, I know I'll be trying FoodE again in the near future because my cousin and his fiancée are using FoodE as the caterer for their wedding. So exciting!
The only thing that could have made this day with my dad any better would have been a trip to Carl's ice cream. Sadly, we didn't have time.
Speaking of local things, I was recently sent two new lip balms to try out from Mac's Smack, a small, independent company based in Hanover, Va – only a 20 minute drive from where we live.
I've been trying to move towards all natural body/beauty products for a while now (I even wrote a few posts about it) so when McKenzie Payne contacted me about her lip balm I knew I needed to try it. It's not only local, but it's made with all natural ingredients – local beeswax (from Ashland and Hanover, Va), Organic Coconut oil, Lanolin, Shea butter, Cocoa butter, Jojoba oil, Sweet Almond oil, Castor seed oil, Vitamin E and essential oils.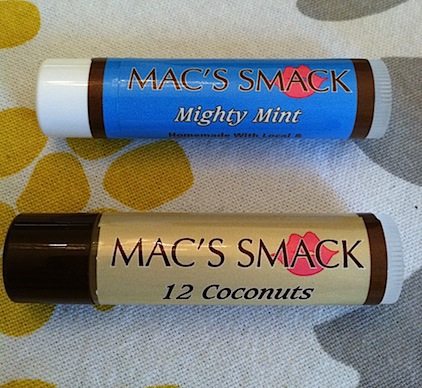 I've tried both the Mighty Mint and the 12 Coconuts. Although I like the mint, I am officially hooked on the 12 Coconuts. I love coconut and this lip balm makes me feel like I'm at the beach every time I apply. It's smooth, offers a little bit of shine and lasts as well. I've only been using it for about a week and I'm already hooked. Once the Vanilla Bomb comes back in stock I'm pretty sure I'm going to buy that one too. I'm a sucker for sweet smelling things! If you're looking to try a new all-natural lip balm, I'd highly recommend checking out Mac's Smack. She's got a ton of different flavors (Dreamsicle or Black Cherry, anyone?) and the prices are reasonable as well.
Since this post is all about local, I'll also mention that there are some fun events happening around Richmond this weekend.
10th Annual Richmond Vegetarian Festival – Saturday, June 23rd from noon-6PM. I attended last year and was a judge for the Meatless Gourmet, a vegan "Iron Chef" competition. <– I'd highly recommend checking out the competition this year's chefs include Jenna Sneed of Fresca on Addison, Greg Johnson of Citizen and Jen Mindell of Rooster Cart.
Blueberry Jam Festival – Saturday, June 23rd starting at 10:00AM-11:45PM. Located only 1 hour from Richmond/Hampton Roads, a weekend celebration of local foods, musicians and artisans. It's also family friendly with farm animals, craft making, face painting and more!
Richmond Bride's 8th Annual Artful Wedding – Sunday, June 24 at 4:00PM at the VMFA. An elegant bridal event and designer fashion show with champagne, hors d'oeuvres and grand prizes, with guest speaker Matthew Robbins.
Can you tell I'm already looking forward to the weekend? Only 2 more days. 😉