Where did I leave off? Oh yes – we were taking photos with funny looking guys around San Fran and then heading over to the Foodbuzz Tasting Pavilion for "lunch" aka a smorgasbord of delicious samples. There were so many amazing items to taste there was no way that I could have tasted everything, but I definitely tried.
I had a grand plan to start out with the savory items and then work my way back to the dessert options. It kind of worked. I knew I needed a real lunch but all dessert items were just too plentiful and amazing to pass up.
I did start with some shortbread. I wanted to try the butternut squash soup but it was made with chicken stock so I passed.
Once again, the Nature's Pride Bread Ambassadors were a major highlight of the tasting pavilion. It was odd not having a recipe to demo this year, but it was also nice just to relax and enjoy the tasting pavilion to it's fullest!
Laura, who I had the pleasure of meeting at breakfast, made a BAT sandwich on country white bread. I didn't get to taste hers but I'm sure it was tasty!
Gina did an awesome job preparing her Goat Cheese Stuffed Mushrooms.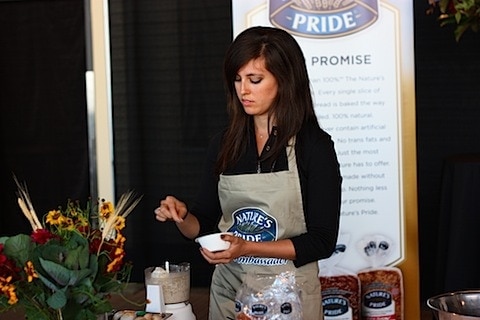 Goat cheese heaven.
The food was good but the best part was finally getting to meet and connect with some of my favorite bloggers!
The radiant Mara – she is just as fun and bubbly as you'd imagine from reading her blog.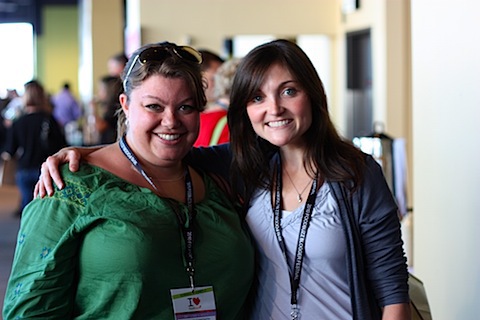 Then Diana!! She and I had no problem striking up a convo and I was even lucky enough to pick up some photography tips from her!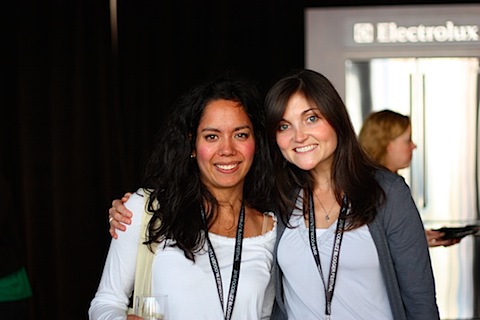 And, there was the infamous Sarah a.k.a. Mama Pea! I've been obsessed with her (and her family) since before she was actually Mama Pea and lets just say I was a little giddy when I finally met her.
She's just as hilarious in person as she is on her blog. I even have a picture to prove it:
I also met up with some old friends- Ryan (the girl), a Foodbuzz icon, who is always fun to catch up with.
And my lovely friends Cara and Michelle… we miss you Lori!
After mingling I had a few more savory bites and then deemed it sugar time!
Luckily, a bunch of Foodzie artisans were at the pavilion again this year – some were new, others I had last year but was just as excited to taste them again.
The savory items I tried:
INNA Jalapeno Jam. I love the name of the company!
Pick A Peck pickled veggies were right up my alley – the carrots, green beans and asparagus had quite the kick, whereas the pickled beets were on the sweeter side. I liked them all!
And then the sweet stuff took over!
Anne the Baker's cookies, which are "cookies for the people who love cookie dough more than the cookie". I tried the Toffee Milk Chocolate Chip and the Peanut Butter Extreme and was incredibly impressed by both. Just as Annie claims, these babies are cooked to perfection and still doughy and utterly delicious on the inside… basically one of the most amazing cookies I've ever tasted. And, I'm not exgratering!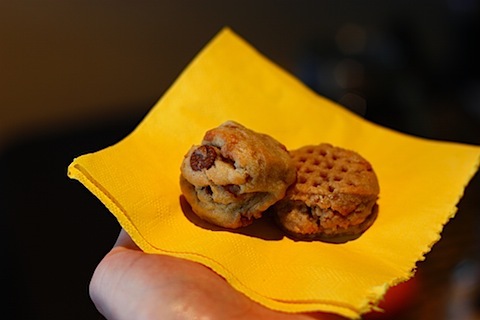 The peanut butter extreme is a peanut butter cookies with mini peanut cups baked in and the toffee chocolate chip has homemade toffee inside. Annie has got it going on! Luckily I was able to snag two extra cookies to bring home with me. I have a feeling Isaac is going to LOVE me when I present him with these little gems tonight. 😉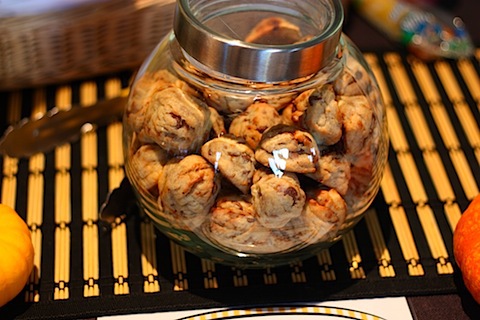 Another sweet Foodzie product struck my fancy as well – the Madécasse Chocolate, which is sourced and produced in Madagascar! The sea salt & nibs dark chocolate bar struck my fancy as I love the sweet and savory combo of sea salt/chocolate and the added crunch from the nibs.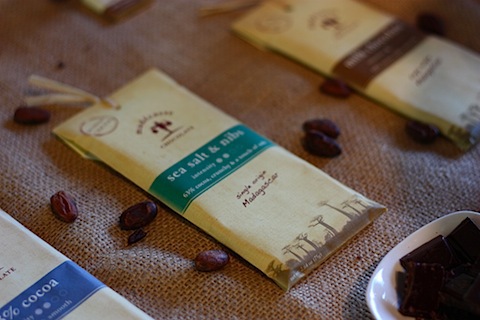 After trying a sample I was ready to buy a full bar for Isaac's mom, a cocoa nib lover! Too bad they weren't selling on site- guess I'll just need to order some!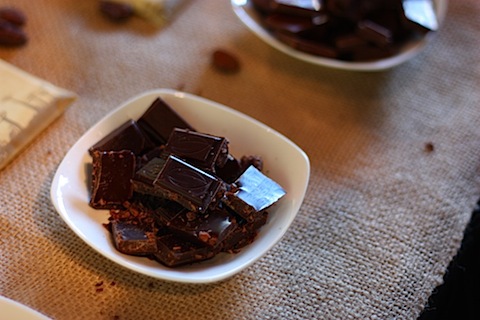 Mission Minis were featured again and I couldn't resist trying another one.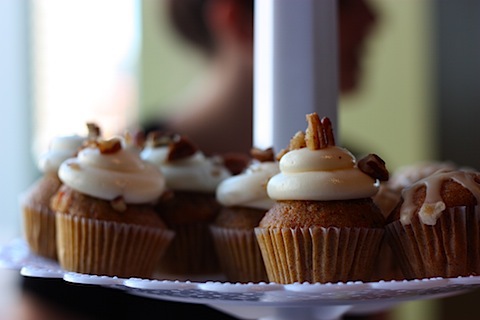 The Carrot Ginger was good, but the Pumpkin Spice cupcake is still the best flavor in my book.
Three Twins organic Mint Confetti (mint ice cream with flecks of dark chocolate) made me melt.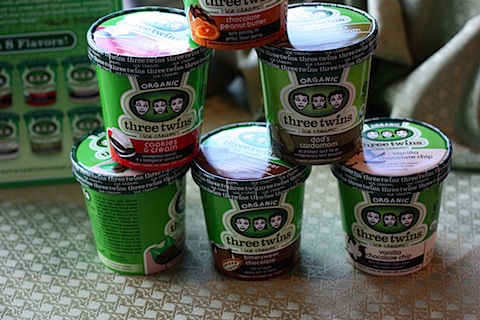 Mint chocolate chip was always my flavor of choice growing up and this sample brought me back to my childhood.
Last but certainly not least, I finished off the tasting with a delicious Pumpkin Spice Parfait made by a new friend Tina from My Life as a Mrs.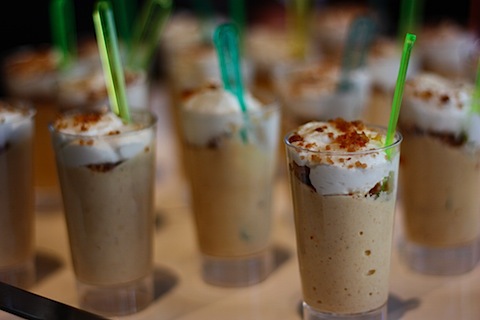 As you all know, I'm kind of a pumpkin fanatic so of course this little treat had me grinning. It tasted as good as it looked. One bite in, I was already thinking of making it at home! I told you guys I lived it up in the sweets department. 😉
On another note, in case you were at the pavilion and noticed a girl with the skinny jeans and sneakers. Yes, although I hate to admit it, that was me! Don't judge – my feet were killing me.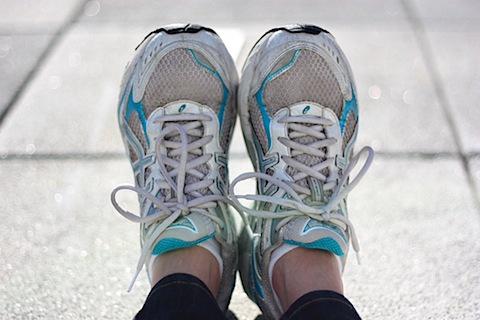 I promise I don't think this is a cute look. I had boots to go with the outfit but after walking to the Ferry Building and back on Saturday morning it was pretty much mandatory that I trade my boots for sneakers.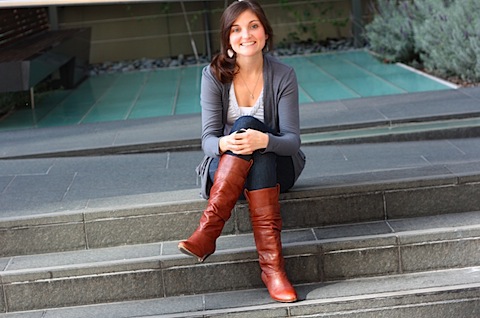 Comfort is key! Hence the reason I'm wearing stretchy pants for the next week. Again, don't judge. 😉
Happy Monday!! Hopefully y'all aren't tired of the Foodbuzz recaps yet- I still have a few more to come later this week!