So what have I been eating lately? Wait a second, isn't that what this blog is about? Indeed it is, but things have been a little different for the past couple days. If you read my last post you'll know that I am trying out the Flat Belly Diet Jump Start (4-day anti-bloat). I'm on Day 4 and things have been going okay. I've been following the plan for the most part, except for a few modifications, a couple complete changes, and some cheats. I'm sure you all are dying to know what it's been like, or maybe not, but here's what I've been munching on.
First and foremost, an important part of the initial 4 day anti-bloat is what they call sassy water.
2 liters of water (81/2 cups)
1 tsp. freshly grated ginger
1 medium sliced lemon
1 medium peeled and thinly sliced cucumber
12 small mint leaves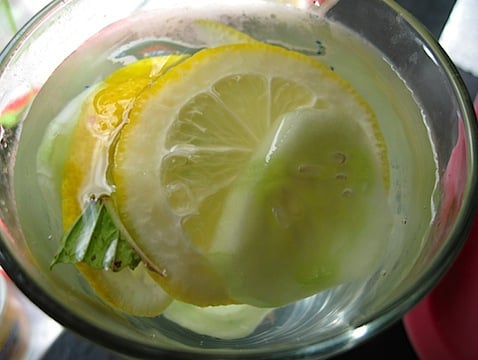 You make a batch of the water each night and are suppose to drink it all over the course of the next day. This is the easy part as the water is pretty flavorful and I like it. Plus you can eat the cucumbers, which is fun.
And here are the things I'm not suppose to be munching on:
The saltshaker, salt-based seasonings, and highly processed foods
Water is attracted to sodium, so when you take in higher than usual amounts of sodium, you'll temporarily retain more fluid—which contributes to a sluggish feeling, a puffy appearance, and extra water weight.
Excess carbs
As a backup energy source, your muscles store a type of carbohydrate called glycogen. Every gram of glycogen is stored with about 3 grams of water. But unless you're running a marathon tomorrow, you don't need all this stockpiled fuel. Decreasing your carbohydrate intake temporarily can train your body to access this stored fuel and burn it off. At the same time, you'll be draining off all that excess stored fluid.
Bulky raw foods
A half-cup serving of cooked carrots delivers the same nutrition as one cup raw, but it takes up less room in your GI tract. Eat only cooked vegetables, smaller portions of unsweetened dried fruit, and canned fruits in natural juice. This will allow you to meet your nutrient needs without expanding your GI tract with extra volume.
Gassy foods
Certain foods simply create more gas in your GI tract. They include legumes, cauliflower, broccoli, Brussels sprouts, cabbage, onions, peppers, and citrus fruits.
Chewing gum
You probably don't realize this, but when you chew gum, you swallow air. All that air gets trapped in your GI tract and causes pressure, bloating, and belly expansion.
Sugar alcohols
These sugar substitutes, which go by the names xylitol or maltitol, are often found in low-calorie or low-carb products because they taste sweet. Like fiber, your GI tract can't absorb most of them. That's good for your calorie bottom line, but not so good for your belly. Sugar alcohols cause gas, abdominal distention, bloating, and diarrhea.
Fried foods
Fatty foods, especially the fried variety, are digested more slowly, causing you to feel heavy and bloated.
Spicy foods.
Foods seasoned with black pepper, nutmeg, cloves, chili powder, hot sauces, onions, garlic, mustard, chili, barbecue sauce, horseradish, catsup, tomato sauce, or vinegar can all stimulate the release of stomach acid, which can cause irritation.
Carbonated drinks
All those bubbles end up in your belly! Avoid these completely.
Alcohol, coffee, tea, hot cocoa, and acidic fruit juices.
Each of these high-acidic beverages can irritate your GI tract, causing swelling.
These make sense and weren't too hard for me to follow, although I did have a large serving of broccoli when out to dinner one night and 2 pieces of gum over the course of the diet.
The meals are a bit harder because there is a limited amount of "bloat free" foods to choose from and you're suppose to eat 4 – 300 calorie meals each day adding to mere 1200 calories daily. 1200 calories a day is the bare minimum and substantially less than what I eat on daily. If you eat anything less than 1,200 calories, you're body will go into starvation mode and store fat rather than dispose of it.
Here are the formulas:
breakfast= 1 starch + 1 dairy + 1 fruit + 1/4 cup sunflower seeds + 1 glass of sass
lunch= 1 protein + 1 dairy + 1 veggie + 1 glass of sass
snack = 1 fruit smoothie
dinner = 1 veggie + 1 protein + 1 starch + 1 teaspoon olive oil (on veggie or starch)
There is a pretty short list of options for each of the components to choose from (4 starches, 2 dairy, 7 fruit, and 4 protein)
DAY 1
If you want to know what it's like to follow this diet to a T I'm probably not the best person to ask because I made some substitutions as I felt necessary. For instance instead of going out and buying the suggested corn flakes, rice krispies or puffed wheat for the breakfast starch. I figured Kashi go lean was close enough.
hey- it has puffed wheat in it. 🙂 I put my 2 tablespoons of raisins (fruit) in the cereal for some added sweetness and texture.
This particular morning I didn't have plain raw sunflower seeds but I did have a bit of trail mix that had a lot of raw sunflower seeds so I ate that instead.
Along with a few cashews since I didn't have quite a 1/4 cup of sunflower seeds.
Breakfast held me over well and for the rest of the day I followed the plan exactly. I ended up having the fruit smoothie for lunch because I knew I wouldn't be able to make a smoothie mid afternoon at work.
1 cup frozen strawberries, 1 cup fat free milk, and ice.
It was a pretty pink color and filling but nothing like the normal, more FLAVORFUL smoothies I enjoy on a regular basis.
By the time the mid-afternoon snack rolled around I was hangry. I feasted on grape tomatoes.
String cheese and tofukery slices.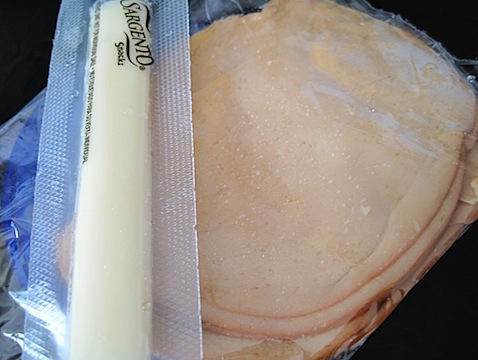 This was an unusual snack for me, but tasty and filling nonetheless.
And for dinner I had an Amy's Texas veggie burger, cooked carrots with tons of pepper, and roasted red potatoes.
This meal was tasty and similar to something I might cook on my own only I would have choosen sweet potatoes or butternut squash rather than red potatoes if left to my own pretenses. But to be honest, the only thing I missed was my after dinner snack.
One nice thing I want to mention about the flat belly diet is that they do give substitutions (even for the restrictive jumpstart phase) for those who are vegetarian or vegan.
Day 2
I packed my Dylan Nalgene with some sass.
Gotta love dylan, gotta hate how much Nalgenes sweat. The sweatiness has pretty much damaged my sticker.
For breakfast I had the exact same thing as DAY 1 only this time I had a full 1/4 cup of plain ol sunflower seeds. And for lunch I was decided to sway from the diet and had a piece of ezekiel toast but I did have tuna on it, which was diet friendly.
Only you're probably suppose to have plain canned tuna and I just wasn't in the mood for something so plain. I had this Albacore Creations Tomato Pesto tuna. The nutrition facts weren't bad at all and it was really good.
These tuna packs are something I normally wouldn't buy- but I wanted something easy and with more flavor so I picked these up while shopping for my anti-bloat friendly products. Both this flavor and another (Tuna Creations with herb and garlic) that I bought were really flavorful and I actually enjoyed eating them.
So after changing the diet to my liking for lunch I decided to follow suit and do the same for my snack. I brought some Okios Greek Yogurt (plain) and frozen berries to have at work. Yogurt isn't one of the preferred dairy sources but I figured this cup has a similar amount of calories as 1 glass of fat free milk, plus I couldn't make a smoothie at work.
The berries thawed out just in the nick of time and the extra juice helped to sweeten the yogurt.
After work a friend and I drove out to some outlet stores nearby (Williamsburg, Va) and shopped until they closed! We had a good time but were starving by the time we left (9PM). We stopped at the first restaurant we saw- TGI Fridays. I hadn't been to a TGI Fridays in years and I was amazed by the fact that there wasn't one vegetarian option on this particular location's menu (unless you count the fried green beans appetizer, which I don't). Of course, I could have requested a dish minus the meat, but there were no strictly veggie meals! It amazed me that a chain restaurant such as Friday's isn't more up to date with the times. I eat seafood so there were some options for me but if I were strictly vegetarian I would have been extremely disappointed in their selection.
I ordered the the most "diet friendly" option, which wasn't really flat belly friendly because neither shrimp or broccoli are foods you're suppose to eat on the 4 day plan, however, the key west lime shrimp was the healthiest thing on the menu. It was on the "right portions, low carb menu" and consisted of 2 skewers of shrimp with steamed broccoli.
This a photo from the web and rest assured that my dished didn't look as good as it does here, plus I didn't get any green beans. It was okay, but I was starving so I finished my plate clean. I won't be going back to Fridays anytime soon- I now know why I hadn't been in such a long time.
Day 3
Another day of sassy water, kashi go lean, raisins, and sunflower seeds, tuna, and carrots. And greek yogurt, only this time I had plain Chobani.
For dinner I kept debating on whether I should stick with the diet and let all the produce I had in the fridge go to waste or if I should just eat what I wanted and use up my produce. I picked the latter and made a salad with romaine, onion, tomato, hummus, and a veggie burger.
Although the only diet friendly items were the veggie burger and tomato, it didn't make sense not to have what I wanted for dinner especially since it was healthy. It may not be flat belly jumpstart approved, but it's EBF approved and it was tasty so I'm happy. I also may or may not have had a bowl of Kashi go lean CRUNCH for a snack and if I did indeed have that bowl it most definitely not approved for the diet, but it was DELICIOUS!
Day 4
As you could probably notice I was getting bored with the diet by Day 3. I made the sassy water last night with the intention of sticking out another day but then I realized it really didn't make sense. Why stick with it when there are so many other healthy foods out there that aren't boring and bland to stick to such a restrictive diet. I like having options when it comes time to eat and being confined to a list of less than 20 foods isn't fun and isn't something I can do for a long period time. This little experience only confirms my belief that restrictive diets DON'T work! You get frustrated and bored with the limited choices. On day 3 (yesterday) I was ready to eat anything in the office that wasn't on the diet (even stuff that I normally wouldn't eat), mainly out of feeling deprived- and I wasn't even following the diet perfectly so I can only imagine how someone who was following it exactly would feel!
I think the regular part of the flat belly diet is definitely more reasonable, but I'm not planning to do the diet. I'll use the cookbook and try out the recipes, as I love MUFAS just as much as the next food blogger, but I'm not limiting myself to specific foods.
If you've ever read my about page you'll know that I lost 20lbs on my own my freshman year of college without any dieting- I simply ate healthier and started working out and it took a while, but it worked. This makes me a firm believer that if you want to lose weight you gotta do it the right way (slow and steady)- FAD diets don't work! It's funny that I know this is so true, but yet I still wanted to try this diet out. Like I mentioned before I have been at my current weight (plus or minus a few pounds) for about 7 years and I don't think I'm meant to weigh any less. Even if I were to lose 5 pounds (which I have before) I would gain it back rather quickly and my body wouldn't change that much so at this point I like to focus on eating things I like- food that tastes yummy and that is providing nutrients to my body. I like to work out because it's fun and it makes me stronger. And this is exactly what Eating Bird Food is meant to be about! I'm healthy, active and my body allows me to do so many things- of course I have days when I think none of clothes look good on me and I wish my stomach was tighter or that I didn't have cellulite but at this point I just want to be content with me. AKA, I'm officially over the flat belly diet!
Hopefully this post was informative for anyone thinking about trying the Flat Belly (Jump Start) or another restrictive fad diet- my advice is to stop considering it. Just start eating healthier and moving- you won't feel deprived and you'll be much happier. It might take a while to lose the weight but it's worth it- I promise!
Oh yea, but I'll be choosing the winner of the Flat Belly Cookbook giveaway next Friday, so everyone still has plenty of time to enter and like I said the cookbook looks to me as though it has some great recipes.
– Brittany