I can hardly believe that it's already June. Seriously, where the heck did the first part of the year go? Oh well, I'm actually happy that June has arrived because I have a ton of fun events on the calendar:
Family birthday celebrations — my mom, niece and nephew are all June babies
Anniversary celebration — Isaac and I will be married 2 years come June 15th
Bars for Barre demo at my local Pure Barre this Saturday
My next 28 Day Transformation starts June 22nd
Last but not least, I also have two road trips planned — one to Charlotte, NC for a baby shower and another to Fairfax, VA for the Fit Foodie 5K race weekend.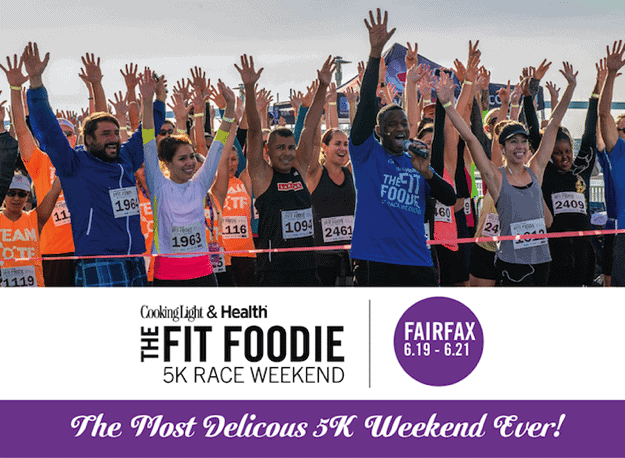 Speaking of race weekends, did you know that today is National Running Day? I didn't, but I saw it on Alyssa's blog this morning and immediately wanted to celebrate. Too bad I'm a total fair-weather runner and it's rainy and gross here today. Maybe I'll hit up the gym this evening and knock out a few miles on the treadmill to celebrate. 🙂
Okay, so a little more about the Fit Foodie 5K. Cooking Light & Health are teaming up to host FOUR weekend-long celebrations this year. One in Fairfax, VA, Austin, TX, Chicago, IL, and San Diego, CA. These events combine food and fitness and are perfect for those of us who love maintaining a healthy lifestyle, but also enjoy extraordinary foodie experiences.
The concept of the Fit Foodie race was born out of the idea that a healthy lifestyle and delicious culinary experiences don't have to be separate. Life is about balance and working hard so that you can indulge in the things that you love. Delicious food, working out, and good friends = a beautiful combination. <— If this doesn't scream EBF, I don't know what does.
I was so excited to see that one of the race locations was in Fairfax, Virginia. Not only is Fairfax a short drive from Richmond (about 1 hour and 45 mins), it's also where I went to college so it will be fun to go back and explore my old stomping grounds. I bet so much has changed!
After deciding I definitely wanted to run the race I convinced Alyssa to do it with me and now we're both signed up as ambassadors to help spread the word about the event. Alyssa doesn't know it yet but I already have a list of places (mainly restaurants) I want to visit while we're in Fairfax including Cava Grill and True Food Kitchen. <– I adore TFK and so wish we had one in Richmond. I can't wait!
I'm also thinking about ordering a fun shirt to wear on race day and need help deciding which one I should get…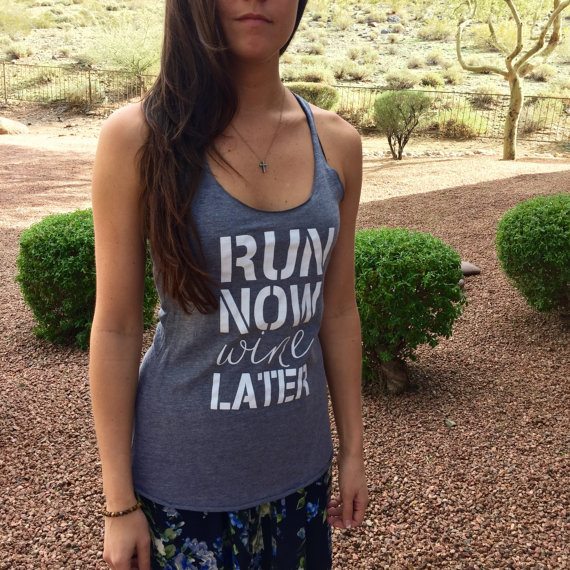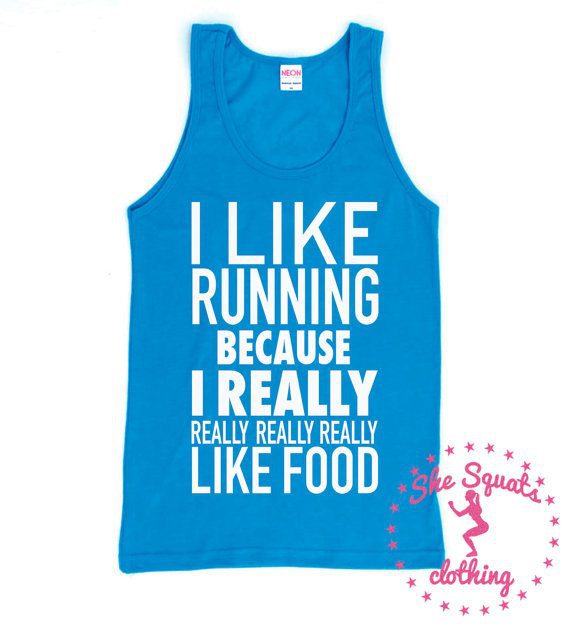 I like running because I really really really really like food. They're both cute, right?
For all my local readers — I'll be attending the Fairfax event at Mosaic District the weekend of June 19-21, 2015 and I'd LOVE to see you there.
Here's the weekend lineup:
Friday, June 19: VIP Cocktail Party
Kick off the 5K Race Weekend, and indulge in delicious sips and bites while mixing and mingling with editors of Cooking Light and Health, and your fellow Fit Foodies at the VIP Cocktail Party.
Saturday, June 20: Fit Foodie 5K and Finisher's Village 
Will you run for food? Lace up your sneakers and hit the scenic 5K race before crossing the most delicious finish line ever! Enjoy food and beverage samples, as well as fitness and culinary demonstrations straight from the pages of Cooking Light and Health.
Sunday, June 21:  Yoga & Pure Barre combination class.
This one hour class is designed help you build both inner and outer strength. All exercises can be customized making this class perfect for Fit Foodies of all fitness levels!
Doesn't it sound amazing? I'm so pumped and will definitely be attending all three events. You can register for the specific events separately ($55 each) or all three together ($150).
Fit Foodie Run 50% off Discount Code
Since I'm an ambassador I have a special discount code! Simply use EATINGBIRDFOOD at checkout and you'll get 50% off advance online ticket sales. <– Such an amazing deal! To purchase tickets, go to: www.fitfoodierun.com.
Oh and be sure to follow The Fit Foodie Race Weekend on Facebook and on Twitter for the latest news, contests, and promotions!