Sharing a review of the Fish Bar dinner cruise in New York City with delicious food, cocktails and amazing views of the city! This post is sponsored by New York Cruise Lines via Mediakix.
Last weekend Isaac and I were invited to New York to check out a new restaurant called Fish Bar at North River Landing. Visiting New York around the holidays is one of my favorite things so we happily agreed to make the trip. We drove up from Richmond, stayed the night in New Jersey on Friday and arrived in the city on Saturday.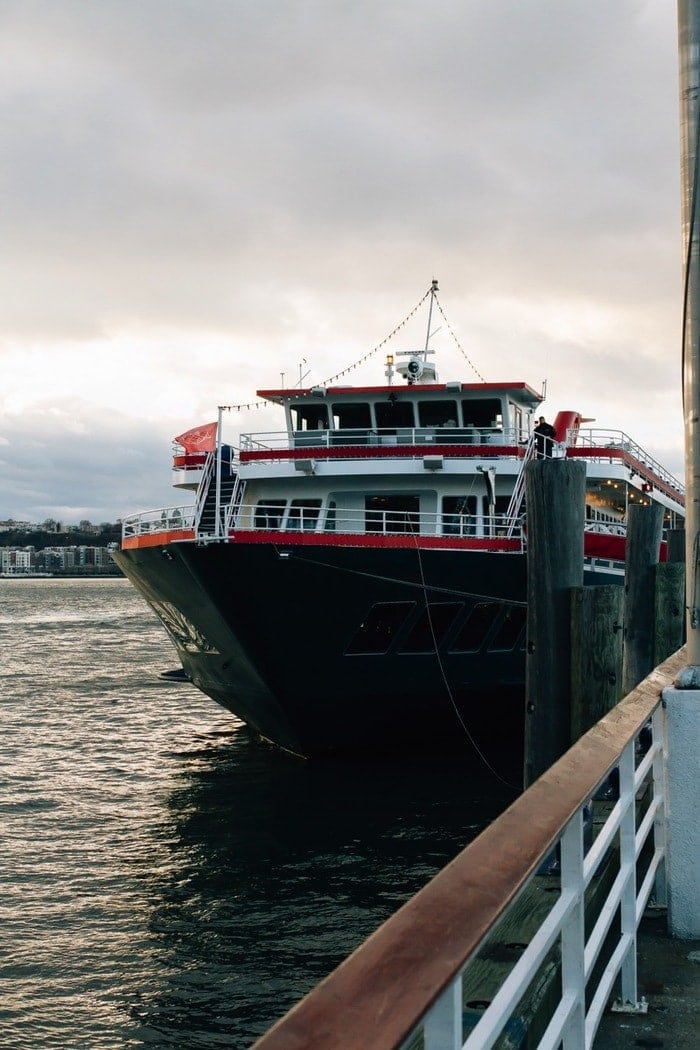 After settling into our spot in Williamsburg (Thanks Tav!) and grabbing a bite to eat, we headed into Manhattan. I got my hair done at Drybar. I could have easily done my hair myself, but whenever I go to a city that has Drybar I like to make an appointment because they do such a good job. The style usually lasts at least 3-4 days for me so it's totally worth it. While I was getting my hair done, Isaac got a fresh shave at a Jewish barber shop down the street and then we were on our way to Pier 81 for drinks and dinner. Pier 81 is right on the Hudson River on 42nd street, super convenient to Times Square, the High Line and Hudson Yards.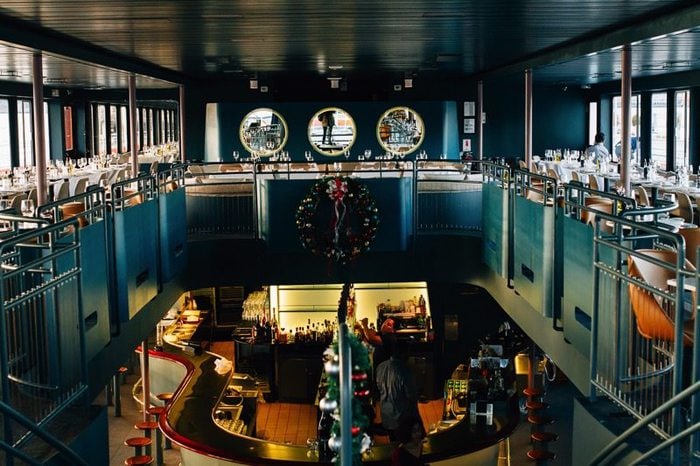 A little more about Fish Bar, it's a new 3-deck seafood lounge and rooftop at North River Landing. The yacht takes short sailings (1-2 hours) on the Hudson River, several times a day, with sweeping 360-degree views of the Manhattan skyline.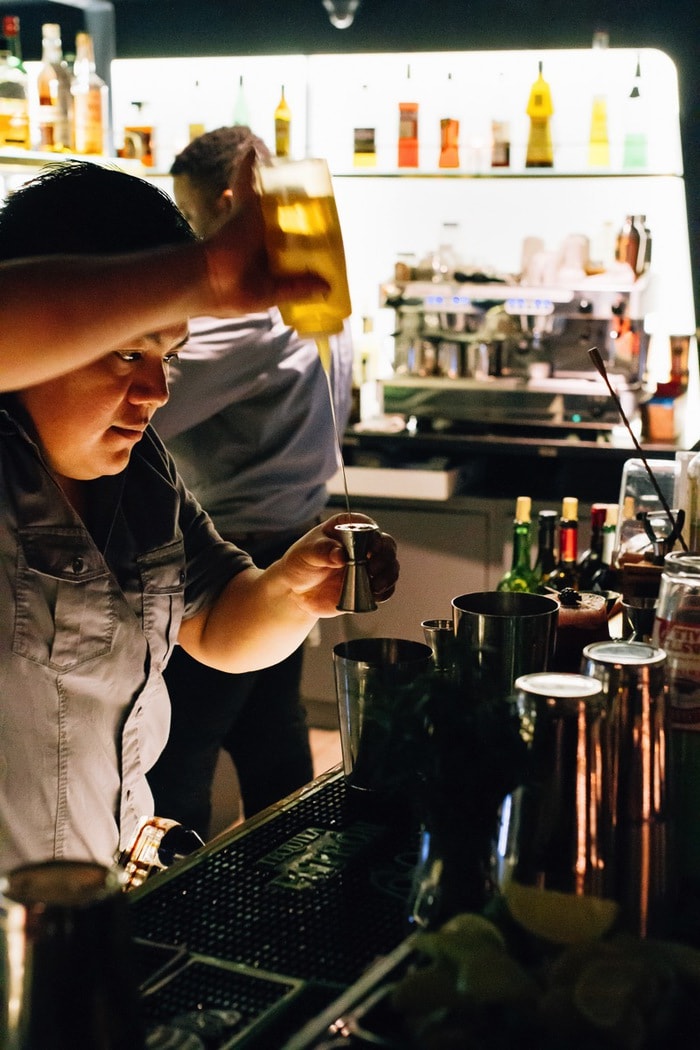 There are three full bars on the boat, including a rooftop lounge that's open throughout the summer months.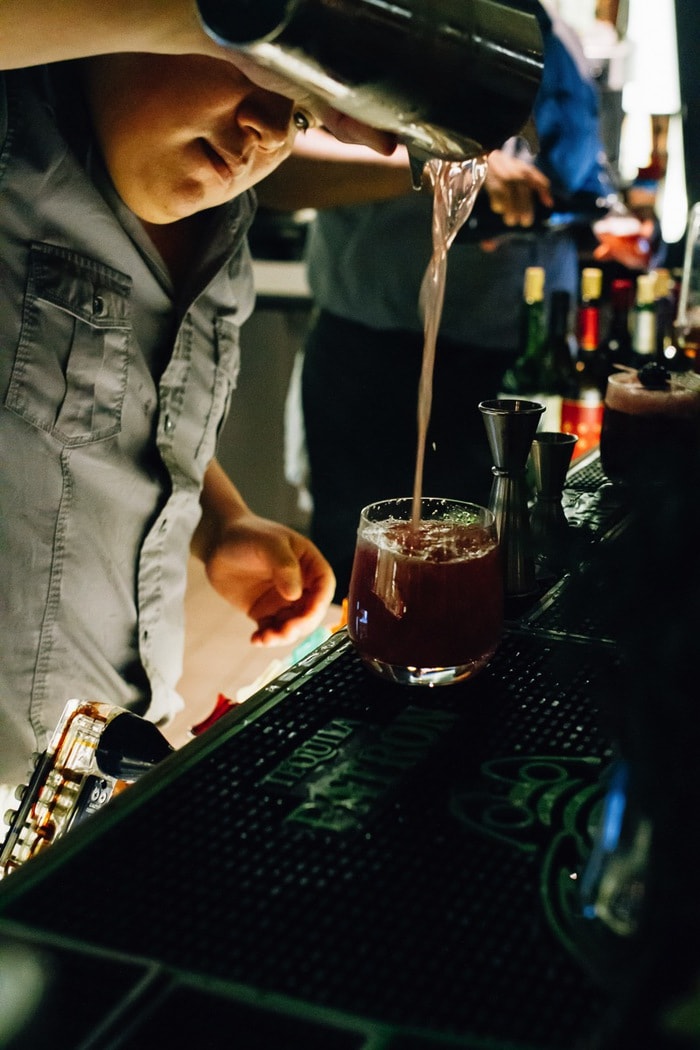 The rooftop bar is closed for the winter, but there's still a ton of fun (and drinks) to be had inside the boat.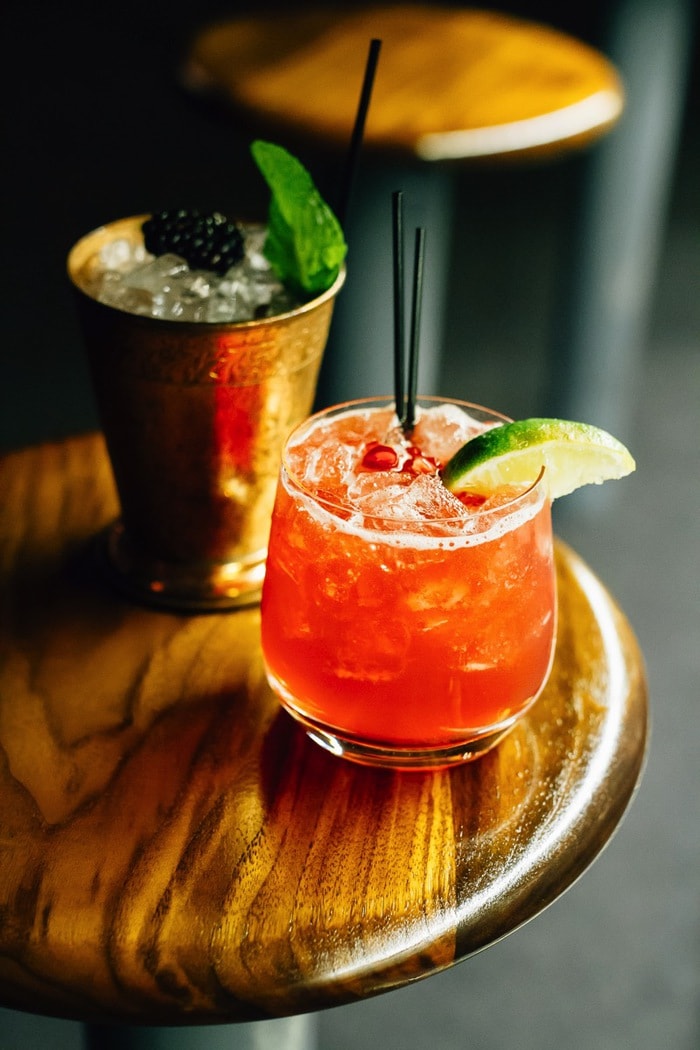 Isaac and I had reservations for the 6:30PM dinner cruise, but we arrived early and hung out at the bar for a bit before leisurely making our way upstairs for the seated dinner.
While at the bar we tried a few different cocktails including two of the seasonal offerings, the Mull it Over (red wine, pomegranate, agave, lemon, cinnamon and cloves) and the Haute Fashion (steamed woodford, orange, cherry, bitters). I'll let you guess who ordered what. 😉 Both are served warm and perfect for chilly weather. Sipping the mulled wine made me brave enough to hop outside for a couple photos.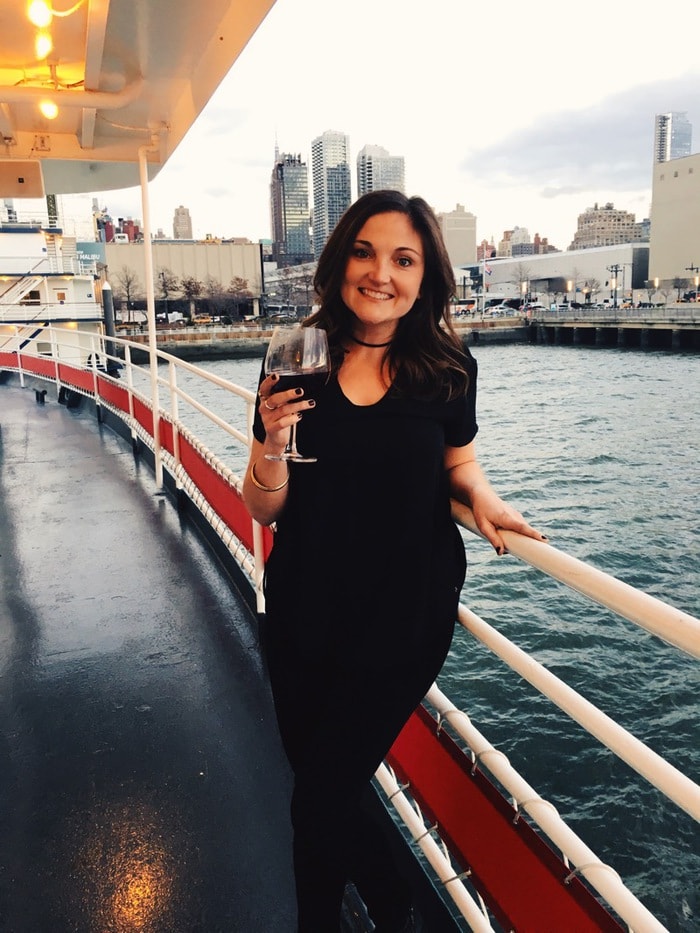 See what I mean about the hair? It looks so much better than what I can do myself.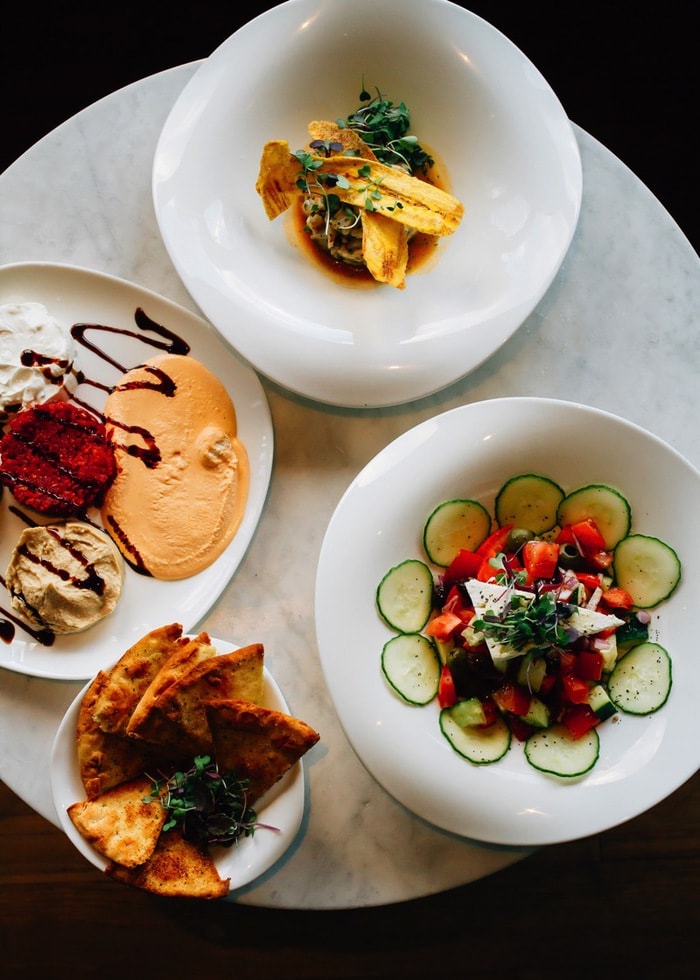 Before dinner Isaac and I split a few starters and shared plates including the ceviche de pescado served with plantain chips, the shepherd salad and a mezze platter with hummus, tzatziki, olive tapenade and sundried tomatoes. I was so excited to see these healthy options on the menu and everything was delicious!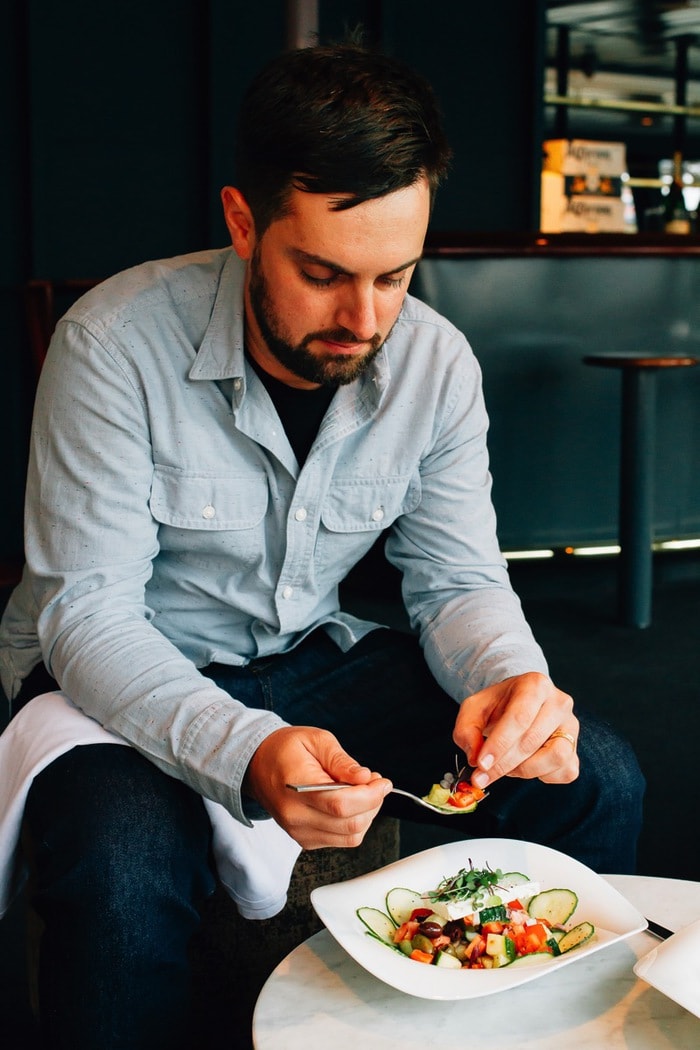 Isaac loved the hummus and I was hooked on the ceviche. Have I mentioned that plantain chips are my jam? LOVE them!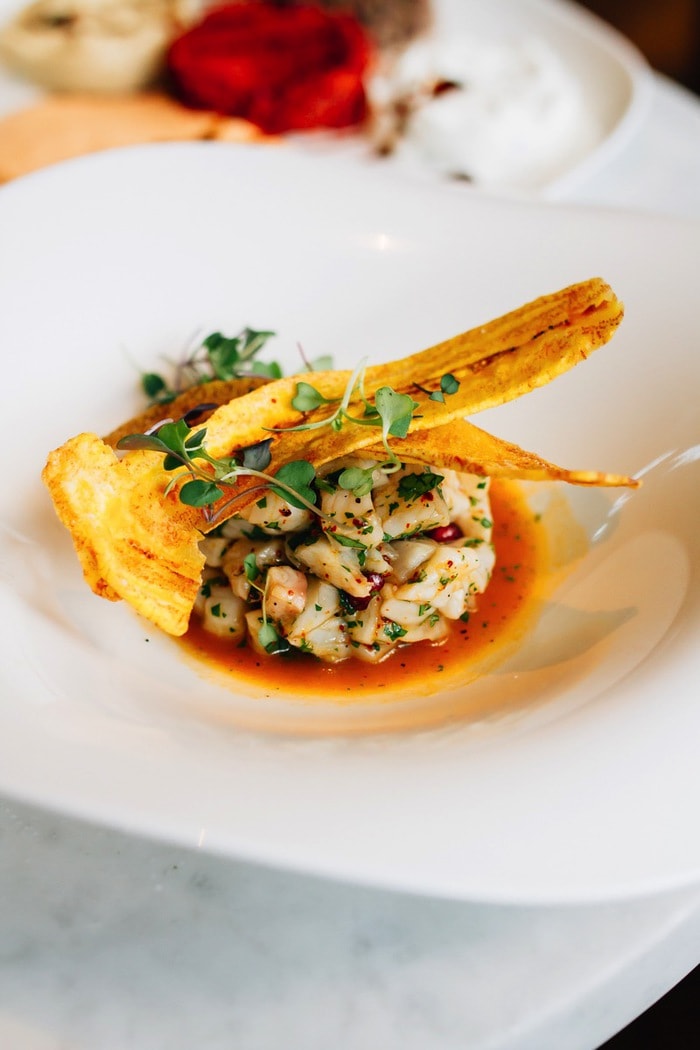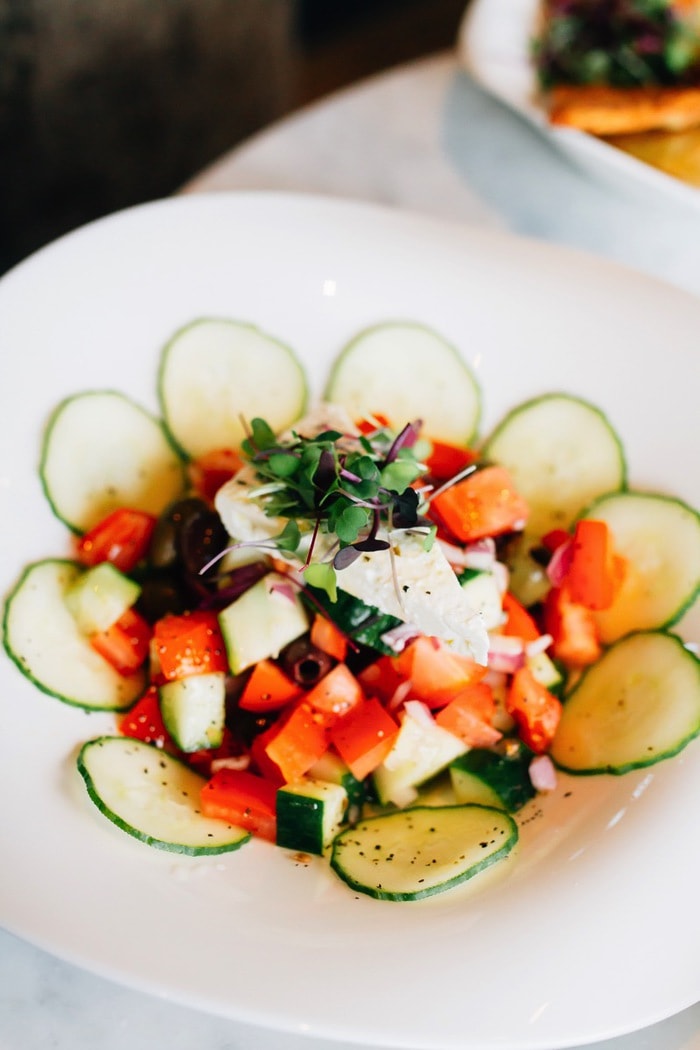 We had a hard time choosing what to order for dinner because everything on the menu sounded so good.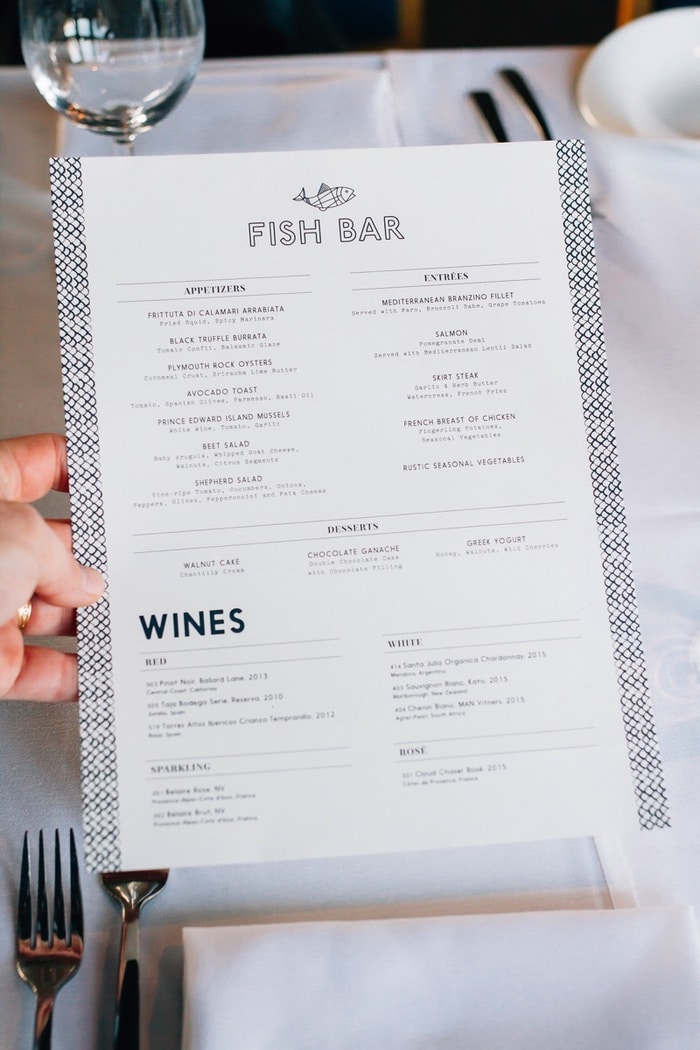 I ended up with the beet salad and salmon for my entree.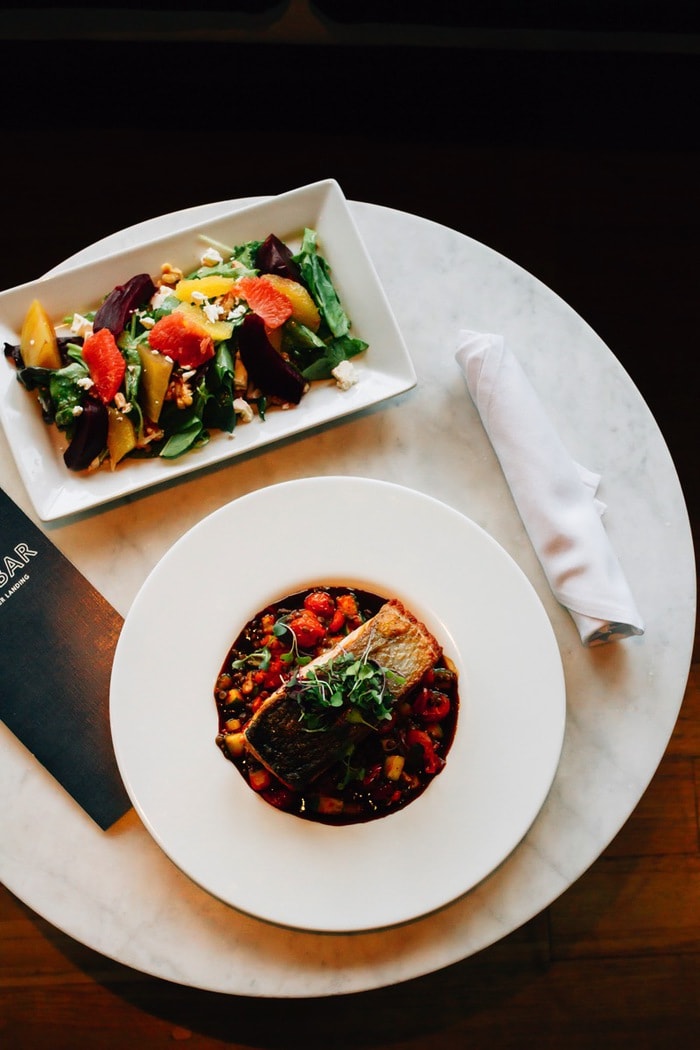 This salad was perfection. I'm hooked on grapefruit in salads right now and the beets were so tender and flavorful.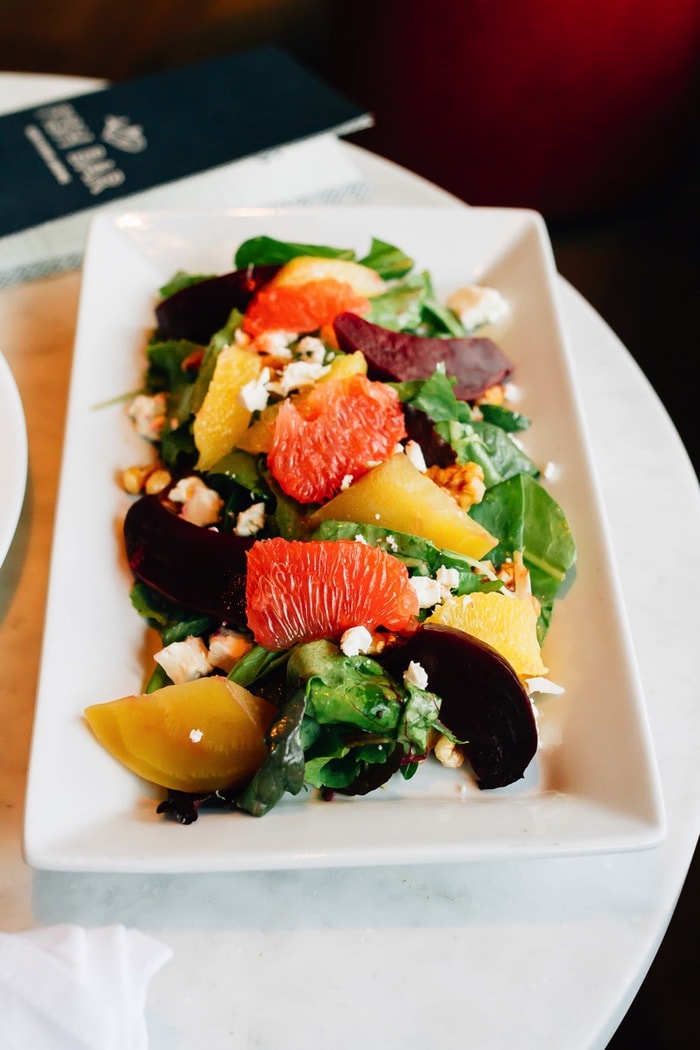 The salmon was delicious too — cooked with a delicious pomegranate demi glaze over a Mediterranean lentil salad, which totally reminded me of this recipe.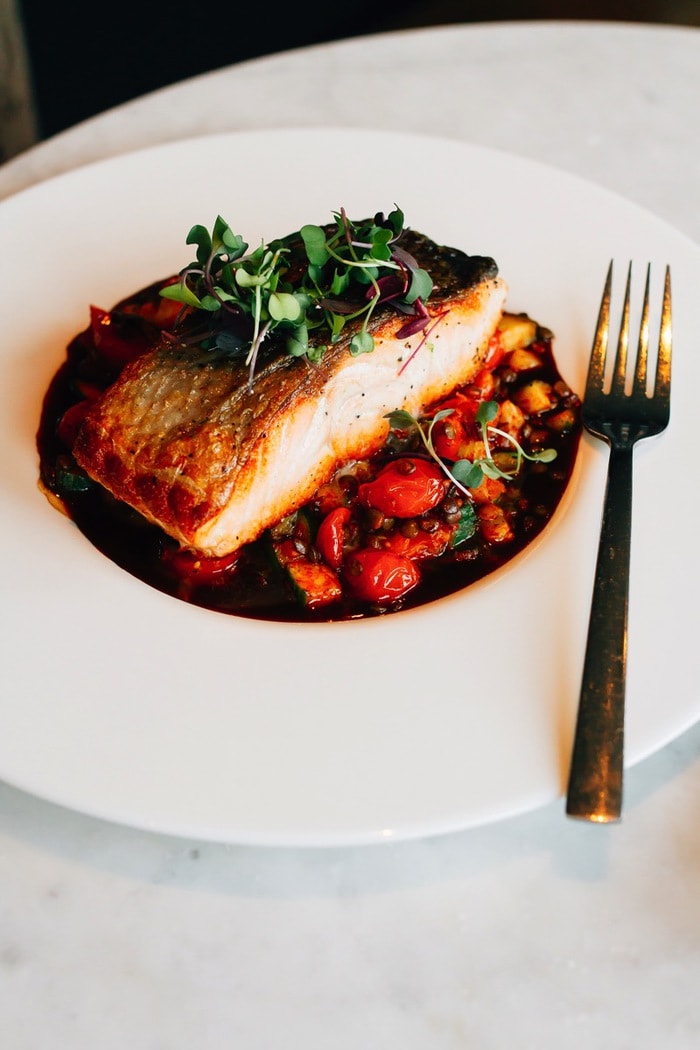 Isaac had the black linguini with clams, shrimp and lobster in a beurre blanc sauce. I was too busy eating my salmon to snag a bite of his pasta, but I did try a shrimp and it was delish!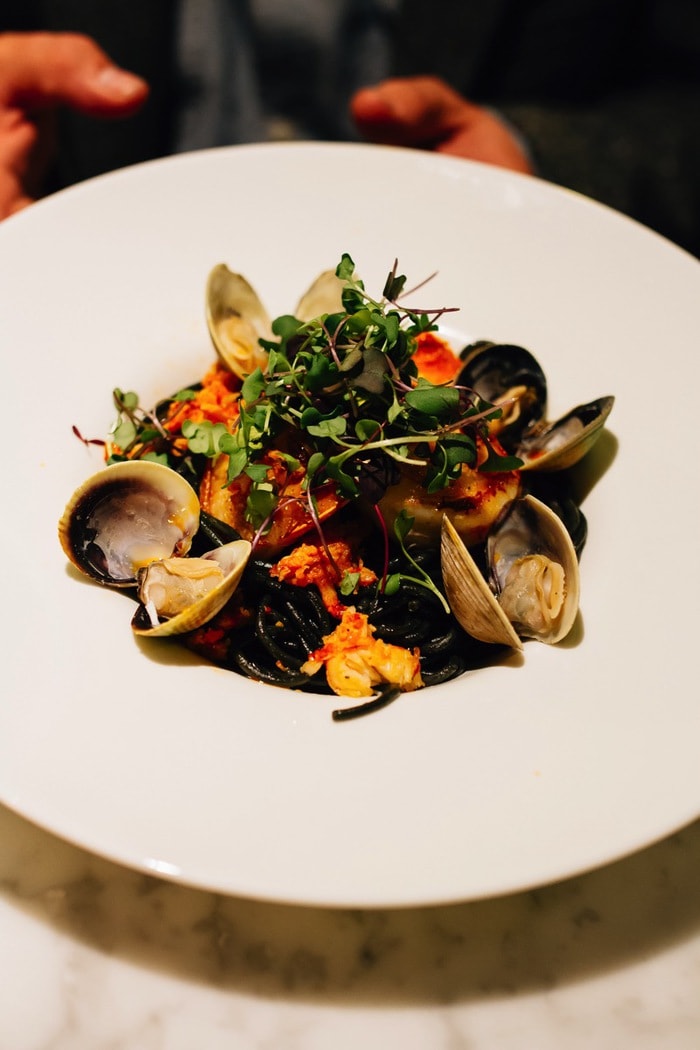 Overall, the Fish Bar dinner cruise was such an awesome date-night experience. Enjoying our meal while floating through the Hudson River with a view of the downtown Manhattan skyline was amazing and unlike anything we've ever done before. I also loved getting to see the Statue of Liberty up close. I've been to New York many times, but still have yet to visit Liberty Island. It's on my travel bucket list so next time we're in the city, I'm going!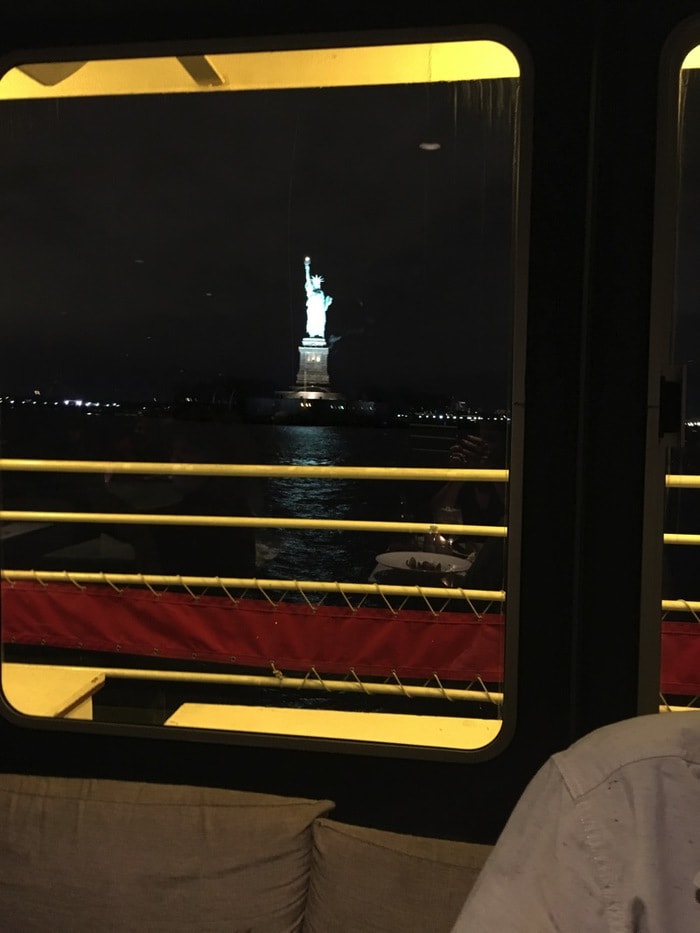 The dinner cruise is a great way to celebrate a special occasion, like a birthday or anniversary, but the bar and lounge area is the perfect spot for a special night out with friends. The yacht will be sailing throughout the winter months and they have a New Year's Eve cruise coming up that sounds amazing. Such a fun way to ring in the new year.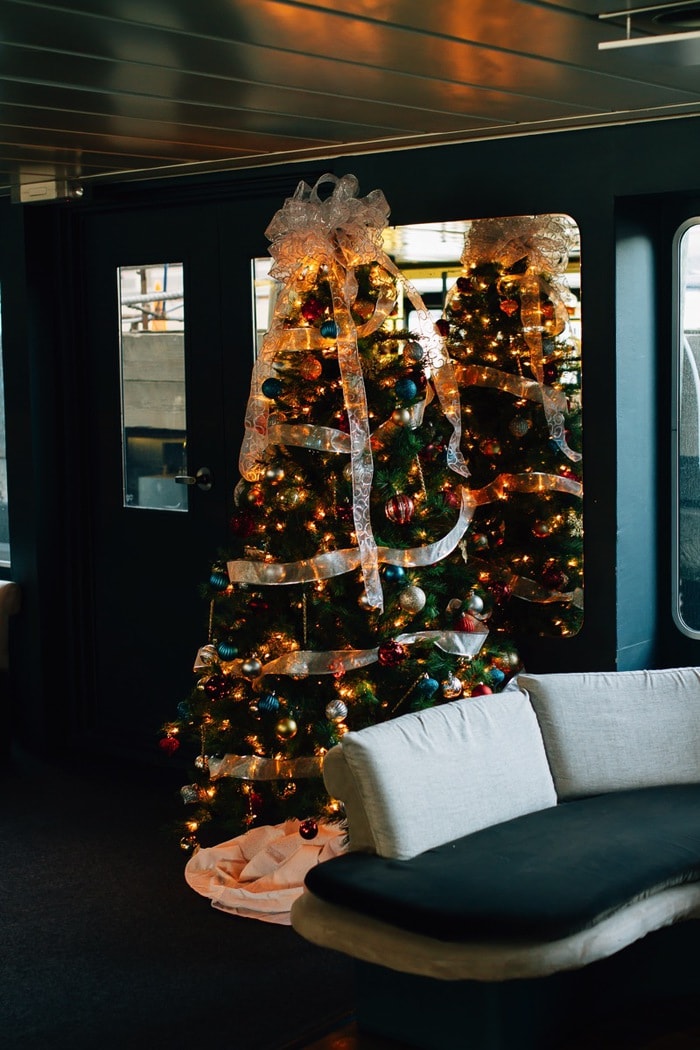 If you're interested in checking out Fish Bar, visit their website here and check out the sailing times. There's no fee to sail and the first 50 readers that check in on Yelp will receive a free glass of bubbly! Cheers.