If you follow me on Instagram or Facebook you'll know that I did 3 Day juice cleanse last week. Many of you have been curious about the cleanse so I wanted to do a full recap of how it all went down and my final thoughts.
First thing first, I never in a million years thought that I would do a juice cleanse. I have juicer and I like drinking fresh juices every once in a while but I thought doing a juice cleanse was too intense for me. I like cooking and really enjoy eating so I honestly didn't think I could last three days on a liquid diet. When Fruitive, a 100% plant-based restaurant/juice bar in Virginia Beach that I've been to before (I highly recommend the Mediterranean Wrap and Hail to the Kale salad), reached out to me about trying one of their cleanses I wasn't so sure I was going to take them up on the offer.
All of their cleanses sounded awesome — one for clear skin, another for mental clarity and the most advanced, a detox for the liver. All the juices within the cleanse packs sounded delicious as well, but could I really drink only juice for 3 whole days?!? I wasn't so sure.
Around this time I was in San Fran for the StitchFix Luna Vacay so I consulted a few of the other girls there about juice cleansing. Both Sarah and Nicole have done them before and raved about their experiences. This pretty much convinced me to try it. I emailed Fruitive back and told them I was on board to try one of the cleanses. I took a quick quiz to find out which of the three cleanses would be the best fit for me based on my goals (the quiz should be posted on their site soon!) and I ended up going with the Clear the Fog Cleanse.
Clear the Fog is their medium-bodied cleanse meant to help folks that over-indulge on coffee, sit in front of a computer all day, feel stressed and mentally exhausted. It's meant to regain day-to-day balance, curb unhealthy food addictions and combat sluggishness.
Before I knew it, the cleanse arrived on Tuesday and my juice cleanse journey started on Wednesday morning.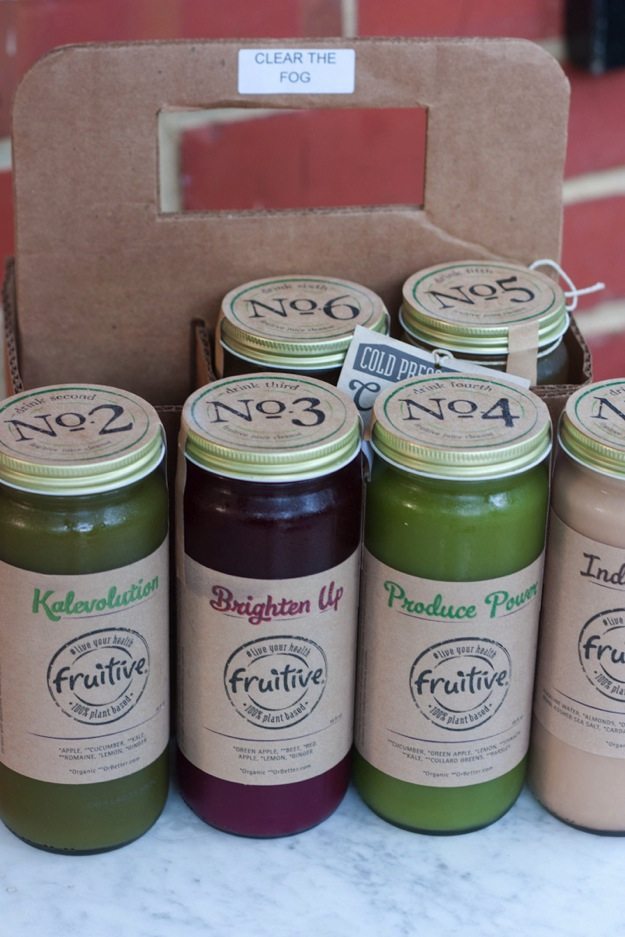 Here's how the cleanse arrived.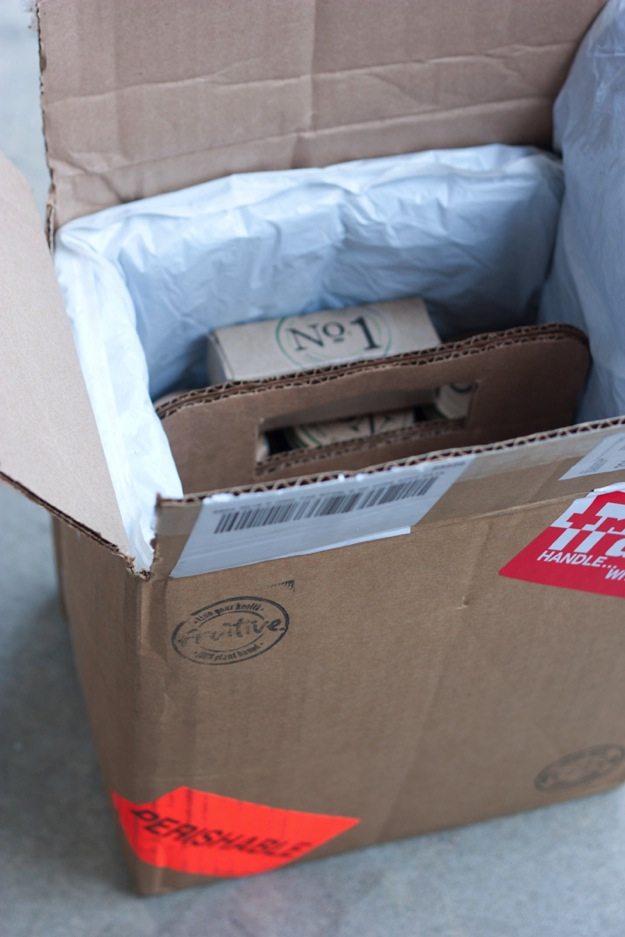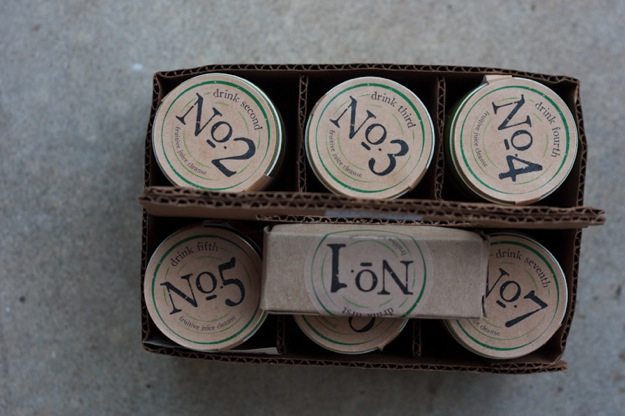 I took notes throughout the whole process so that I could share my thoughts and how I was feeling each day.
Juice Cleanse Day 1
How I felt:
Energetic, focused and clear-minded all day. I went to Pure Barre in the morning, had two personal training clients in the afternoon and walked Olive in the evening.
Felt tired for a few minutes around 5:00PM but then got another spurt of energy and cleaned up the house a bit.
I was SO surprised at the fact that I never felt hungry. I actually ended up feeling really full — I guess 96 ounces of juice does fill you up! I did at one point walk into the pantry for a snack, then I remembered I was on a juice cleanse and made a cup of tea instead. It was kind of funny the way my body mindlessly went to get a snack without my brain registering it.
Thoughts:
"Wow, I'm not hungry? I can totally do this!"
"I LOVE all the juices — a good thing considering I'm going to be drinking the same seven juices for the next two days."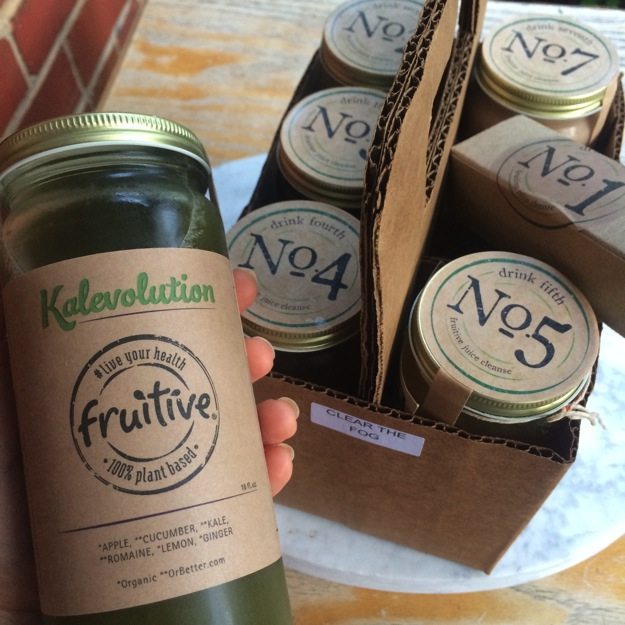 The Kalevolution was probably my favorite of all the juices. It had sweetness from the apple and a hint of spice from the ginger. Yum!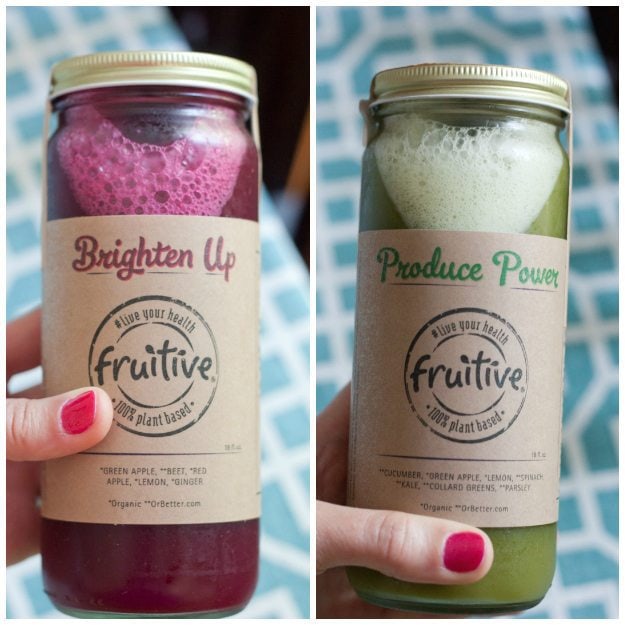 I also really liked Brighten Up, Produce Power and Beet the Blues, an early morning pick me up.
Each day started with this cute and tasty little mini juice.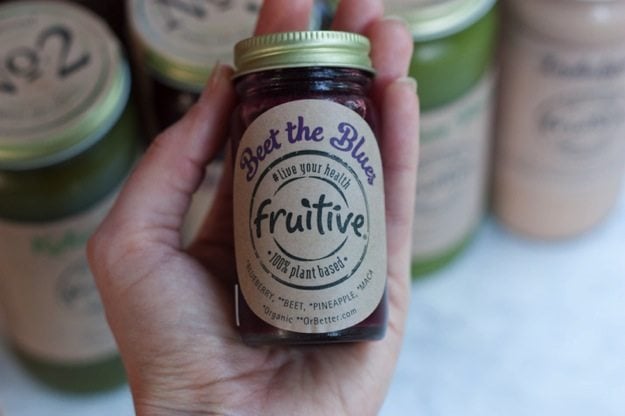 Juice Cleanse Day 2
How I felt:
Did a spin class at Tidal Wheel in the morning and had plenty of energy.
Felt hungry around 1:30PM even though I had just drank my lunch juice at noon. I drank my 1/2 of my afternoon snack juice and was fine.
Went to bed really early (around 9:30PM).
Felt really full all day and experienced a lot of burping. I had drank a couple of the juices from a straw that day so I think that might have been the reason for all the burping.
Although I felt full, I was really wanting something to chew on.  A huge salad sounded amazing.
Thoughts:
"Juice cleanses are awesome — no dishes + a super clean kitchen. Yay!"
"Iced green tea is amazing. Where has this been all my life?"
"I just want something to chew on. It doesn't even have to be food."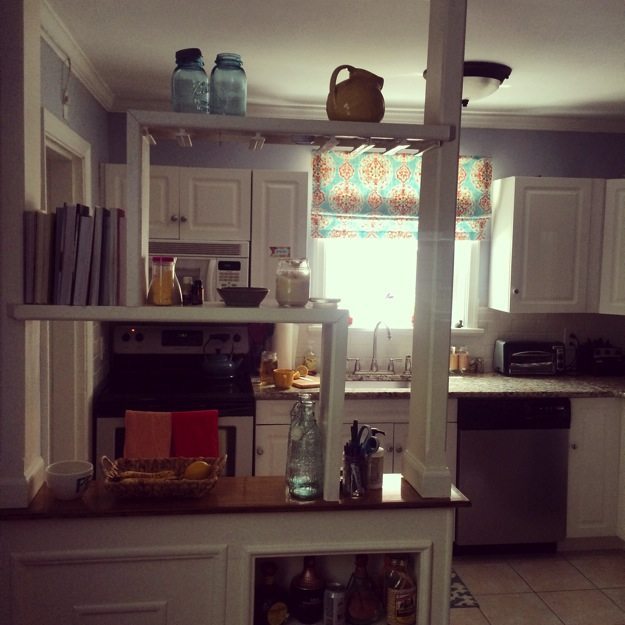 Juice Cleanse Day 3
How I felt:
Woke up feeling energized, healthy and light.
Took a class at Pure Barre at 7:00AM. Was full of energy and excited that I had made it to day 3.
Walked to my gym for a personal training session with a client. It was hot and by the time I got home, I needed a nap. I think the heat took it out of me.
Felt hungry around dinner time because I was at a friend's house and they were making dinner. It smelled really good!
Thoughts:
"My skin is so clear!"
"It's a really good thing that I didn't cook or prepare any food while cleansing." <— I tend to taste things while I'm cooking so I think prepping food that I couldn't eat would have been really hard.
"Only one more day!!!"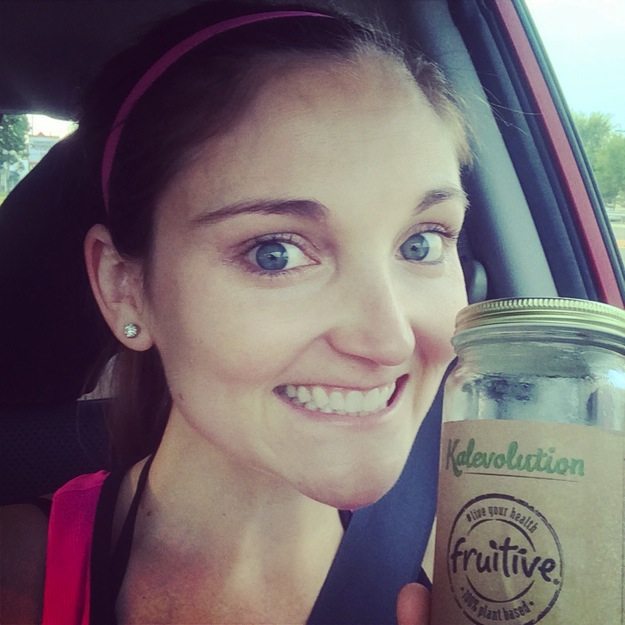 So excited for day 3.
Post Juice Cleanse
I woke up Saturday morning feeling great mentally and physically. I was really proud of myself for making it through the full 3 days with only the juices and pretty darn excited to eat. The funny thing was that I woke up craving juice. This shocked me! We already had plans to go to the farmers market for breakfast but Isaac was still sleeping so I broke out my juicer and made a green juice to drink before we went. My first meal was a quinoa bowl from a Goatacado, a local food truck. I kept it plant-based and skipped the cheese and fried egg. The bowl was delicious, per the usual, but I was surprised at my appetite. I was hungry, but not ravenous and ended up being satisfied only eating about 2/3 of the bowl and giving the rest to Isaac. <– This is coming from a girl that tends to clear her plate!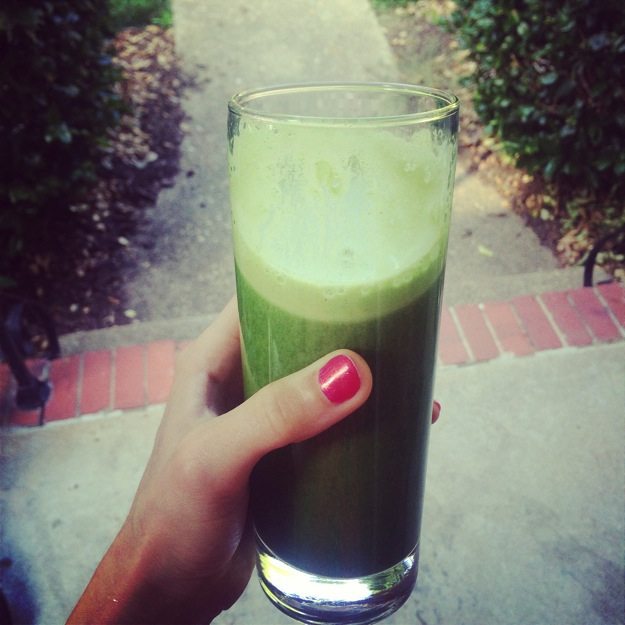 I thought for sure I would wake up wanting to shovel chewable food in my mouth. But nope, I wanted more juice!  And the cravings for juice have continued — I actually had a green juice this morning.
Final thoughts on my first juice cleanse:
I was shocked at how great I felt while doing the cleanse. My mind was clear, I was really focused when working and full of energy. I was able to keep up with the normal exercise routine as well, which was great.
I know some people have negative symptoms when cleansing but I think I lucked out because I felt quite good the entire time. No headaches, no dizziness and no crazy bathroom experiences. Isaac had in his mind that juice cleansing meant that I was going to be in the bathroom all day. Not so much. On the cleanse, I went #2 regularly every morning and this is probably TMI, but it was solid poo. That said, Isaac was sort of right. I was going to the bathroom a lot — but it was just to pee because I was drinking so much liquid — juice, water and green tea will do that to ya.
My skin is really clear! It makes me curious if my clear and glowing skin is because I was so hydrated or if it's because I eliminated a certain food from my diet that was causing the symptoms.
Since the cleanse, I've been more aware of my hunger cues and how my body feels after eating certain things. I've also been craving more plant-based foods rather than meat and dairy.
I love, love, love cooking and coming up with new recipes (obviously!) but being away from the kitchen for a few days and not worrying about what I was going to eat/make all the time was pretty liberating and gave me a lot of free time to focus on other things.
It felt really good to reset and break some habits that I'd fallen into. No relying on coffee every morning, no partaking in alcohol just because we're out with friends and everyone is having a drink, no mindless snacking. I ate healthy before cleansing but the cleanse has intensified my cravings for healthy foods — more fresh fruits and vegetables, healthy unprocessed snacks rather than protein bars or packaged goodies. I also haven't had coffee since the cleanse. It's something I tend to drink mid-morning after breakfast out of a habit but since the cleanse I haven't been craving it so I haven't had it.
I think a lot of people assume that juice cleansing is for weight loss. I thought this at one time too, but after doing a cleanse I realize that it's not about the weight you may or may not lose during the cleanse, it's about detoxing your body, reseting your mind/focus and being inspired to eat healthfully after the cleanse is over. I did lose a few pounds and feel less bloated after the cleanse but I don't consider juice cleansing a weight management tool.
Would I do a cleanse again? I had a great experience so yes, but I think 1-3 days is my max. I don't think I would do one for longer than 3 days.
Looking for more benefits of doing a cleanse? Check out
this article from the Huffington Post.
I think it does a great job of explaining the real reasons a juice cleanse can get your health back on track.
A little about Fruitive juice cleanses:
Like I mentioned above, Fruitive is an awesome company located in Virginia Beach. You can read all about what sets them apart from other cleanse companies here.
One thing I really liked about cleansing with Fruitive is that they did all the work. Yes, their cleanses are pretty pricey (all cleanses are), BUT I knew I was getting a high-quality product and I didn't have to go to the store to buy all the ingredients, prep any of my own juice or clean my juicer. I knew the juices were made with all organic or better ingredients and I didn't have to worry about whether I was making the right juices in order to see results or if I was getting the right nutrients.
Fruitive also provided me with a personal Cleanse Coach (they do this for all their cleansers). Amanda was awesome. She emailed me before the cleanse started to help me get prepared and throughout the three days to offer support, encourage and answer any questions I had throughout the cleanse process. She rocked!
Fruitive ships their juice cleanses nationwide so anyone can do their cleanses. If you're interested, definitely check out their website to see if doing one of the their cleanses would be right for you — they have a lot of great info including how cleansing actually works, which cleanse to choose, and they answer a bunch of FAQs as well.
If you do decide you want to do a cleanse with Fruitive, definitely take advantage of one of these discount codes:
Specifically for EBF readers, the first 5 readers to order a 3-day (or 5-day) cleanse with this code (ebf15) will get 15% off!
If you're not one of the first 5 readers, you can still get 10% off all 3-day Signature Cleanses for the month of July with the coupon code: redwhite&blue10
Just as an FYI — Juice cleanses aren't for everyone. According to the Fruitive website, if you are a minor, pregnant or breastfeeding, or have adrenal issues you shouldn't do a full cleanse. Also, if you have any other major medical concerns should contact your health care provider before doing a juice cleanse.
Have you ever done a juice cleanse? What was your experience?