For some reason I was sitting in front of my computer tonight and thought it would be fun to do a Vlog for the first time. ever. in EBF history. I turned on Photobooth, started chatting, and the video below was what I ended up with. I promise it's not anything epic, but be sure to check it out if you want to see my new hair cut and hear in detail what I did today (it's soooo exciting-haha) OR if you just want to hear what I sound like. And please feel free to laugh at me because for some odd reason my mannerisms don't align with how I see myself conversing face to face. It's kind of crazy.
So without any more explanation, I give you the first, and maybe last, EBF VLOG! (Depending on what you all think!?)
I wasn't planning on doing a VLOG today so I have a plethora of pictures to post. Starting with my breakfast. A smoothie- in a bowl rather than a glass. It takes longer for me to eat it this way, plus I like topping it with a little granola and I don't have straws big enough for all that.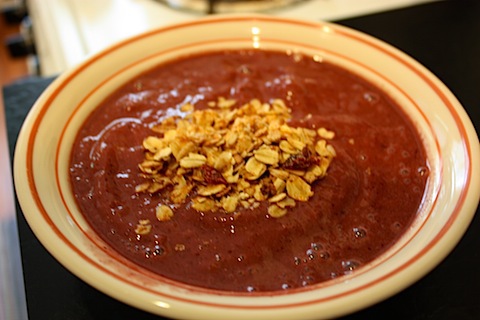 Today's mix had about 1 cup of frozen strawberries and cherries, 1/2 frozen banana, 1/2 cup unsweetened vanilla almond milk, 1/2 cup water, 2 tbsp. Nutiva hemp protein powder, and 1 tsp. Ormus SuperGreens. I blended everything and topped it with locally made walnut cranberry granola.
The smoothie fueled me through my PT appointment and a quick stop by Target for ONE item. One turned into seven and I left $50 poorer- I still can't fathom why this always happens to me?! So after the little shopping spree I met up with a friend for lunch at Ellwood's hot bar. Nothing you haven't seen before – greens topped with veggies, some bean salads, and one "new to me item" in the back right hand corner- mashed celery root.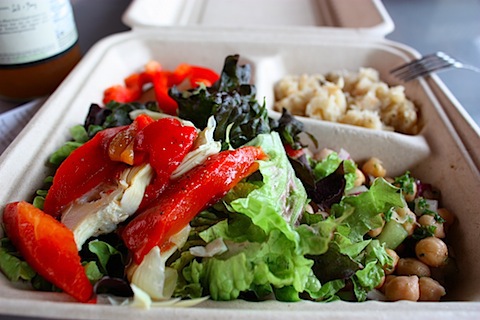 Turns out the celery dish was very tasty- similar to mashed cauliflower or mashed potatoes with a nice mild celery taste. I'm actually not a huge fan of celery, but the celery root mash was delicious. If you're curious about it, I found a recipe that looks like fun here.
I had an Honest Tea to drink. Since it's been so hot here I've been on a iced green tea kick. This was actually my 4th green tea in 2 days!!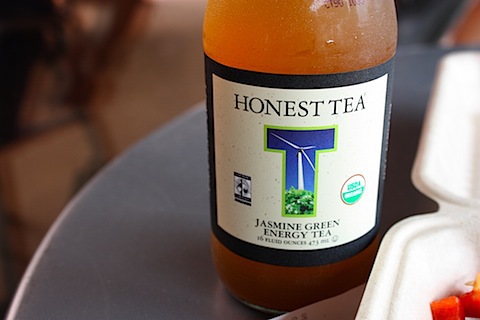 I've also gotten myself hooked on this liquid deliciousness.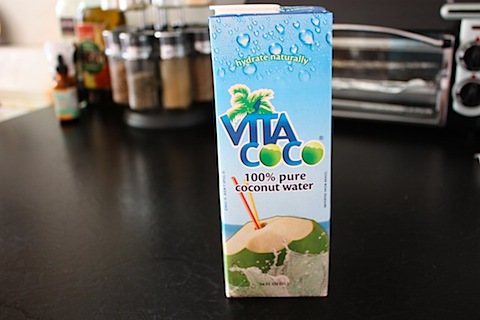 Coconut water! I talked Isaac into trying it out in place of Gatorade when playing Ultimate frisbee. It's all natural with no added sweeteners, in addition to containing the five key electrolytes: magnesium, phosphorous, sodium, potassium, and calcium. We've had some in the fridge over the past couple days and I've been drinking a bit after my workouts. Now Isaac and I both are starting to love it!
As I mentioned in the VLOG – I made gluten free bean burgers tonight using my standard black bean burger recipe.
Tonight's version didn't have jalapenos (we're all out) and had 1/2 cup of chopped carrots added.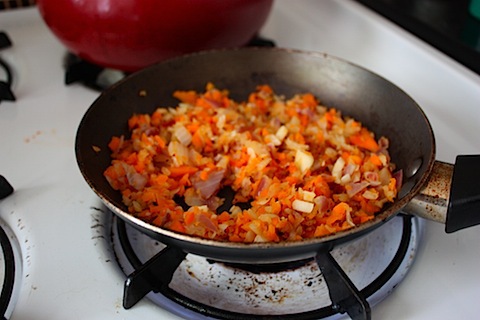 I used the Mary's Crackers Savory Blend Cracker Crumbs I won via Twitter!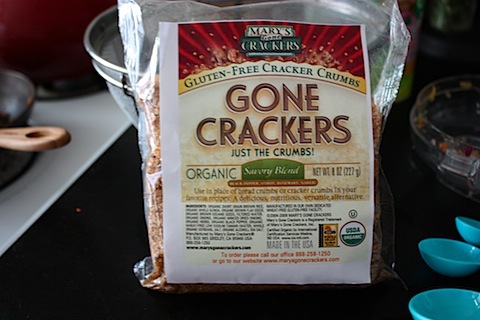 Random Tip: I'm keeping the rest of the parsley fresh in a cup of water – per the How to store fresh herbs in vases article I recently read.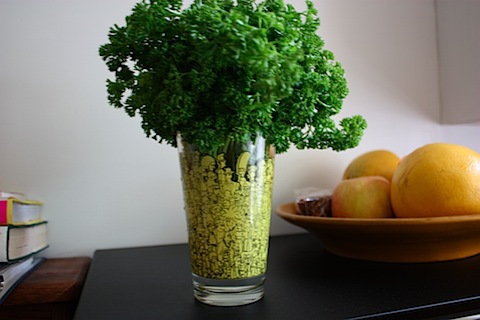 I love that fresh herbs will keep longer this way, plus having them sit out on the counter will surely remind me to put them to good use.
Cooking the burgs.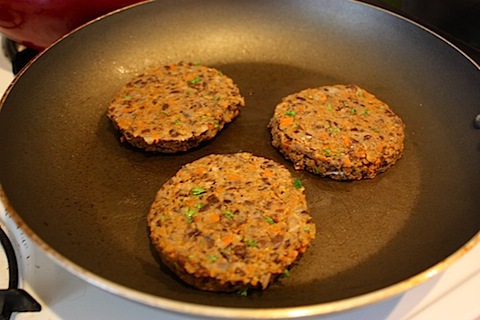 Finished product.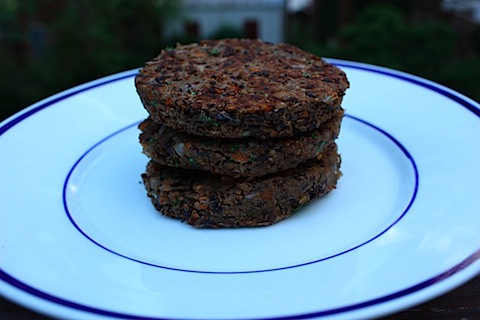 My burger tonight, topped with a little ketchup, of course.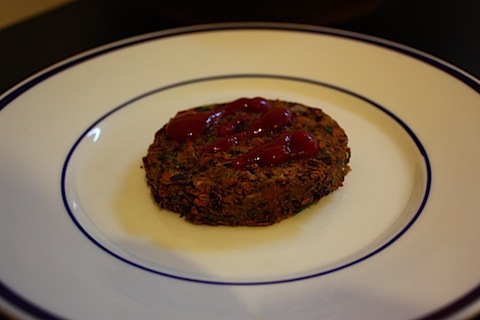 Isaac and I both really enjoyed our burgers. Mary's g-free cracker crumbs ended up being a great sub for the standard bread crumbs. This batch was full of flavor and held together nicely. I promise they're much better than the frozen patties you'll have at the store – and cheaper to boot.
Alright, I'm off to sweat sleep the night away. 🙂
-Brittany