Happy Fit Friday! I've got another workout for ya this week and it's a GOOD one.
My friend, Ang, is getting married in a few weeks (okay, actually her wedding is only ONE week away at this point!!!). Like every other lady I know, she wants to feel amazing in her wedding dress on the big day. I've been health coaching her for about 2 months with a heavy focus on clean eating, portion control, getting in daily workouts, etc. She's been super motivated and doing amazing — she's lost a few pounds/inches and her clothes (and dress) are feeling loose. Woo-hoo! Can you tell I'm a proud coach?
Like many of us ladies, the first area she notices fat/weight loss is in her boobs. Of course, this is one of the places that most of us would actually like to keep a little oomph. Mother nature is cruel. The real dilemma here is that Ang needs to make sure she doesn't lose too much in her chest area because she's wearing a strapless dress and she needs it to stay up and in place while she's dancing the night away. We decided that 1) she needs to invest in some double sided tape (just in case) and 2) I'd make sure her chest is firm and perky by creating a workout that would focus on working her chest, core and back muscles.
So that's how the firm and perky workout came to be. Ang has tried the workout and liked it — and by liked, I mean that the first time she did it, she texted me and said, "My shoulders and chest are on FIRE! The planks holds at the end were really hard." That totally means she liked it, right? 😉
So there ya have it. If you're looking for a quick circuit to burn out your chest and work your core, definitely give this workout a try. You don't have to be a bride-to-be looking to keep the girls perky or a female for that matter — guys like to work their chest muscles too.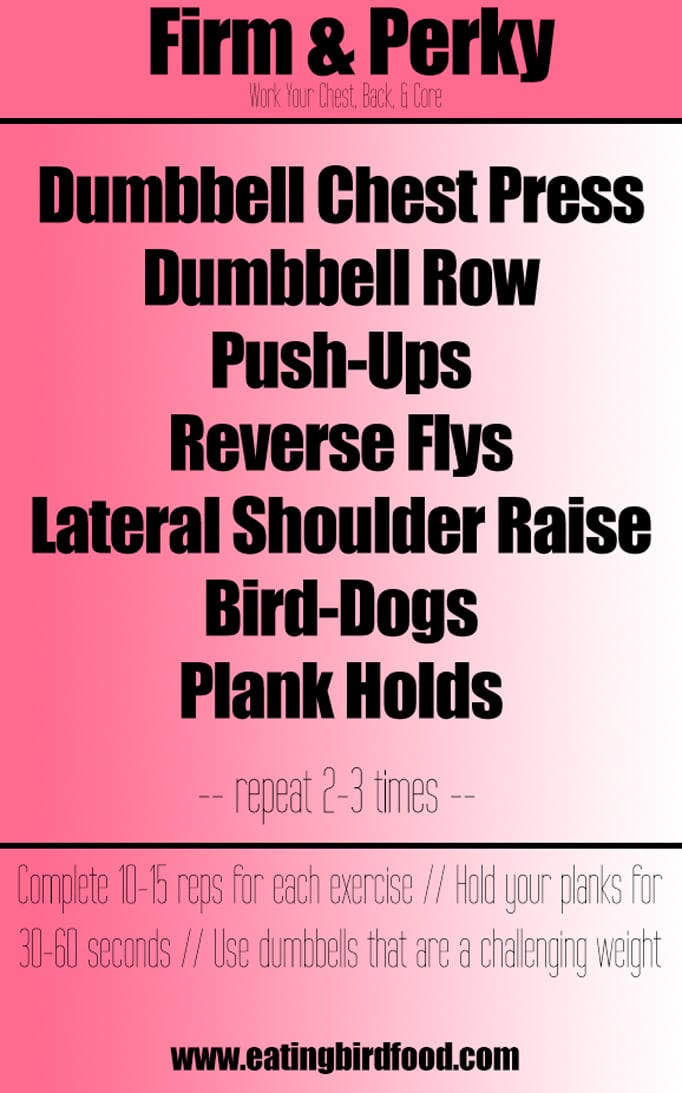 If you're unsure about any of the moves, check out the links for a demonstration: Dumbbell Chest Press // Dumbbell Row // Push-Ups // Reverse Flys // Lateral Shoulder Raise // Bird-Dog // Plank Holds.
Speaking of workouts, just a little update on my workout routine — I'm still doing the 21 Day Fix and LOVING the workouts. This is the last week so it's doubles week — each day I'm doing two 30 minute workouts instead of one. It's been a bit more challenge but still really fun. I'm finished with the full 21 days on Monday so I'll be sure to do a review for you guys!
Have a lovely weekend! Any fun plans? I'm gong to visit my mom and nanny tonight and then we're hosting brunch for Isaac's mom on Sunday. I think I'm going to make this crustless kale quiche and a quinoa fruit salad. Should be a fun little weekend!