We're home from the beach. Although it's sad that our mini-vacay is over, we were so happy to see Ms. Olive again. I'm not sure if it was all the days in the sun or the drive home on Sunday morning, but Isaac and I were completely wiped out yesterday afternoon. After a much needed 3 hour nap, Isaac went to his frisbee game and I did some chores around the house. I had high hopes of getting in a workout, going to the grocery store, preparing an awesome dinner and posting about the recipe. Despite all the good intentions, none of that happened… which leaves me with little to blog about. 
But luckily I did find out some exciting news last week that I can share! One of my recipes was featured in the July issue of Ocala Style Magazine, a free monthly publication dedicated to the North Central Florida lifestyle.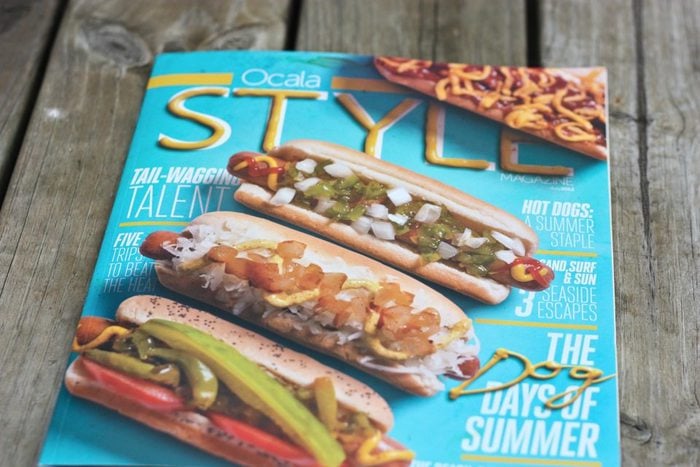 I was contacted by the food editor of Ocala Style back in May with a request to use one of my smoothie photos with a recipe. I sent over the materials they needed and went about business as usual, not thinking too much about it.  So when I got an email last week with a link to the digital copy of the July issue and saw that my smoothie picture took up a whole page, I got super pumped and asked the editor if she could send me a printed copy. She was kind enough to do so… and now I have an my possession a magazine with a photo I took and a recipe I created! I'm probably making a bigger deal out of this than necessary, but it's my first time being printed in a magazine and I'm very, very excited about it. Thanks for obliging me. 🙂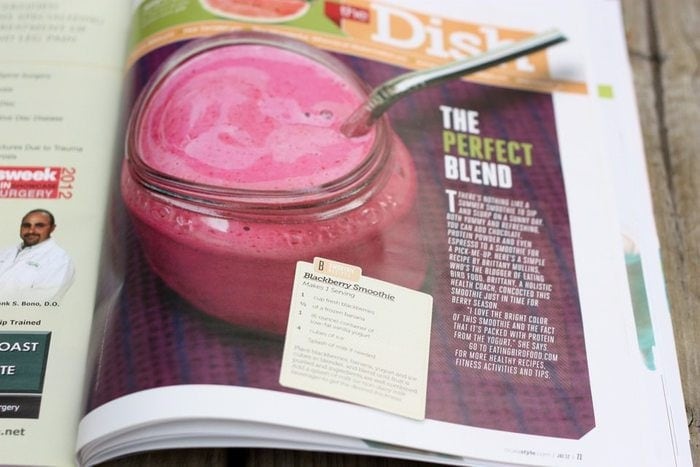 If you're interested in trying the blackberry smoothie, here's the recipe that was printed (a variation of the Blackberry Smoothie I posted back in February). 
Blackberry Smoothie
Ingredients
1 cup of fresh blackberries 
1/2 of a frozen banana
1 – (6 oz) container of low fat vanilla yogurt
4 cubes of ice
splash of milk or non-dairy milk, if needed
Preparation
Place blackberries, banana, yogurt and ice cubes in blender and blend until fruit is pureed and ingredients are well combined.
Add a splash of milk (or non-dairy milk beverage) to get the desired thickness. 
I'll definitely be enjoying this smoothie sometime soon as blackberries are coming into season here in Virginia right now. I actually just picked up a big bowl of them from Isaac's parents' house yesterday. Can't wait to put them to good use. 
For now I'm off to get ready for the day – it's going to be a busy one. Have a wonderful Monday friends!