This weekend was busy and full of fall fun. We even got a little preview of what's to come with some cooler temps last night and today. Time to put my shorts away and break out the jackets. Brrr.
The weather was absolutely gorgeous on Saturday morning so we ended up heading to the farmers market nice and early. The trip resulted in an abundance of orange purchases… sweet taters, a funky gourd, pie pumpkins for decorating/roasting and a butternut squash.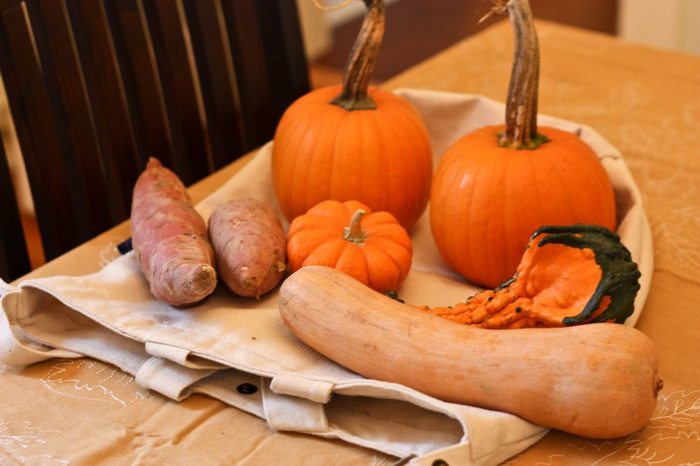 We also came home with Pumpkin Ginger chèvre goat cheese from Goats R Us. We had a sample while at the market and couldn't resist buying it. It's seriously delicious… if you're local to Richmond, it's a must.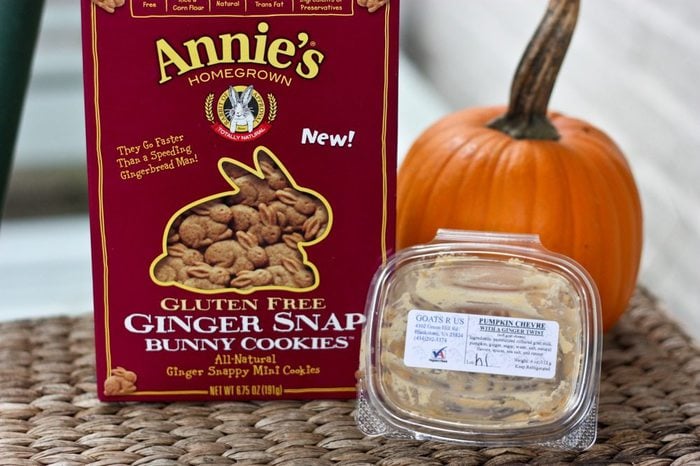 We had a friend's b-day party to attend on Saturday night so I brought the cheese paired with Annie's Ginger Snap bunny cookies.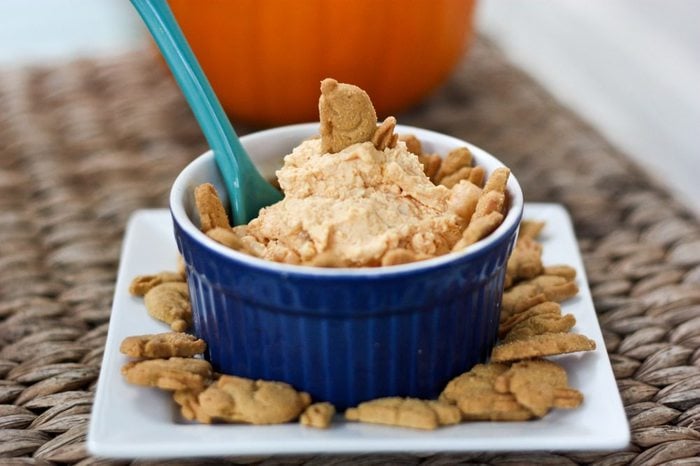 The flavor of the ginger snap cookies went together perfectly with the creamy pumpkin goat cheese. Lucky for me, there wasn't any cheese left at the end of the night. <– Why is this lucky? Because I could have eaten the whole container by myself in one day. You think I'm kidding…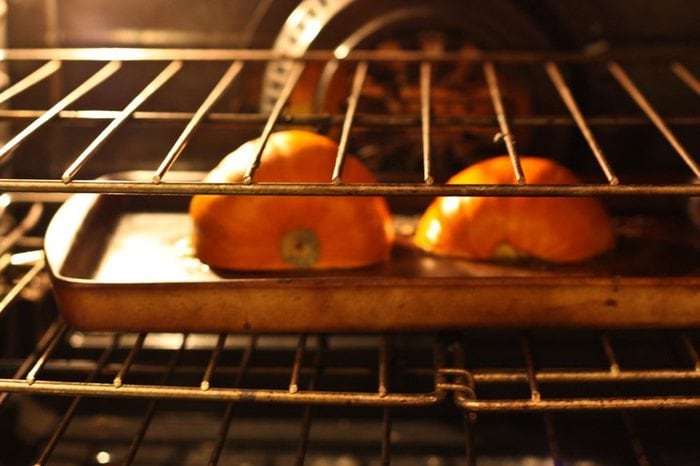 I wasted no time and quickly roasted one of the pie pumpkins from the market on Saturday afternoon. Now I have about 2 cups of pumpkin puree and seeds for roasting. I took Gina's idea of dehydrating the skin to make pumpkin chips but I don't have a photo because they were devoured pretty much immediately. 😉
While the pumpkin was roasting, our dining room went from this: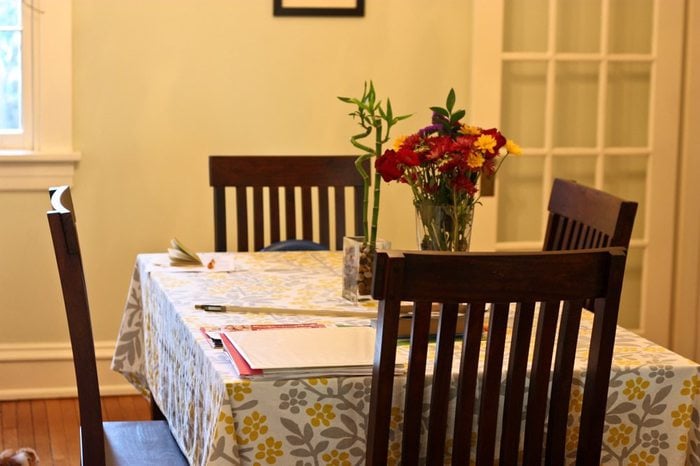 to this: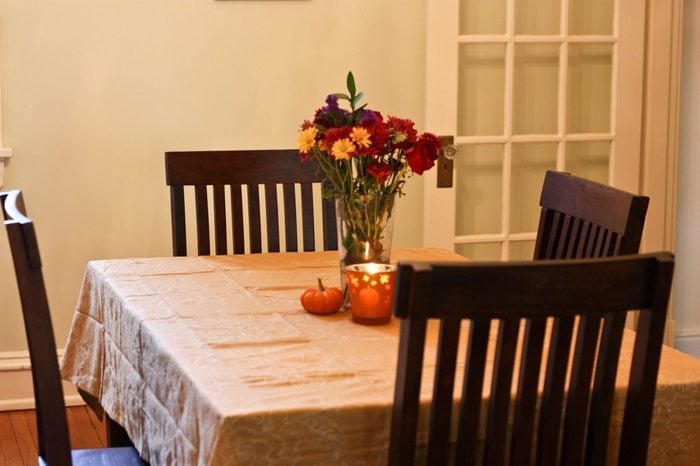 Cleaner and more festive!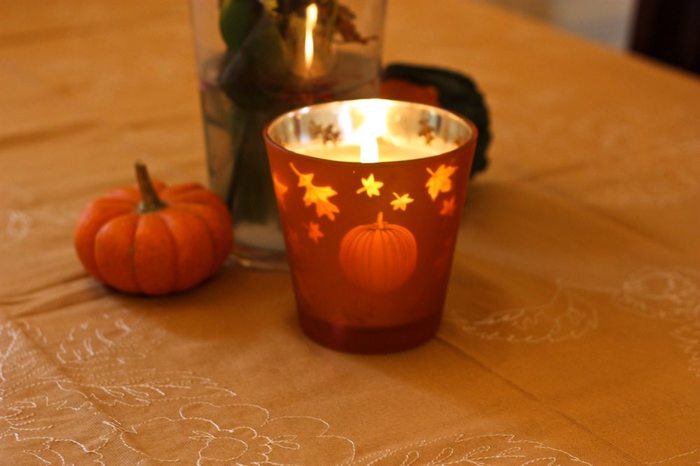 I got the table cloth and pumpkin candle from Target. I love the little design and it smells amazing (almost as good as pumpkin oatmeal chocolate chip cookies baking in the oven). I actually made a batch of those cookies for the party this weekend too. They're definitely my go-to fall cookie recipe now.
As if that weren't enough pumpkin, I also had some pumpkin pie greek yogurt topped with sweet cranberry pecan oat clusters as a snack on Saturday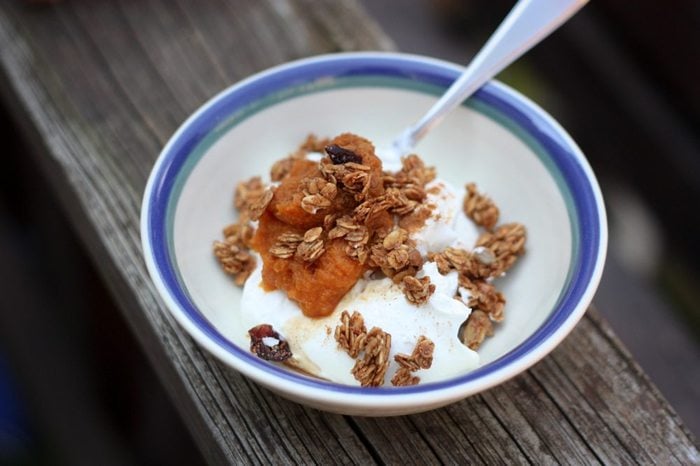 and this little treat this morning…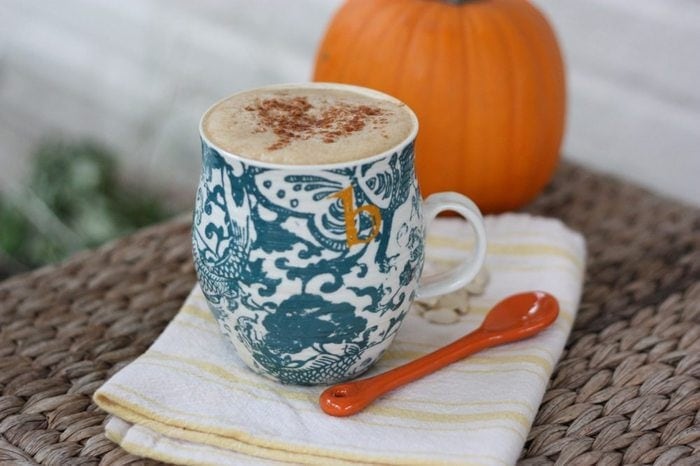 More details on that to come later this week. 🙂
Last but not least, I thought it would be fun to share a song from one of the favorite bands at the moment, The Lumineers. I don't really talk about music here on the blog much, but it's something that I really enjoy. I found out about The Lumineers a few months ago and we ended up seeing them in concert twice this summer. Take a listen, you might just love them as well.
Night friends!