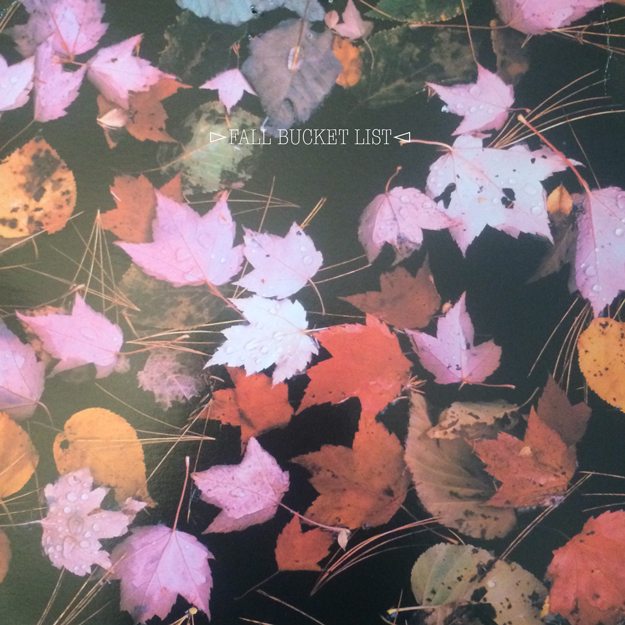 Fall is one of my favorite seasons and I always get so excited when it arrives. I've never done a bucket list before but this year I decided to make a little list of things I want to do this fall — some are just fun themed activities like apple picking, baking with pumpkin and having a bonfire, while others are goals I have for myself over the next few months.
The fall season lasts until December 21 so we've got 13 weeks to enjoy fall! Here's what I have on my bucket list:
Go apple picking.
Wear dark nail polish <— I'm loving the Zoya Entice & Ignite Fall Collection. I've already tested out Remy, Autumn is next!
Go hiking in the Blue Ridge Mountains — the leaves make the scenery absolutely beautiful this time of year.
Make a batch of pumpkin butter.
Do yoga at least once a week (I've been such a yoga slacker lately.)
Try my no sugar added healthy apple butter recipe again.
Find kabocha squash. It's my favorite winter squash, but it's so hard to find — I might need to make a special trip to Tan-A because I'm sure they'll have it.
Bake a loaf of pumpkin bread (and definitely retake the photo. ha!)
Wear scarves like this one.
Try a new soup recipe.
Bring out the pumpkin candles. <– Already done! I've been burning this pumpkin saffron candle since mid-September and LOVE it.
Go on a hayride.
Make a thrift store donation with things we don't need anymore.
Have a bonfire.
Drink pumpkin beer. <— I started on this one a little early. There's just so many good pumpkin beers out there!
Get a couple cute pumpkins and mums to decorate our front porch. <— Already got the mums, now I just need some pumpkins!
Roast pumpkin seeds <— I actually made my first batch this week.
Get back into knitting.
Mediate at least 3 times a week
Start cooking in the crock pot again.
Roast a pie pumpkin.
Spend a cozy night cuddling with Isaac and Olive.
Wear these boots with skinny jeans or leggings as often as possible.
Go on at least one fall bike ride.
Make a big pot of chili and corn bread.
Organize and decorate my office to make it more "me."
Visit a winery.
Take a Pure Barre class at least 3 times a week.
Make a pumpkin spice latte.
Spend a day completely "disconnected" — no phone, no computer, no tv. Maybe I'll do it October 4 since it's the first annual global Day of Disconnect.
What's on your fall bucket list?