Small dogs can hike too! Here I'm sharing the essentials for hiking with a small dog. This post is sponsored by Castor and Pollux. All opinions are my own. 
Like most dog parents we hate leaving Olive at home so we're always looking for dog-friendly activities we can do as a fam. Two of our favorite places to take her here in Richmond are the farmers market and the James River.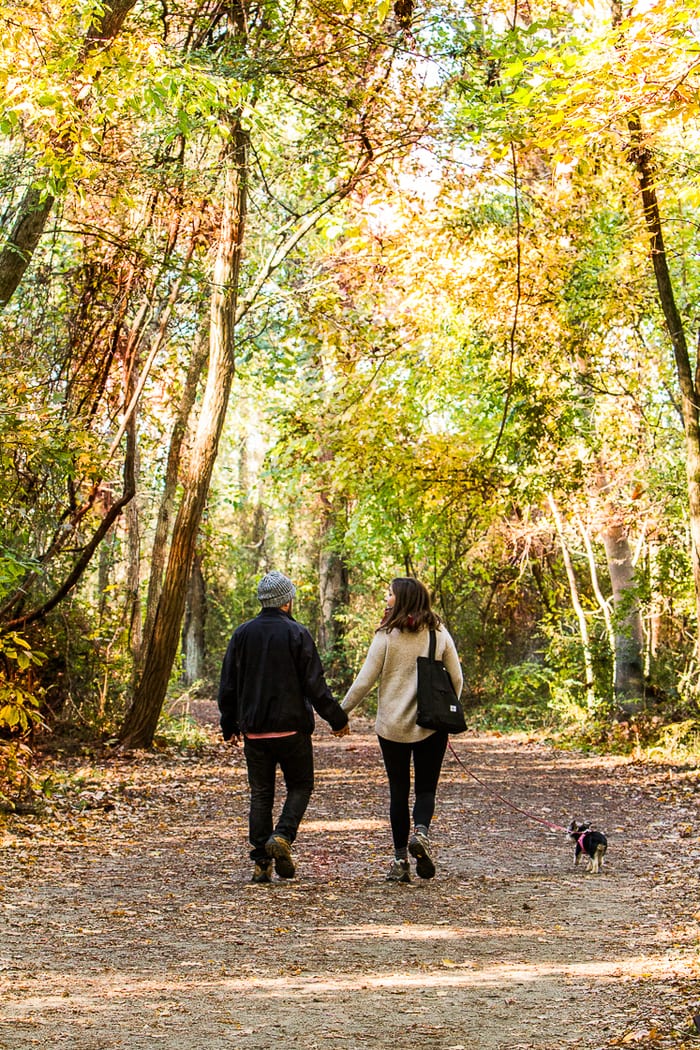 There are a ton of hiking trails along the James and they're all dog-friendly so it's perfect.
I know people don't think of small dogs as hiking dogs, but Olive, our 6-pound Yorkie, has a lot of energy and can easily keep up with us on shorter hikes. Most of the time she actually leads the way! Her legs may be small, but she likes to be active and can walk quite a long way before getting worn out. It rarely happens, but if she does get tired we can tell. We'll take a break or pick her up, if needed. She's so tiny that toting her is NBD.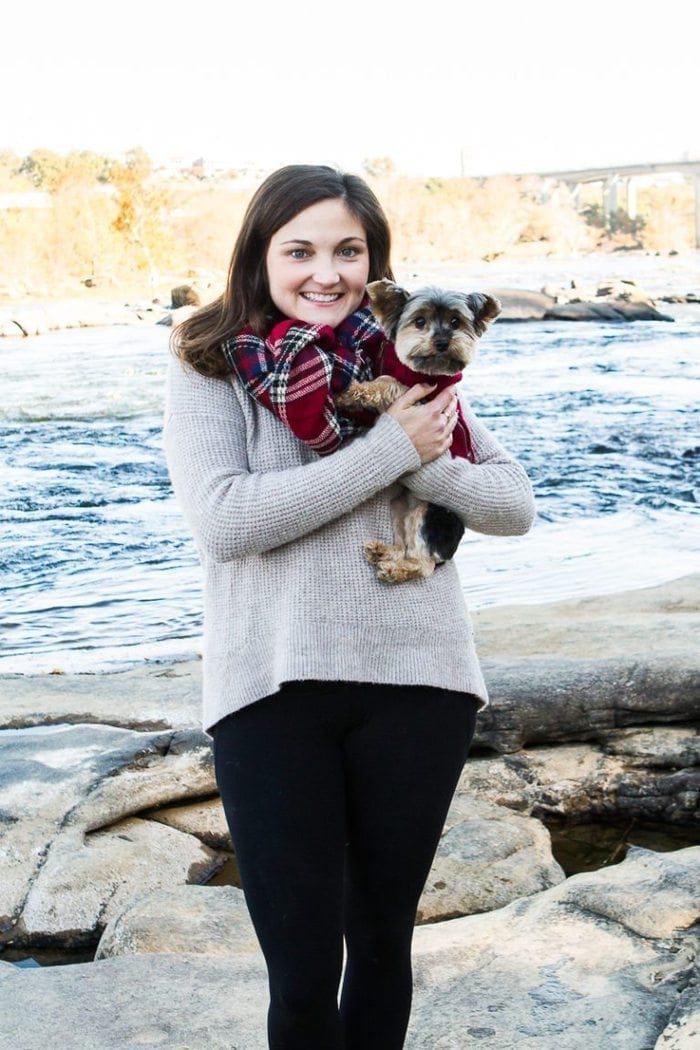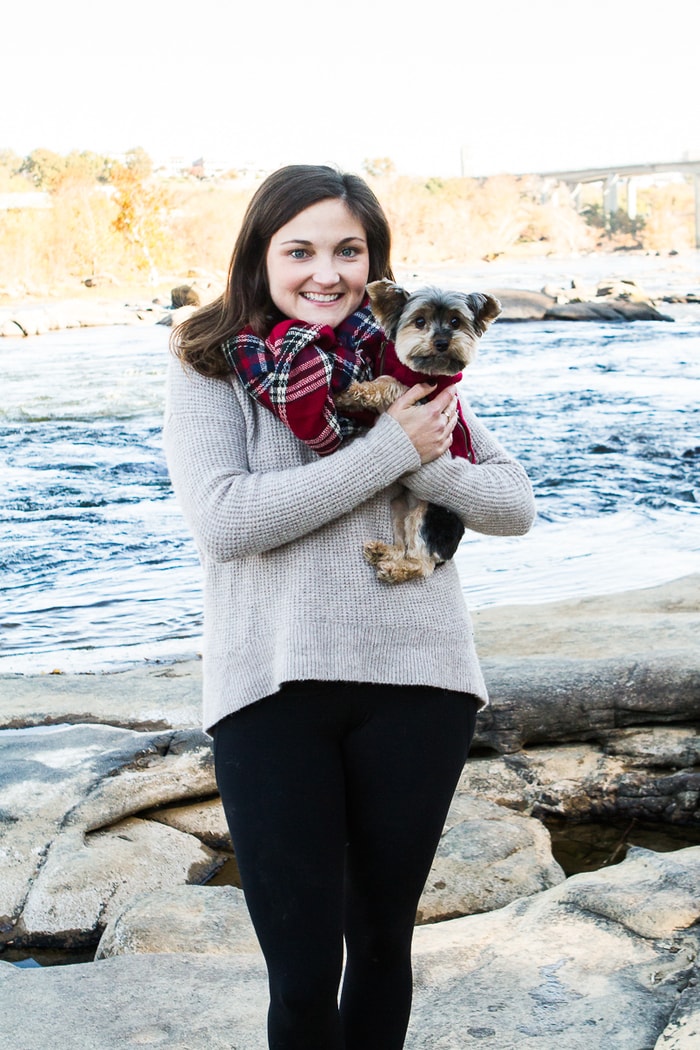 Of course, whenever we take her on a hike we bring along a few key items, which I'm happy to share.
Essentials for Hiking with a Small Dog
water — this one is essential. I always bring a large water bottle with enough water for all three of us.
food and treats — I bring some of Olive's regular food in a small bag (these Stasher reusable bags are awesome for this). I also like bringing a few treats. These peanut butter dog treats are her favorite.
harness and leash — most parks require dogs to be on a leash (check their website to make sure). We use a harness instead of a collar because small dogs are prone to developing a collapsed trachea. The harness avoids unnecessary pressure on the neck that could lead to a collapsed trachea.
biodegradable poop baggies — gotta have these, obviously!
sweater/rain coat — small dogs can get cold easily so bringing a sweater along is a great idea when it's cold out.
a dish for food and water — we usually use a frisbee, but these travel bowls are great and this dog bowl water bottle seems cool.
a backpack or carrier — just in case she gets too tried to walk and we have to pick her up. We actually don't have a special pet carrier because I'm not sure she would sit still in it, but this one looks cute.
towel — we keep this in the car so we can easily wipe her off after hiking, especially if it's wet out. Most of time it's just her paws that need to be cleaned off, but sometimes we'll need to wipe off her belly too.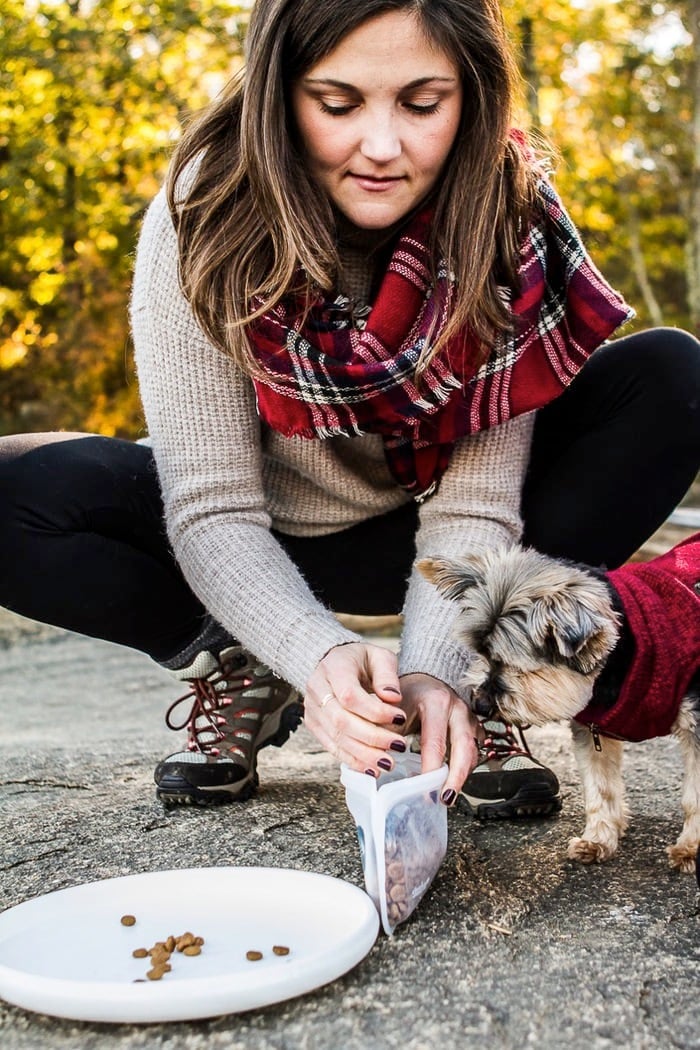 A few weekends ago we took Olive on a little hiking adventure over to Belle Isle, one of my favorite spots in the city. I say hiking (and we wore hiking boots), but it was more of a trail walk. We parked at the Tredegar parking lot, walked across the Belle Isle Pedestrian Bridge (which has an awesome view) and then walked along the trail that parallels the river. The trail loops around the island for a two mile hike, but we kept it simple and just walked out as far as we wanted, hung on the river rocks for a bit and then circled back.
It was the perfect way to enjoy the fall weather (and foliage) while getting a little exercise.
Like I mentioned, we brought snacks for Olive so once we made it to the rocks along the river we used a frisbee to feed her a few kibbles of her regular food. Isaac is an ultimate frisbee guy and brings a frisbee just about everywhere so we usually just use the frisbee to give her food and water. It works great!
I wasn't expecting her to be so hungry, but she gobbled up quite a bit of food while we sat on the rocks enjoying the river.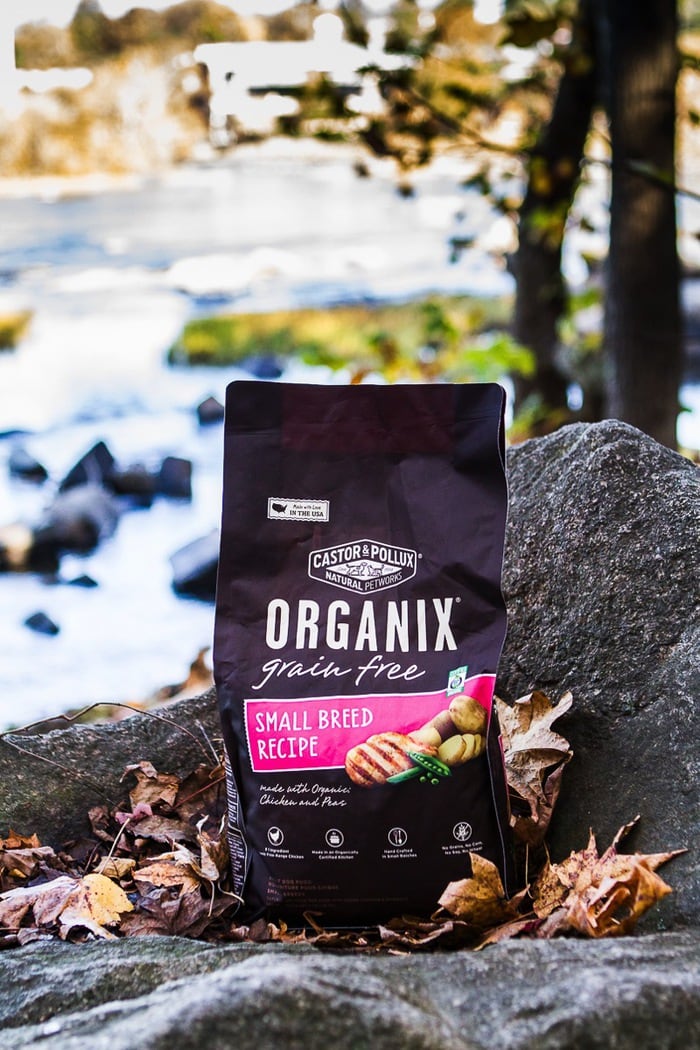 A few weeks ago I mentioned that we've been feeding Olive Castor and Pollux ORGANIX® Small Breed Grain Free recipe made with organic chicken and peas. Check out my recent post to see why we think feeding Olive organic food is so important and stay connected with Organix® by following the brand on Facebook,  Instagram and Twitter.
Do you have a small dog? Do they love to go on hikes?
This post may include affiliate links. Thank you for your support.