We finally got to take our engagement photos last week. Luckily, the weather was beautiful on Thursday and everything fell into place quite nicely. Being used to the instant gratification of digital photography, waiting to see our engagement photos was like counting down the days until Christmas morning. Seriously.
Our photographer, the lovely Michelle Chu, posted a little preview on her blog and some others on her Facebook page today. The ones she posted are amazing and I couldn't be happier to have her as our photographer. She and her assistant/boyfriend, Jon made Isaac and I feel totally comfortable during the photo shoot and her photos are gorgeous. I'm kind of in love with her!
I've included a few that I downloaded from facebook so the quality isn't as great as those you'll see on her blog, but I had to show you all some.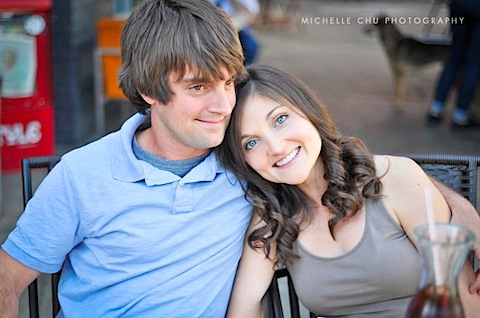 I was super nervous about the photos. I scoured wedding forums for engagement photo tips – what to wear, should I get my hair and makeup done?, where in Richmond is the best place to take photos, etc. It took me weeks to pick out where we would do them and what I was going to wear. I wanted the photos to be perfect so I got my nails and hair done and had my friend Laurel, who is one of our bridesmaids, do my makeup. Laurel is a stylist in L.A. and she worked her magic on us by helping pick out our outfits, doing my makeup and coming with us on the photo shoot to help out. She's amazing and I'm so lucky that she was back home in Richmond this week.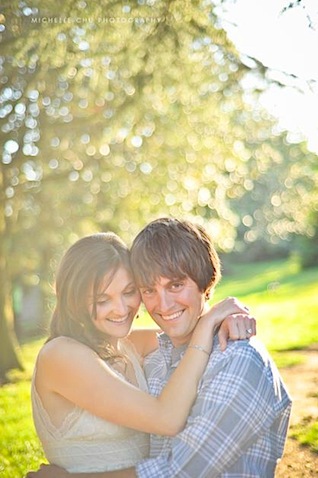 The funniest part about the ivory dress I wore is that I ended up borrowing it from Liz at the last minute. I saw her wear it to the VA is for blogger brunch at Stella's and loved it. I tried to find it at the store but couldn't so she was super sweet and let me borrow it. Thank you so much Liz – it was perfect!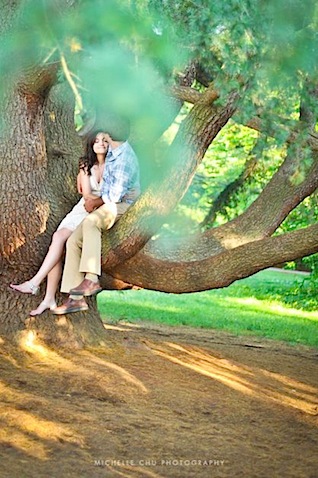 We did some of our photos at Maymont. It was the place Isaac proposed to me and it has a ton of beautiful places to take photos so it just made sense. The tree in the photo above is actually the exact spot I was sitting when he proposed. You can read the full story here.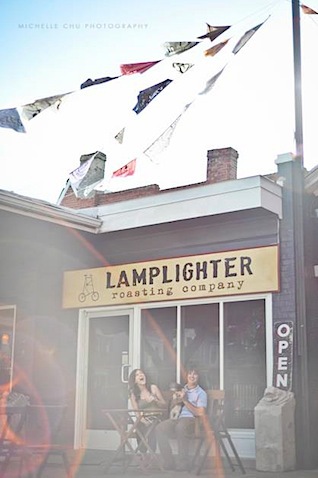 We chose to do the other part of our session at Lamplighter because it's our favorite coffee shop to walk to on Saturday mornings. Olive hangs with us outside and we sip on their delicious coffee.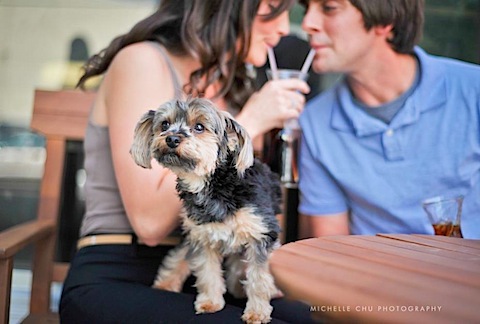 Overall, the whole experience was so fun for us. I'm no pro, but here are a few tips I have for any couples out there that are taking engagement photos soon:
Get inspired. I searched wedding blogs and photography websites to find engagement photos, hair styles and makeup looks that I liked. I pinned all my ideas on Pinterest and shared them with every one I was working with – Michelle, Laurel and my hairdresser. It worked out great because everything was in one place.
Pick clothes you feel comfortable in. You don't want to be tugging on a shirt or pulling down a dress for every photo. This is why I ended up taking back the original dress I bought from Urban Outfitters.
Coordinate your outfits but don't get too matchy-matchy.
Feel free to do your own hair and makeup, but I found it was less stressful for me to have someone else do those things. I used my normal hair dresser at Red Organics Salon and styling only cost $35.00 – it was definitely worth it!
Wear more makeup than you normally do because it looks like much less in the photos. I wanted a natural look because I don't wear a ton of makeup normally. Looking in the mirror before the photos it looked like I had on a ton of makeup but in the photos it looks natural and lovely.
Relax, be yourself and have fun – at first it's a little awkward to act natural in front of the camera, but Isaac is great at making me laugh so that helped. By the end of the session we both felt like pros.
Bring props – we used fun signs, flowers, scrabble pieces, a blanket, coffee and Olive as our props.
Pick locations that mean something to you as a couple. It makes the photos really special.
Get comfortable with your photographer. Have a few meetings beforehand and review the photos on their website to make sure you really like their style. We fell in love with Michelle as soon as we saw the photos on her website and once we met her in person, we knew she was the perfect fit for us.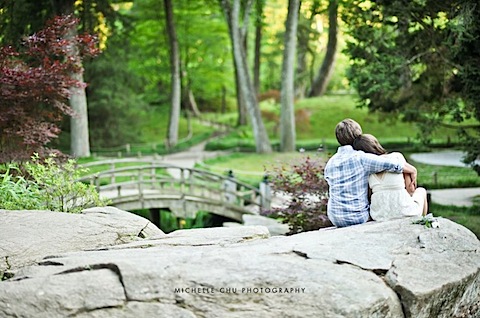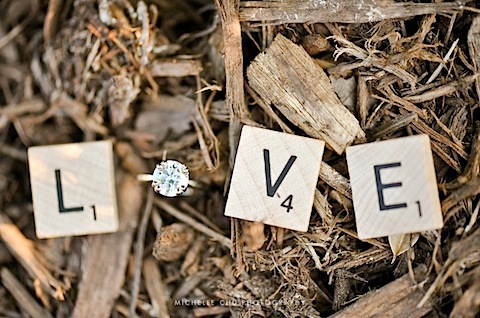 I hope you are having a lovely Saturday. We're definitely enjoying the beautiful weather here in VA.
All photos courtesy of Michelle Chu Photography.