Hi and happy Thursday morning to you. I'm excited because I have the delicious little recipe I mentioned a few days ago to share with you today.
I said was going to go out and get the ingredients to make the goo balls asap and that's exactly what I did.
Now I have a container of these babies waiting in the fridge for me at any given moment of the day. Perfection!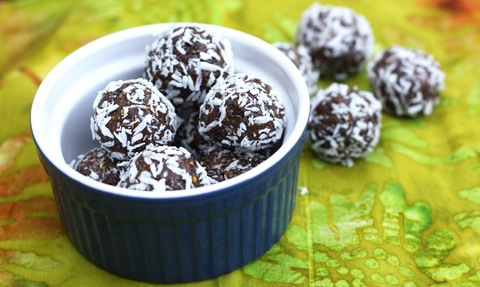 A little background behind these balls – Chef Jesse (the demo specialist at my local Whole Foods) has been talking up his heady goo balls for a few weeks and it wasn't until Monday of this week that I was finally able to experience them in all their glory. Yes, they are worthy of the word glory. 🙂
I've had different types of balls before (i.e. coconut protein balls) but none have been quite like these. Not only do they contain two of my favorite foods – chia seeds and oats, but they're packed full of other nutrient dense ingredients as well including:
Cocoa Powder – High in magnesium and antioxidants.
Amazing Grass Trio of Barley, Wheat and Alfalfa Grass – Increases and sustains energy naturally, detoxifies and cleanses the body, high alkalinity helps balance acidic pH levels, strengthens immune system.
Raw Honey – Honey is said to be more digestible than any other sweetener. Because raw honey hasn't been heated, it contains vitamins and enzymes that are lost during the heating process of pasteurized honey. It is also easier on the body during digestion because of its chemical structure and it does not cause a huge insulin rush as normal sugar does. Eating local honey is also said to help with seasonal allergies. <– Find more details on local honey and allergies here.
Bee Pollen – an energizing super food that's considered a complete food, one that provides all of the 22 essential amino acids, minerals, vitamins, protein, carbohydrates, etc <–Learn more about bee pollen here.
We recently bought raw local honey and bee pollen at the Forest Hill Farmers Market so I had both of these items on hand. If you don't already have them, they should be relatively easy to find at your local farmers market or organic market. The Amazing Grass and chia seeds can also be found at an organic market or online. With that said, don't let not having one or two ingredients deter you from making the recipe – I'm a big advocate of experimenting with what you have on hand.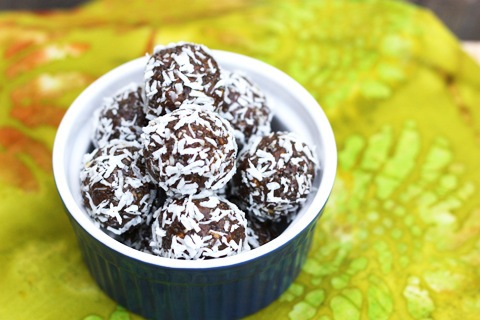 As you can see, the goo balls will boost your energy and your immune system. They're perfect for a pre or post workout snack, a small breakfast on the run or a mid-afternoon pick me up. And, don't worry, the reason I like them isn't only for the health benefits – they taste good too. They have a nice sweet flavor from the honey and dried fruit, a little crunch from the chia seeds and a hint of chocolate!! Enough talk – here's the recipe so you can try them out for yourself.
Heady Goo Balls
Makes 25-27 balls depending on how big you make them.
Original recipe from Chef Jesse (who works at my local Whole Foods). The version I am posting here includes all the same ingredients, but is scaled down quite a bit. They can be made gluten free with the use of gluten free oats and vanilla.
Ingredients
1/4 cup Chia Seeds
1/8 cup Bee Pollen Granules
1/4 cup Old-fashioned oats (use gluten free if you're avoiding gluten)
1/4 cup Unsulfered Dried Apricots, chopped
1/4 cup Dates, pitted
1/4 cup Almond Butter, Crunchy Unsalted
1/4 cup Organic Raw Honey
1 Tablespoon Organic Cocoa Powder
1/2 teaspoon Ground Cinnamon
1/2 teaspoon Organic Vanilla Extract
1/2-1 Tablespoon Amazing Grass Trio
Shredded Unsweetened Coconut, for rolling
Preparation
Place chia seeds, bee pollen, oats, cocoa powder, cinnamon and Amazing Grass into a food processor

(affiliate link)

or mini chopper and process for 20-30 seconds or until oats are finely chopped.
Add dates, apricots, almond butter, honey and vanilla extract and process until the mixture turns into a dough ball. Work "dough" with clean hands to make sure everything is well combined.
Pinch off small amounts of the mixture (about 1.5 teaspoons full) and roll into balls. Roll balls in shredded coconut.
Store in fridge.
I hope you like these balls as much as I do! I was going to do a full recap of the Whole Foods Cooking demo from Monday night but my camera died during the demo so I didn't get photos of everything. Stephanie did a great job recapping it so just check her blog out for all the deliciousness. I liked everything on the menu and can't wait to make the Warrior Breakfast, Vegetarian Pho and Salmon en Papillote at home.