February is a fun month around these parts because we have lots to celebrate.
The festivities started yesterday for Isaac's 28th birthday! Cupcakes were involved.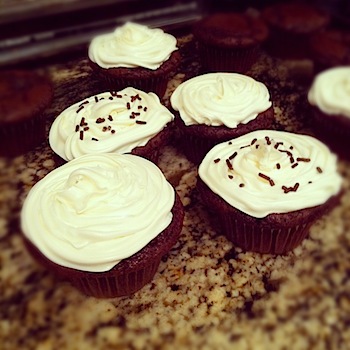 I was going to go all out and make these Ginger Cupcakes but time got away from me and I ended up grabbing a box of cake mix from the store at 8:30PM on Tuesday night. I felt guilty but at least it was an organic mix, right?
I made up for using boxed mix for the cupcakes by waking up early to make Isaac's favorite breakfast – Egg in a Hole! I'd actually never had this little gem before meeting Isaac (I guess my Dad taught me the microwave egg in a bowl thing instead), however it's such a great idea. "Grilled" bread with a cooked egg in the middle! Typically the hole in the middle of the bread is a circle that you cut out with a shot glass/round cookie cutter but I decided to make a heart version. <– Perfect for my sweetheart on this b-day. 🙂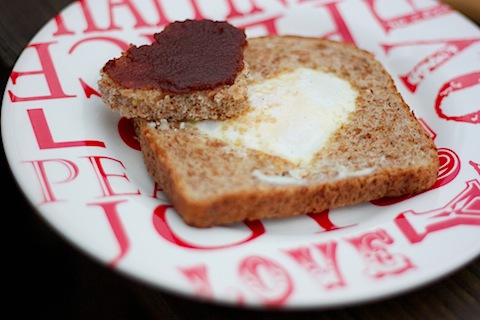 1
adjust servings
Ingredients
1

teaspoon butter

1

slice bread

1

egg
Instructions
Using a heart-shaped cookie cutter or a knife, cut a heart shape out of the center of the bread.
In a medium non-stick skillet over medium low heat melt butter. Place both pieces of the bread (heart stencil and cut-out heart) in the skillet. Cook about 2 minutes, or until bread is toasted on one side.
Flip both pieces of bread over and add the egg to the center of the cut-out heart. Cook 2-3 minutes, or until white of egg is cooked, flip bread with egg if needed.
Salt and pepper to taste. Spread heart cut-out with jam or apple butter, if desired.
After work we met up with friends at Mekong, a local Vietnamese restaurant that has the biggest beer selection of any restaurant here in Richmond. Of course Isaac loves this place!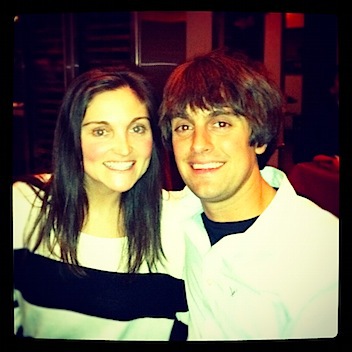 We ate, drank, talked and ended up at home just in time to watch Modern Family. It was the perfect b-day celebration!