Eating for Fertility
9
Published Aug 30, 2019, Updated Mar 20, 2023
While there is no magic answer or solution for getting pregnant, there are things you can do (and eat!) to boost your fertility. Today I'm breaking down the foods to limit and enjoy to increase your fertility.
Since announcing our pregnancy a couple of months ago, I've been asked numerous times about our pregnancy journey and how I went from having hypothalamic amenorrhea to getting my period back and getting pregnant. This definitely wasn't an easy or quick process… especially healing my hypothalamic amenorrhea. It took almost 2 full years!
After struggling for so long to get my period back, I was naturally worried that it might take us a long time to conceive once we started trying to get pregnant, but luckily that wasn't the case. Once we started using ovulation tests and timing everything out, it took about 3 months. I know this is quick and I honestly feel so blessed because I know the process of getting pregnant can be long and hard for many. If you're at this point right now, know that I am thinking of you and sending you all the positive pregnancy vibes.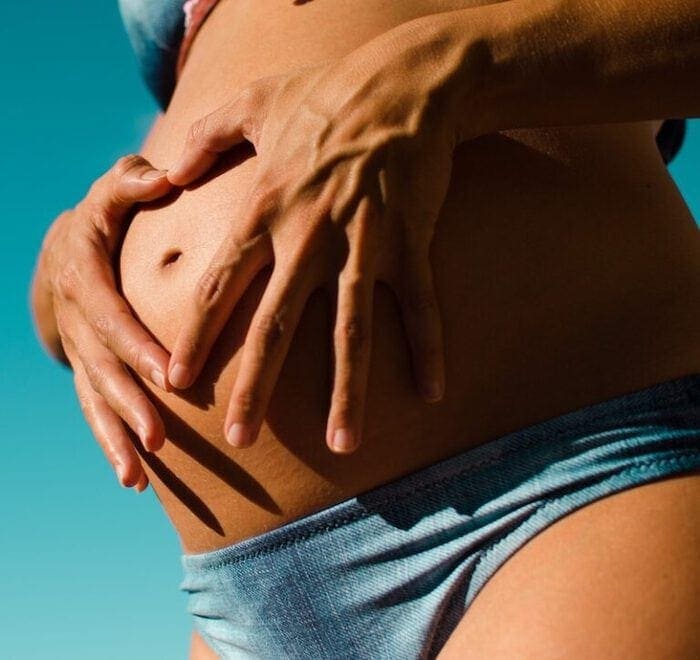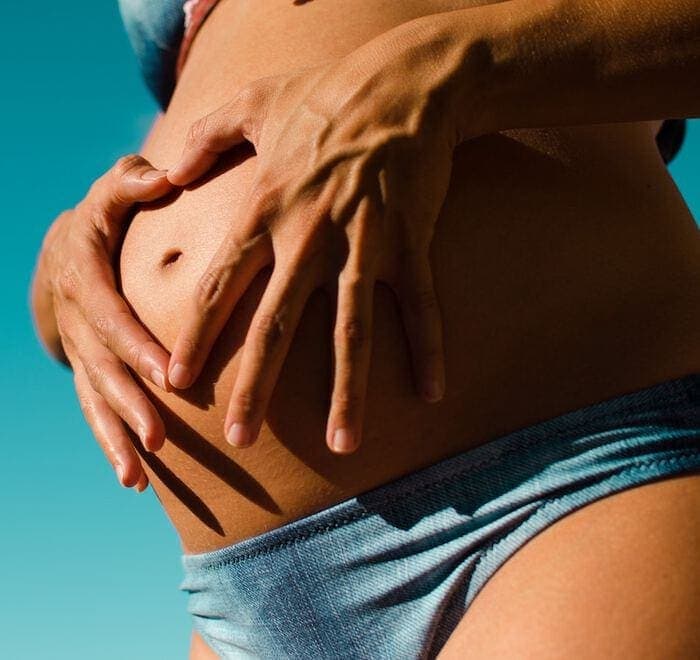 When researching for this post I found two interesting fertility stats:
10-15% of couples struggle with infertility. (source)
Diet and lifestyle changes can help boost fertility by up to 69%. (source)
Pretty incredible huh? Food is so powerful, especially when it comes to fertility, so I wanted to dedicate a post to eating for fertility! Whether you're struggling to get pregnant, trying to get pregnant, thinking about getting pregnant or just straight up want to be eating the healthiest foods for your body, this post is for you.
I should mention that during my journey to healing hypothalamic amenorrhea, I started going to an acupuncturist for fertility and have continued to go through my pregnancy thus far. The cool thing about acupuncture and Chinese medicine is that food is encouraged as the first form of medicine and there are specific foods that you should limit or avoid while trying to conceive.
Foods to Limit/Avoid
I don't love cutting things out of my diet completely because I believe in eating a balanced diet without restrictions, but my acupuncturist did recommend that I cut back on the items below, which wasn't too hard since I typically limit (or avoid!) these:
Alcohol
Coffee – the recommendation is to limit coffee to 1-2 cups a day
Gluten
Overly processed foods – refined carbs and sugary foods/drinks
Dairy
Trans fats
Unfermented soy (tofu, edamame and soy milk)
This isn't a food, but tobacco and recreational drugs are obviously on the avoid list as well.
Foods to Enjoy
Now on to the fun part – foods to enjoy on the regular! As you'll notice, there aren't any magic ingredients that sky-rocket your chance of getting pregnant. I know this may feel discouraging to some, but I view it as a positive! If you're eating a balanced diet overall, you are supporting your body to create life.
Foods high in antioxidants
Free radicals can damage sperm and eggs so it's helpful to enjoy antioxidant-rich foods to combat this. Some foods that are high in antioxidants include:
Berries

Nuts

Dark chocolate

Kale

Black beans

Cabbage 
Antioxidant-rich recipes to try: Antioxidant Salad, Maqui Berry Smoothie Bowl, Health Nut Smoothie
Healthy fats, specifically omega 3 fatty acids
Healthy fats help regulate your hormones and omega 3 fatty acids are particularly important. Foods high in omega 3 fatty acids include avocados, nuts, chia seeds and salmon.
Looking for some omega 3 rich meal ideas? Try these: Superfood Salmon Salad, Chia Pudding, Egg and Avocado Bowl
Anti-inflammatory foods
In general, we want to limit the inflammation in our bodies. Turmeric, healthy fats, ginger, and berries are all great foods that fight inflammation! You can add turmeric to your everyday cooking and start looking for recipes that include it like my turmeric tahini dressing or this golden milk smoothie.
Plant-based protein
Some studies have shown that swapping animal protein for plant protein could increase fertility. You don't need to go full vegetarian or vegan but make it a goal to try out more plant-based meals! I happen to know a great place you can find lots of vegetarian recipes. 🙂
Bone broth
Bone broth is the ultimate gut healer which in turn impacts your hormones! When your gut is out of whack, your hormones are likely out of whack so let's balance and heal it all with bone broth. You can make your own bone broth or buy it from the grocery store.
Superfoods/supplements
There are some superfoods and supplements that have been linked to increased libido and fertility as well:
Maca – Native to Peru, maca root powder is a great source of calcium, vitamin C, amino acids and healthy fatty acids. You've likely seen it as an ingredient in smoothies and specialty baked goods. As a potent health food, maca may help your body relieve tension and anxiety while boosting libido and overall energy levels. Try it in this malted chocolate cauliflower smoothie.

Bee products, such as bee pollen,

propolis, and r

oyal jelly – Interestingly enough, many bee products have shown to be super beneficial for both female and male fertility and the balancing of hormones. Read more about bee products and fertility here.  
Prenatal Multivitamin
Even though I aim to eat as healthy as possible, I started taking prenatal vitamins as soon as we started trying to conceive. They say you can even start taking prenatal vitamins a couple months before trying just to ensure you're getting all the nutrients you need and priming your body for the conception process. Taking a prenatal vitamin is just like taking a multivitamin.
You're basically just filling any nutritional gaps that your diet isn't providing and taking them before trying to get pregnant will do no harm. Added bonus, prenatal vitamins tend to make your hair and nails extra strong and shiny! I love the New Chapter Perfect Prenatal.
Folic acid
Folic acid is vitamin (B9) that is always discussed when talking about conception and pregnancy because it's so important for preventing certain birth defects.  There are plenty of folate-rich foods (like broccoli, brussels sprouts, spinach, asparagus, peas, chickpeas, and fortified breakfast cereals), but our bodies need more than what we can consume through diet alone. With this in mind, doctors highly recommend supplementing with folic acid two to three months before trying to conceive. This ensures your body has an adequate supply of folic acid and provides protection against neural tube defects, like spina bifida. Folic acid is one of the most important nutrients in prenatal vitamins so if you're taking a prenatal vitamin already you should be good to go on the folic acid. Just make sure it has the recommended 400 micrograms (mcg) of folic acid.
Let's Not Forget the Men
I focused primarily on female fertility and reproductive health when researching for this article, but we can't forget that it takes two to make a baby, and men can do things to boost their fertility as well. Many of the same things apply, such as eating a healthy diet, maintaining a healthy weight, managing stress and avoiding smoking and alcohol, but there are some specific foods that are known to boost male fertility, like walnuts and oysters. If you want more information about this, here are some great articles to check out: 10 ways to boost male fertility and increase sperm count and fertility foods for men.
Want to learn more about boosting your fertility with food? Check out these articles: