How to Eat Healthy While Traveling
28
Published Mar 03, 2011, Updated Jun 28, 2021
Top tips from a health coach for how to eat healthy while traveling. Whether you're on vacation or traveling for work, these habits will make healthy eating while traveling a breeze. 
I recently received a reader question about how to eat healthy while traveling and I thought this week would be the perfect time to answer his question. That's right, his question! I have more male readers than just my dad. 🙂
The question: I spend about a week every month in New York for work and my schedule is always bananas. No matter how hard I try, I always end up grabbing the quickest thing possible on the go all day and then I've starving by the time I show up to business dinners (my mantra must become stay away from the bread basket, I know your starving, but lay off!). The bad behaviors make it hard to get back on track when I return, too. Any tips on food I can pack/pick up easily that can help me avoid the gross fast food?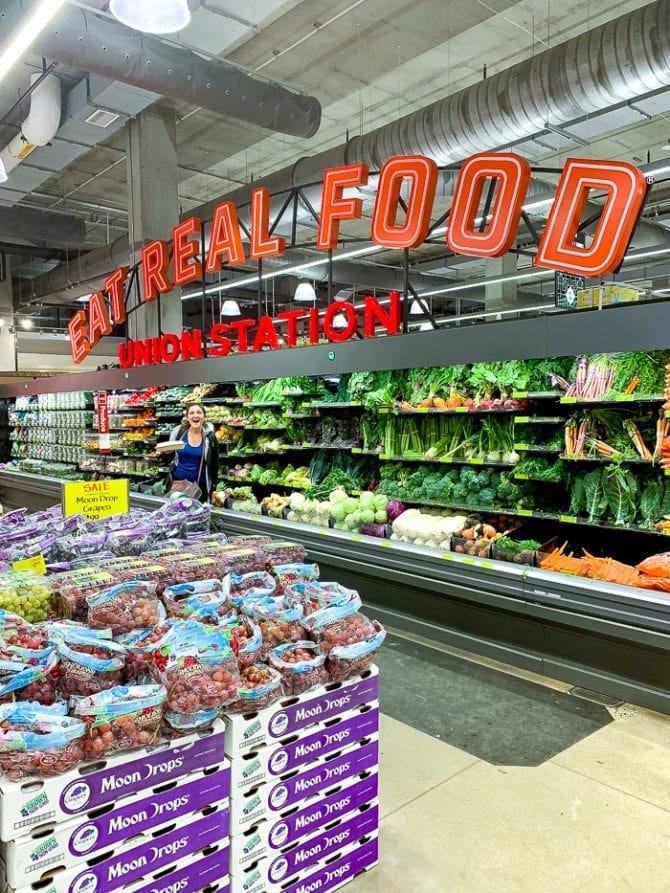 I think a lot of people have trouble with finding healthy options because let's face it, we are surrounded by fast food restaurants and convenience stores that are full of items that are obviously unhealthy and non-nourishing to us. And then there are the items that are marketed as healthy, but are really aren't (hello, Mcdonald's oatmeal). It can all be a overwhelming! So what's a busy traveler to do?
My number one word of advice is to PLAN ahead. Eating healthy on the regular takes a bit of planning and eating healthy while traveling takes even more. Here are some of my go-to tips when I'm going on a trip.
Before you leave home:
Pack snacks or meal replacements. Here are a few great ideas: fresh fruit like bananas, apples, and oranges (they're super portable), oatmeal packets (all you need to add is hot water), nuts, nut butters (some brands offer individual packets), protein bars or fruit and nut bars, raw veggies, sandwiches made at home for the day you're traveling. If you're flying and feel like being a rebel you can even try to bring overnight oats – it worked for me.
Pack a water bottle and keep it full. Staying hydrated is so important, especially when you're traveling.
Research the area you'll be staying online. Search for restaurants nearby your hotel, check out the menus online and see which restaurants offer healthy options that look good to you.
Check to see where the closest grocery store is. On your first day of a trip go buy some fresh veggies, fruit and other items you can prepare in your hotel. Yogurt is great if you have a mini fridge in your room. I pretty much always look to see if there's a Whole Foods nearby.
Plan/look over your schedule. Make sure you have time to eat a healthy breakfast and lunch so your not ravenous by dinner time.
Bring your workout gear. At the very least, bring sneakers so you can walk around the area you're visiting. You'll get in a workout and get to see the city by foot. Most of the time I wear workout gear including my sneakers on the plane. This way I'm comfy and they don't take up a ton of space in my suitcase.
Pack your daily vitamins. Keep your immune system up by not skipping on your vitamins. This is particularly important if you're not eating as much fruit and veggies are you normally would.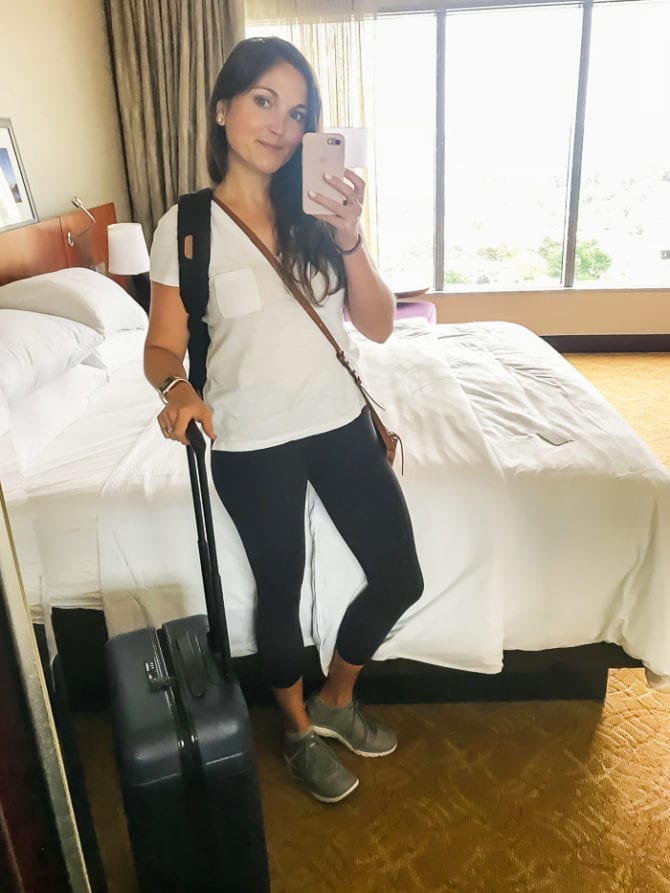 While you're traveling:
Quick/ fast food isn't always bad. My favorite place to find something healthy to eat while traveling is Starbucks. They're everywhere and actually have some decent healthy options. Check out their cooler for things like veggie trays, protein plates, fruit cups and salads (great for snacks and lunches); order oatmeal with nuts and dried fruit or check out the nuts or KIND Bars they usually offer at the counter. Just stay away from the pastry case and the high calorie coffee drinks.
Eat as healthy as possible when eating at restaurants. Choose options that will be filling with a mix of protein, healthy fat and veggies (i.e. grilled baja shrimp salad with romaine, shaved red onion, fresh palm hearts, fennel, sweet tomatoes and avocado with the dressing on the side). Make modifications to dishes to make them a bit healthier by asking for no cheese or for your protein to be cooked without oil/butter.
Skip the alcohol, when possible or choose only 1 or 2 nights to indulge. The calories from alcohol are empty and alcohol can also impair your judgment when making good food choices.
Wake up early enough to get in a quick workout and eat breakfast. Being physical can help remind you to eat healthfully and it will make you feel better throughout the day.
Overall:
Enjoy yourself! Do your best to eat healthy and stay active but don't make yourself crazy. Sometimes you won't have control over the situation (i.e. your client picks a restaurant that only serves fried food).
Don't deprive yourself. Say you're in Chicago which is known for their deep dish pizza and hot dogs. If you really want to try that pizza or hot dog, go for it!
Don't get down on yourself. You're likely to have a few indulgences or unhealthy meals while traveling. Just hop back on the healthy train when you get home!