Beet hummus is bright pink in color, subtly sweet and full of flavor. Serve with veggies for a show-stopping party appetizer or use as a spread, dip or garnish. 
You'll never believe what happened did this weekend!?! I, the girl who's probably never watched over 5.4 minutes of a football game (excluding Super Bowl commercials), joined a fantasy football league AND attended a draft party. It's an all-ladies league and it's called "Draft Who's Cutest" so I really couldn't resist.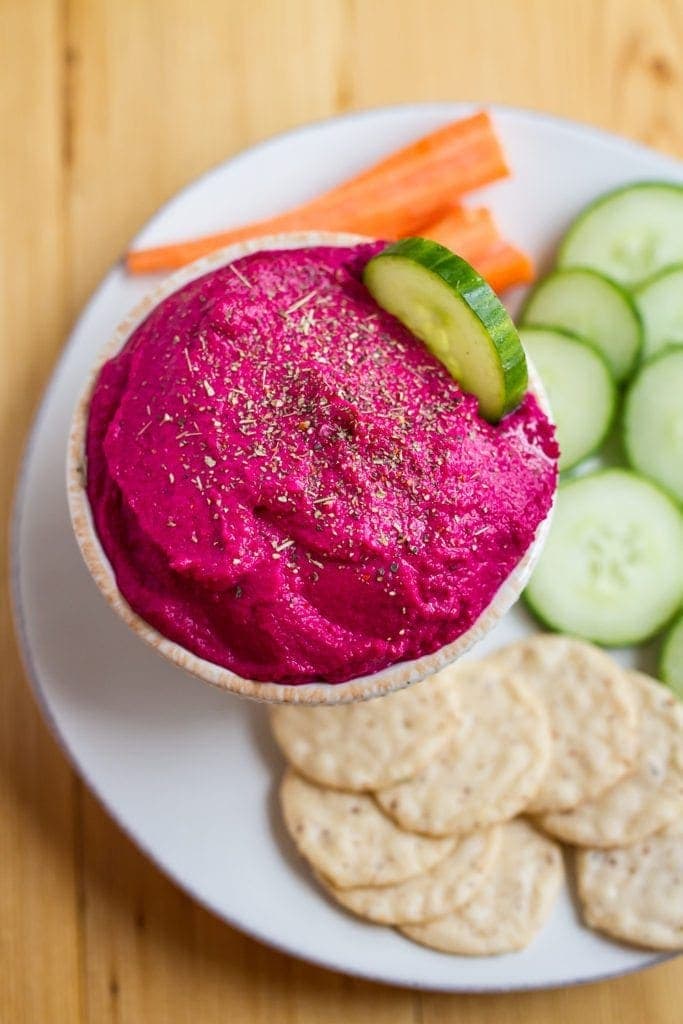 Needless to say, Isaac is beyond pumped that I'm involved in said league. I think he thinks that because of this I am going to be remotely interested in football games. Who knows – maybe this little league will turn me into a football lovin' fool. Doubtful, but I'll let Isaac dream.
I have to admit that the draft party was fun. 10 girls, beer, and lots of appetizers – what's not to like? You'll be glad to hear that I now know that a tight end is an offensive player, not a bangin' gluteus maximus.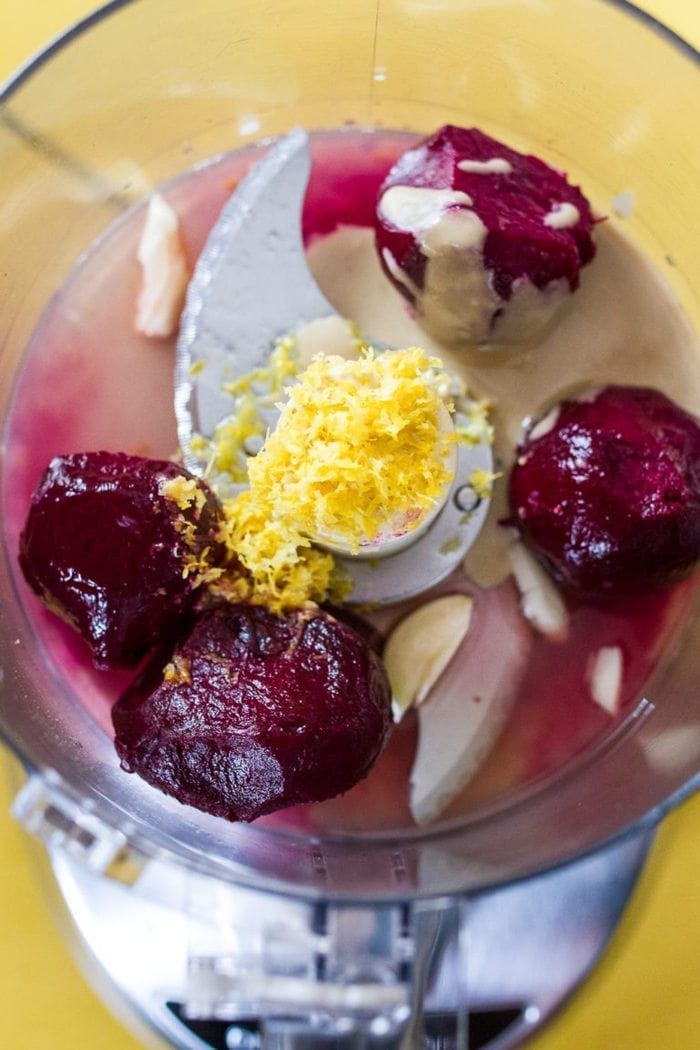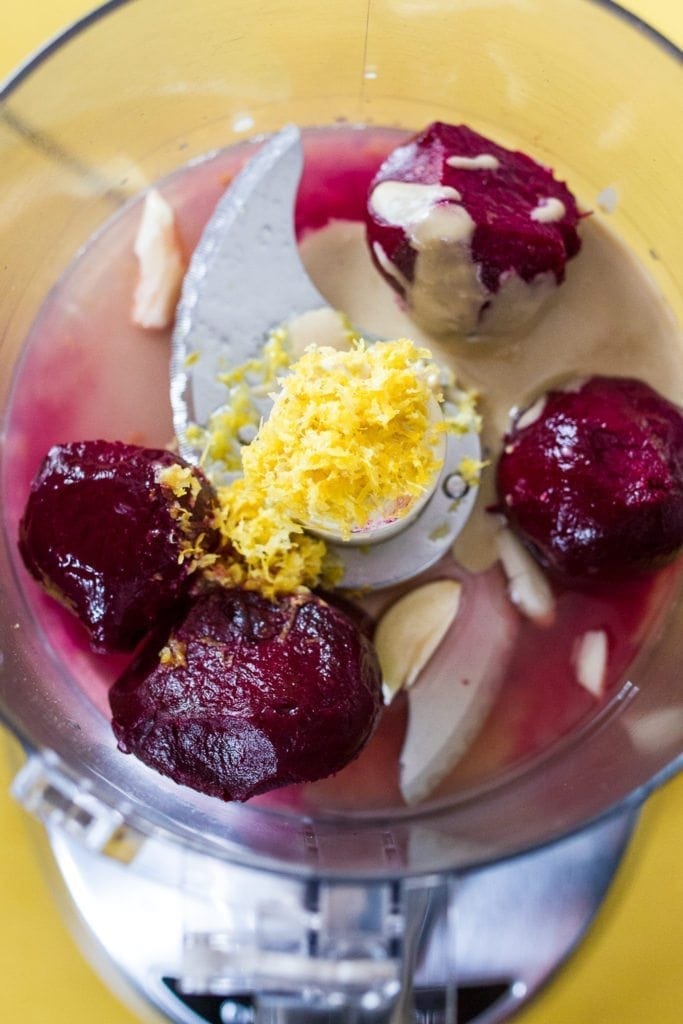 I couldn't decide what dish to bring for the draft party. It's funny, I have all these (great!) recipes on the blog, but I'm still at a loss every time I need to take a dish somewhere. It's interestingly similar to the fact that my closet is full of clothes, but I never have anything to wear….
Anyhow, I rummaged through the fridge and found a big bag of beets from a CSA purchase and decided I'd make some beet hummus.
As I mention in the recipe you can use boiled or roasted beets. Just be sure to remember my tip for smooth hummus, removing the skin of your chickpeas! I show you how in this post.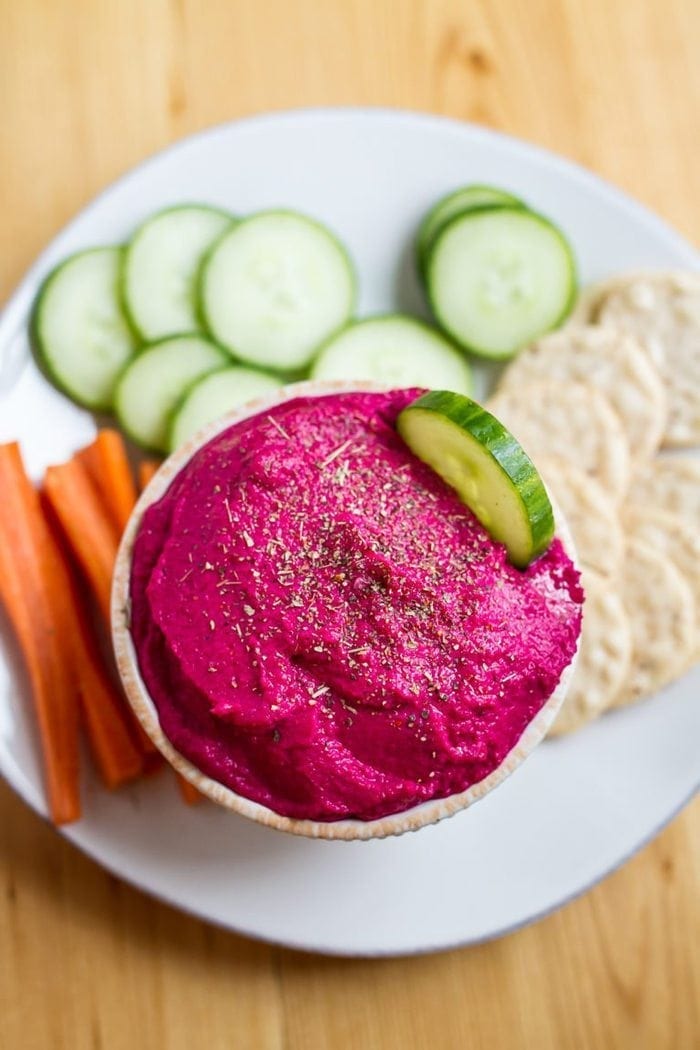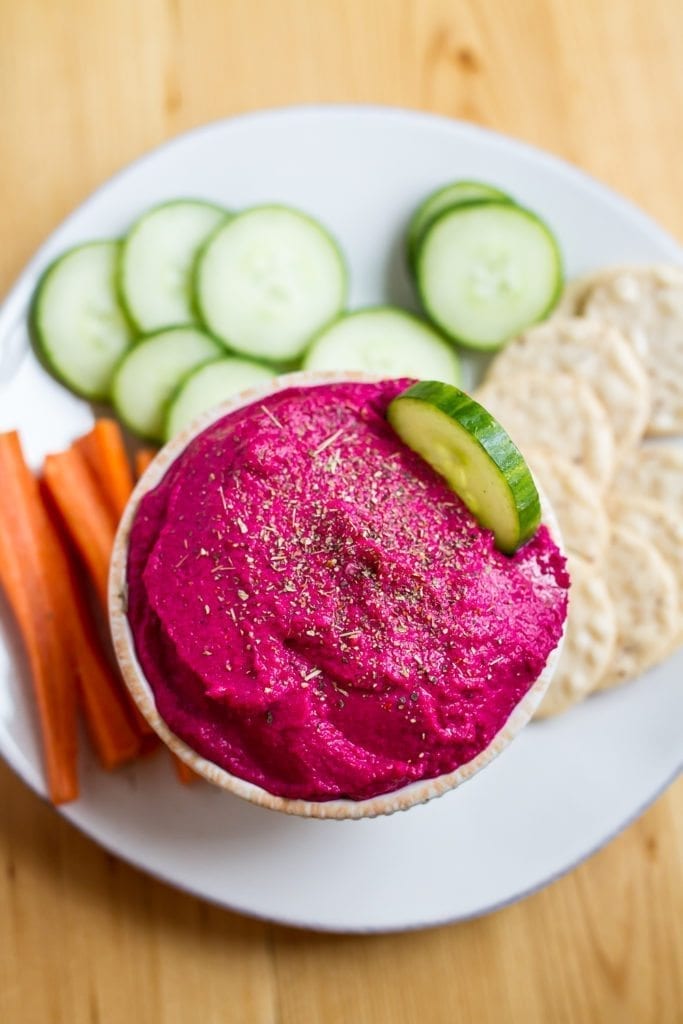 I loved the pop of color it added to the table of appetizers and the flavor is delicious — like regular hummus with a hint of sweetness, which I like! Most of the ladies who tasted it said they liked it as well, so I'll take that as a success.
Print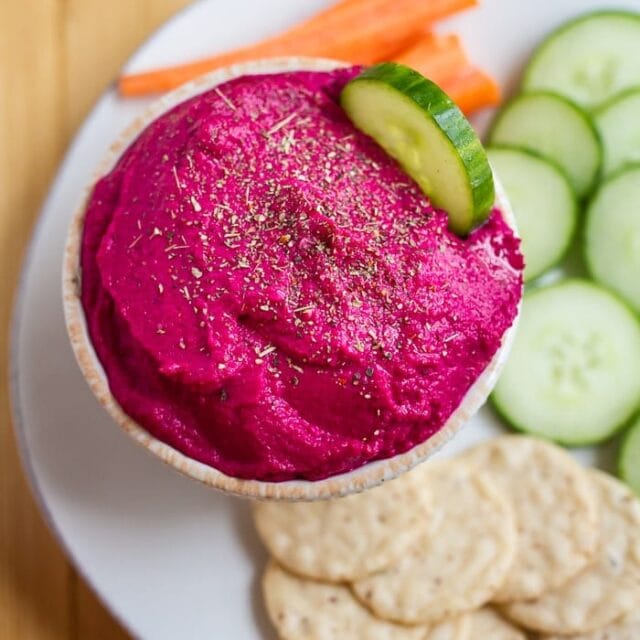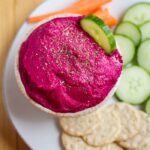 ---
Description
A healthy and vibrant chickpea dip made with cooked beets and traditional hummus ingredients.
---
Scale
Ingredients
1/2

lb. whole beets

1

15 oz. can about (

1 1/2 cup

) cooked chickpeas, skins removed*

1

lemon, about

2 Tablespoon

s lemon juice and 1/2 Tablespoon lemon zest

2 Tablespoon

s apple cider vinegar

2 Tablespoon

s tahini

1 teaspoon

olive oil

1

–

2

cloves garlic, minced

1/2 teaspoon

sea salt
ground pepper, to taste
---
Instructions
Wash and cook beets. You can either boil them in water for about 30 minutes, or until they are tender enough to stick a fork through. Strain and run cold water over the beets, then remove the peels once they are cool enough to touch. The other option is to roast the beets.
Preheat oven to 375° F. Coat beets lightly with olive oil and wrap in aluminum foil. Place on a baking sheet, and roast in the oven until cooked through, approximately 45 to 60 minutes.
Remove from the oven, let cool for 10 minutes, and then peel.
Place peeled beets as well as all the remaining ingredients into a food processor

(affiliate link)

and blend until smooth. Pour into a serving dish and serve with pita chips, carrots, and cucumbers (or any other veggie/chip of your choice).
---
---
Notes
Alright, I'm off to clean up the kitchen and then go grab fro yo with sir Isaac. Have a lovely evening!
But before you go, riddle me this – Do you like football? Have you ever been part of a fantasy league?