Happy Friday! Are you ready for Halloween weekend? I'm not. We haven't even thought about costumes or bought any candy so I'm thinking we'll probably just have a low-key weekend. I'm actually hoping to spend most of the day on Saturday cleaning out our garage and selling stuff on Craigslist. Oh man, I just realized how lame that sounds. Hopefully your Halloween plans are more exciting!
Anyhow, today I want to share a quick recap of my trip to Charlotte, North Carolina last month for Dole's Fresh Fest. The company invited their Blogger Ambassadors (I'm one of them!) as well as Registered Dietitians to give us all a tour of the North Carolina Research Campus where Dole has a laboratory for nutrition and fitness research studies.
Throughout the three-day event we got an inside peek at how Dole Nutrition Institute conducts scientific research on fruits and vegetables and their impact our health. We toured the Research Campus, met Nicholas Gillitt, PhD, Vice President Nutrition Research and learned quite a bit about David Murdock's mission as the owner and CEO of Dole Fresh.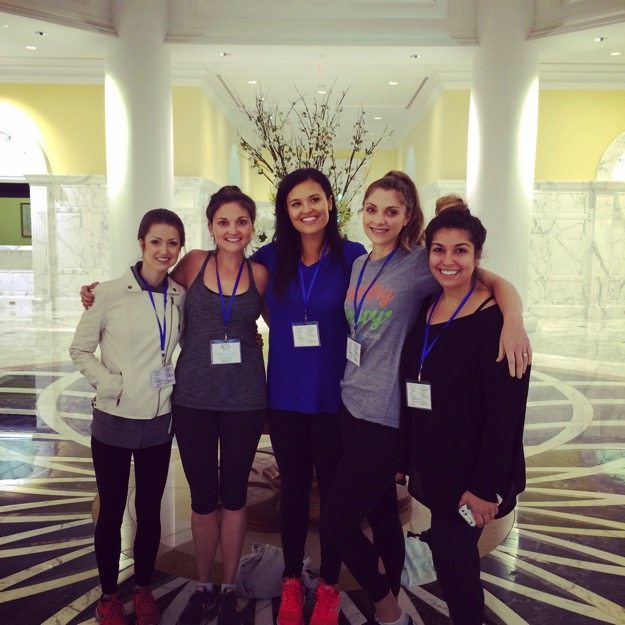 A few of the bloggers: Taylor, me, Andie, Kathy and Cat. 
I loved that the whole event was focused on nutrition and fitness —> We were served delicious, produce-packed meals — there was a chef-inspired dinner at Blue Restaurant in downtown Charlotte, a nutrient packed lunch at Restaurant 46 and a culinary demo from Dole's Chef, Mark Allison.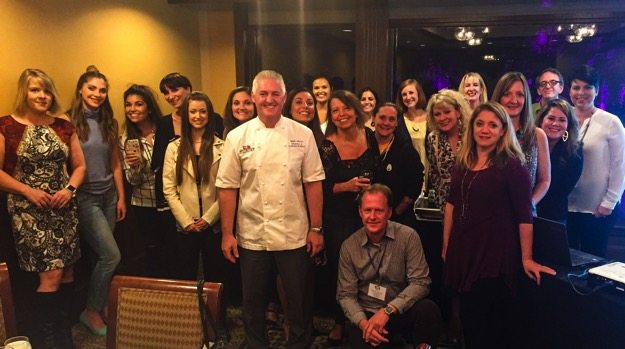 There was early morning yoga each day at our hotel and one afternoon we had an epic outdoor bootcamp workout hosted by Fresh Start Connection.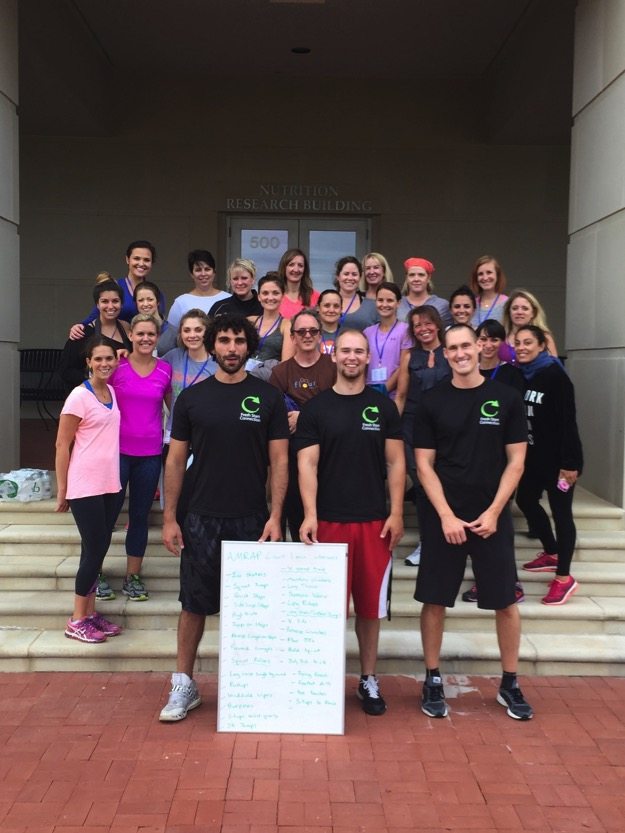 One of my favorite parts of the event (besides winning Dole Jeopardy!) was touring the Appalachian State Human Performance Laboratory where they do research and fitness testing.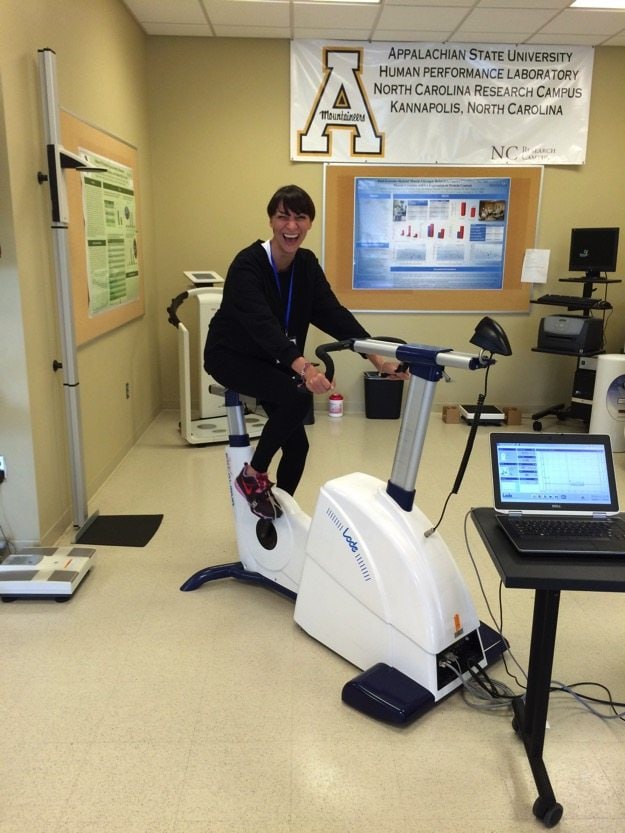 Everything they talked about was really interesting to me as a personal trainer and I even convinced the guys to let me hop in the Bodpod to get my body fat measured. The results were actually really interesting and I've been meaning to do a full post about it. Soon, I promise.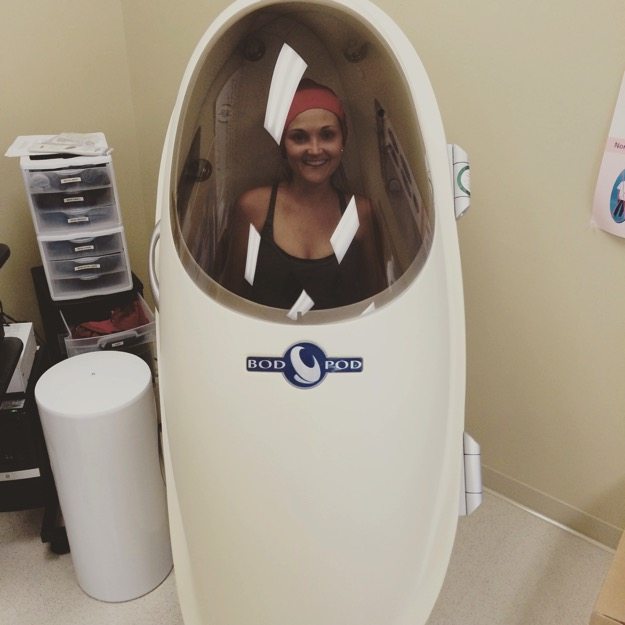 We learned a ton about the research that Dole is doing, but there were a couple nutrition findings that really struck a cord with me that I want to share.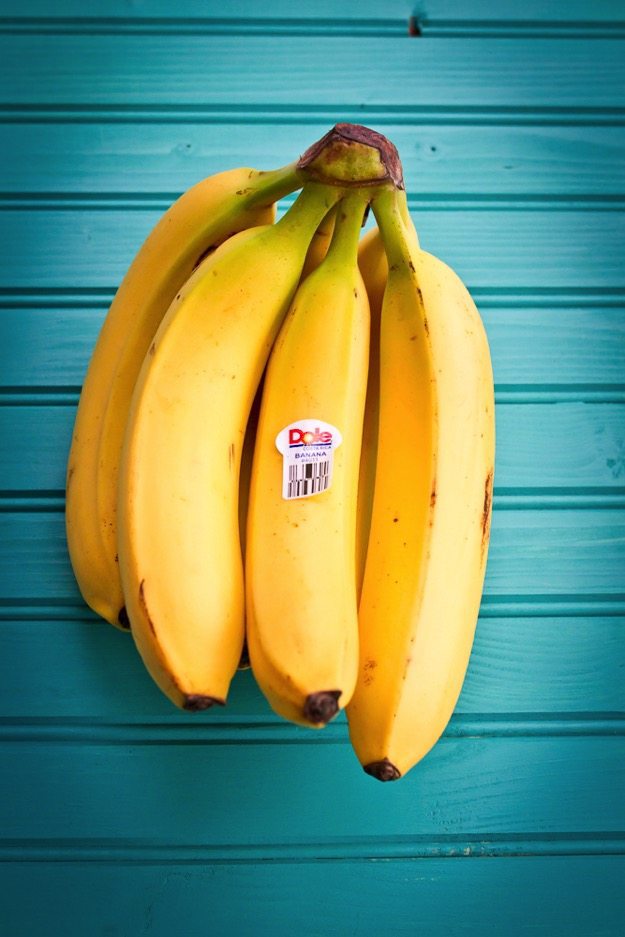 1) Bananas are just as good (if not better) than sports drinks when it comes to "fuel" (energy) for athletic performance. Bananas also offer a bigger nutrition bang and are 100% natural whereas most sports drinks contain processed sugar and artificial ingredients. Plus, bananas are cheaper! Read more about the study here.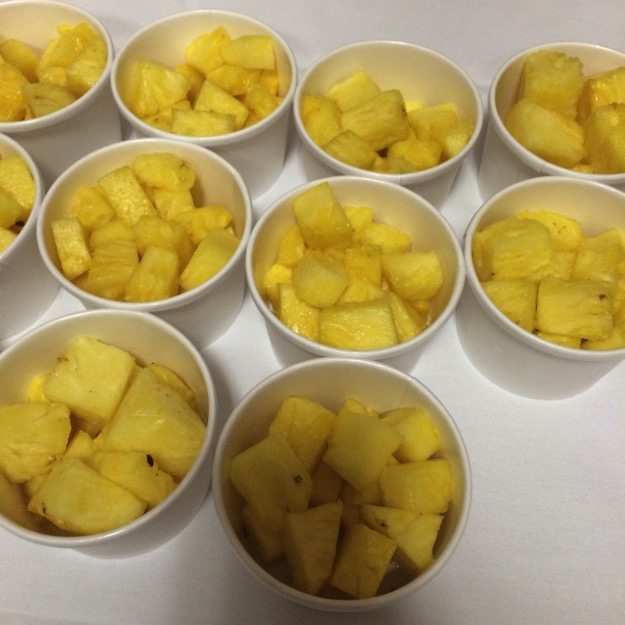 2) Pineapple is rich in bromelain, an enzyme known for calming inflammation. Adding pineapple in as part of your post-workout snack is a great way to boost your muscle recovery. This Pineapple Grapefruit Smoothie would be perfect after an intense workout!
3) The outer skin of fresh fruits and veggies contains more antioxidant compounds than the flesh. This may be because the skin is the first line of defense so the plant packs it full of compounds to help protect itself or because this is the area that is most directly "sun-kissed." Mr. Murdock takes this to heart and adds bananas and oranges, with the skin, to his morning smoothie — which I'm sharing the recipe for below.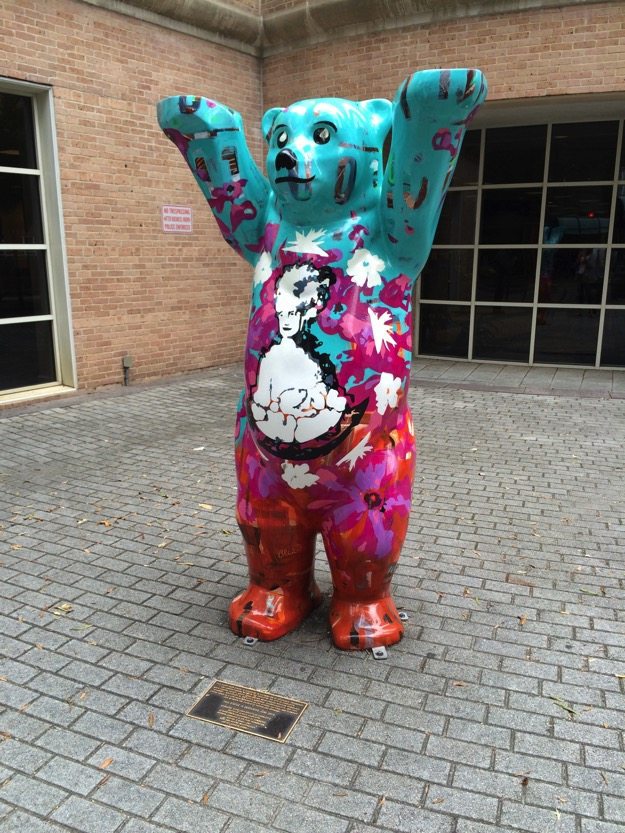 Before heading back to Richmond on Wednesday I joined the group for a walking tour of Charlotte. It was cool to learn about the city's history and also kind of creepy because our tour guide confirmed that the Dunhill Hotel (which is where we stayed) is said to be haunted by a ghost named Dusty. A few of us had already speculated that it was, but I'm glad it wasn't confirmed until the day we were leaving because I'm such a scaredy-cat. I probably would have convinced one of the other ladies on the trip to room with me.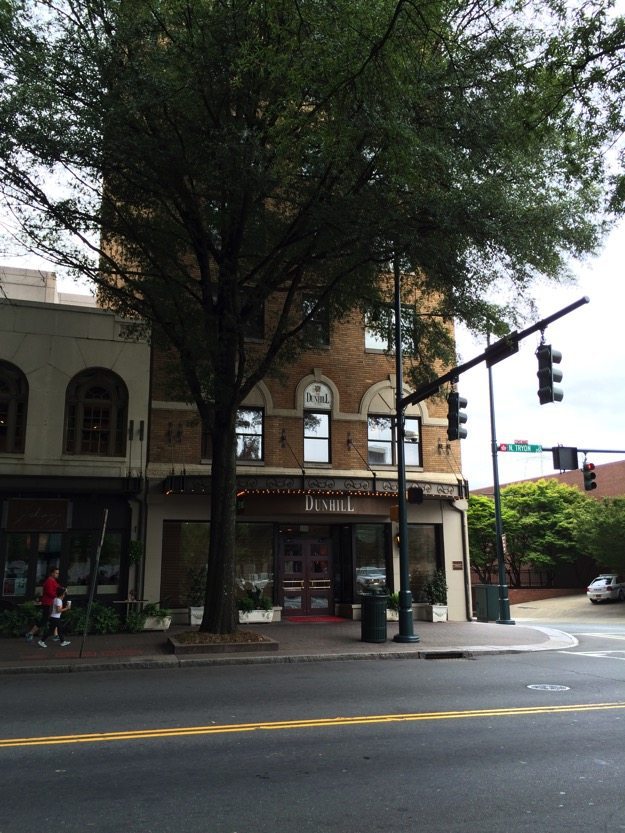 Last but not least, during the trip we were told about Mr. Murdock's daily routine of drinking a nutrient-packed smoothie every morning. He's 92, active and full-of-life so obviously he knows a thing or two about how to stay healthy. The smoothie, which contains a banana and an orange (with the peel/skin!!) and 1/2 a pineapple with the core, was way to interesting for me not to try.
All the ingredients wouldn't fit into my Vitamix at once (I tried) so I had to blend up half, add the remaining ingredients and blend everything again.
The end result was a thick and texturized smoothie with a beautiful orange hue. The initial flavor is pineappley and sweet but then the bitterness hits you and it's INTENSE. One sip was all it took for me to decide that I can't hang with Mr. Murdock — he's another level of healthy if he can drink this smoothie every morning and enjoy it.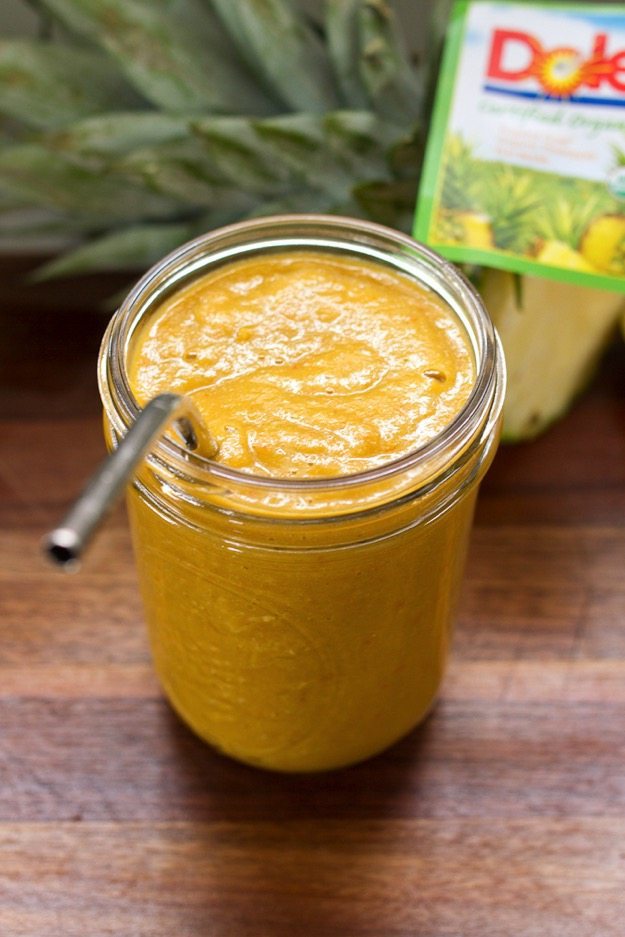 I consider myself to have a healthy-eaters palate and this smoothie was too much, even for me.  I think it would actually be really good if it wasn't for the bitterness so maybe a beginner's version would be better suited for the average person, without the full banana peel and skin of the orange. My recommendation — skip the full-on peel/skin and just save a small piece of them to toss in for the extra nutrients.
Mr. Murdock's Famous Smoothie
2
adjust servings
Ingredients
1

DOLE® Banana, with peel*

1/2

DOLE Tropical Gold Pineapple, with core

1

orange, with skin*

1

tomato

1

lemon

Handful of DOLE Baby Spinach

1

red bell pepper, whole

1

stalk DOLE Celery
Instructions
Add everything to a powerful blender.
Pulse until combined. Best enjoyed chilled.
Recipe Notes
*The peel of the banana and skin of the orange makes this smoothie really bitter. My recommendation -- skip the full-on peels completely or just save a small piece of them to toss in for the extra nutrients.
Question for you — are there any foods that you dislike but you still eat because you know they're healthy?