I do- but only recently. As a matter of fact, I have a funny story about it. Long before I had ever heard of Kombucha (or seen it on other blogs) Isaac purchased one from our local natural market. He's always trying new specialty drinks so it was not unusual that he came out with a new drink to try. I'm pretty certain he thought it was a tea. While still in the parking lot, he took one sip and made one of the worst faces ever, which was coincidentally very similar to the face I make when I taste whiskey.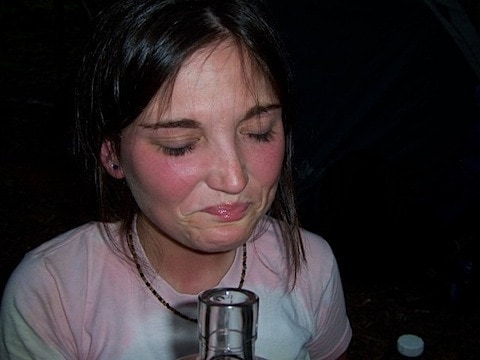 He let me taste it and I wasn't impressed either. The funny part (besides the above picture of me camping during college) is that he went back inside the store and proceeded to tell the customer service personnel that the drink must have gone bad as it tasted just like vinegar. They were like yes we know… that's how it's supposed to taste, but we'll let you return it.
So that was my first experience with Kombucha. I had no idea what it was or what the benefits were, but I knew the flavor we tried (which I can't recall) tasted awful. After seeing it pop up on blog after blog and finding out what the benefits were from my Kombucha making friend, Gina, I finally decided to give it another go. At Whole Food's on Monday evening I contemplated purchasing a SYNERGY Gingerberry. I was quite indecisive about it- and for good reason, the first time I had it, it tasted like bad wine. Not to mention it's expensive. After much thought I sucked it up and paid the $3.60.
It just so happened that I went back to the same local natural market for lunch yesterday with my company's marketing dept and I decided to try another Synergy flavor. This time I wasn't paying. 🙂
So what are my thoughts??? Since I have yet to try the 100% Kombucha drinks that Millennium produces I can only give my opinion on the SYNERGY flavors I have tried – and I have to admit that I really liked both of them! The SYNERGY is 95% Kombucha with 5% fruit juice- it does still smell/taste like vinegar and have an interesting flavor, but with all the health benefits I can't not like it. It claims on the bottle to support digestion, metabolism, immune system, appetite control, weight control, liver function, body alkalinity, anti-aging, cell integrity, and healthy skin & hair. And to be honest I've found that I really like the taste now that I'm used to it, the drinks were really filling, and they're an awesome dairy free source of probiotics.
What's your opinion? Have you tried Kombucha? Is it a do or a don't in your book?
Another blog trend that I put to the test for the first time this week was the oatmeal in a jar idea. I'm not certain which blogger was the first to come up with this little trick, but I need to say thanks to her (or him!) because it was simply amazing!!
This jar had about 1-1/2 tbsps of better n' pb left , so it was the perfect opportunity to put the oatmeal in a jar to the test.
I put my normal mixture of oatmeal, oatbran, and 1/2 a banana with cinnamon in the jar and topped it with some of my naked trail mix. As expected, it was delicious- I loved the fact that almost every bite had a bit of nut butter. Now I just have to wait for another jar to get to the bottom so I can do it again…. hmm… that shouldn't be too hard. 🙂
Have you all tried this little trick? What other food blog trends have you tried? Did you end up loving or hating them?
I hope everyone has a fabulous Thursday. I know I will as my mom is coming into town tonight for dinner and possibly staying the night. I can't wait to see her!
– Brittany