This quick and easy DIY lavender rose bath soak turns a regular bath into a relaxing, spa-like experience. Make a batch and treat yourself to an indulgent soak or package the mix into cute jars to give as a gift.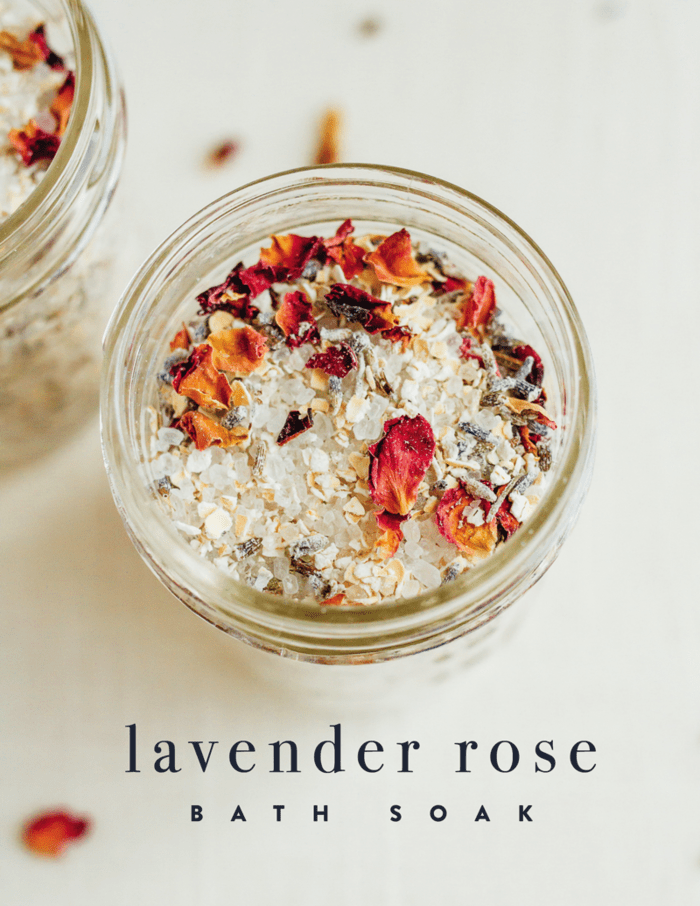 Happy Valentine's Day! I have a special treat for you and it doesn't involve anything chocolatey. If you're in the mood for that, you can check out these amazing chocolate truffles or this paleo chocolate coconut tart, but today's post isn't about food. It's about self care!
One of my favorite ways to practice self care is taking 30 minutes 2-3 times a week to take a relaxing bath. I had completely forgotten about taking baths for a while and just recently got back in the habit, out of necessity, taking epsom salt baths to help soothe sore muscles. But once I started back, I was quickly reminded just how relaxing and rejuvenating baths can be. I love soaking in the warm water while reading a book (or scrolling through Instagram). <— And yes I know having my phone in the tub is a horrible idea, but I still do it occasionally.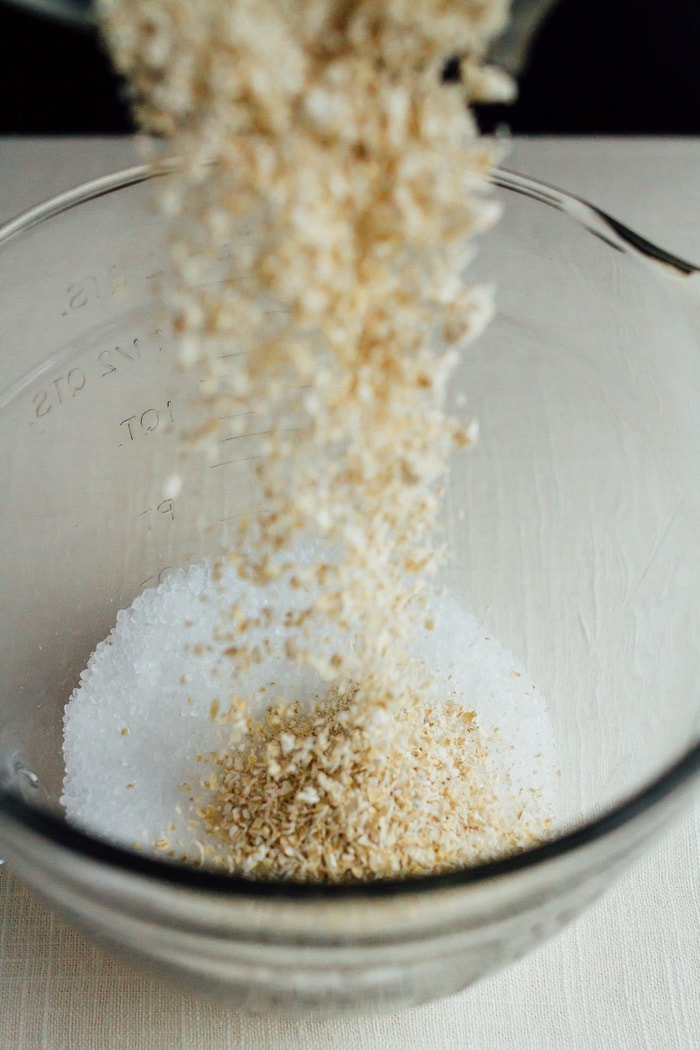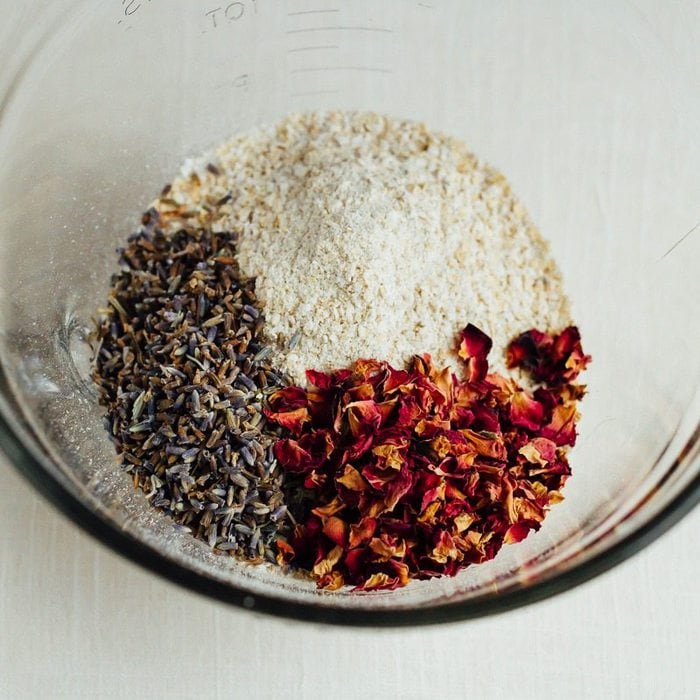 Bath soaks are amazing at relieving tension and relaxing tight muscles. If you have trouble falling asleep at night, I highly recommend trying an evening bath with this lavender rose bath soak or even just epsom salt and a few drops of lavender essential oil.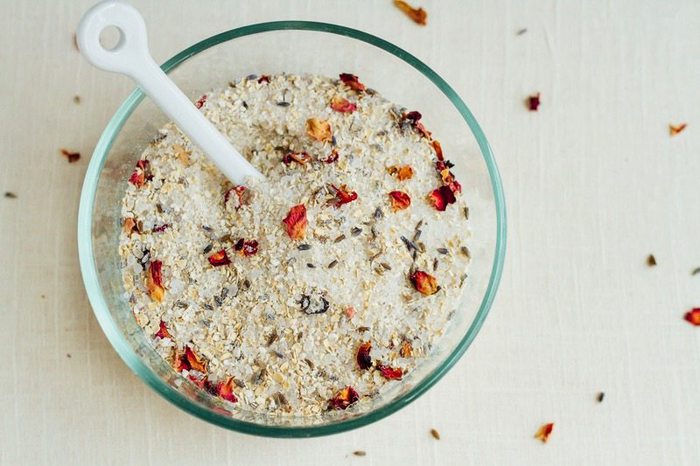 This particular bath soak is uber relaxing and soothing on several levels.
Oatmeal calms and soothes irritated and/or dry skin.
Epsom salt provides a whole host of benefits and can help with muscle recovery, wound healing, circulation and more.
The dried lavender and rose petals both have skin soothing benefits and of course, they also provide a lovely floral fragrance.
Plus, the mixture is so gorgeous with its shiny salt crystals and specks of pink and purple throughout.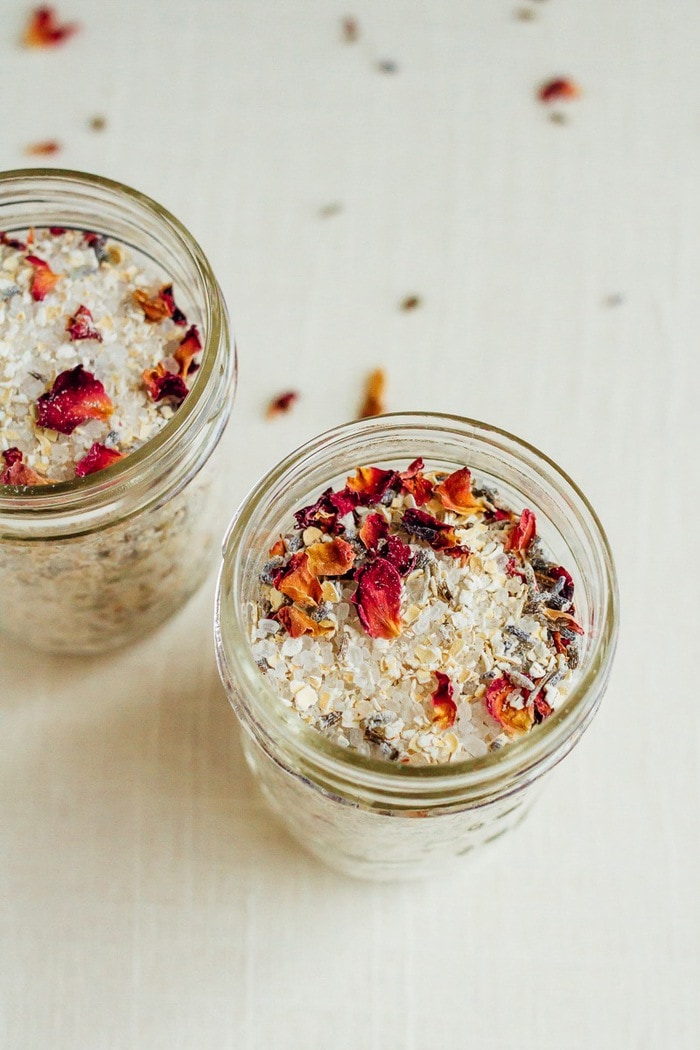 So, if you need me I'll be in the tub soaking with a few candles and a a good book… or my phone. 😉
PS — When using this soak, I highly recommend putting it into a muslin bag or mesh sachet rather than dumping the mixture into the tub with you. I took one for the team and experimented with this and it was kind of a mess. Plus having to clean the tub afterwards totally killed my zen vibe.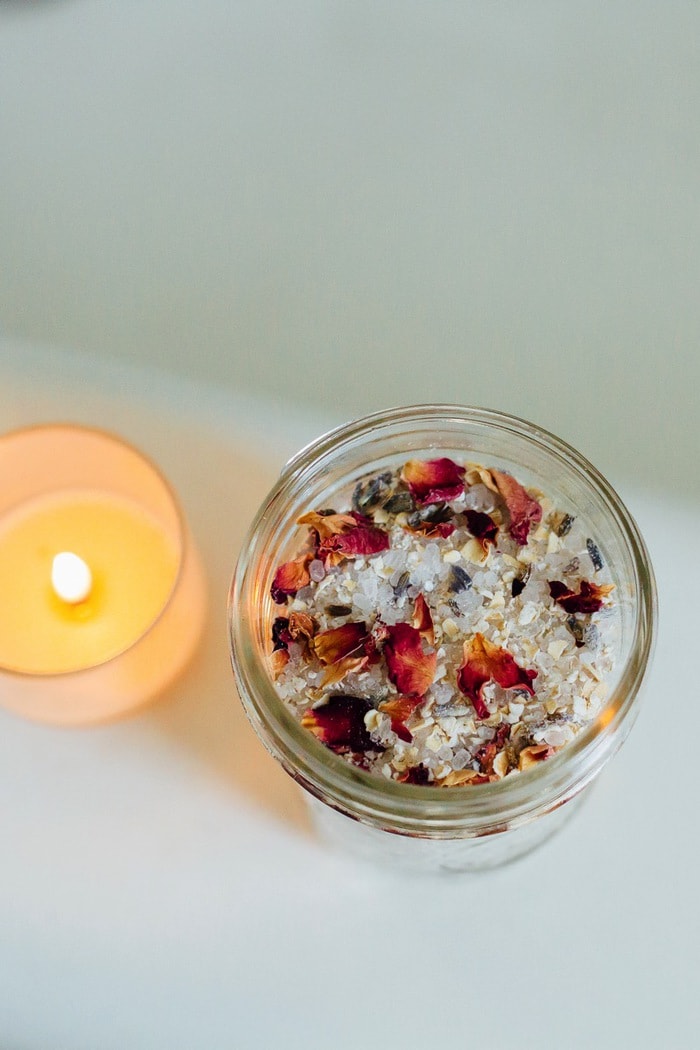 DIY Lavender Rose Bath Soak
Ingredients
1

cup old fashioned oats

1

cup epsom salt

2

Tablespoons dried rose petals

2

Tablespoons dried lavender

lavender essential oil*
Instructions
Place oats in a blender or food processor and process for 20-30 seconds, until oats turn into oat flour.
Add epsom salt, processed oats, rose petals and dried lavender into a mixing bowl. Toss to combine. Divide mixture in half and store in a cute containers or muslin bags.
When ready to take a bath add about 1 cup of the mixture into a muslin bag, pull the drawstring, submerge the bag into the warm water and let steep like a bag of looseleaf tea. You can also pour the bath soak directly into the tub, but it's kind of messy and not super relaxing to have to clean the tub after your bath.
Recipe Notes
*If you want a more powerful scent, you can add a few drops of lavender essential oil to the mixture.
**I bought my lavender and dried rose petals from the bulk bins at our local natural market, but you can also find them online.
Get the supplies: