Jojoba Rosehip DIY Facial Oil
14
Published Dec 20, 2017, Updated May 14, 2021
Rosehip, jojoba and lavender come together in this DIY facial oil with nourishing properties. Particularly good for those with dry, sensitive or aging skin. Includes printable labels, which are perfect if you're making this facial oil to give as a gift!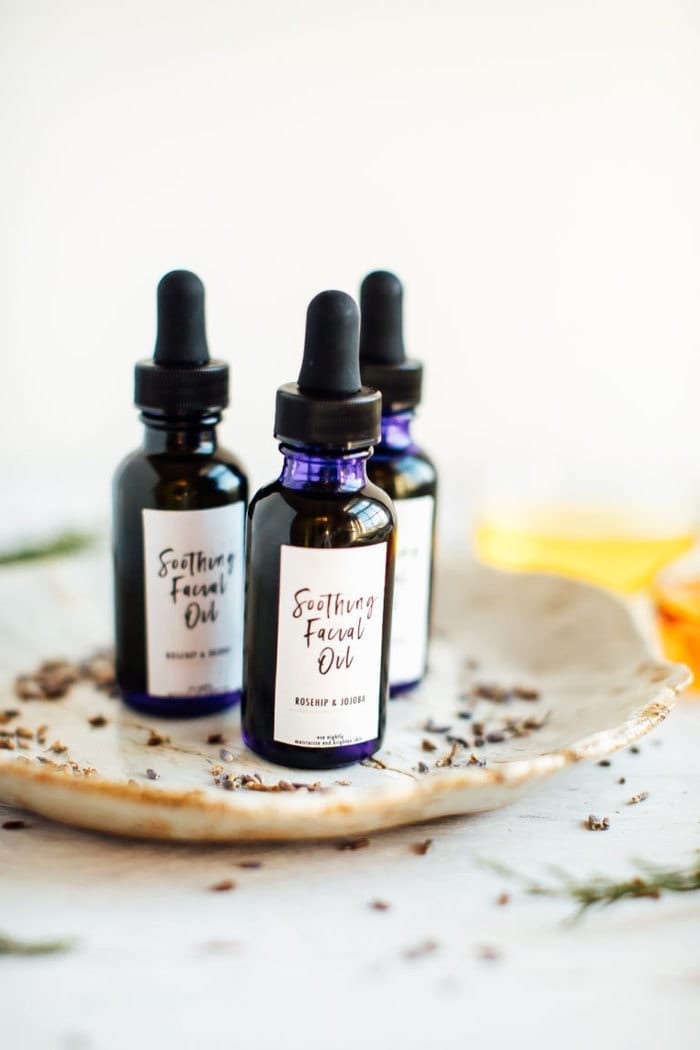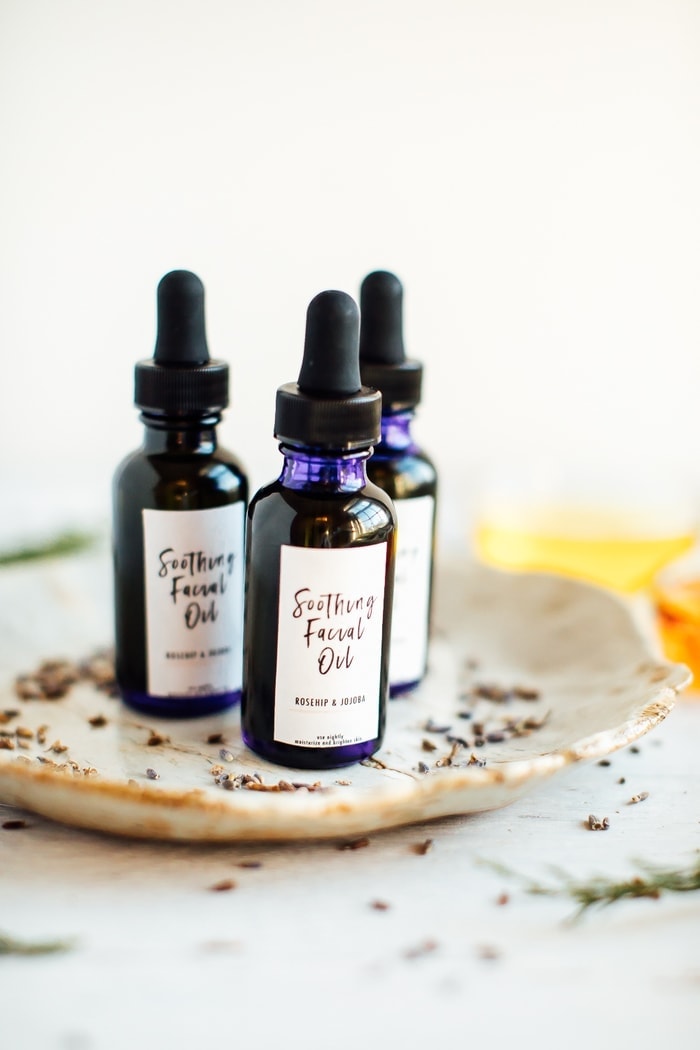 I know I'm not alone in the fact that the winter months can do some serious damage on my skin. I swear it's like the moment December hits all of the moisture is sucked out of my skin from the cold, dry air. This typically leaves it feeling irritated and looking like a semi-blotchy mess. Considering the fact that I'm definitely the type of person who embraces all things minimalist, I've made it a priority to nourish my skin in the simplest way possible.
I've been using rosehip oil alone as a moisturizer for over a year so when Sarah recommend we try making a facial oil with rosehip oil to share here on EBF I was all ears. Inspired from the directions found here, we came up with an amazing nighttime serum that has made a huge difference for our skin during the cold winter weather.
This DIY facial oil is made from only three ingredients, making it the perfect last-minute present for someone you care about. The best part is how this fun and easy project can be done by yourself or with a group of friends. Your final product is based completely on what you like and depending on your labeling can get as artsy and elaborate or as simple as you please.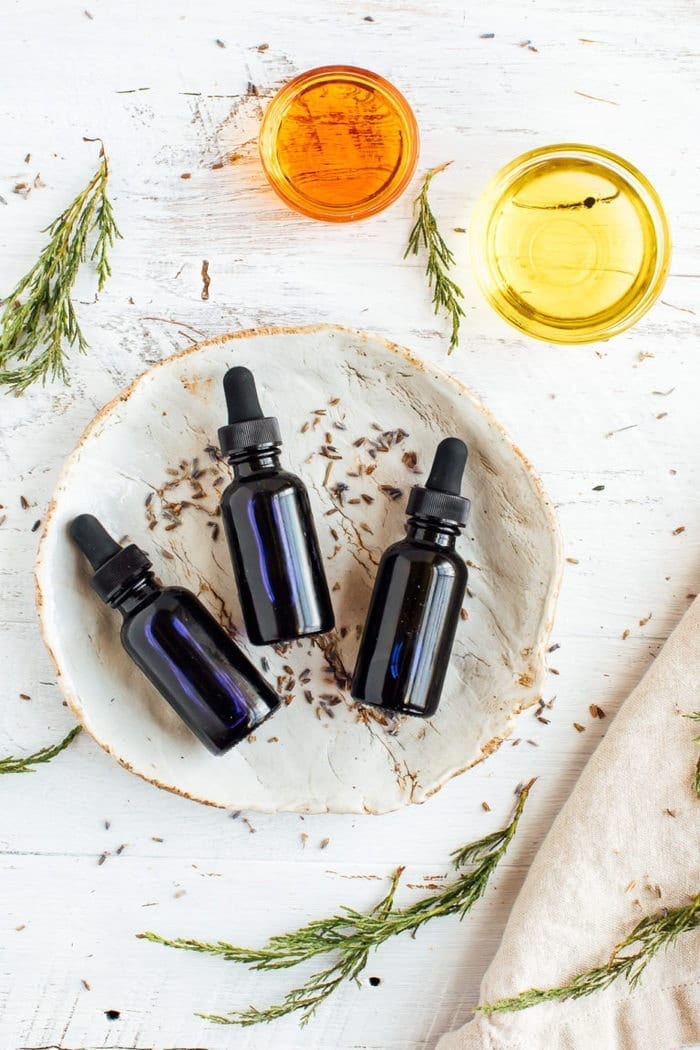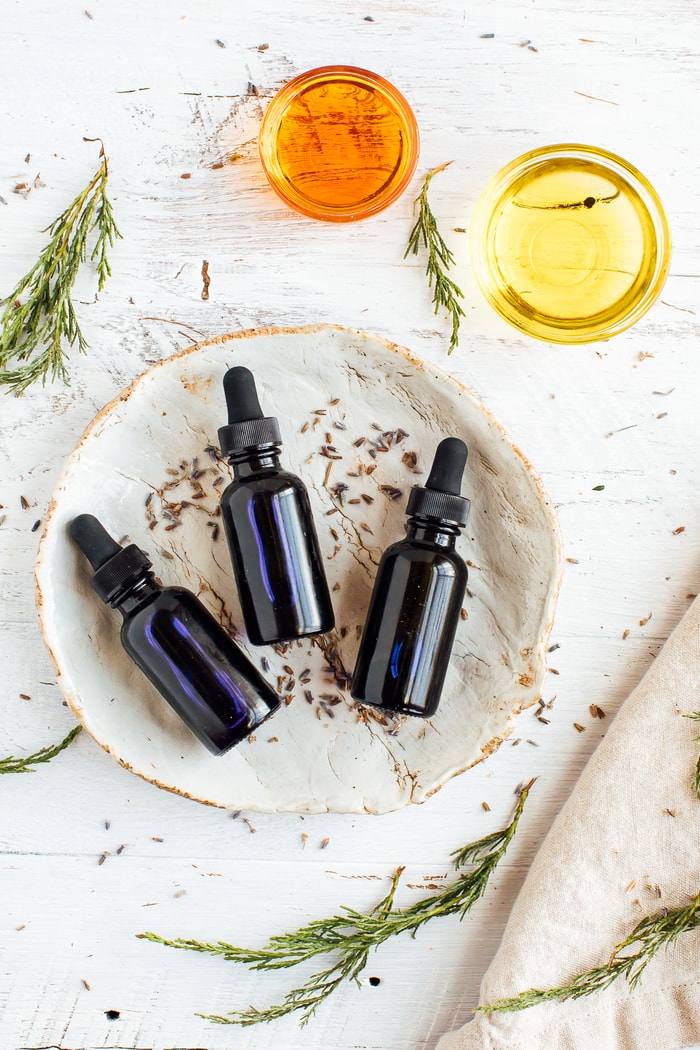 It all starts with a 1 oz. serum/dropper bottle (we've found them at Whole Foods and Ellwood Thompson's, but they can be found at most natural grocery stores). Once you have your bottle you just mix together the oils and fill it up! For this blend we're using jojoba, rosehip and lavender.
I know those of you out there with oily skin might feel a little hesitant about using oil as a moisturizing serum. However jojoba oil is incredibly light and closely mimics the oil called sebum that our bodies secrete. Jojoba oil is special because it works differently depending on a person's skin type. As the skin ages the body's secretion of sebum naturally decreases which can leave the skin feeling excessively dry. Jojoba oil mimics the sebum and helps restore skin to a more youthful look. This works backwards for skin that's very oily, with the jojoba oil removing the excess and keeping your skin balanced.
Rosehip oil is one of my absolute favorite oils to have on hand because it's so versatile! It's loaded with the fatty acids and antioxidants that your skin craves making it work incredibly well with all skin types. Rosehip oil has mild astringent properties which allow it to subtly smooth out fine lines and tighten up the skin while also brightening and evening out any discoloration. Rosehip oil is also bright orange in color so it tends to give your skin a bright, orangey glow — like a natural sunless tanner. 😉
The final part to this soothing facial oil is a few drops of lavender essential oil. I went with lavender because it gives off such a pretty, clean scent all the while providing so many beneficial properties to the skin. Lavender is known to be very calming for the skin, so it will help with the inflammation and irritation that so many of us experience in the winter months.
I mean it when I say that together these oils can truly do it all!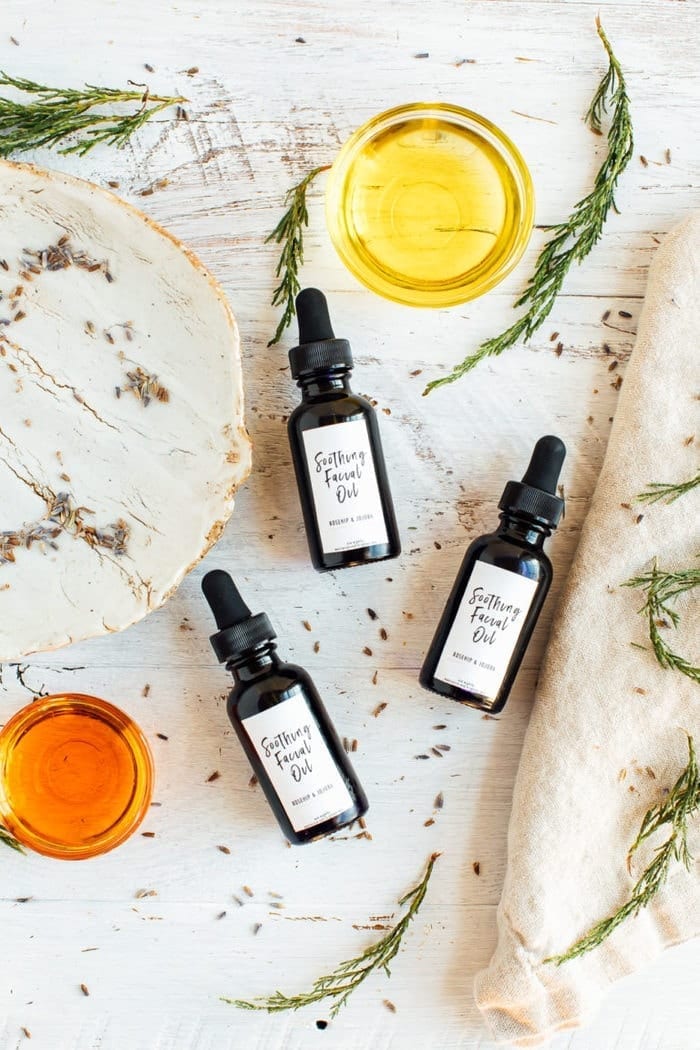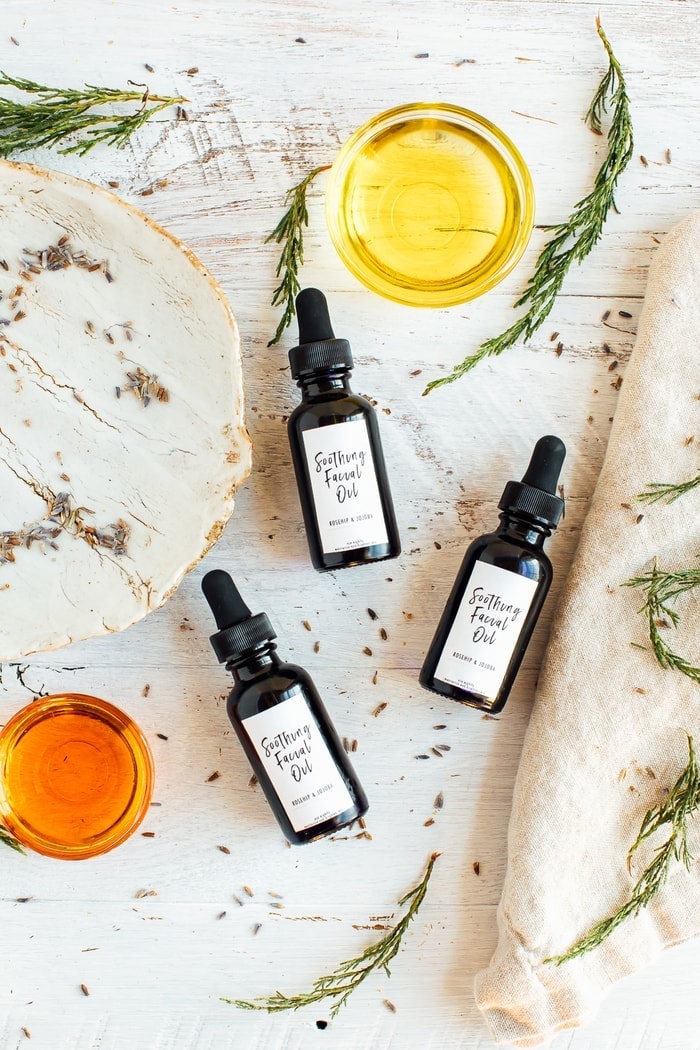 This is the perfect facial oil to get creative with! If you aren't a fan of the smell of lavender feel free to plug in whatever essential oil you have, just make sure it's non-synthetic and chemical free. (I'm a big fan of doTERRA essential oils.) If your skin is highly oily you could use lemongrass for its absorbent properties, or if you want to focus on smoothing out fine lines rose essential oil would be a great addition. My final suggestion comes for those who want to truly embrace the holiday spirit by adding in some clove essential oil for some extra festivity.
I hope you love this moisturizing DIY facial oil and last-minute gift idea as much as we do. Enjoy!
More Homemade Gift Ideas
If you make this soothing skin DIY facial oil, please be sure to leave a comment and star rating below. Your feedback is super helpful for the EBF team and other readers who are thinking about making the recipe.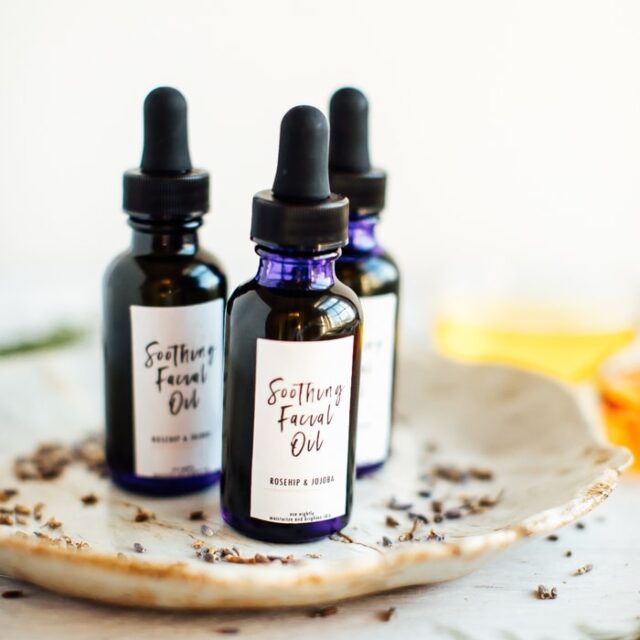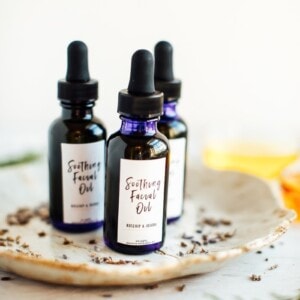 Soothing Skin DIY Facial Oil
Rosehip, jojoba and lavender come together in this DIY facial oil with nourishing properties. Particularly good for those with dry, sensitive or aging skin. Includes printable labels, which are perfect if you're making this facial oil to give as a gift!
Ingredients
12

teaspoons

jojoba oil

9

teaspoons

rosehip oil

12

drops of lavender essential oil

3

small

,

1 oz dark glass dropper bottle

small funnel

printable labels
Instructions
Mix oils together in a glass or measuring cup with a spout.

Pour combined oil into each glass dropper bottle, using a small funnel to keep from spilling. (I used a flask funnel we had around.)

To use facial oil: apply 2-3 drops of oil to your finger tips and smooth on face in an upward motion, always against gravity. If needed, you can spot-treat dry areas rather than applying to the whole face.
Nutrition information is automatically calculated, so should only be used as an approximation.