Hi friends. How was your weekend? Ours was pretty grand. Saturday Isaac helped some of our friends move while I did went to yoga at the VMFA and hit up the farmers market with Lauren. We did couple small projects around the house and I worked on some recipes for the blog, but the best part by far was hanging out with friends at their pool for the majority of the day on Sunday. If you follow me on snapchat you saw some of the shenanigans, but here's a little recap of the highlights. PS – If you're interested, you can find me on snapchat by adding my username: eatingbirdfood. 🙂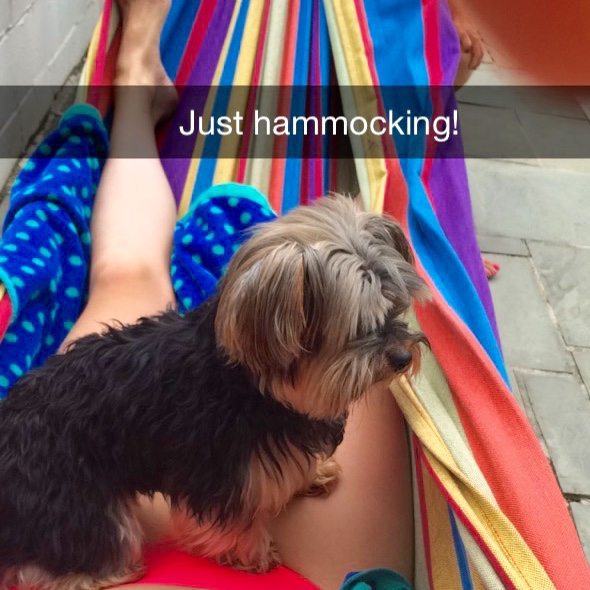 I found out that lounging in hammocks is one of Olive's favorite summertime activities.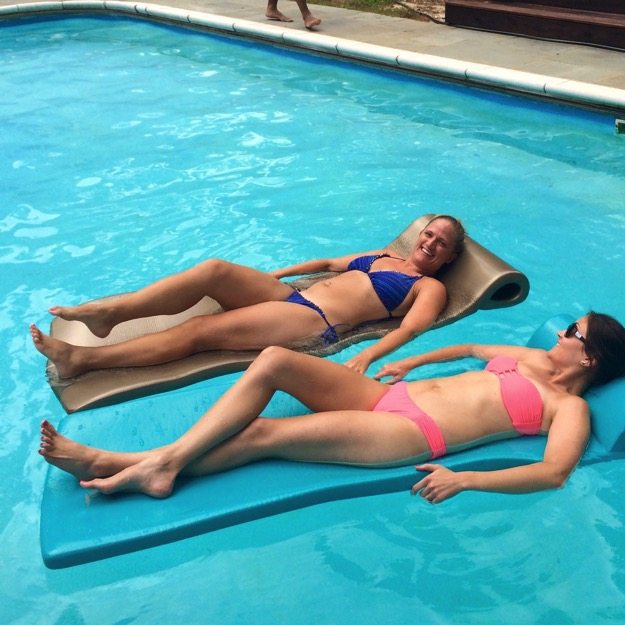 And I was quickly reminded that hanging with friends while floating in a pool is one of my favorite summertime activities. <– I could float all day.
Given that sipping beer is one of Isaac's favorite summertime anytime activities we hit up Hardywood for their newly released watermelon gosé.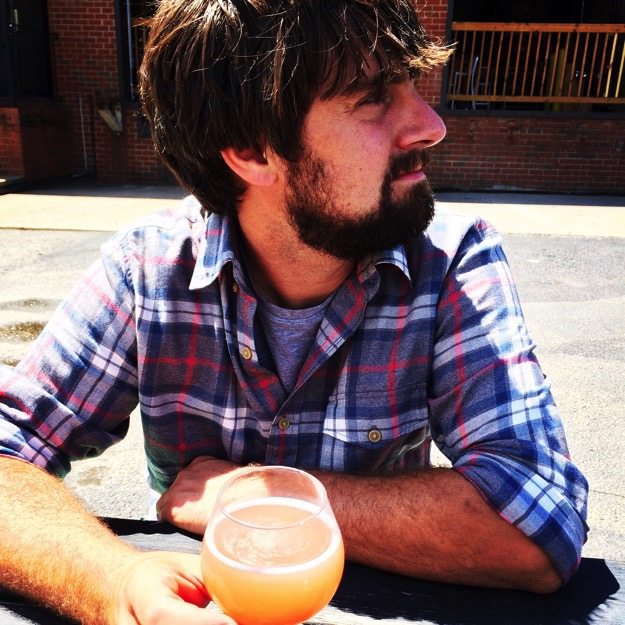 Despite the fact that watermelon juice is super sweet, the beer is quite tart, super salty (like all gosé style beers) and right up Isaac's alley.
In other news, I'm on a mission to get our new house looking cute so I've been perusing home sites like Houzz.com, looking through old Young House Love posts, pinning ideas, stalking interior designers on Instagram and doing a little online shopping.
I'll be the first to admit that decorating is difficult for us. I have a vision of what I want things to look like, but a hard time executing. My vision is basically anything minimalist, rustic, farmhouse chic /Joanna Gaines — like this: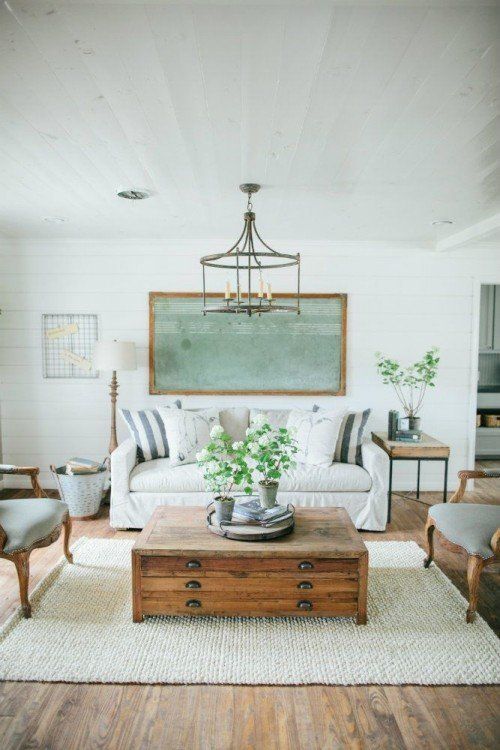 But finding all the components (at a reasonable price) and putting it all together is where I run into issues. If I could buy everything I wanted from Anthropolgie, West Elm, Etsy and Pottery Barn, decorating would be an absolute breeze. Alas, that's not the case. I should also note that Isaac is colorblind (and not super interested in interior design) so he's not much help either.
So here's a fun story about our latest home purchase — three rugs from Overstock.com. First up, two of these moroccan shag rugs.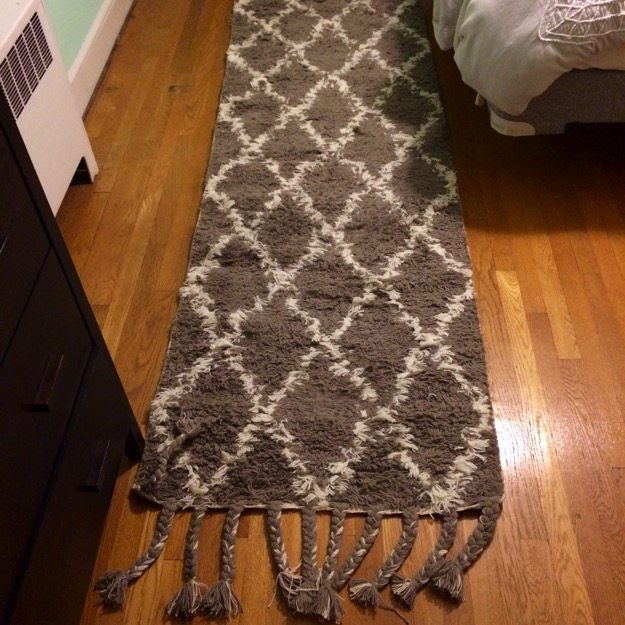 I thought we could use them as runners on either side of our bed. Great idea, except I neglected to realize that the runners were 10 feet long (yes 10!) and waaay too big to fit in our bedroom. Oops… late night online shopping brain fart. To my defense, the rug looked MUCH smaller and cuter in the photos. Plus the braided ends definitely didn't look like long horsetails either. Sending those babies back a.s.a.p.
My other rug purchase was this vintage turquoise rug, which was intended for the living room.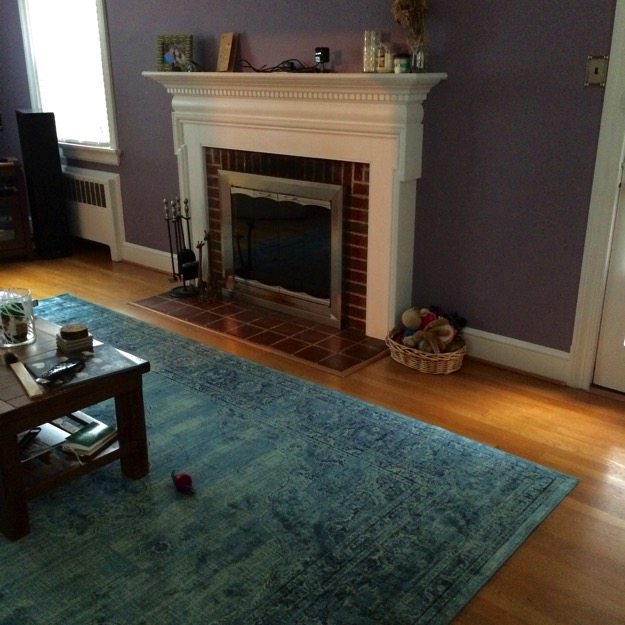 Once we laid it out I quickly realized that it wasn't a good fit — it clashed with our purple walls and it definitely didn't give the room the vibe I was going for. Not wanting to give up hope (or pay return shipping for a massive rug) we decided to try it upstairs in our bedroom instead.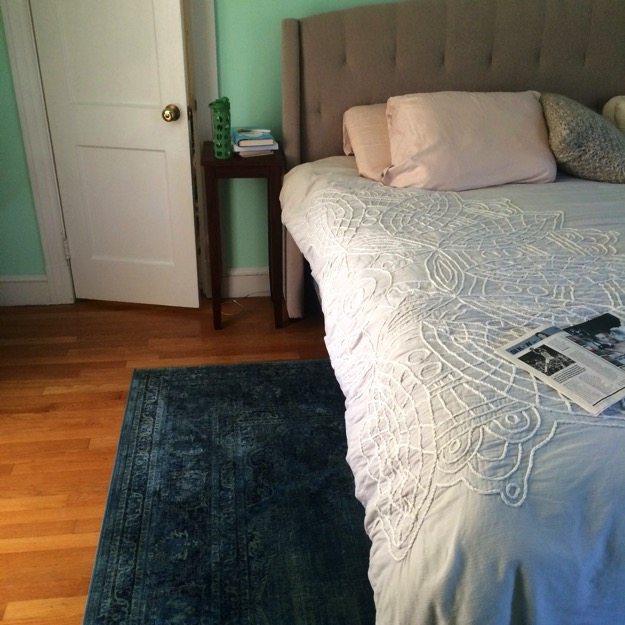 I feel like it works much better here so we're going to keep it!! That said, the rug hunt isn't over — now I'm looking for a natural/beige rug for the living room, a rug for my office and one for our dining room. We also want to find a new coffee table. Oh, and resign the kitchen and master bathroom. No big deal. 🙂
So tell me, does decorating come naturally to you or are you designed challenged like me? Do you have any favorite websites or designers for inspiration?