Date Bark
13
Published Aug 20, 2023, Updated Nov 07, 2023
This viral date bark recipe combines medjool dates with peanut butter, chocolate and peanuts. It tastes like a Snickers bar and is the perfect healthy treat to keep stocked in your freezer. Vegan + gluten-free.
If you love my snickers stuffed dates you're going to love this frozen date bark recipe, which went viral thanks to Lina @thathealthjunkie.
The base of this bark is medjool dates which are topped with a layer of peanut butter, chopped peanuts and melted chocolate. It legit tastes like a Snickers bar and is seriously SO addicting. I can't wait for you to try it!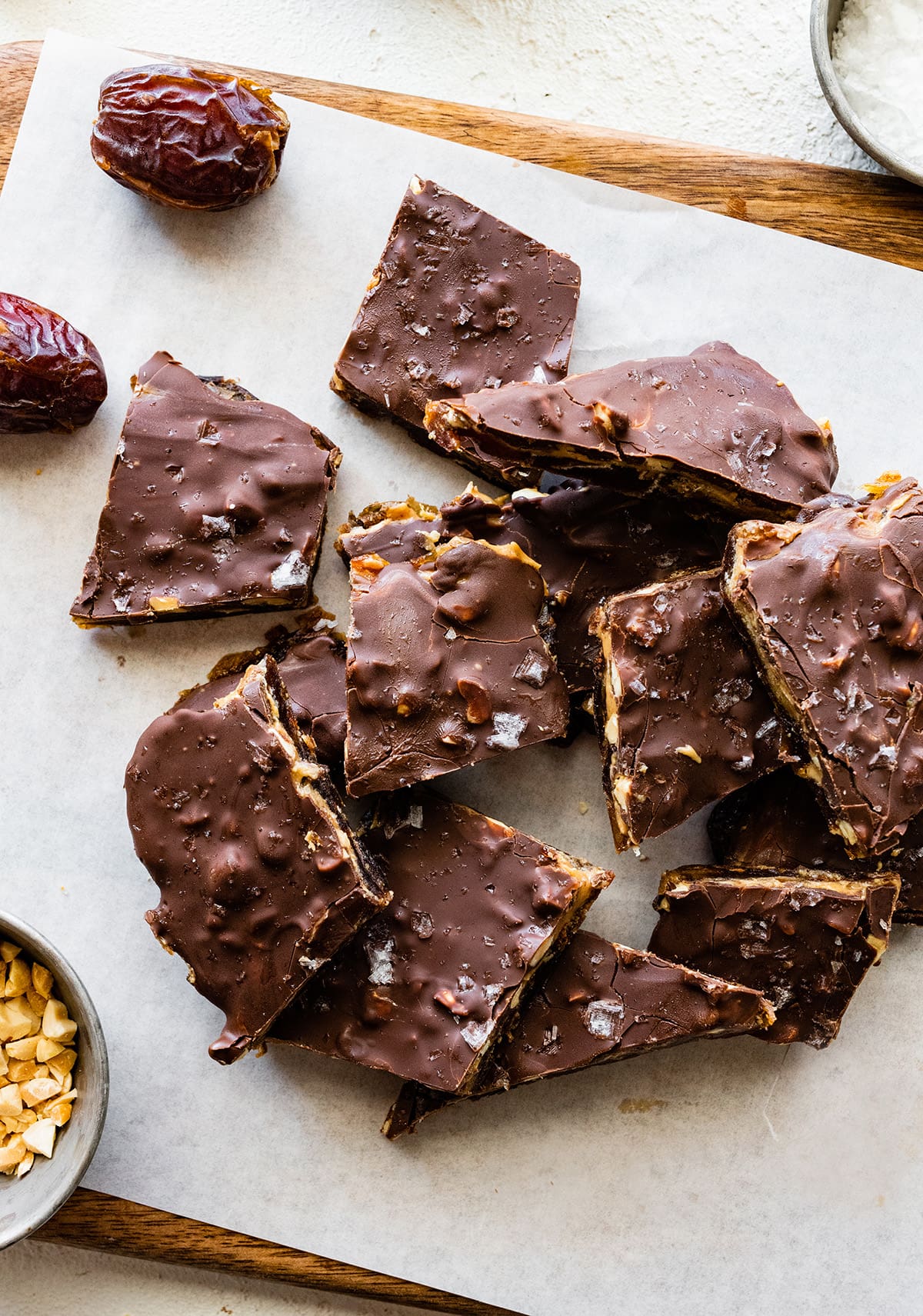 Why You'll Love This Recipe
Tastes like a Snickers candy bar, but is made with wholesome, real food ingredients.
Easy to make with only 5 main ingredients.
A great healthier dessert option!
Can easily be customized to your liking!
It's a no-bake treat aka no need to turn on your oven.
Vegan, gluten-free, grain-free and can easily be made nut-free.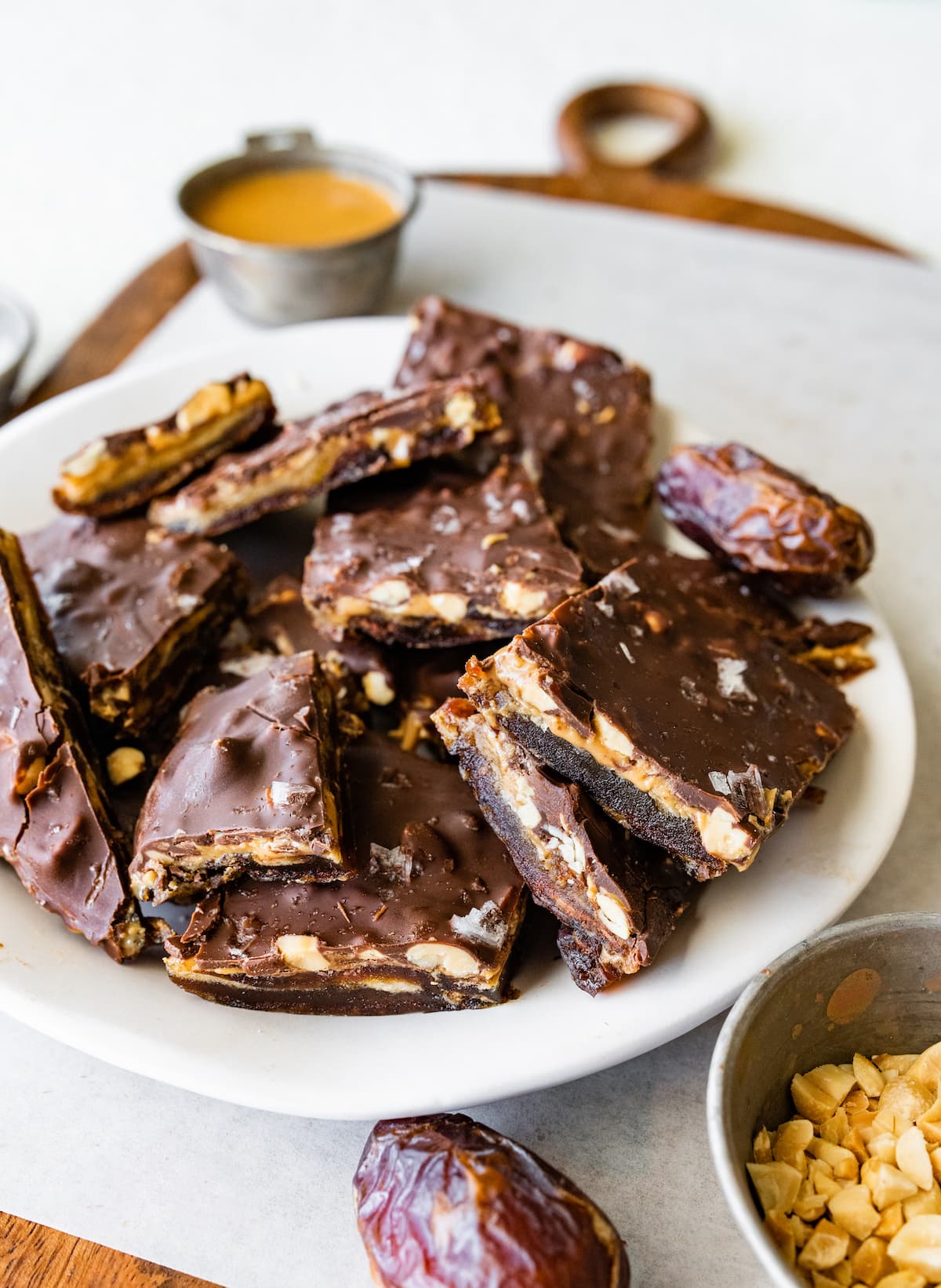 Health Benefits of Medjool Dates
I have an entire post on everything you need to know about Medjool dates, but at a quick glance, dates…
contain natural sugar, but have a low/medium glycemic index score due to containing a good amount of fiber, which helps to slow the release of carbohydrates and gives you sustained energy rather than spiking your blood sugar crazy high.
are naturally low in fat.
are packed with nutrients like potassium (50% more potassium by weight than a banana), copper, magnesium, vitamin B6, niacin, calcium, iron and vitamin K.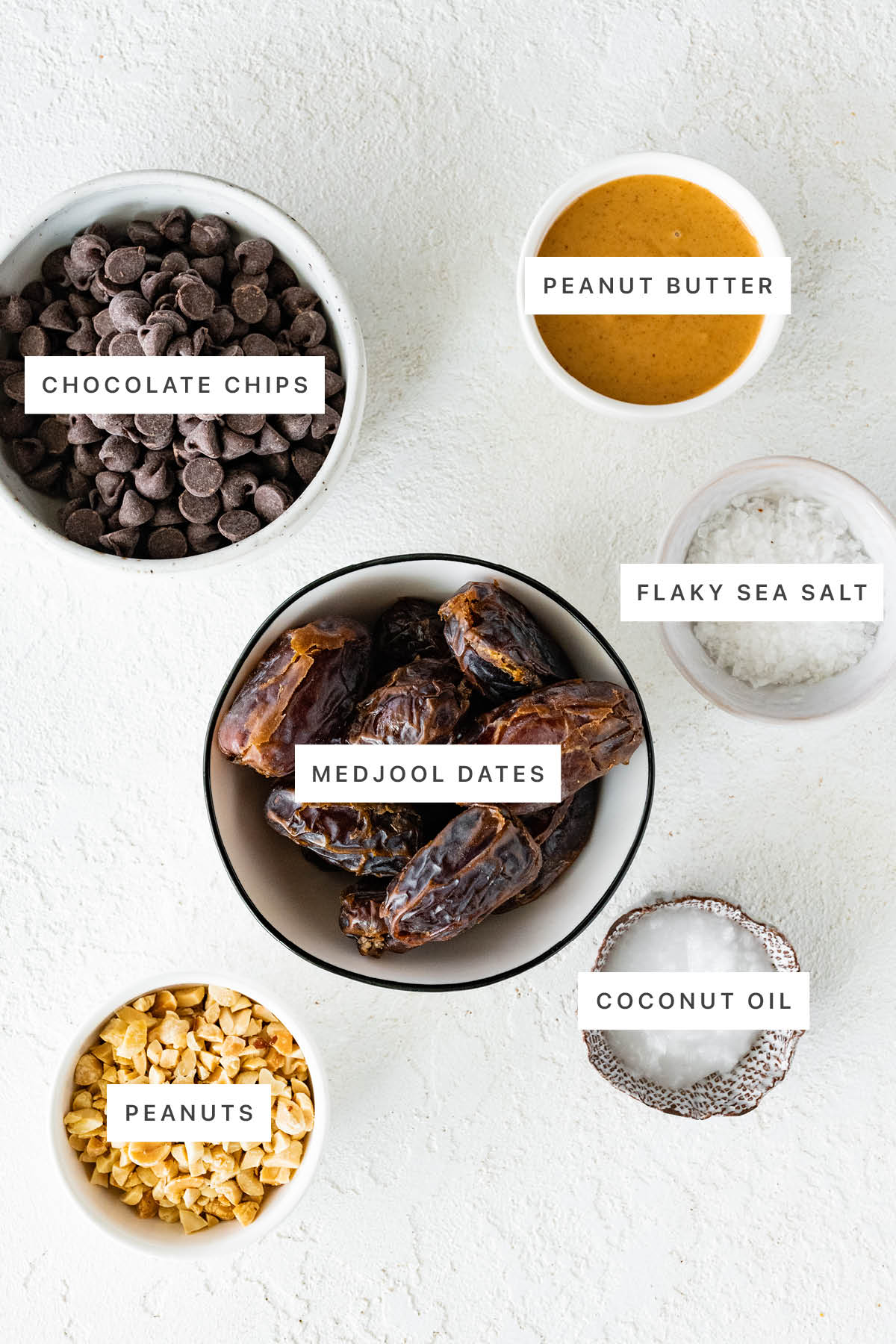 Ingredients Needed
medjool dates – the star of the show, these naturally sweet fruits provide a caramel-like flavor and chewy texture, making them the perfect base for our bark. You can buy medjool dates that are already pitted or have the pits that you pit yourself (it's super easy). Two brands that I like are Natural Delights and Joolies. You can find Natural Delights in the produce section of most grocery stores (near the bananas) and Joolies are offered on Amazon and Thrive Market.
peanut butter – adds a creamy, nutty layer to our dates. I prefer drippy/runny natural peanut butter that only has 1 or 2 ingredients (peanuts and salt). Some of my go-to brands of peanut butter are Whole Food's 365 and Wild Friends (use EBF10 for 10% off your order).
chopped peanuts – for a delightful crunch in every bite, and they perfectly complement the creamy peanut butter.
chocolate chips – our main coating for the bark. They melt into a silky layer, giving a rich, chocolatey taste. I love Lily's chocolate chips for a low-sugar option and Enjoy Life chocolate chips for a dairy-free/soy-free option.
coconut oil –

this is used to help melt the chocolate and helps it to become thinner, which makes it easier to dip the dates. You can skip it, but your melted chocolate will likely be pretty thick. I recommend using refined coconut oil if you don't want any coconut flavor!

flaky sea salt – sprinkled on top to provide a contrast to the sweet dates and chocolate, enhancing the flavor profile of the bark. I love Maldon sea salt flakes.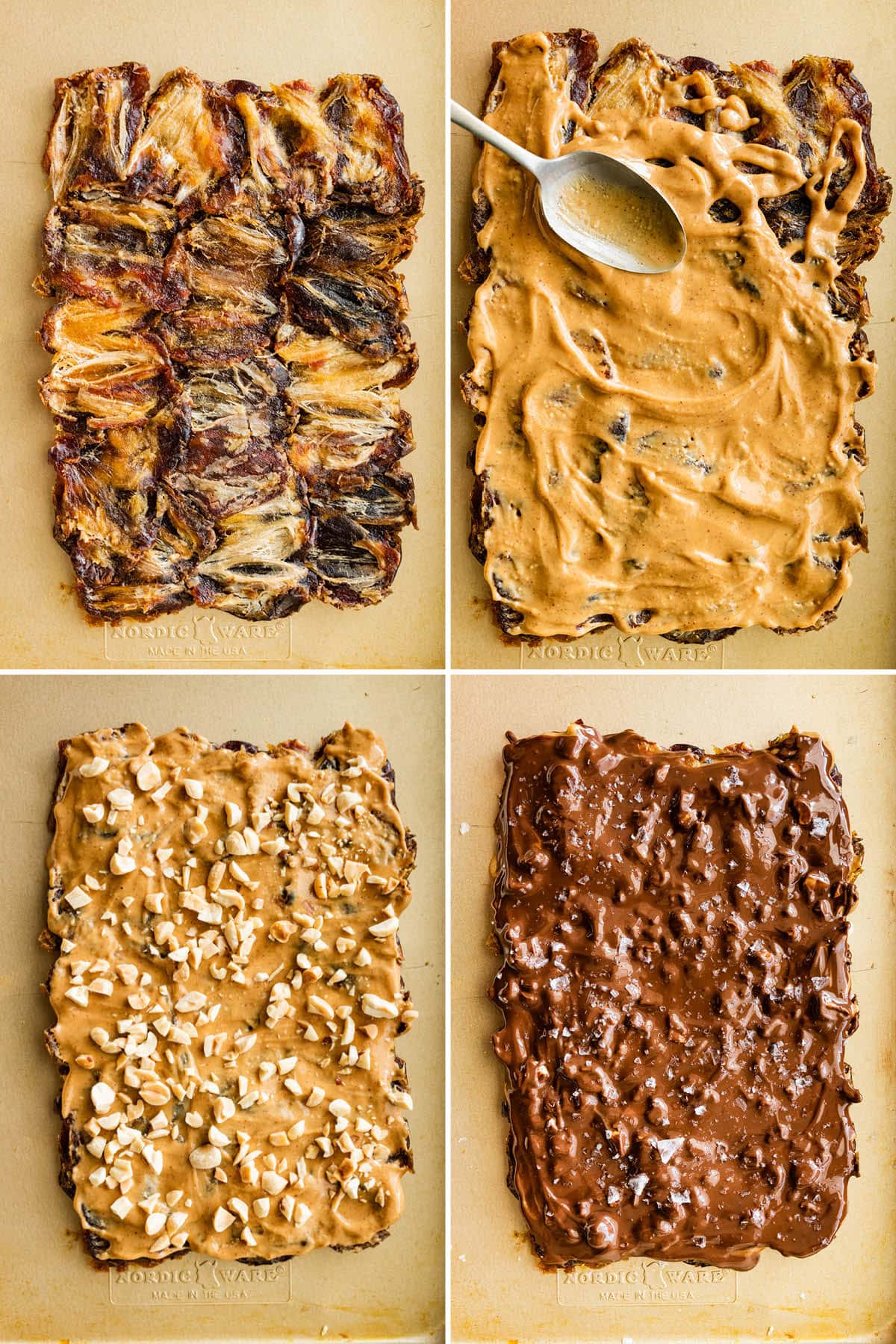 How to Make
Start by lining a baking sheet with parchment paper. Lay out the pitted medjool dates flat on the baking sheet, ensuring they aren't overlapping.
Carefully spread a bit of the drippy peanut butter on top of each date. Sprinkle the chopped peanuts over the peanut butter-layered dates.
In a microwave-safe bowl, melt the chocolate chips with the coconut oil. This should take around 30 seconds to 1 minute, but be sure to stir every 20 seconds to ensure the chocolate doesn't burn. Once melted and smooth, drizzle or spread the chocolate mixture over the dates.
Finish by sprinkling a bit of flaky sea salt over the chocolate-covered dates. Place the baking sheet in the refrigerator for at least an hour or until the chocolate has fully set. Once set, break into pieces and enjoy!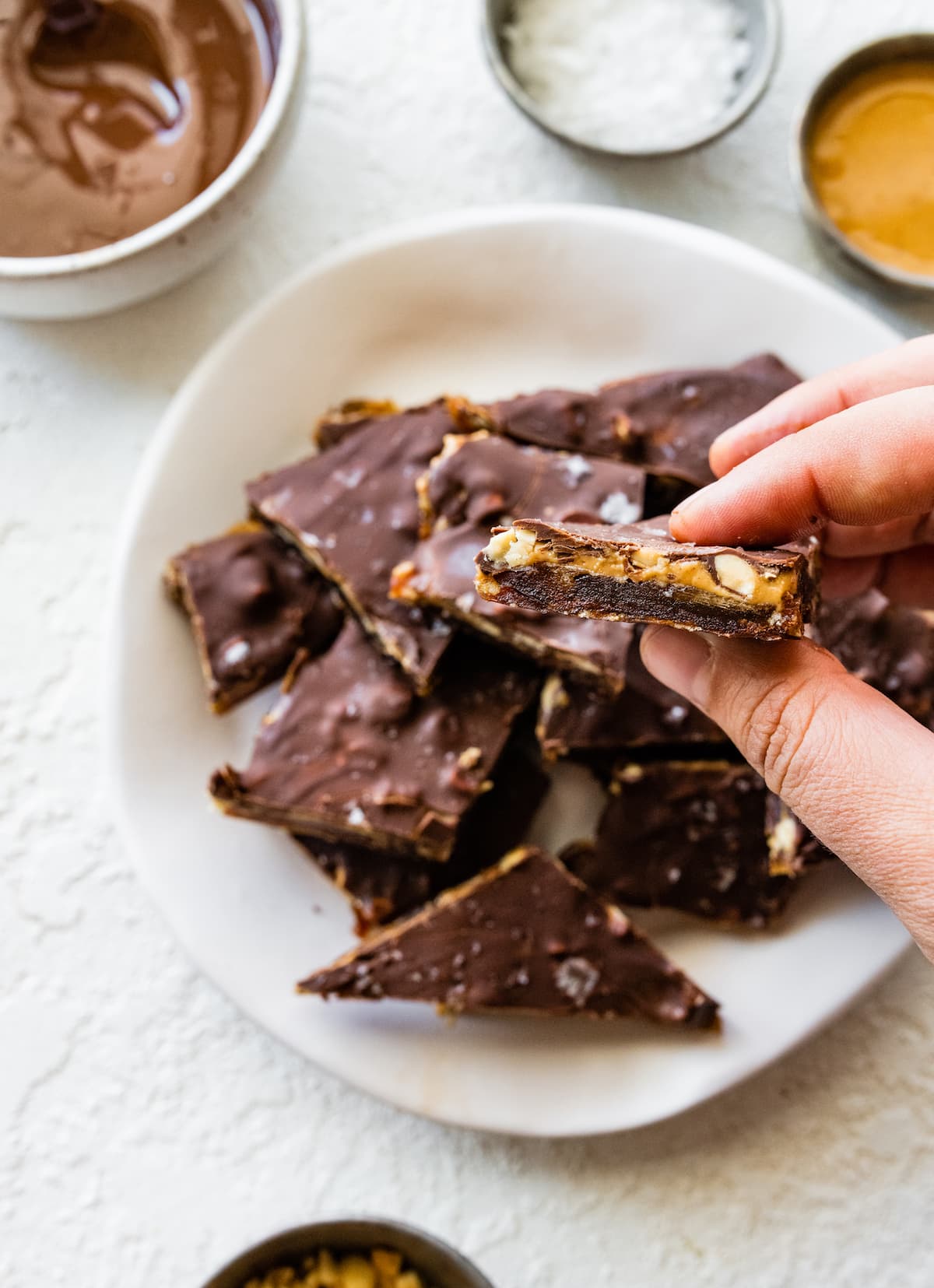 Variations
Peanut-free: If you have a peanut allergy, swap the peanut butter for almond butter or cashew butter and the peanuts for chopped almonds, cashews, pecans, walnuts or pistachios.
Nut-free: If you need this recipe to be nut-free, swap the peanut butter with sunflower seed butter or tahini and skip the peanuts altogether or swap them with sunflower seeds or pepitas.
Samoa date bark: I made a samoa date bark version that I shared on Instagram. It's made with cashew butter instead of peanut butter and toasted shredded coconut instead of chopped peanuts. It's so good and definitely reminds me of my 4-ingredient samoas.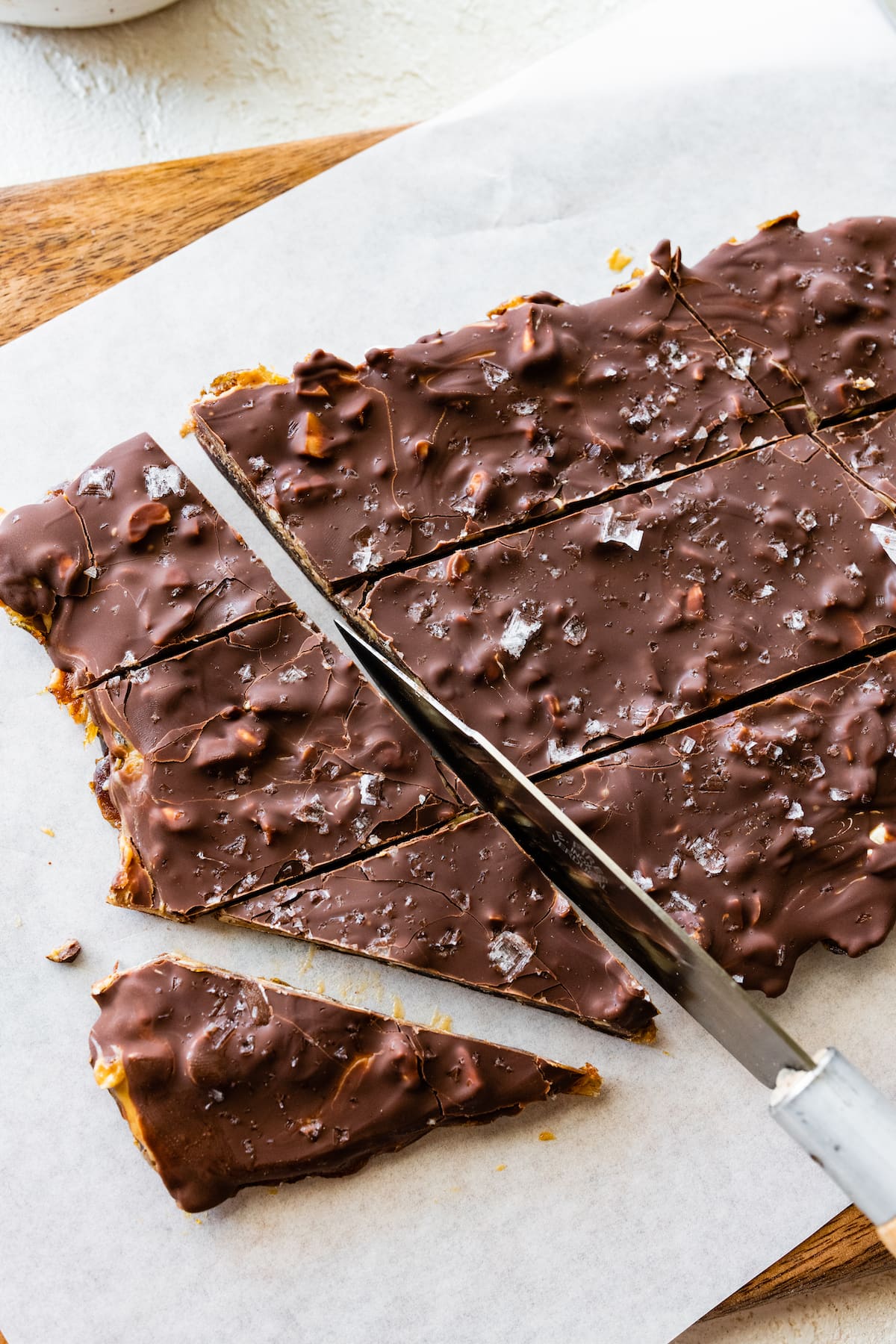 Tips for Success
Quality of dates: Opt for fresh Medjool dates that are soft and plump. Older dates tend to be drier and won't provide the desired chewy texture.
Soak dates if needed: If you find that your dates are quite hard you can let them soak in hot water for about 10 minutes to soften them up a bit. Just make sure to drain and blot the excess water up before placing the dates on your baking pan.
Don't skip the coconut oil: Don't skip this in the chocolate! The coconut oil creates a smooth and glossy finish to your melted chocolate and helps it to harden faster.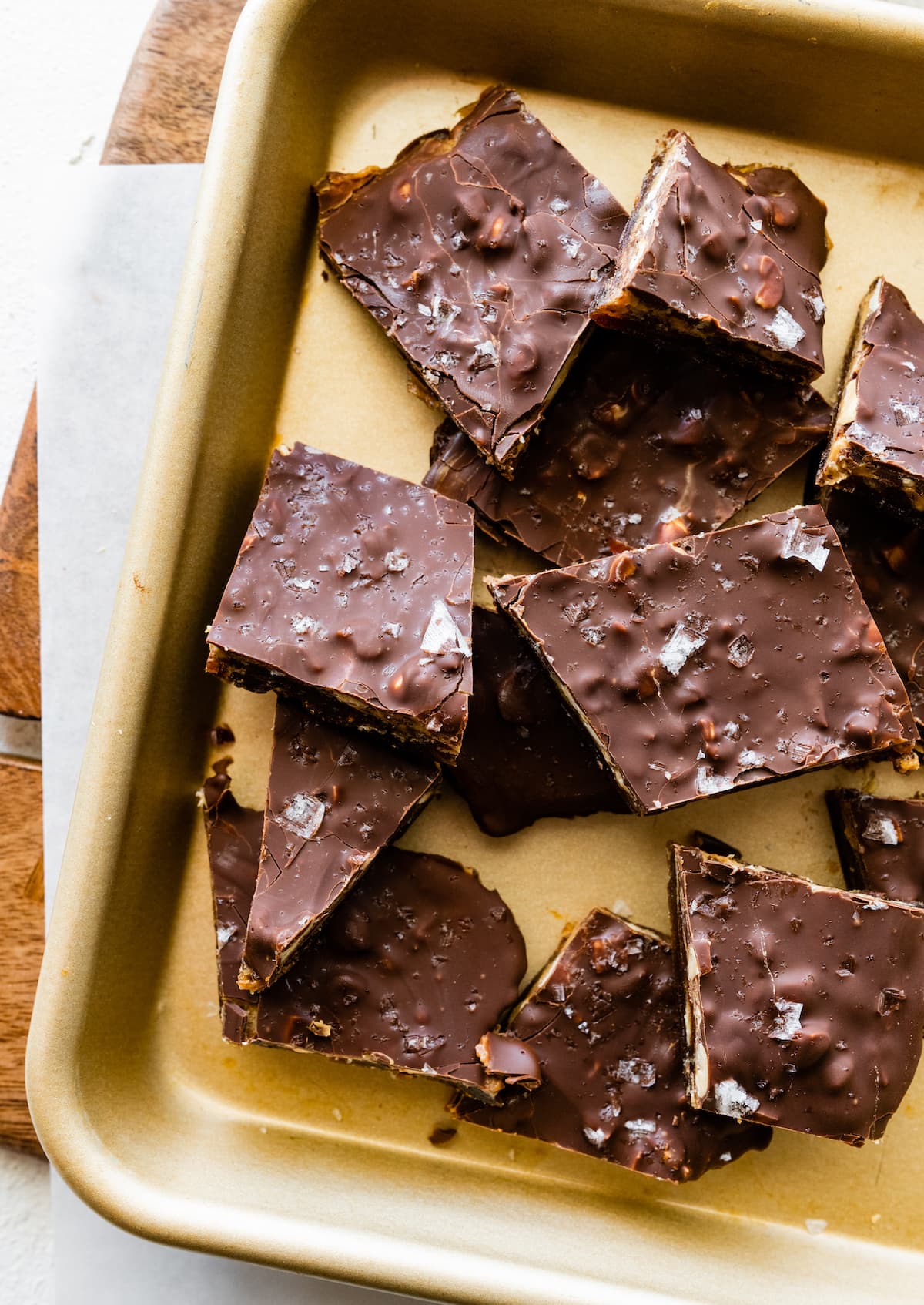 How to Store
I recommend storing this date bark in an airtight container in the fridge. It should last up to one week… but I bet they'll be gone before then! You can also store this sweet treat in the freezer for up to 3 months. Pro tip: If you're storing in the freezer, the dates will get pretty hard so let the bark sit out a few minutes before biting into it.
More Date Recipes to Try
More No Bake Treats to Try
Be sure to check out all of medjool date recipes as well as the full collection of dessert recipes on EBF!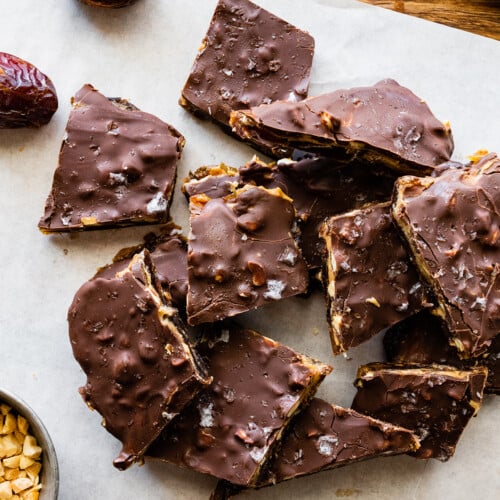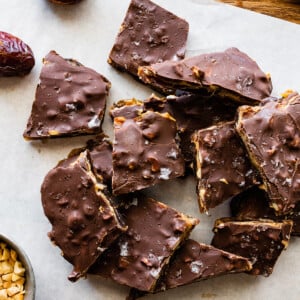 Date Bark
This viral date bark recipe combines medjool dates with peanut butter, chocolate and peanuts. It tastes like a Snickers bar and is the perfect healthy treat to keep stocked in your freezer. Vegan + gluten-free. 
Instructions
Line a small baking sheet with parchment paper. Split dates open and press down each one down onto the sheet, making sure they overlap a little so they stick together.

Drizzle peanut butter on top and use a spoon so spread it across the dates. Sprinkle on chopped peanuts.

Melt chocolate with coconut oil and drizzle it on. Use a spoon to spread it around so it coats everything.

Sprinkle on flaky sea salt and pop the baking sheet into the freezer for 10-15 minutes, or until the chocolate has set. Remove from the freezer, chop the bark into 10 pieces and enjoy.

Store leftovers in the fridge or freezer. If you're storing in the freezer, the dates will get pretty hard so let the bark sit out a few minutes before biting into it.
Nutrition
Serving:
1
/10th recipe
|
Calories:
149
kcal
|
Carbohydrates:
27
g
|
Protein:
2
g
|
Fat:
6
g
|
Saturated Fat:
3
g
|
Monounsaturated Fat:
1
g
|
Sodium:
35
mg
|
Potassium:
166
mg
|
Fiber:
6
g
|
Sugar:
17
g
Nutrition information is automatically calculated, so should only be used as an approximation.