This past weekend was a total blast!
The bachelorette party was amazing- complete with dinner, drinks and bachelorette bingo! And on Sunday I had the pleasure of meeting up with a blog reader  for coffee (Hi Alisa!!) before heading home to Richmond. The rest of day was spent unpacking, cleaning and enjoying the BEAUTIFUL weather.
I also prepped food for the week including some hard boiled eggs and Fruit and Nut Bars. I used my standard recipe but changed a few things around by testing it out with whole wheat flour and adding some sweetness with the high quality dark chocolate I was sent to try out as part of the Foodbuzz Tastemaker program, Pure Dark 70% Cocoa Slab.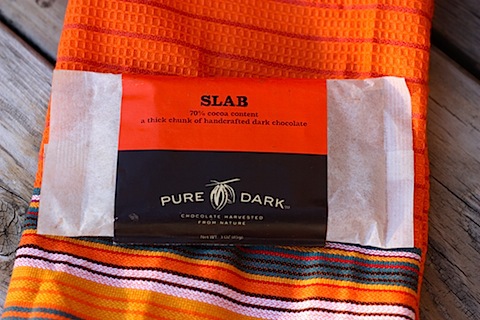 The bars turned out amazing! I hate to admit it, but this version might be better than the original. Then again, I should have known. (Dark) chocolate does make everything better!
Dark Chocolate Fruit and Nut Bars
Ingredients
1 cup old fashioned oats

½ cup pitted prunes (around 11 prunes)

½ cup raisins

½ cup dried apricots

1/2 cup sliced almonds

1/6 cup chopped dark chocolate pieces (i used Pure Dark 70% Cocoa Slab)

1/4 cup whole wheat flour

⅓ cup water
Preparation
Preheat the oven to 325ºF. Cover an 8-inch x 8-inch pan with parchment paper or a non-stick silicone baking sheet.

Place prunes, raisins and apricots in a mini-chopper or food processor and pulse until well chopped. Remove the dried fruit mixture and chop the dark chocolate bar into small chunks.

Combine oats, chopped fruit mixture, almonds in a large bowl and knead with your hands until well combined. Add flour and water and knead until a ball of dough forms. (Add a little more water if the mixture is too dry.)

Add chopped dark chocolate.

Press dough firmly and evenly into the prepared pan.

Bake for 23-25 minutes, until baked through but still soft (don't overbake them or the bars will be dry and tough).

Let cool for 5 minutes. Cut into squares with a sharp knife and then let the bars cool completely (about 30 minutes).

Store bars in an airtight container.
Enjoy your Monday and if you need a little chocolate, whip up a batch of these delicious bars. I promise you won't regret it. 😉
PS- I'll be posting the winner of the Alo Clothing giveaway later today!