Cockroaches give me the willies, but how frightfully cute are these little guys?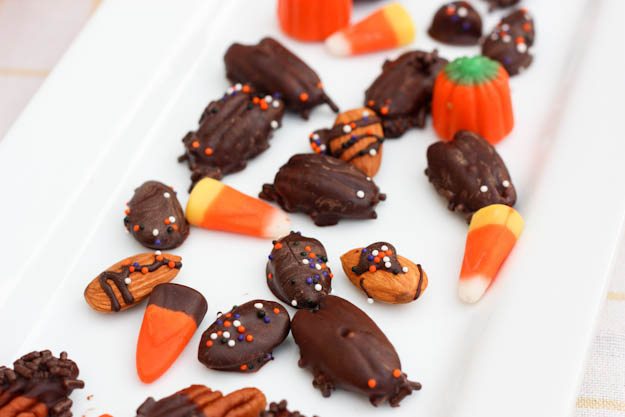 This past weekend I spent Sunday afternoon in the kitchen dipping pecans in dark chocolate and decorating these bugs. It was a blast. I literally couldn't keep from smiling the whole time.
I can't take full credit for this idea because my boss actually told me how to make the cockroaches. She's a genius! The best part is that these roaches with their pecan bodies and dark chocolate coating are better for you than your average piece of Halloween candy. So eat up. 🙂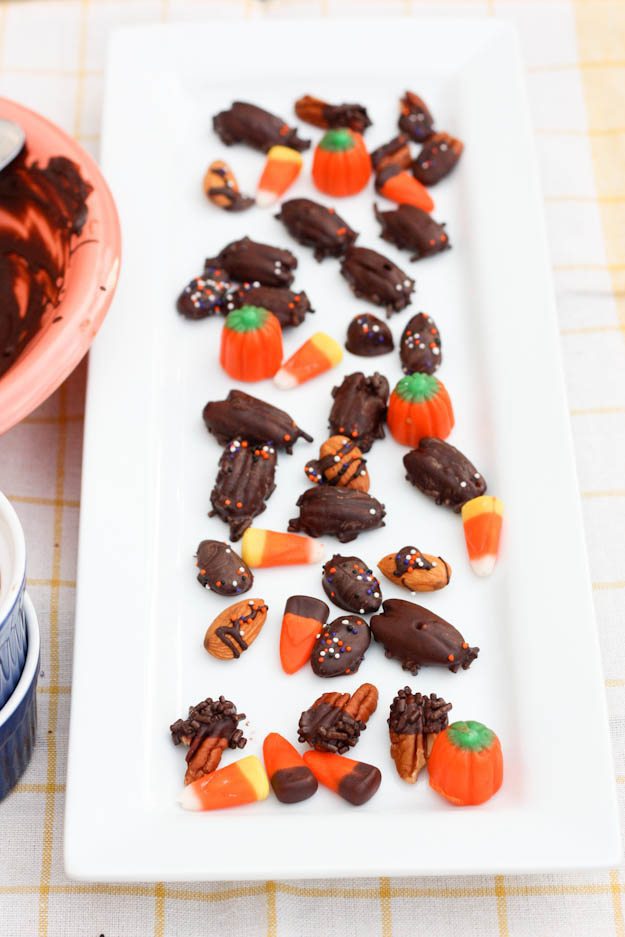 Creepy Chocolate Cockroach Treats
Ingredients
Parchment paper

30

pecans halves

4-5

squares of dark chocolate (I used Ghirardelli 72% Twilight Delight)

Chocolate Sprinkles

Round Halloween colored sprinkles (white, orange, purple)
Instructions
Pour about ½ cup or so of chocolate sprinkles and ¼ cup of colored sprinkles into two separate, shallow bowls.
Chop dark chocolate into small, even pieces. Melt chocolate in the microwave or a double boiler until smooth.
Submerge pecan halves in melted chocolate and move around until the pecan is covered.
Remove the pecan from the chocolate allowing access chocolate to drip off. Dip each pecan, flat side down into the chocolate sprinkles to make little cockroach legs.
Place pecan on parchment paper sprinkle side down.
Continue the same technique for all the pecans, then drop two small round colored sprinkles to the smaller end of all the pecans to make eyes.
Let the pecans sit for a few hours so the chocolate can set, remove from parchment paper and store in an airtight container until ready to serve.
Recipe Notes
I used the microwave method by placing chopped chocolate chunks in a microwave safe bowl and heating in the microwave for 30 seconds at a time. After the first 30 seconds, I pulled the bowl out and stirred the chocolate, then put it back in for another 30 seconds. After the second 30 seconds I pulled it out and stirred again until the chocolate was smooth and creamy.
I had some leftover dark chocolate and sprinkles so I decorated the broken pecan pieces and a few almonds as well. Plating the cockroaches with the almonds and candy corn made for a cute spread - perfect for the dessert/snack table at a Halloween party!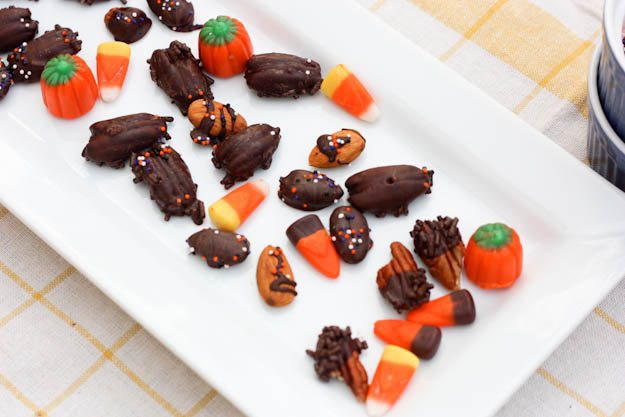 If you need more Halloween food ideas, here are a few I that have caught my eye over the past few days:
As I mentioned in my Pumpkin Bar post, the Ghirardelli dark chocolate used here was sent to me for review as part of the Foodbuzz Tastemaker Program.