Hi there. I hope you had a great weekend! The weather was beautiful here yesterday so we were in 7th heaven. I'm pretty sure the extra vitamin D was just what the doctor ordered because I definitely noticed mood boosting effects from the sunshine and warmth. I'm so ready for spring!
Today I'm changing the pace a bit to talk about workplace wellness and how I created a healthier home office.
Like a lot of folks I'm in front of the computer or sitting down for 8+ hours a day. I actually didn't realize just how sedentary I was until I got an activity monitor. I was shocked when I saw the numbers after the first few days of wearing it — soooo much sitting and so few steps.
It makes sense considering to get ready for work all I have to do is walk downstairs and set up shop, which might take about 100 steps… maybe even less. Oh well, how to get more steps when working from should be a post for another day, today I want to tell you more about my home office situation.
When I first started working from home I'd migrate back and forth from sitting at the dining room table to sitting on the couch.  I didn't have a great home office and I liked the lighting in the dining room. It worked, but I definitely didn't have good posture sitting at the dining room table. Our wooden dining room chairs are not meant to be sat in for any extended period of time and the setup was definitely not ergonomically friendly.
As someone with scoliosis, I should have known better but alas I continued to sit this way. Once I realized that my working from home situation wouldn't be changing anytime soon I decided to invest in putting together a healthy workspace.
After seeing so many articles about how detrimental sitting is for our health, I became fixated on getting a stand-up desk and ended up purchasing a Sit & Stand desk that's motorized so you can easily move it up and down. To make things more ergonomic and help my posture I also bought an external monitor and a riser as well as a wireless mouse and keyboard. Buying all this stuff was pricey, but it was the BEST decision. It made me comfortable working in my office, which in turn made me enjoy working there and overall more productive.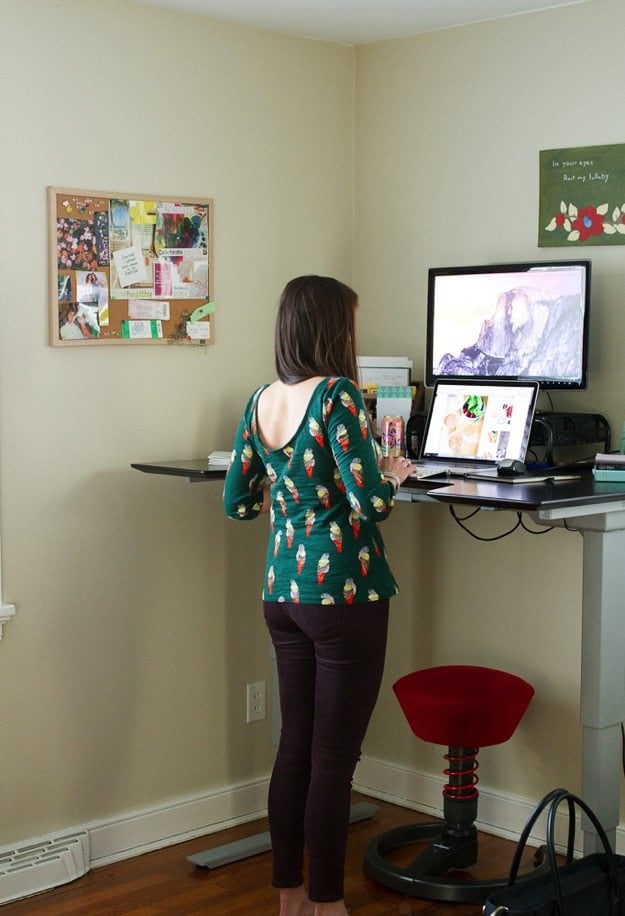 At this point I figured I would stand all the time and decided not to buy an office chair. Turns out standing all day took some getting used to and got a little old at times. I had to sit occasionally so I'd alternate between standing and using a chair — one I borrowed from Isaac, which happens to be from his old college apartment. It's sparkly and red, but certainly not ergonomically friendly. I needed something better.
I'd actually been on the market for a new chair for over a year before Via Seating reached out to me about their Swopper, an "active sitting" chair/stool that allows you to keep active during the work day. I was intrigued — especially when I saw that La Diff, a local furniture store known for carrying high quality products (and where I bought my Jesper desk) carried the Swopper. I researched it a bit more — learning that it's not only ergonomic, but provides extra health benefits — improved posture and circulation, reduced back pain and strengthened core muscles. At this  point I decided to accept a Swopper from the company to try it for myself.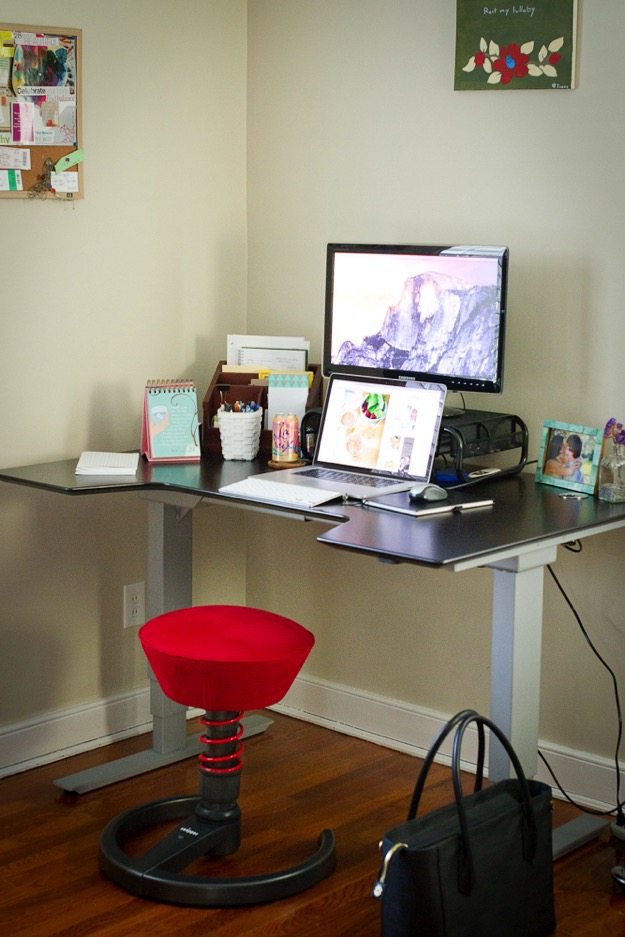 Having a sit to stand desk does make decorating a bit of a challenge because all of your wall decor has to be hung up high so it won't be covered when you're standing. It's a small price to pay! 🙂
It's been about 2 months and I'm really impressed with the Swopper. I like that fact that even when I'm sitting I'm still actively moving, my posture is aligned (as much as it can be with scoliosis) and I can feel my core engaged. I've also noticed that I don't cross my legs while sitting on the Swopper, — another thing that I do despite knowing it's not good for my posture. The chair is completely adjustable, allows for 360° motion and intuitive movements like tilting, swaying and bouncing. I personally think bouncing on it is the most fun! My friend Laura actually shared 5 workout moves you can perform with the Swopper so I'll have to test those out soon as well.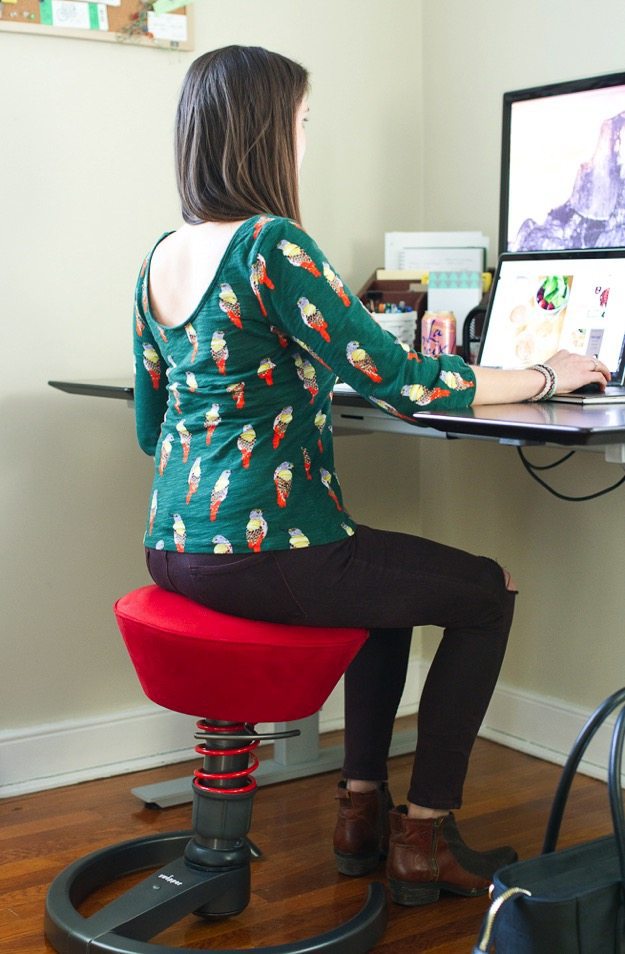 Now when I'm working from home I can alternate between sitting and standing throughout the workday without feeling badly about it because I know I'm getting the added benefits of sitting in the Swopper.
If you're interested, I created this little guide to share the products I used to create a healthier home office.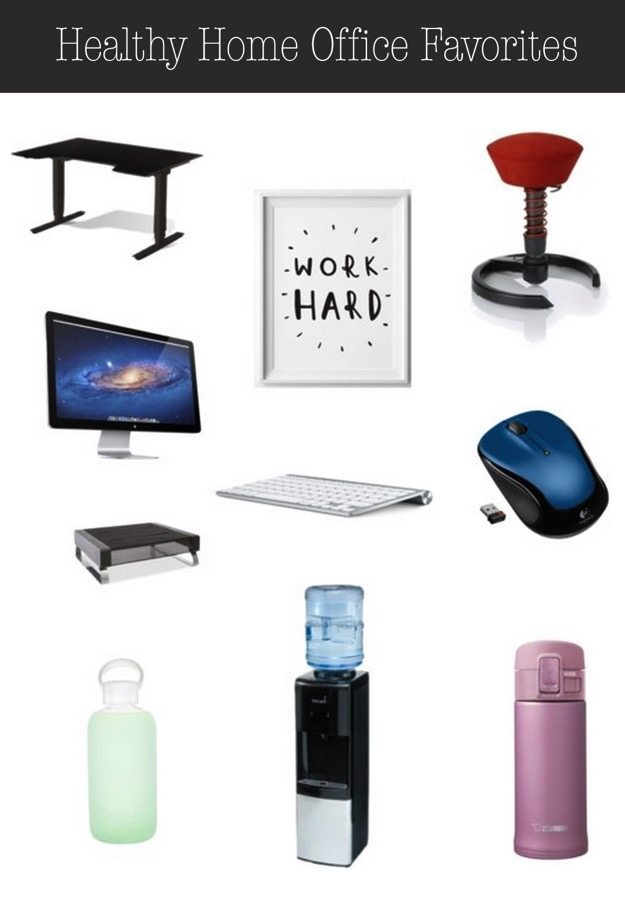 1. Jesper Sit and Stand Desk — I've had this desk for over 3 years and LOVE it. I can easily switch between sitting and standing and nothing on top of my desk has to move when I want to raise or lower the desk.
2. Motivation Print — Right now I have limited art work in my office but I love motivational art work and already have a few prints that I want to buy off Etsy to hang up in my office.
3. Swopper Chair — See my review above.
4. External Monitor and Riser — My monitor is set up so that it's about arms length away and my gaze is directly on the screen so I don't have to look up or down to see the screen.
5. External Keyboard and Wireless Mouse — These items help to keep my office setup ergonomically friendly.
6. Water Bottle — A water bottle or cup is a must-have for staying hydrated throughout the day. I really like my bkr glass bottle.
7. Primo Water Dispenser — We added this to my office a few weeks ago and I adore it. It helps me drink more water and I can make tea without leaving my office.
8. Zojirushi Stainless Steel Mug — I just got this as a gift for my birthday and I'm obsessed. It keeps coffee and tea hot for hours. Seriously, it's the best coffee mug I've ever used.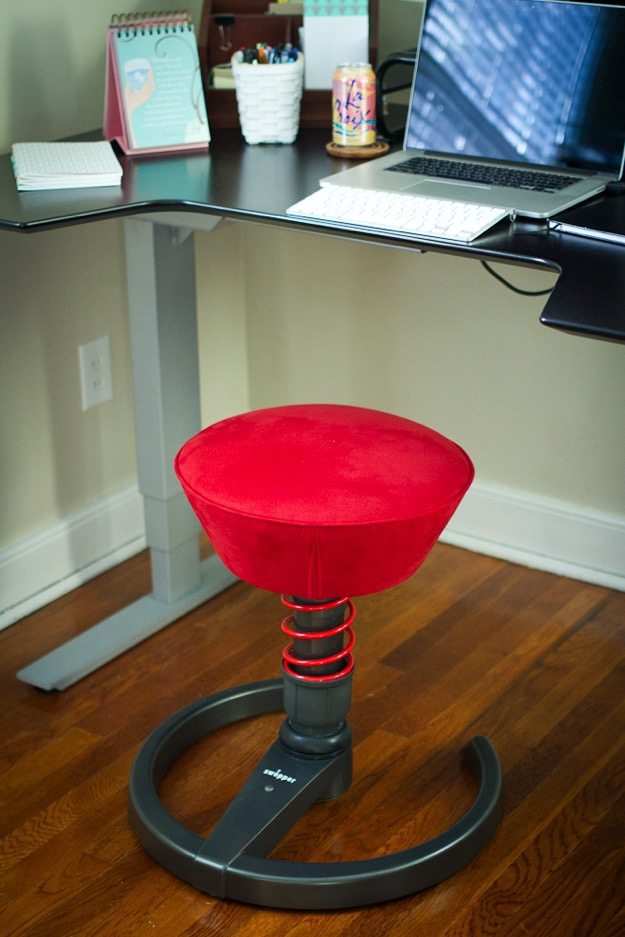 The best part about all this is the fact that I'm hosting a Swopper giveaway and one lucky winner will win this awesome chair. The giveaway is for the Classic Swopper, which sells for around $700. Simply leave a comment here letting me know how you stay active and healthy while at work and you'll be entered to win.
a Rafflecopter giveaway

This post is not sponsored by Swopper. I was given a complimentary chair and offered to host a giveaway, but I wasn't required or paid to write this post. As always, opinions are my own.